In case you've never heard of the term, a strap monster is a type of watch that can effortlessly pair with a wide assortment of straps and bracelets. Traits that typically define a strap monster include lug widths that accommodate the most common aftermarket strap widths (24mm, 22mm, 20mm, and 18mm), a somewhat neutral design that can seamlessly match a wide assortment of band styles, and a case made from a robust material like steel or titanium.
As you can imagine, this is a fantastic watch to own since you can easily switch out straps for an entirely new look as often as you want. It's a simple way to transform one watch into a diverse collection of styles—at a fraction of the cost of buying multiple watches! Needless to say, we're big fans of strap monster watches and we've tried our fair share of them. So, if you'd like to get your hands on one of these ultra-versatile timepieces, here are our top five strap monster watches to consider.
---
Apple Watch
Not only is the Apple Watch the top-selling watch in the world (selling more units than the entire Swiss watch industry), but it is also one of the best strap monsters watches out there. Regardless of which series, case material, or size you own, finding different straps for the Apple Watch is as easy as swapping out the band. Just make sure you know your specific Apple Watch model if you buy a replacement strap to ensure it'll fit. From dressy Milanese mesh bracelets to classic three-link metal bracelets, colorful rubber straps to vintage style leather straps, the sheer variety of Apple Watch straps available is immense.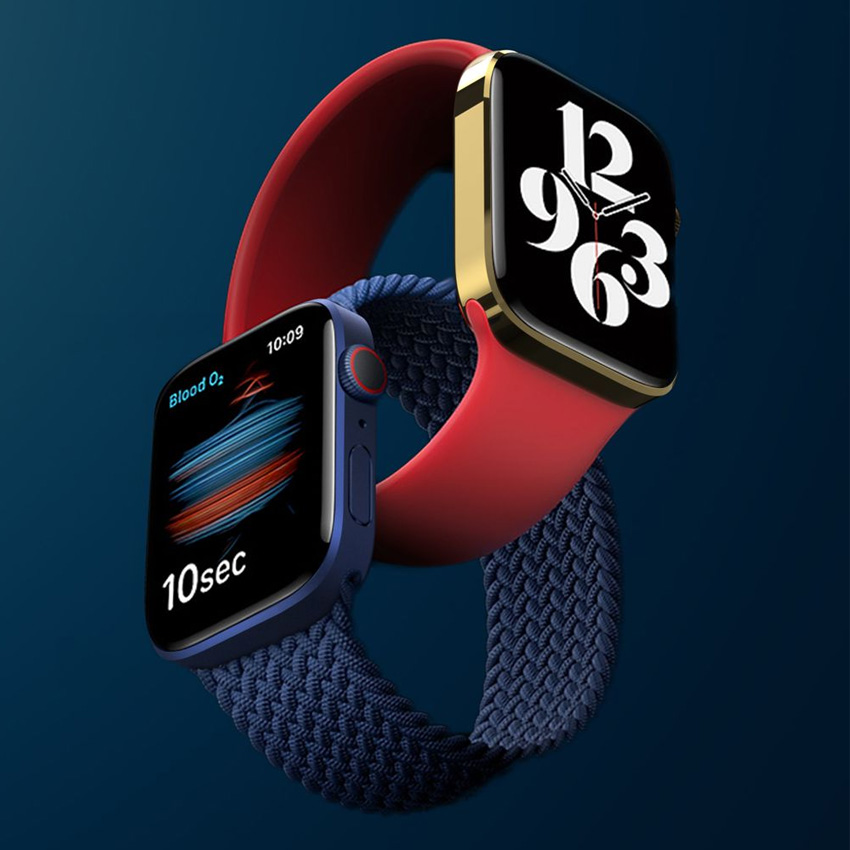 What's more, the multitude of options provided in the Face Gallery opens up endless possibilities of coordinating Apple Watch faces and straps. This truly is a super customizable watch, both in terms of features and overall style.
Our favorite Apple Watch Bands:
• Apple Watch Milanese Loop
• Apple Watch Sport Band
• Leather Apple Watch Band
---
Seiko Automatic Diver SKX007
The Seiko Automatic Diver SKX007 (and the Seiko "Pepsi" SKX009 variation) is perhaps the most beloved value-priced automatic diving watch ever made. In fact, many still lament the fact that it was discontinued a few years back and are waiting for a true successor of this legendary diver.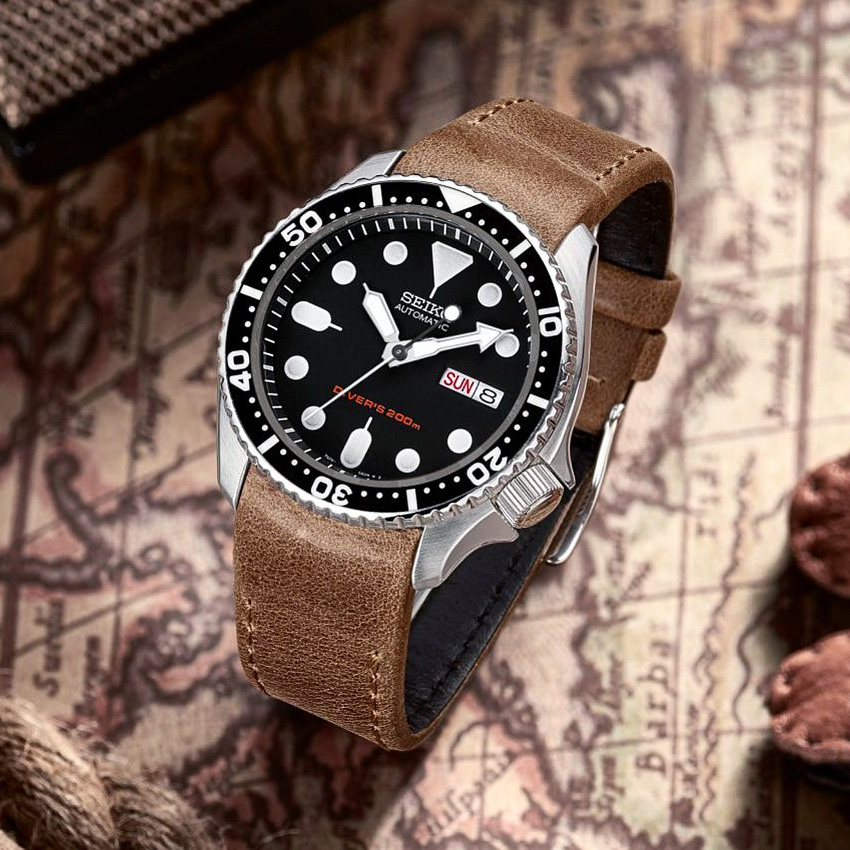 The Seiko SKX007's 42mm case fits a 22mm strap, making it a great candidate for strap changes—and there are plenty of SKX007 owners that love to experiment with different bands and bracelets. The watch's classic steel case and black dial and bezel combination can seamlessly go with a vast assortment of materials, colors, and styles, which is the very definition of a strap monster. Whether steel bracelets, bright rubber straps, or colorful NATO-style bands, just about everything looks good with this versatile dive watch.
Alternatively, the smaller version of the SKX007 is the SKX013 (and the "Pepsi" SKX015) with a 38mm case and 20mm lug width. Yet again, this standard lug size makes it easy to find replacement straps for the Seiko SKX013.
Our favorite Seiko SKX007 straps:
• Seiko SKX007 Leather Strap
• Seiko SKX007 Bond NATO Strap
• Seiko SKX007 Mesh Band
---
Omega Speedmaster Professional
If you're into watches, the Omega Speedmaster Professional a.k.a. the Omega Speedmaster "Moonwatch" (or "Speedy") needs no introduction. This famous manual-winding chronograph became the first watch worn on the Moon in 1969 and its legion of fans has continued to grow throughout the decades.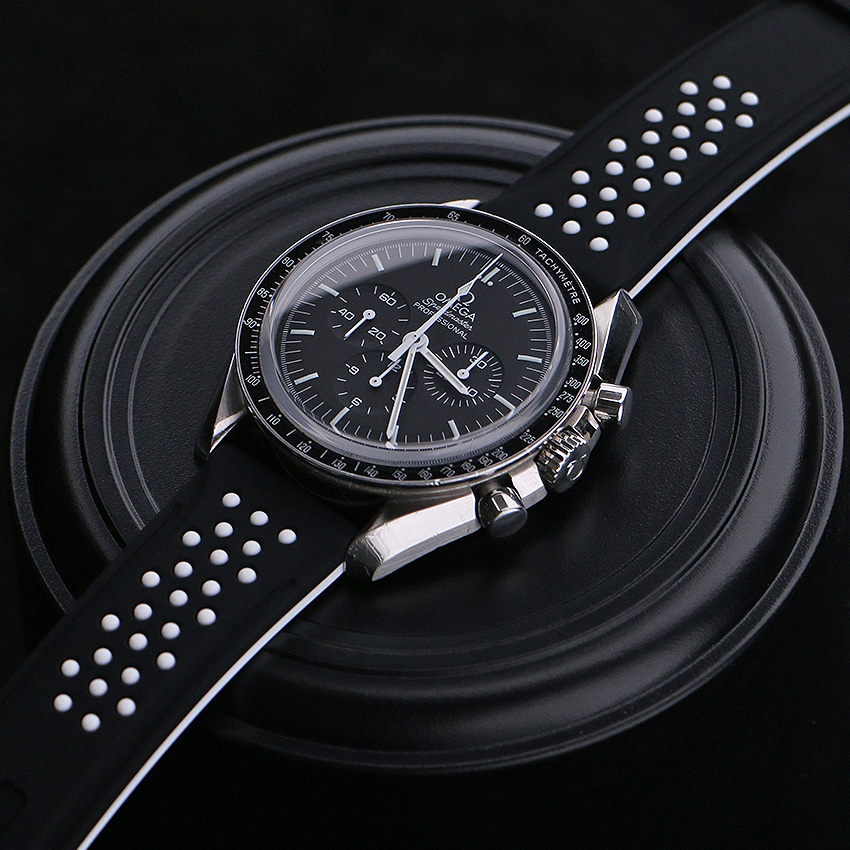 What makes the 42mm Speedy Moonwatch a true strap monster is, yet again, its classic design featuring a steel case and black dial and bezel coupled with a lug width of 20mm. Since 20mm is the most common size of aftermarket straps, the choices of what strap to pair with the Speedmaster Professional are plentiful. A band with contrast stitching dresses up the Speedmaster beautifully while distressed leather can emphasize the watch's vintage charm. And of course, we can't forget NATO-style fabric straps, which offer a similar style to how astronauts wore their Speedmasters in space.
Our favorite Omega Speedmaster Straps:
• Omega Speedmaster Professional Leather Strap
• Omega Speedmaster Professional Rubber Strap
• Omega Speedmaster Professional NATO Strap
---
Panerai Luminor
With its large cushion-shaped case, stark dial with oversized Arabic numerals, and exaggerated crown protector, the Panerai Luminor remains one of the most recognizable luxury watches in the market. If you're familiar with the Luminor, you can spot that watch from a mile away.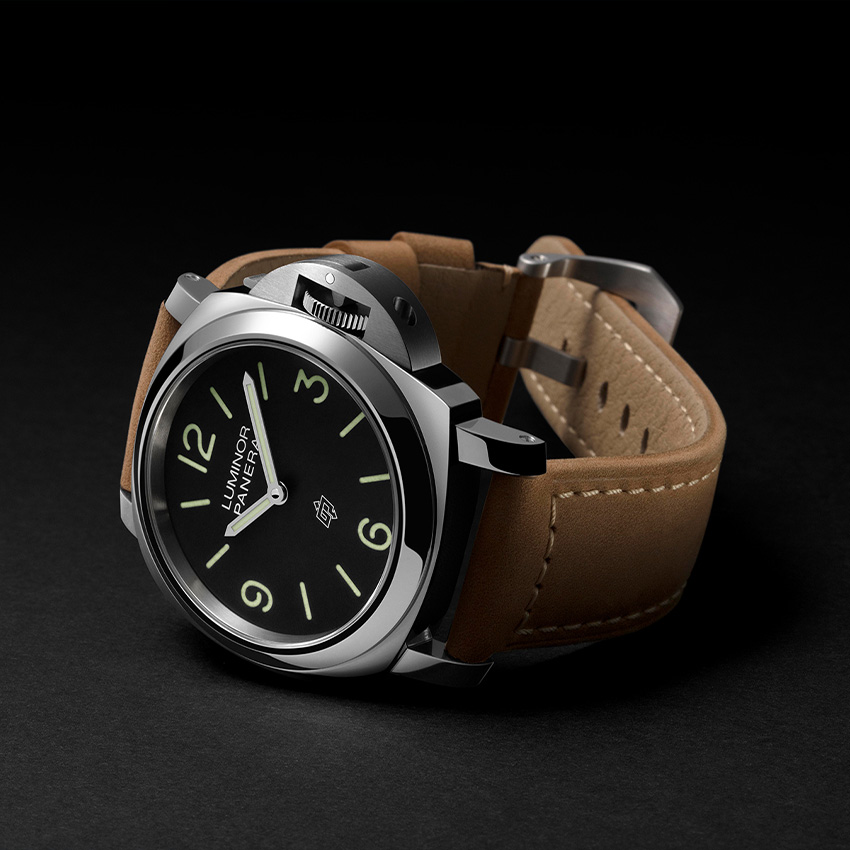 Talk to any Paneristi and they'll likely mention that one of the joys of owning a Luminor is that the watch looks incredible on a variety of leather straps. When Panerai made diving watches for the Italian Royal Navy in the 1930s and 1940s, the watches were all fitted with long water-resistant leather straps so that the military divers could securely wrap them around their diving suits. So leather would be the most historically authentic strap style to wear with the Luminor—however, that doesn't mean the watch doesn't look amazing with a rubber strap either!
Most Luminor watches have 44mm cases with 24mm lug widths. While 24mm straps are on the wider side, the appeal of the generously sized Luminor is that it can flawlessly accommodate chunky straps. There are some Luminor watches with 40mm cases (22mm lug) and others with larger 47mm cases (26mm lugs), so double-check the size of your Panerai Luminor before you hunt down the perfect strap for it.
Our favorite Panerai Luminor Watch Straps:
• Panerai Luminor Leather Strap
• Panerai Luminor Rubber Strap
• Panerai Luminor Leather NATO Strap
---
NOMOS Glashütte Tangomat
German watchmaker NOMOS Glashütte has been making superb mechanical watches with in-house movements for three decades now. The company's famed Bauhaus aesthetic has garnered a loyal following and while NOMOS offers plenty of watch collections, they all share that unmistakable minimalist design.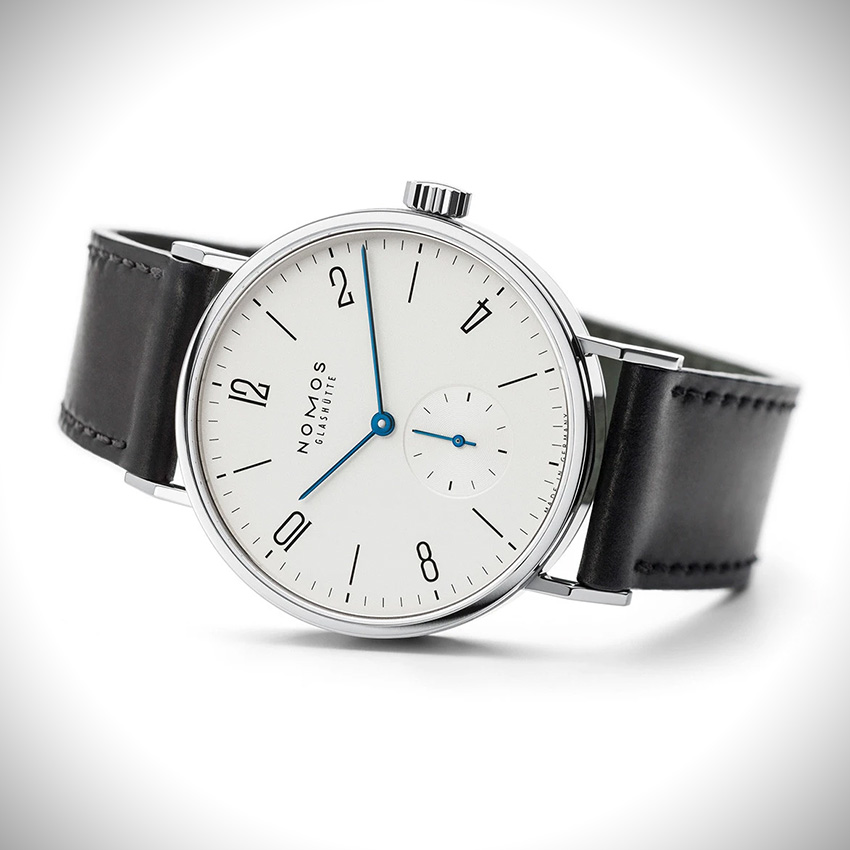 The NOMOS Tangomat watch is a quintessential timepiece, featuring a slim case and uncluttered white dial punctuated with cornflower blue hands. However, unlike the smaller and manual-wound NOMOS Tangente (which was NOMOS's first hit timepiece model) the Tangomat is both automatic and slightly larger with a 38mm case (20mm lugs). The Tangomat's clean lines and understated style make it a perfect candidate for a dressier strap monster to have in your collection.
Our favorite NOMOS Tangomat Straps:
• NOMOS Tangomat Leather Strap
• NOMOS Tangomat Mesh Band
• NOMOS Tangomat Textile Strap
---
Whether you prefer smartwatches, diving watches, classic chronographs, high-end sports watches, or understated dress watches, it's clear that strap monsters come in all types of flavors. The benefit of owning a watch that looks good on a variety of bands is that you're never stuck with just one look—a refreshed style is as simple as changing the strap. Do you own any strap monsters in your collection? How often do you like to switch out watch straps? Share your thoughts by dropping a comment below.