Once upon a time, chronograph watches were considered to be essential tools, used in a variety of fields including astronomy, engineering, medicine, and sports. A chronograph, which is a type of watch that includes a stopwatch function, was exceedingly practical because of its ability to measure and record elapsed time. Doctors could use chronographs to measure pulse rates, sporting officials could use them to track race times, and pilots could use them for navigational calculations. Even mundane daily tasks such as keeping track of parking meter minutes or timing expensive phone calls were easier to manage with a chronograph.
With the advent of high-tech timing tools, the mechanical chronograph may have lost its place as a critical instrument in daily life, but it certainly has not lost its appeal. Not only have chronograph watches remained as one of the most popular types of watches to wear thanks to their good looks, but there are also a handful of models that have become absolute icons in the timepiece market. If you're into these superb sporty watches, here are our top five iconic chronographs to consider.
---
Breitling Navitimer
In 1952, Breitling introduced the Navitimer chronograph as an evolution of the Chronomat. Named after the combination of the words "navigation" and "timer," the Navitimer was developed as a pilot's watch. While the Chronomat's slide rule bezel was marketed as a tool for mathematicians and scientists, Breitling equipped the Navitimer with a slide rule bezel for pilots to compute complex navigational calculations such as speed, distance, and fuel consumption rates.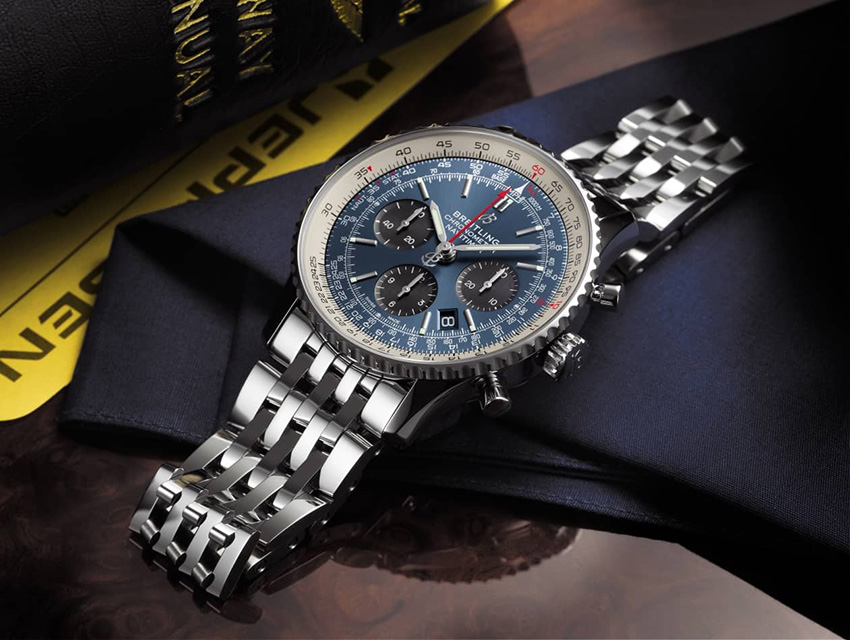 Over the following decades, the Navitimer became Breitling's signature aviator chronograph, available in a multitude of materials, sizes, and styles, as well as being an extremely versatile fashion piece. Yet despite the variations, the Navi is instantly recognizable as a result of its distinct dial layout.
---
Omega Speedmaster Professional
Omega introduced the Speedmaster Professional in 1957 as a chronograph for motorsports. It was the first chronograph to move the tachymeter scale from the dial to the bezel for better legibility. When used in conjunction with a chronograph, a tachymeter scale can measure the average distance or speed of a moving car—making it a great companion for motor racing.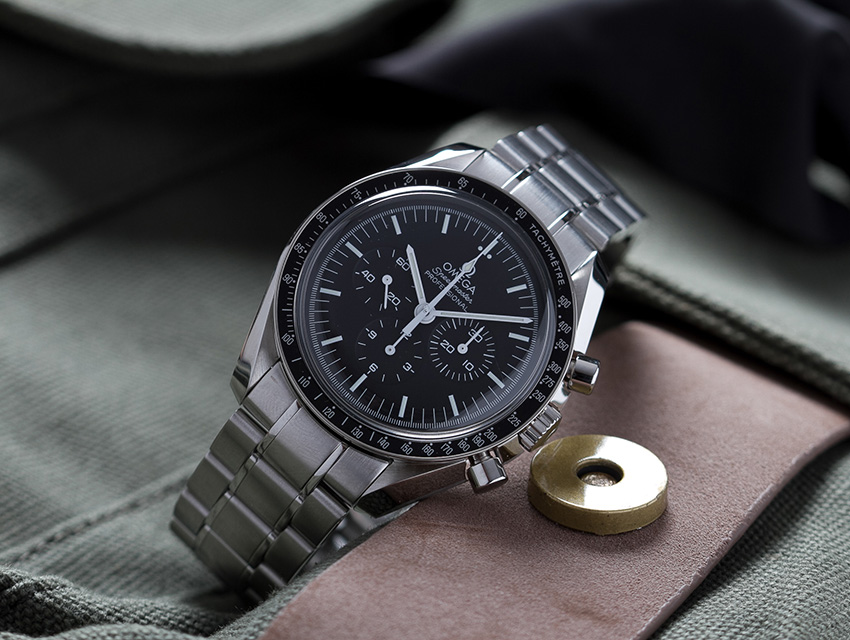 However, the Speedmaster soon became associated with something even more special: space exploration. In 1969, astronauts Neil Armstrong, Buzz Aldrin, and Michael Collins were all equipped with NASA-approved Omega Speedmaster chronographs when they journeyed to the moon during the Apollo 11 mission. When Buzz Aldrin became the second man to step onto the lunar surface, he famously had his Speedmaster strapped around the exterior of his spacesuit (Neil Armstrong left his on the lunar module as a backup, because the electronic timer had malfunctioned.) Since then, Omega has continued to make manually-wound Speedmaster Professional chronographs similar to those that were a part of man's first steps on the moon, aptly nicknamed the "Moonwatch".
---
Rolex Daytona
While Rolex had been making chronographs since the 1940s, in 1963 the brand introduced a new chronograph model called the Cosmograph. To emphasize the link between the Cosmograph and motorsports, Rolex added the name Daytona to the watch after the famed Daytona Speedway racetrack in Florida. These days, the Rolex Cosmograph Daytona is simply known as the Daytona.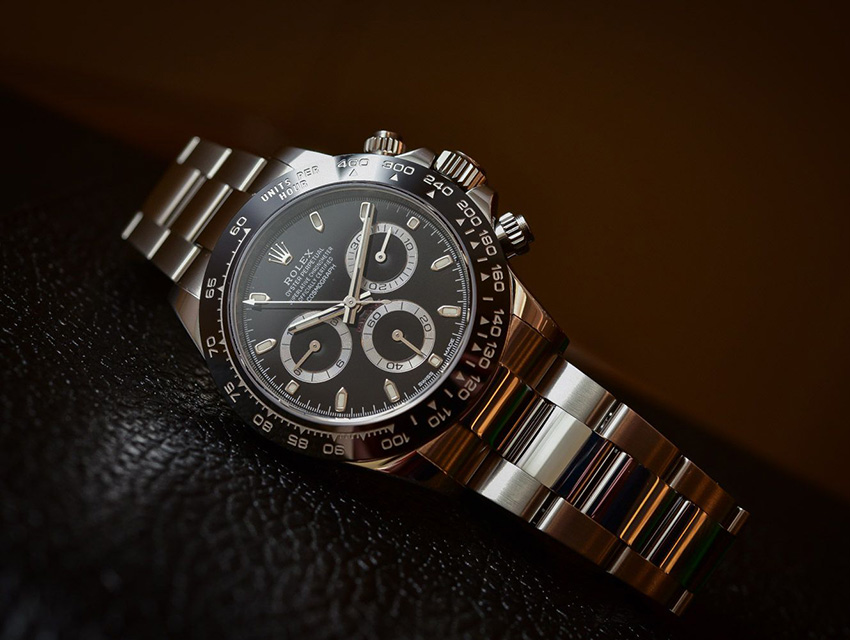 For the first 25 years of its history, the Rolex Daytona collection only offered hand-wound chronographs. But in 1988, Rolex revamped the collection and replaced manual movements with automatic ones. Whether vintage or modern, the Daytona is one of the most coveted luxury chronographs in today's watch market—particularly vintage models fitted with special dials nicknamed "Paul Newman," named after the famous actor who wore one. In 2017, Paul Newman's Rolex Daytona "Paul Newman" broke records when it sold for $17.8 million at auction.
---
Zenith El Primero
1969 was a watershed year for watchmaking, with a handful of brands (Zenith, Seiko, and a consortium of Breitling, Dubois Dépraz, Heuer, and Hamilton-Buren) racing to release the very first automatic chronograph. While it is still debated today who gets to lay claim to that title, what is not disputed is that Zenith was the first to publicly announce their plans to make an automatic chronograph movement in January 1969, complete with a working prototype.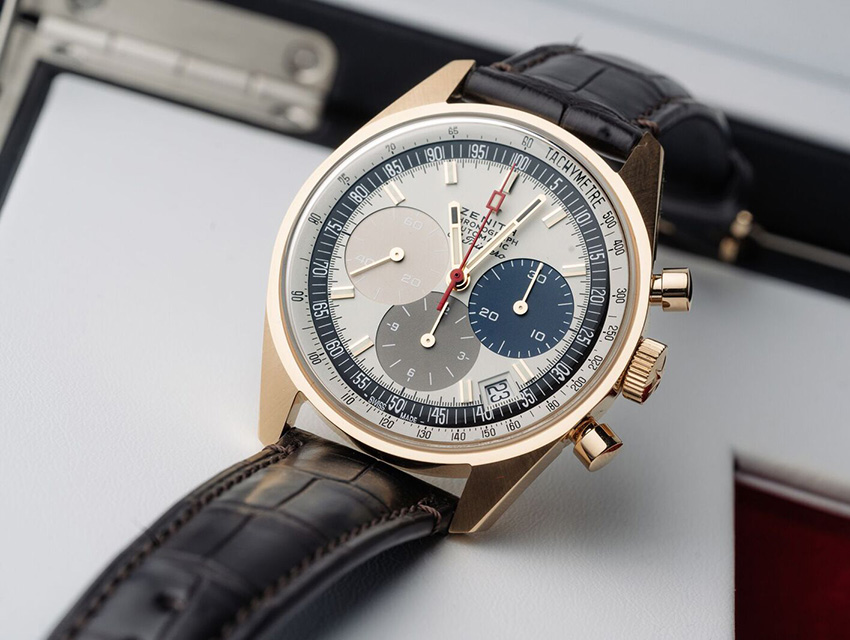 Zenith even called their automatic chronograph caliber "El Primero", meaning "first" in Spanish. Furthermore, what set Zenith apart from its competitors was that the El Primero caliber was incredibly precise due to its high frequency that operated at 5 Hz to enable the chronograph to measure elapsed intervals to the nearest 1/10 of a second. Along with making its own El Primero chronographs, Zenith has also supplied the iconic movement to other renowned watch brands, such as Rolex's Daytona in the 1980s and 1990s.
---
TAG Heuer Monaco
Named after the Monaco Grand Prix, the Heuer Monaco made its debut in 1969 as the first water-resistant automatic chronograph square watch. Heuer (now known as TAG Heuer) wanted to highlight the company's new Chronomatic automatic movement; therefore, along with presenting automatic versions of the round Carrera and the Autavia models, the brand also developed the bold square-shaped Monaco.
In 1971, a Monaco chronograph starred alongside Steve McQueen in the 1971 'Le Mans' film about the legendary endurance car race. The iconic image of the King of Cool buttoning up his Gulf race suit with a Monaco chronograph on his wrist (with the characteristic winding crown on the left-hand side) is forever emblazoned in the minds of Heuer enthusiasts. One of the most recognizable watch silhouettes in the history of chronographs, TAG Heuer continues the legacy of the Monaco today with a range of vintage-inspired editions built according to modern specs.
---
The above chronographs were all born in the mid-20th Century and continue to be a seminal part of their respective brand's catalogs, which speaks to their enduring appeal and timeless designs. A serious watch collection is not complete without at least one chronograph. And if you're going to go for the best, these five iconic chronographs are a great place to start. What's your favorite chronograph watch of all time? Share your thoughts with us in the comments below.