Of the many watch genres in existence, few are as iconic or have as rich a history as the Pilot's watch. From its inception where the point was simply to move timekeeping from a pocket watch to the wrist, to creating an over-sized timekeeper that could be strapped over a bomber jacket and read in low light, the pilot's watch certainly has a rich history. Though no longer a truly practical tool for pilots, IWC, Breitling and Bell & Ross are just a few of the brands that continue to produce modern evolutions of the classic style. In this feature, we're going to take a look at where it all started and how it has evolved, as well as a look at the current state of the pilot's watch in modern horology.
Its Not-So-Humble Beginnings — The Cartier Santos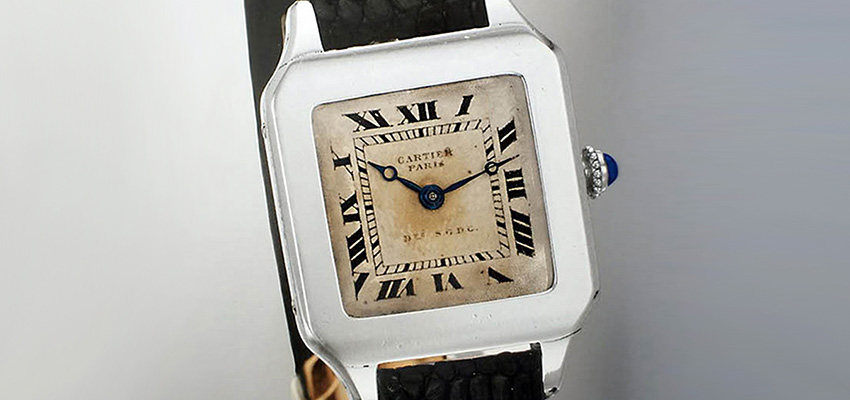 When most people think of pilot's watches, they'll first think of a large diameter case, a black dial, and highly legible indices, though this couldn't be further from what went down in history as the world's first pilot's watch. In the early 1900s, Alberto Santos-Dumont (much like the Wright brothers) was struggling to take to the skies. Though he eventually managed to take flight in 1906, he complained to his friend Louis Cartier about the challenges of fussing with his pocket watch while trying to keep his contraption in the air.
Before long, Louis had a solution in the form of the Santos—the first pilot's watch which Santos-Dumont wore on every flight from that point on, and which garnered so much attention that Cartier put it into production in 1911. Not long after Santos-Dumont took to the skies with a Cartier on his wrist, another contender would throw their hat into the ring, giving rise to the aesthetic codes that we now identify as the modern pilot's watch.
Crossing the Channel — A Precursor to the Zenith Type 20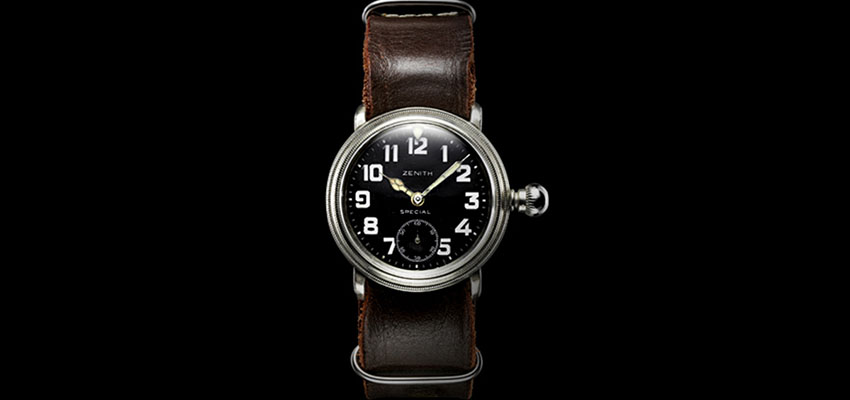 Santos-Dumont wasn't the only man battling for a record in the skies, and in 1909 Louis Blériot became the first man to fly across the English Channel. On his wrist, A hefty steel Zenith with large, luminous arabic numerals on a black dial for contrast, broad hands (cathedral hands, to be precise), and a crown large enough that it could be operated while wearing gloves. Though the journey lasted a mere 37 minutes, Blériot continued to work with Zenith from there on. A few years after his record journey, he was heard saying "I am extremely satisfied with the Zenith watch, which I use regularly, and cannot recommend it highly enough to people in search of precision." Zenith's presence in Blériot's flight gave the brand some fairly significant clout as aviation developed. As the world crept towards WWII in 1939, Zenith became the timing instrument of choice for all French aircraft, and the rest, as we say, is history.
War Time and Beyond — The B-Uhr & Others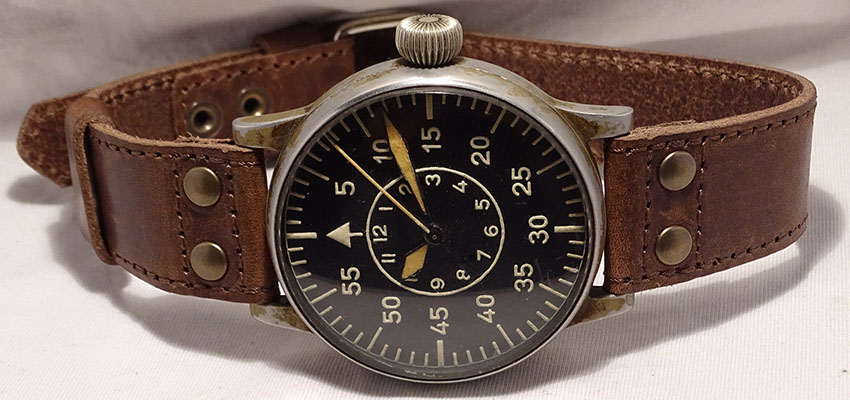 As WWII hit, the need for accurate timekeeping in flight was more important than ever. Where WWI was all about the pilot-styled pocket watches (crafted by Doxa, Zenith, Omega and others), the second world war brought to the table brands like A. Lange & Söhne, Wempe, Lacher & Company/Durowe (Laco), Walter Storz (Stowa), and eventually IWC. A division of the German military crafted the design of the B-Uhr in 1935—a massive 55mm steel watch with an iron core (necessary to combat the magnetic forces found in planes of the era) with a hand-wound hacking movement. The five German firms were tasked with building the Luftwaffe's timekeepers, which would be assigned at the beginning of each mission and promptly returned thereafter. To this day, both Laco and Stowa offer faithful reissues of their classic pilot and B-Uhr watches at a fairly reasonable sub-$2k price of entry.
The Pilots of Today — Breitling, IWC, & Others
Post World War II, the pilot's watch continued to evolve in a fairly organic fashion. 1955 saw the birth of the Breitling Navitimer—a chronograph with a slide rule displaying STAT for standard mileage, KM for kilometres and NAUT for nautical miles, allowing pilots to quickly work out calculations of both speed and fuel consumption. Still a mainstay in Breitling's core collection, the brand still offers at least 8 variants of these classic Breitling pilot watches, including the recently-launched Rattrapante split-seconds chronograph built entirely in-house.
IWC's pilot collection is ever-growing, as the brand continues to forge ahead with pilot's watches in steel, precious metals, and ceramic. The brand was the first to release a ceramic-cased chronograph—the 3705 Ceramic Flieger in 1994. Today their range includes everything from the subdued and simple Mark XVIII, through to the Big Pilot's Perpetual Calendar (though we're hearing rumors of it being discontinued in the not-too-distant future).
Zenith threw its hat back into the vintage-styled pilot ring a handful of years back with the Type 20 Extra Special—a piece whose roots run clear back to Blériot's timekeeper we spoke of above. Most recently the line was augmented by a 40mm variant in four new colorways with an aged steel case, where the balance of the collection comes in at a reasonable 45mm (also available as a two-register chronograph.
Though a much more recent entrant to the category, Bell & Ross has carved itself out a nice little niche in the pilot's watch category. The iconic BR 01, 03, and X1 models are derived from cockpit instrument pods, and over the years the brand has created a wide array of pieces that pay varying degrees of tribute to these devices. In particular, the BR 01 Concept Flight Instrument collection includes pieces meant to resemble a compass, a heading indicator, and an altimeter among others. Though the brand only dates back to 1992, they've also recently released a collection paying homage to the wartime era, melding both pilot and trench watch aesthetics in fairly tasteful manner.
The Affordables — Ventus & Alpina
Though there are a number of budget-minded pilot's watches on the market, we're opting to focus on a couple of our personal favorites. First, the Ventus Caspian and Black Kite—a pair of Miyota-powered classics available in either brass or carbon fiber, and both great pilot watches under $300. Though a relatively new outfit, Ventus is the brainchild of Elshan Tang, who also founded sister-brand Zelos.
From a more established corner of horology, Alpina offers its own range of pilot's watches which are very close in design to those from IWC, though at a fraction of the cost. Typically powered by Sellita-based movements, the brand's extensive collection offers everything from quartz-powered chronographs to automatic 3-hand and chronograph models that all boast a reasonable level of fit and finish starting a little below the $1000 mark. Those looking for the classic IWC charm without the pocketbook sting will be more than satisfied by what's on offer.
Traditional Pilot Bands
There is a feature that is recognizable among pilot's watches, and that is their bands. In this niche you will find bands styled after the WWII B-Uhren strap as well as WWII Bund straps. The B-UHren style straps can be distinguished by the presence of metal rivets and are usually a thicker quality. Bund straps which include a protective wrist pad were created in WWII for German military pilots to protect the skin of their wrist from the metal of the watch case which could heat up and freeze to extremes in the cockpit. Both of these styles have remained popular among vintage watch enthusiasts and modern-day watch collectors of all kinds.
Now let us know, what is your favorite pilot's watch!