The watch industry is chock-full of weird nicknames for different models, but Seiko really takes the cake. Rather than following the usual pattern of relating colors to nicknames, many Seikos are named after sea creatures, or other randomness. While we cannot necessarily trace back the origin story on all of these nicknames, we can certainly give you a walk-through of which ones are which, and how to identify them. Some of these may be more familiar to you than others, and if you're just starting to learn about the affordable-and-awesome world of Seikos, this'll be a big help when you're hunting for your next budget-friendly diver.
---
'Arnie'
The Seiko H558-5009 will forever be affectionately called the 'Arnie' thanks to none other than action movie star Arnold Schwarzenegger a.k.a. Arnie. Before he became the Governor of California, Schwarzenegger was best known for his tough-guy roles in some of the biggest films of the 1980s and 1990s. And in two of his films, Commando (1985) and Predator (1987), Schwarzenegger wore the big 46.5mm Seiko H558-5009 dive watch on-screen, which naturally paved the way for the watch's nickname.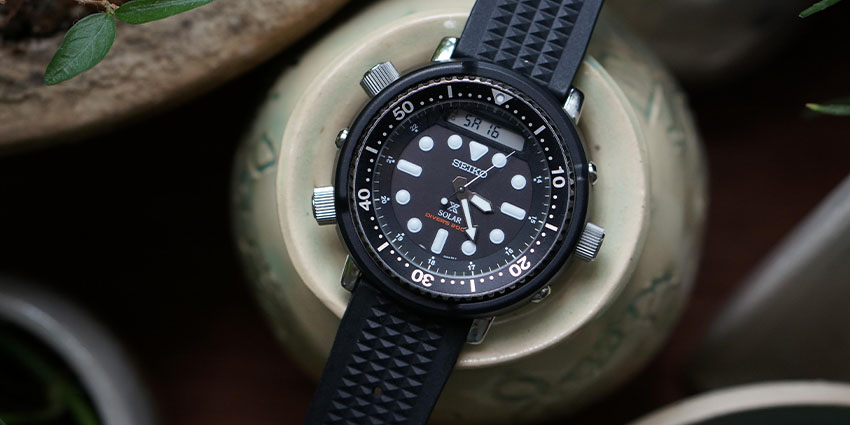 (Image: vlke @ watchuseek.com)
In 2019, Seiko launched a new 'Arnie' in the form of the even bigger SNJ025, which sports a black 47.8mm Tuna-style shrouded case topped with a black unidirectional rotating bezel. The analog-digital dial of the Seiko 'Arnie' reissue includes an LCD at 12 o'clock and the watch is paired with a 22mm wide black silicone strap.
---
'Captain Willard'
In the groundbreaking 1979 film Apocalypse Now, actor Martin Sheen wore a Seiko 6105-8110 while playing the role of Captain Benjamin L. Willard. Therefore, the Seiko 6105 diver, characterized by its 44mm asymmetrical case with a crown at the 4 o'clock position, became known in the watch community as the 'Captain Willard.'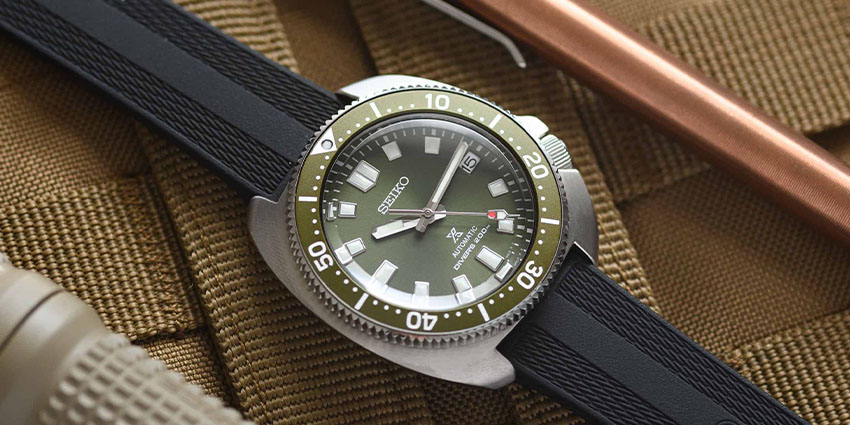 (Image: Ed Jelley @ wornandwound.com)
Fast-forward to more recent times and there have been a couple of reissues that now also carry the famed 'Captain Willard' Seiko nickname. For instance, there's the 2019 limited edition Seiko Prospex 1970 Diver's Re-Creation SLA033, which was a revival of the 6105. Then, the following year, Seiko released the non-limited SPB151 (black) and SPB153 (olive green) Prospex models based, yet again, on the original 6105 'Captain Willard.'
---
'Seitona'
The Seiko Prospex Speedtimer Solar Chronograph collection debuted in 2021, inspired by the 1969 Speedtimer. Seiko released these 39mm solar chronographs in four dial colors: navy, black, white, and gold.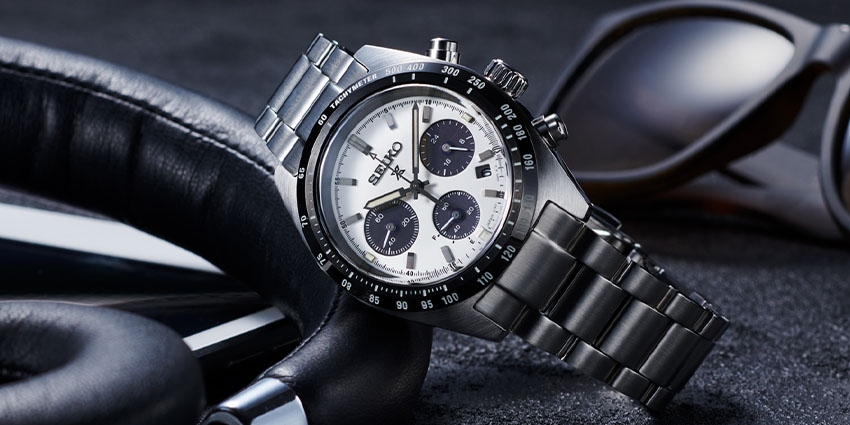 (Image: Seiko)
And it is the white "Panda" dial variant, the SSC813, that quickly picked up the 'Seitona' nickname due to its similarity (in style) to the Rolex Daytona.
---
'Ashtray'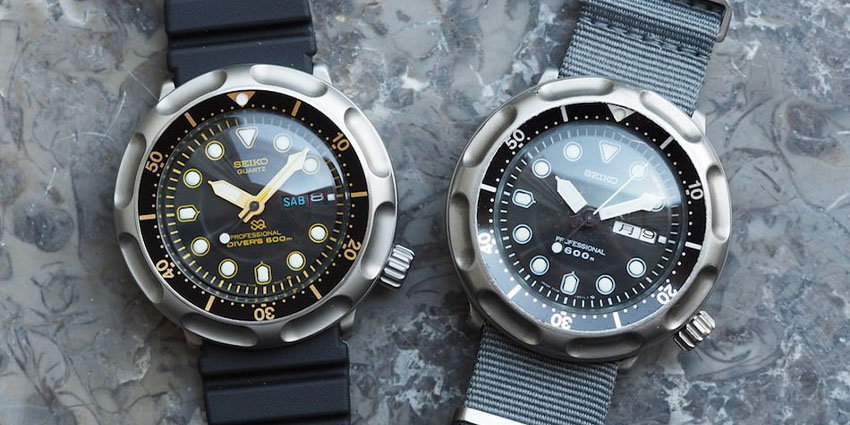 (Image: Michael Stockton @ fratellowatches.com)
In the 1980s, Seikos made some tough titanium divers with quartz movements and notched bezels—now commonly referred to as Seiko 'Ashtrays.' The first was the 7C46-6009, which had a steel case and titanium bezel, followed by the full titanium 7C46-6010 a few years later. The 'Ashtray' nickname comes from those funky and deeply grooved bezels that resemble, you guessed it, old-school cigarette ashtrays.
---
'Atlas' and 'Landshark'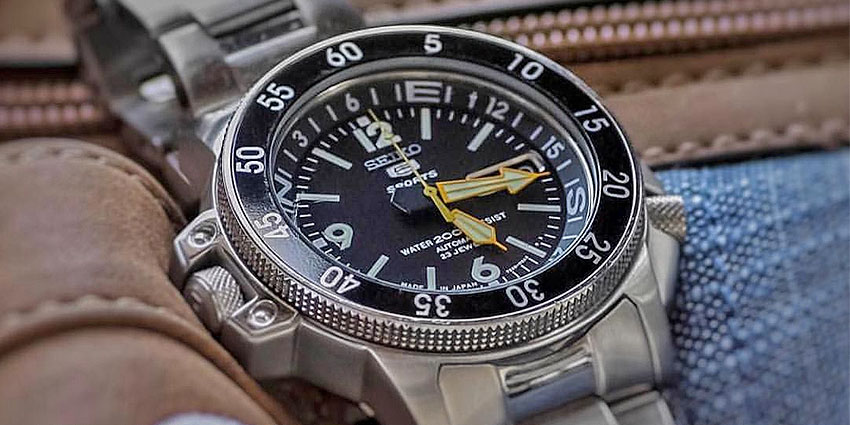 (Image: aqsale.com)
The Seiko 5 Sports SKZ211 has not one but two nicknames: the 'Atlas' and the 'Landshark.' The 'Atlas' is in reference to the watch's inner rotating compass scale, which is controlled by a compass crown at 9 o'clock. The 'Landshark' name stems from the fact that this is a highly capable watch both on land (again, because of that compass) and in the sea due to its 200m water resistance.
---
'UFO' and 'Yachtsman'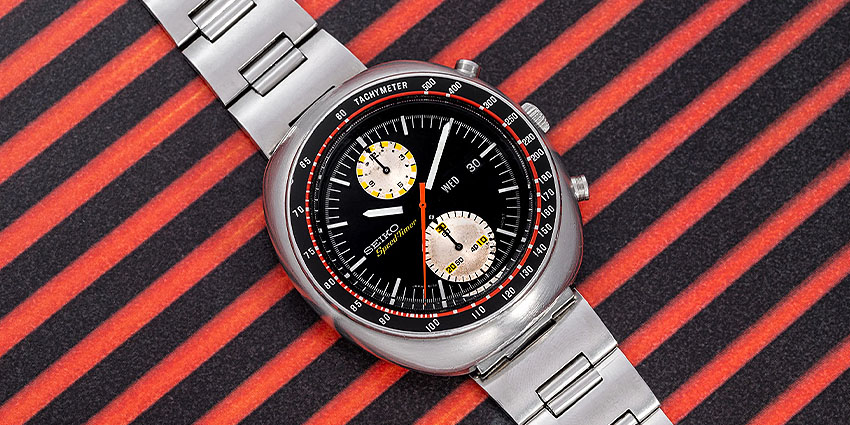 (Image: analogshift.com)
The Seiko 6138-001X automatic chronographs from the 1970s are often called the 'UFO' due to their flying saucer-shaped case void of visible lugs. And it's a big case too, clocking in at 44mm. The watch is sometimes also called the 'Yachtsman' since that was the name used in an ad published by an American distributor of Seiko watches.
---
'Monster'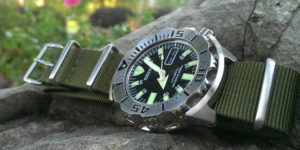 (Image: 59yukon01 @ watchuseek.com)
Recognizable by its giant hands and indices (and MONSTER lume), the Monster is definitely one of the bigger and bolder pieces in the pack. Its slightly dished and over-sized bezel make it look quite large, but thanks to fairly stubby lugs, it wears quite comfortably on smaller wrists. It's a statement piece, don't be fooled, but if an oddball diver that looks like nothing else is on your shopping list, we're happy to recommend it. I used to have their 100th anniversary model in my personal collection, and would highly suggest tracking one down if you can.
---
'Tuna' (or Tuna Can)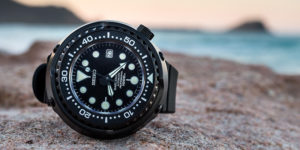 (Image: Gishani Ratnayake)
Of the pack, the Seiko Tuna is by far the biggest, measuring a whopping 48mm in diameter. That's right, we're talking near U-Boat territory here. That said, the big lugless shrouded diver has, on many an occasion, sucked in enthusiasts whose preferences are often closer to the 40-42mm mark. The name — as you can likely guess — comes from its chunky bezel shroud that makes the hefty piece look like a can of tuna strapped to your wrist. Its origins go all the way back to roughly 1975 with the launch of the 6159-7010 (also known as the "Grandfather Tuna"), and variants of the Tuna are still built to this day.
---
'Turtle'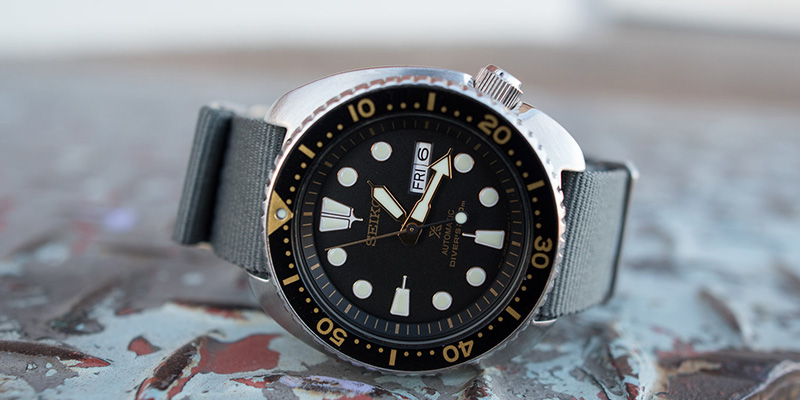 (Image: Cameron L. @ horologicalclub.com)
Probably the most popular watch on this list, the Turtle gets its name from the cushion shape of its case, which evokes the shell of the sea creature that it's named after. Turn it over and it looks even more like a turtle laying on its back.  This classic Seiko dive watch was originally released in 1977, and was then re-issued around 3 decades later due to its popularity. Truly a cult-favorite that is here to stay.
---
'Mohawk'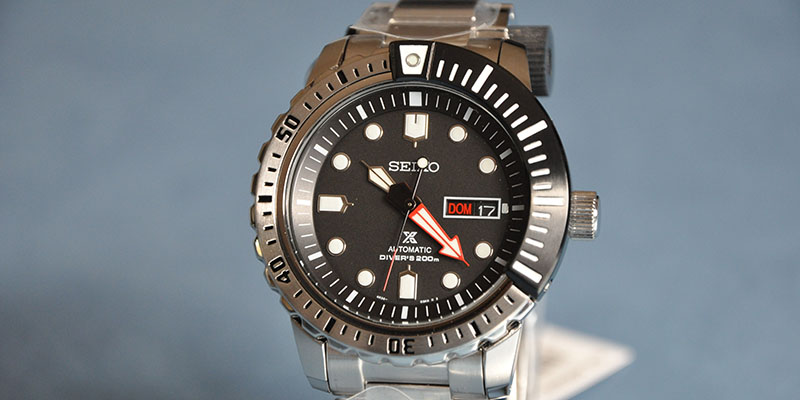 (Image: slider_7 @ horlogeforum.nl)
You either like it or you don't. It's easy to see where this Prospex diver got its name from. Just have a look at the 00-20 part of the bezel, which is raised and resembles the Mohawk hairstyle. This interesting design allows divers to get a good grip on that bezel, and easily manipulate it underwater. Some say they appreciate the unique look that the Hawk gives off, while others just don't get it. What do you think?
---
'Spork'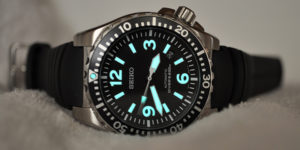 (Image: muttley @ watchtalkforums.info)
It's a Diver! It's a Pilot! It's a Spoon! It's a Fork! That's right, that's basically the way that this oddball discontinued Seiko got its name, however it's suspected that its model containing an anagram to spell the word (it's the SRP043K1) may have also helped. It's also quite similar to a 3-6-9-12 diver from Sinn, though with a much friendlier price tag. It's not for everyone, but it's a fun piece nonetheless.
---
'Pogue'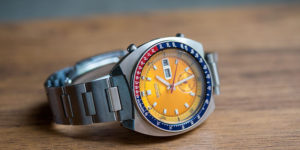 (Image: Zach Weiss @ wornandwound.com)
Named after Col. William Pogue who wore his 6139-6005 during the Skylab 4 Mission in 1975 alongside his Speedmaster. These bad boys have seriously jumped in value over the last 4 or 5 years, and watches you could once buy for a couple hundred bucks are now fetching close to a grand in decent condition. The automatic chronographs are practically bulletproof, though if you pick one up that needs service, be cautious, as finding someone to service these properly can be a challenge.
---
'Shogun'

(Image: wellnet.com.au)
44mm in diameter, powered by Seiko's 6R15 movement, and cased in hardened titanium, the Shogun is one of Seiko's underdogs that sort of looks like the love child of a Rolex Sub and a Seiko Monster. It's got slightly angular lugs and nicely brushed case sides that give it that extra tool-watch vibe compared to its next of kin, the Sumo.
---
'Sumo'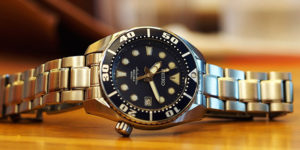 (Image: Evan Yeung @ monochrome-watches.com)
Though quite similar to the Shogun, the Sumo differentiates itself in a handful of ways. For starters, its bezel is completely different to most Seiko divers, using larger numerals all the way around. Its hands are also much simpler than those of the Shogun. In dimensions  they are quite similar, though the Sumo will be decently heavier, as it uses a steel case and stainless steel bracelet instead of titanium. Finally, its case is just cleaner and more curvy than its harsher and more angular sibling. If it was my money, I'd probably side with the Sumo, but this will all come down to personal tastes.
---
'Sea Urchin'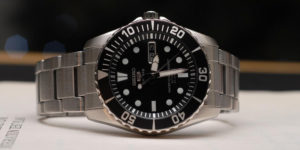 (Image: Ronald Bayan @ flickr.com)
Think of the Urchin as a sort of budget baby brother to the last two. It's another clean and simple black-dial diver, but it's from the "Seiko 5" entry-level line, using the basic 7S36 non-hacking movement, and only water-resistant up to 100m. You can scoop one of these bad boys up for less than $150 if you hunt around though, so if you're looking for a budget-beater or gift for your teenager that you won't feel bad about him trashing, it'll do the job just fine.
---
'Samurai'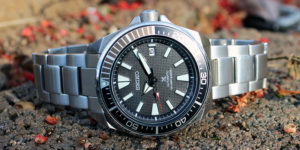 (Image: joeweber22 @ dappered.com)
Landing in the midrange between the Urchin and more expensive models, the Samurai was a Japanese-only release, available in both titanium and steel. It once again used a fairly angular case design and was good for up to 200m, though still using the entry-tier 7S26 and 7S36 movements. The cool version to get (if you can track one down) is its bright orange dial variant.
---
'Ripley'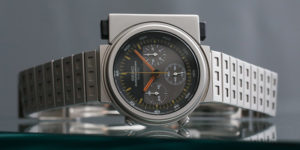 (Image: Ariel Adams @ awatchtoblog.com)
That's right, remember that super weird futuristic watch that Ripley wore in the movie Alien? That was a Seiko, and the best part is that it was recently reissued! The Giugiaro-designed piece isn't necessarily to everyone's taste, but those that know it will be real quick to comment. Just because it's a quartz chronograph doesn't make it any less cool either.
---
'Stargate'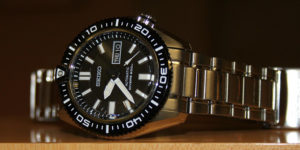 (Image: Jorge Merino @ timezone.com)
Can you guess where this Seiko gets its moniker from? It's the watch's bezel that bears resemblance to the Stargate portals in the science-fiction series of the same name. Its bezel design actually reminds me a bit of the Oris Divers Sixty-Five in its own way, which means that it'll be extra grippy and easy to operate (even with gloves on). The cool thing is, this is another one you can scoop up in the sub-$300 range.
---
'Bottle Cap'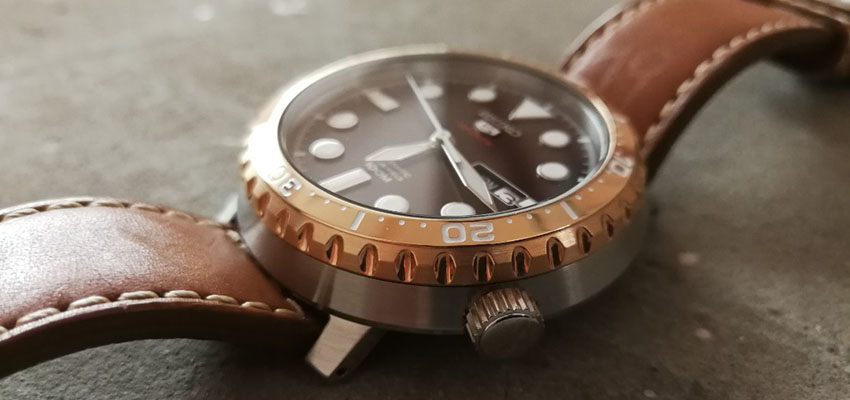 (Image: starskream00 @ sg.carousell.com)
Snap the cap off a glass bottle of pop and you will see where this Seiko watch gets its nickname. Just check out that super round notched bezel. The Seiko SRPC68 "Root Beer" is the most unique 'Bottle Cap' with its funky brown dial and bronze bezel. If you are looking for a unique and quirky piece to add to your collection, this one is certainly for you.
---
'Starfish'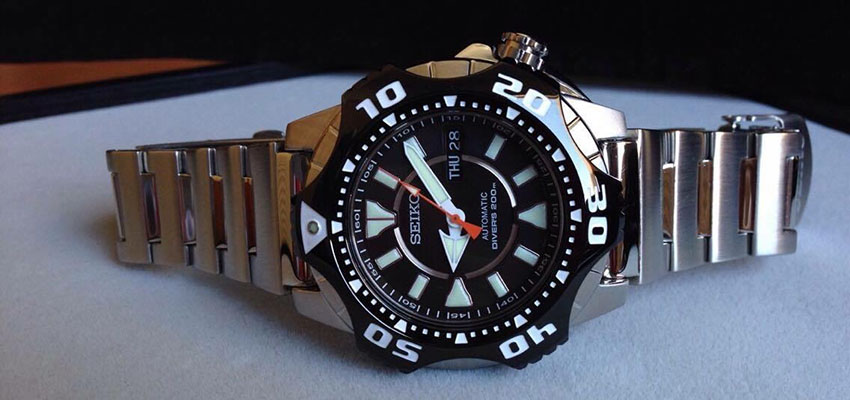 (Image: dfl3506 @ watchuseek.com)
Dive fans will appreciate the Seiko 'Starfish' which earns its name from its six-point bezel. Similar in appearance to the 'Monster' although with an even more chunky and robust case, this Seiko diver is water-resistant up to 200m, and features a reliable 7S36 automatic movement, and as always with Seiko, awesome lume quality.
---
I think we've covered all of them, but if there are any others we might have missed, let us know in the comment section below!