If you are into watches as much as we are, you will no doubt try to figure out what watch someone is wearing in a movie or television show. Maybe you've even paused a movie just to get a closer look at a specific watch—we certainly have! When it comes to watches in movies, it's hard to beat the variety found in James Bond movies. From the early days when 007 was sporting a Rolex Submariner watch on a NATO-style strap to modern-day sequels with the superspy wearing a slick Omega Seamaster diver on a metal bracelet, there is no shortage of watch spotting opportunities in James Bond flicks. But there are many other movies for watch lovers featuring famous watches. Today, we're taking a look at some famous watches in movies, with a list featuring some of the most iconic movie watches out there. See if you've noticed these before!
---
Hamilton Watches – Interstellar
Hamilton has stuck to a very clever strategy to get their watches into movies; they go after the behind the scenes crewmembers like directors, prop managers, set designers, and costume designers because the brand understands that these are the people who decide what the cast of characters end up wearing on screen. The company has even been hosting the Hamilton Behind the Camera Awards since 2006, where actors and actresses give out awards to those who work tirelessly in the background to make the movies happen.
While Hamilton watches have appeared in over 500 feature films—including '2001: The Space Odyssey', 'Men in Black', and 'Ocean's Eleven'—a particularly famous appearance was in the movie 'Interstellar' (2014). The science fiction film by Christopher Nolan stars Matthew McConaughey as Cooper, a former NASA pilot, and Mackenzie Foy as his daughter Murphy.
Hamilton worked closely with Warner Bros. and furnished the film with not one, but two models. The first was Coopers' stainless steel Hamilton Khaki Pilot Day Date fitted with a matching steel bracelet, which was part of the company's current catalog. However, the second one was specifically designed for the movie and picked up the nickname the Hamilton "Murph Watch" because Cooper gave it to his daughter before heading out on a mission to save humanity. And if you've seen the movie, you know that Murph's watch plays a critical role in the plot.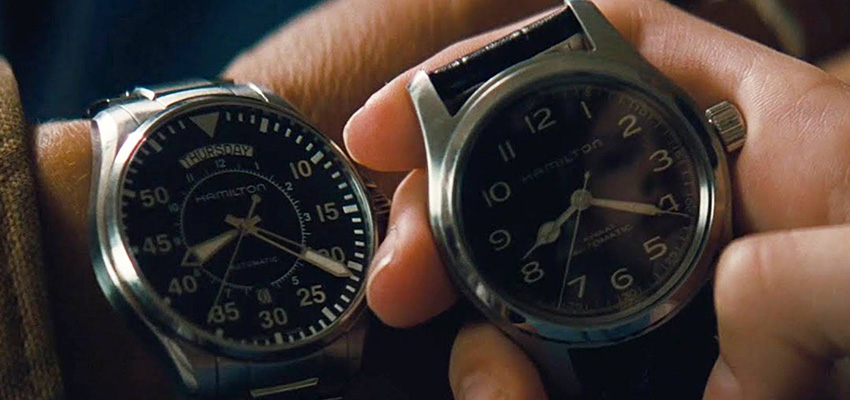 The custom Murph watch merged various design details from different Hamilton watches and the end result was a stunning stainless steel watch with a black dial, pilot hands, Arabic numerals, and a black leather strap. Fans of the movie were disappointed that the watch was not available for purchase while Interstellar was still showing in theaters. However, five years after the movie released, Hamilton delighted cinephiles and watch enthusiasts everywhere by finally introducing the Hamilton Khaki Field "Murph" watch for sale to the public.
---
Omega Watches – First Man
2019 marks the 50th anniversary of the historic Apollo 11 mission to the Moon in 1969 when astronaut Neil Armstrong took "one small step for a man, one giant leap for mankind" on the lunar surface with fellow astronaut Buzz Aldrin right behind him. For their spaceflight to the Moon, the duo wore Speedmaster chronographs, supplied by Omega to NASA. In fact, when Buzz Aldrin stepped out of the lunar module for his moonwalk, he had his trusty Speedmaster strapped around the exterior of his space suit via a custom long Velcro strap. Neil Armstrong left his Speedmaster inside the lunar module as a backup, because the lander spacecraft's electronic timer had malfunctioned.
In 2018, Universal Pictures released the movie First Man, based on a book that recounts Neil Armstrong's story from 1961 until 1969 in the years leading up to NASA's Apollo 11 mission. Directed by Damien Chazelle, 'First Man' stars Ryan Gosling as Neil Armstrong and Corey Stoll as Buzz Aldrin. Naturally, for historical accuracy, it was Omega that supplied the timepieces for the movie production—four in total.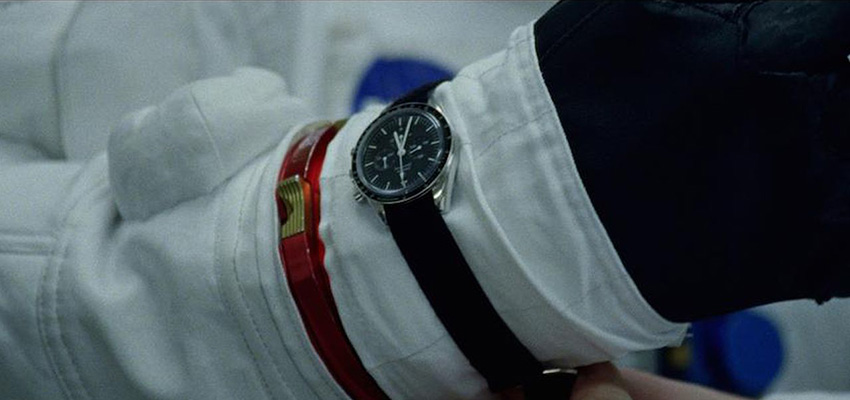 Neil Armstrong's daily watch in the movie was a steel Omega CK 2605 time-only watch on a handsome tan leather strap. During NASA training, he then switched to a steel Omega Speedmaster ST 105.003 chronograph outfitted with a tachymeter bezel in black and a black leather strap. Finally, the third Omega watch to make an appearance in 'First Man' was the historic Speedmaster ST 105.012. Now known as the "Moonwatch", this model was worn by all Apollo 11 crewmembers – Neil Armstrong, Buzz Aldrin, and Michael Collins. Omega also contributed a period-correct 1960s stopwatch to the film set for on-screen NASA training operations.
---
Breitling Watch – Blood Diamond
Once upon a time, around 2009, actor Leonardo DiCaprio signed on as an official brand ambassador for TAG Heuer. The superstar even wore TAG Heuer watches in a few of his movies, such as an understated stainless steel TAG Heuer Carrera watch in Inception (2010) and a flashy yellow gold TAG Heuer Professional 1000 Series timepiece in 'The Wolf of Wall Street' (2013).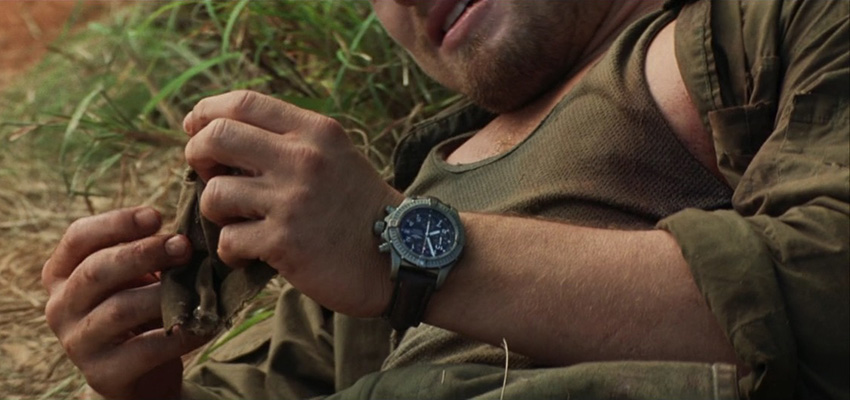 However, a few years before that, Leonardo DiCaprio starred in the action-packed political film, Blood 'Diamond' (2006) where his character Danny Archer, a South African mercenary, wore a Breitling Avenger Chrono watch. Turns out it was a solid choice since a tough timepiece was in order for Danny Archer's dangerous quest to find a rare pink diamond during the Sierra Leone Civil War. His particular Breitling Chrono Avenger sports a 44 mm titanium case, black dial, and brown leather strap with white stitching.
---
Seiko Watch – Apocalypse Now
Often described as one of the best movies of all time, the 1979 classic 'Apocalypse Now' takes the story from the novel 'Heart of Darkness' based in 19th Century Congo and adapts it to play out during the Vietnam War circa 1969 – 1970. Directed, produced and co-written by Francis Ford Coppola, 'Apocalypse Now' featured a star-studded cast, unforgettably haunting scenes and a great example of Seiko watches in movies.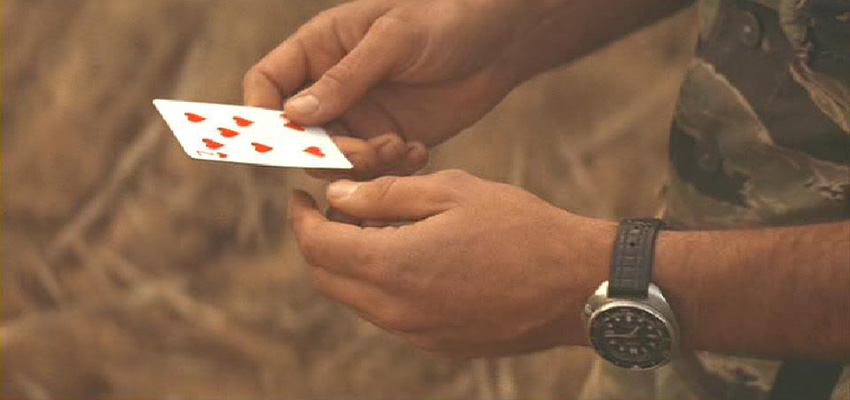 The film depicts the harrowing journey of Captain Benjamin L. Willard (Martin Sheen) trying to fulfill his secret mission to assassinate Colonel Kurtz—who has presumably lost his mind deep in the jungle. While playing Captain Willard, Martin Sheen wears a robust Seiko 6105-8110/9 dive watch, featuring a 41 mm cushion case in steel with a crown at 4 o'clock and fitted with a characteristic black waffle rubber strap. It was a particularly apt choice for the film as Seiko 6105 watches were, in fact, available at US military base stores around the world and were popular among US troops during the Vietnam War. Thanks to its significant screen time, this Seiko later became known as the Seiko "Captain Willard" in collecting circles, which we talked about in our 'History of Seiko Dive Watches' article. Seiko even recently released a modern take on the model in the form of the Prospex 1970 Diver's Re-Creation Limited Edition SLA033.
Fun fact: while in character as Colonel Kurtz in the movie, Marlon Brando wore a Rolex GMT-Master on a tropic strap but strangely, without a bezel.
---
Jaeger-LeCoultre – Superhero Movies
At first glance, Jaeger-LeCoultre watches in superhero movies may seem like a peculiar pairing. After all, the luxury Swiss watch brand is known for classic design cues and masterful mechanical movements while the superhero movie genre is associated with comic book characters and over-the-top special effects. However, if we dig a little deeper into the characters that wear Jaeger-LeCoultre watches in these movies, it makes complete sense.
First up is Bruce Wayne a.k.a. Batman. While at night he may be the caped crusader, during daylight hours he's a billionaire who is part philanthropist and part head honcho of the Wayne Enterprise conglomerate. In the three films that make up the 'Dark Knight' Trilogy, Bruce Wayne (played by Christian Bale) wears a Jaeger-LeCoultre Reverso Grande Date in stainless steel with an elegant brown leather strap—an understated choice for a man with such wealth.
Yet another billionaire boss of his own business empire, Tony Stark (played by Robert Downey Jr.) is head of Stark Enterprises but to most, the wealthy inventor is better known as Iron Man. A much more flamboyant character than Bruce Wayne, Tony Stark's Jaeger-LeCoultre of choice is the sporty and complicated AMVOX3 Tourbillon GMT as seen in the movie 'Iron Man 2'. The impressive platinum and ceramic watch is part of the special AMVOX collection comprising of timepieces designed in honor of the (now defunct) Jaeger-LeCoultre and Aston Martin partnership. Given the connection with the sports car, it's only fitting that the AMVOX3 is presented on a super cool leather rally strap with perforated holes—a style of watch strap that takes design inspiration from vintage driving gloves.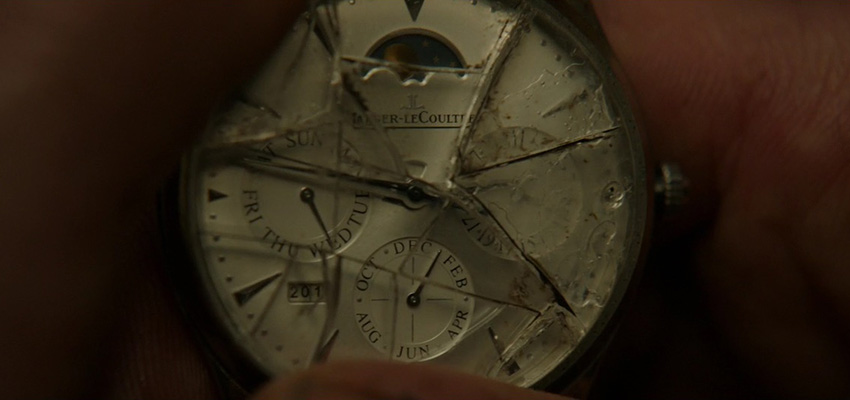 Dr. Stephen Strange may not be a billionaire but he is an ultra-successful New York City neurosurgeon with exquisite taste in watches. In the 2016 superhero film 'Doctor Strange', there is a scene where Dr. Stephen Strange (played by Benedict Cumberbatch) opens a drawer filled with luxury watches spinning around on watch winders. Deciding among a bevy of beautiful timepieces including a Rolex Daytona, a TAG Heuer Monaco, a red Jaeger-LeCoultre Reverso, the good doctor settles on wearing a white gold Jaeger-LeCoultre Master Ultra Thin Perpetual paired with a black leather strap.
---
IWC Watches (And Others) – Top Gun: Maverick
If you were one of the millions of moviegoers that watched 'Top Gun: Maverick' (2022), then you would have no doubt (as a watch enthusiast) noticed all the top timepieces in the film. The sequel picks up 30 years after we first met Navy aviator Pete "Maverick" Mitchell—and we soon find out, some things haven't changed.
For instance, Tom Cruise's character Maverick rides the same motorcycle and wears the exact same aviator glasses, bomber jacket, and blacked-out Porsche Design Chronograph 1 in this blockbuster sequel as in the original 'Top Gun' film. According to an interview Tom Cruise did with BBC 1 Radio, he borrowed the watch from producer Jerry Bruckheimer to make the movie and had to swiftly return it when filming wrapped up.
Another notable watch in the movie is worn by Jennifer Connelly, who played the role of Penny Benjamin. She wears a vintage Rolex Explorer ref. 1016, which is an incredibly thoughtful pick given that she also owns a vintage Porsche 911. It's clear that the "admiral's daughter" has an appreciation for beautiful older gear.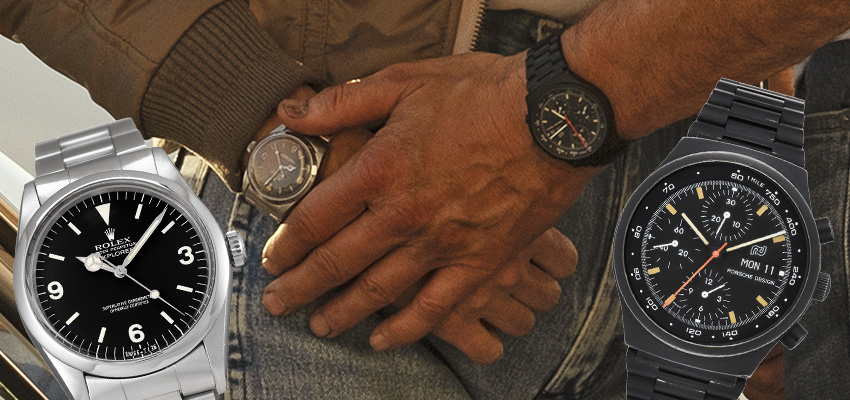 Aside from the watches by Porsche Design and Rolex, this movie, which was 2022's highest-grossing, heavily features IWC watches. As you may know, IWC makes watches for the real-life TOPGUN (officially known as the United States Navy Strike Fighter Tactics Instructor (SFTI) program), issued to instructors and students.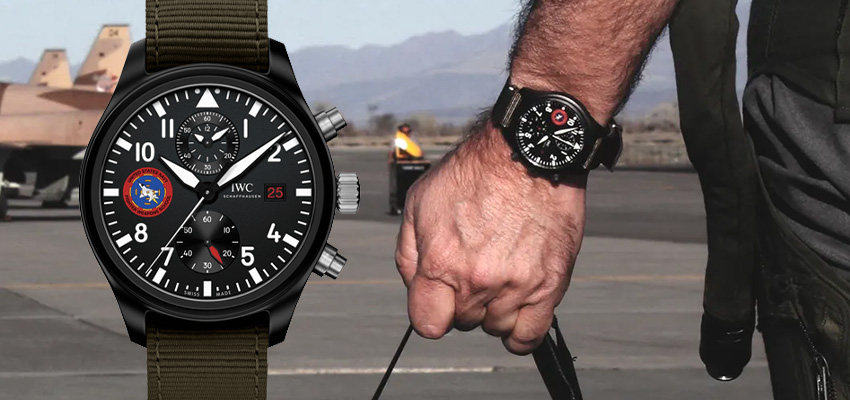 These special-edition IWC "SFTI: watches, which are available in time-only and chronograph versions, are seen on the wrists of Rooster (Miles Teller), Hangman (Glen Powell), Bob (Lewis Pullman), and Phoenix (Monica Barbaro) throughout the action-packed movie. Plus, a super cool instructor IWC stopwatch makes an appearance on screen too.
---
Rolex GMT-Master II Pepsi – The Life Aquatic with Steve Zissou
The Wes Anderson movie, 'The Life Aquatic with Steve Zissou' (2004), tells the tale of renowned oceanographer Steve Zissou (Bill Murray) seeking revenge on a rare shark that ate one of his crewmembers. Ned Plimpton (Owen Wilson), who believes that Steve Zissou is his father, joins the mission as the chief financier. Ned Plimpton is a pilot; so, it was a great choice on behalf of the movie crew to have him wear a Rolex GMT-Master with a red and blue "Pepsi" bezel—a watch that was originally designed for commercial airline pilots. The specific model used in the movie is the GMT-Master II ref. 16710, in case you're wondering.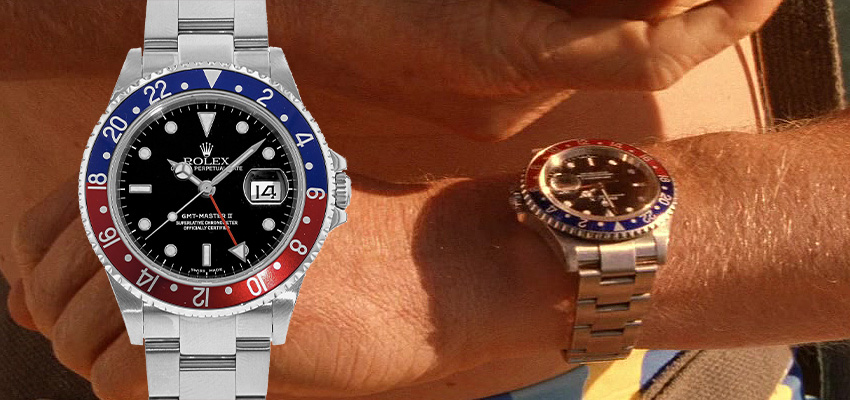 The perfect watch casting doesn't end there. Bill Murray as Steve Zissou (a character that lovingly honors Jacques Cousteau, hence the red beanie) wears a Vostok Amphibia dive watch. Yes, while Jacques Cousteau famously wore more luxurious diving watches like the Blancpain Fifty Fathoms, Rolex Submariner, and Omega Ploprof, Steve Zissou is down on his luck, so the much more affordable Vostok Amphibia diver is fitting.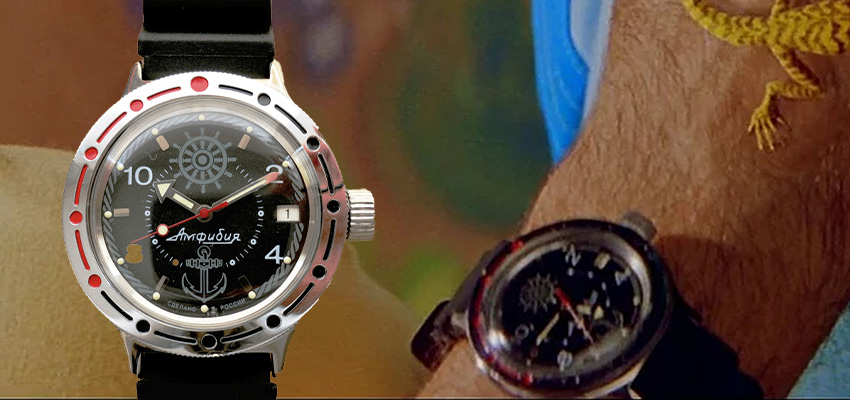 Wes Anderson is known for his incredible attention to detail and it shows with the watches that appear in this movie.
---
Casio G-Shock DW-5600C-1V – Speed
We're dialing back to the 1990s with the blockbuster, 'Speed' (1994), starring Keanu Reeves, Sandra Bullock, and Dennis Hopper. Along with these three well-known Hollywood actors, the Casio G-Shock DW-5600C-1V watch (worn by Jack Traven portrayed by Keanu Reeves) also plays a pivotal role in this film where time is crucial. As a result of this prominent role, the DW-5600C-1V is affectionately known as the "Speed G-Shock."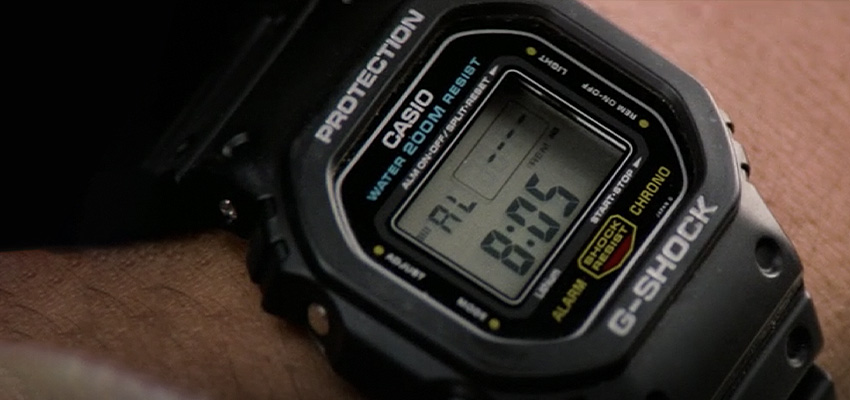 The quintessential G-Shock, the DW-5600C-1V, with its recognizable case silhouette, black colorway, stainless steel inner case, screw-lock caseback, and resin strap, originated in 1987 and was discontinued sometime in the mid-1990s.
It's been reported that the watch wasn't a part of the movie's props but it was in fact, Keanu Reeves' personal watch.
---
What have been some of your favorite watches spotted in movies? Tell us in the comment section below!