Seiko watches are beloved by plenty of watch enthusiasts because they combine great design, durable quality, and affordable price points. It's not uncommon for watch fans to trace their hobby to a particular Seiko model—it's often the gateway into serious collecting.
While collectible watches are typically the domain of high-end brands, Seiko has plenty of collectible references under its belt too. Many now-collectible Seiko watches became part of popular culture after appearing in hit movies while others made history deep underwater or in outer space.
The vintage Seiko watches we'll outline below may have started as relatively affordable back when they were in production, but these days, they command much higher prices due to their collectability. Therefore, as we discuss these five most collectible Seiko watches, we'll also offer some modern-day equivalents that won't break the bank. Let's get to it!
---
Seiko 6105-8110 "Willard"
The Seiko 6105-8110 dive watch is now affectionately known as the "Willard" thanks to its appearance in the classic film Apocalypse Now. It was the watch that Captain Willard, played by Martin Sheen, wore in the 1979 film. It was an apt decision on the part of the prop master to have Captain Willard wear the Seiko 6105-8110 since many U.S. soldiers actually purchased this particular reference from military base Post Exchanges (PX) during the Vietnam War era.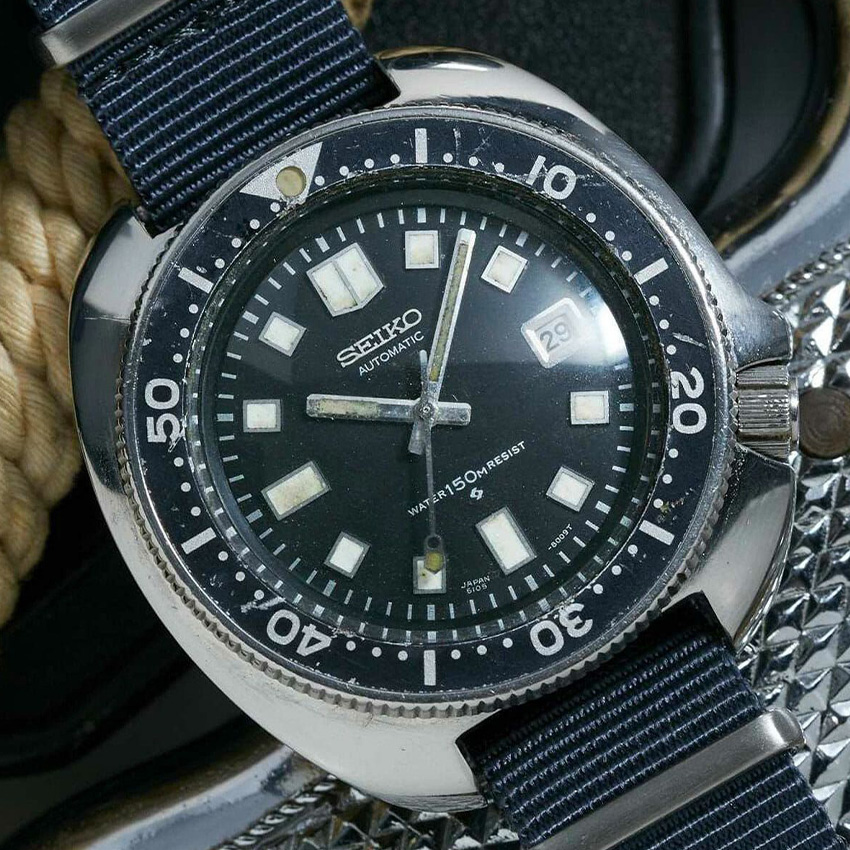 Seiko produced the 6105-8110 (and the identical 6105-8119 where "9" denotes it was sold in the U.S. market) from 1968 to 1977. The watch sports an asymmetrical 44mm cushion-shaped case, complete with its characteristic "turn and lock" crown at the 4 o'clock position. The distinctive steel case is topped with a bi-directional rotating black bezel, marked to 60 minutes, and the dial is protected by Seiko's proprietary hardened mineral glass called Hardlex. Since the 6105-8110 Willard is a highly collectible Seiko watch, prices start at around $2,000 and can easily reach over $3,000.
Seiko re-issued the Captain Willard watch in 2020 in the form of the Seiko Prospex SPB151 (in black with a steel bracelet) and SPB153 (in olive green with a silicone strap) models. These new Willard iterations are slightly smaller, with cases measuring 42.7mm across, which are fitted with sapphire crystals and unidirectional turning bezels. The Seiko Prospex SPB151 retails for $1,300.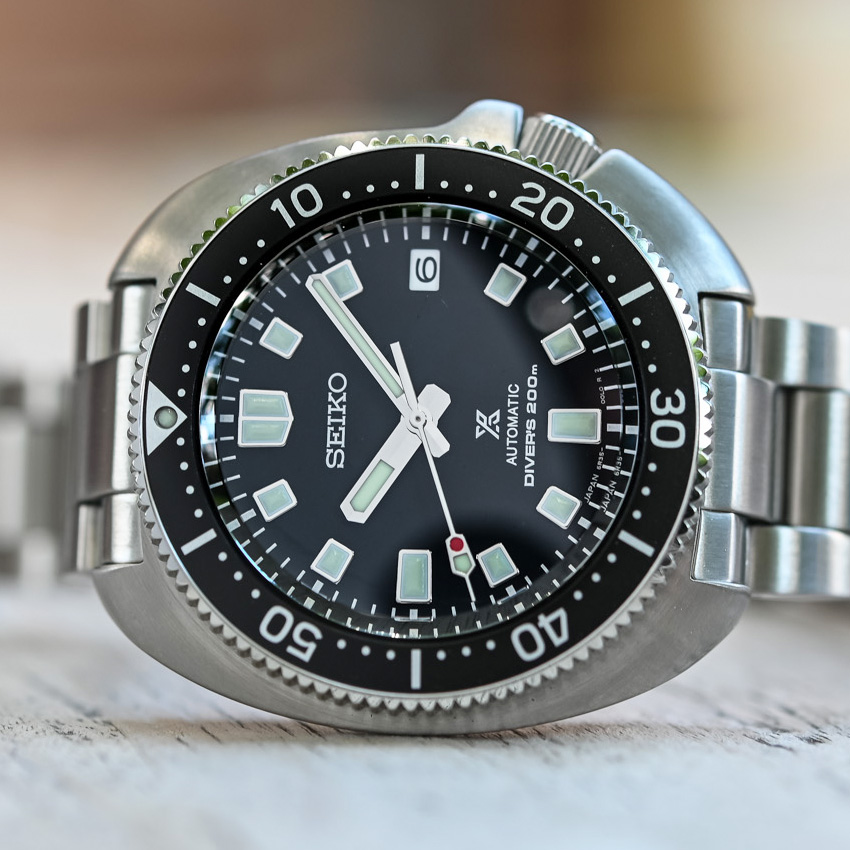 ---
Seiko 6139 "Pogue"
The Seiko 6139-6002 chronograph with a yellow gold dial earned its "Pogue" nickname after astronaut Colonel William Pogue wore his during the 1973 Skylab 4 mission. Those of you familiar with space watches are probably wondering why Colonel Pogue wasn't wearing a NASA-issued Omega Speedmaster. Well, he was; he wore both watches at the same time, the unauthorized Seiko 6139-6002 on his left wrist and the NASA-approved Speedy on his right. As a result, the first Seiko 6139-6002 Pogue was the first automatic chronograph in space.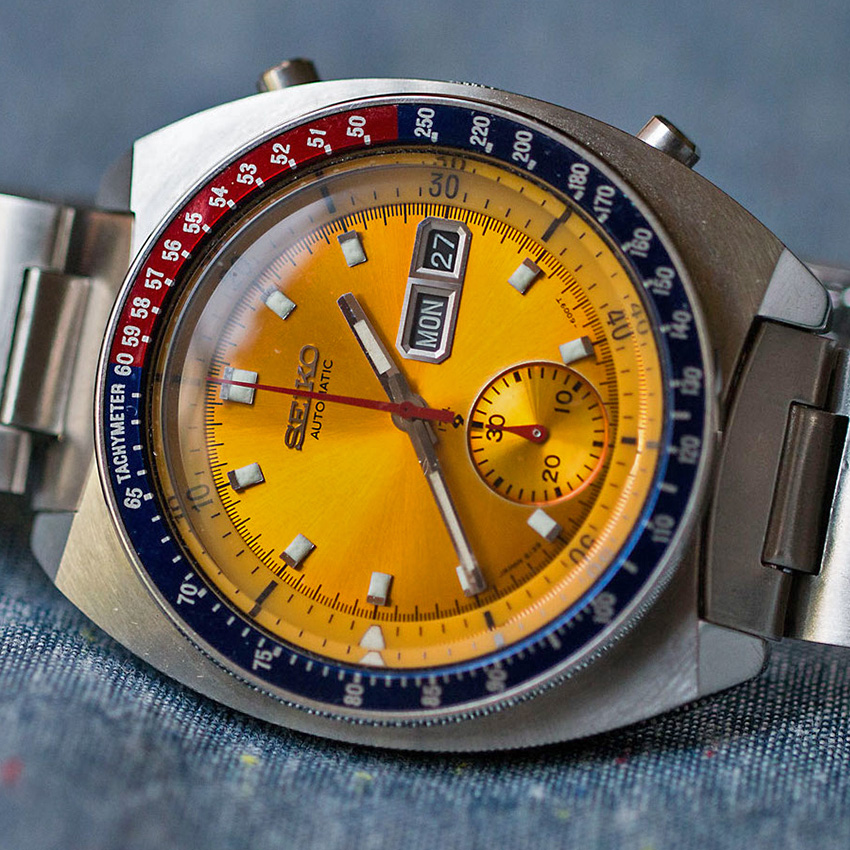 But that's not the only reason the 6139 chronograph is important—this was the first automatic Seiko chronograph watch ever made. In fact, the Seiko 6139 caliber, launched in 1969, was one of the world's first automatic chronograph movements, alongside the Zenith El Primero movement and the Breitling/Heuer/Hamilton-Buren/Dubois-Dépraz movement released that same year.
While there are plenty of Seiko 6139 variations, prices for a collectible Seiko 6139-6002 with a gold dial and blue and red "Pepsi" bezel like the one Colonel Pogue wore in space typically start at around $600 and can sell for twice or three times that depending on condition.
In 2021, Seiko announced the Pogue-like 5 Sports Custom Watch Beatmaker 2021 Limited Edition SRPH19, which was the winning design of an online competition. While this is not a chronograph, the Seiko watch does mimic the famous colorway of the Pogue and retails for a reasonable $295.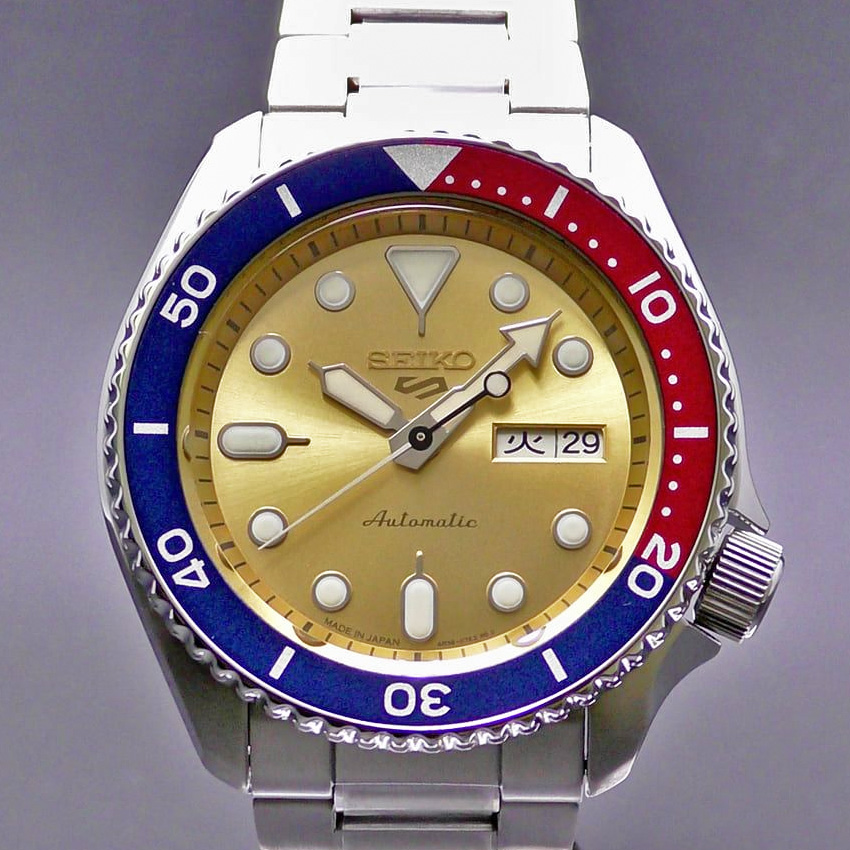 ---
Seiko 6159-7010 "Grandfather Tuna"
The Seiko 6159-7010 diving watch, a.k.a. the "Grandfather Tuna" made its debut in 1975 and it is an absolute legend in the company's history. The 6159-7010 was born after a professional Japanese diver complained to Seiko via a letter about his Seiko watch breaking whilst he was working deep underwater.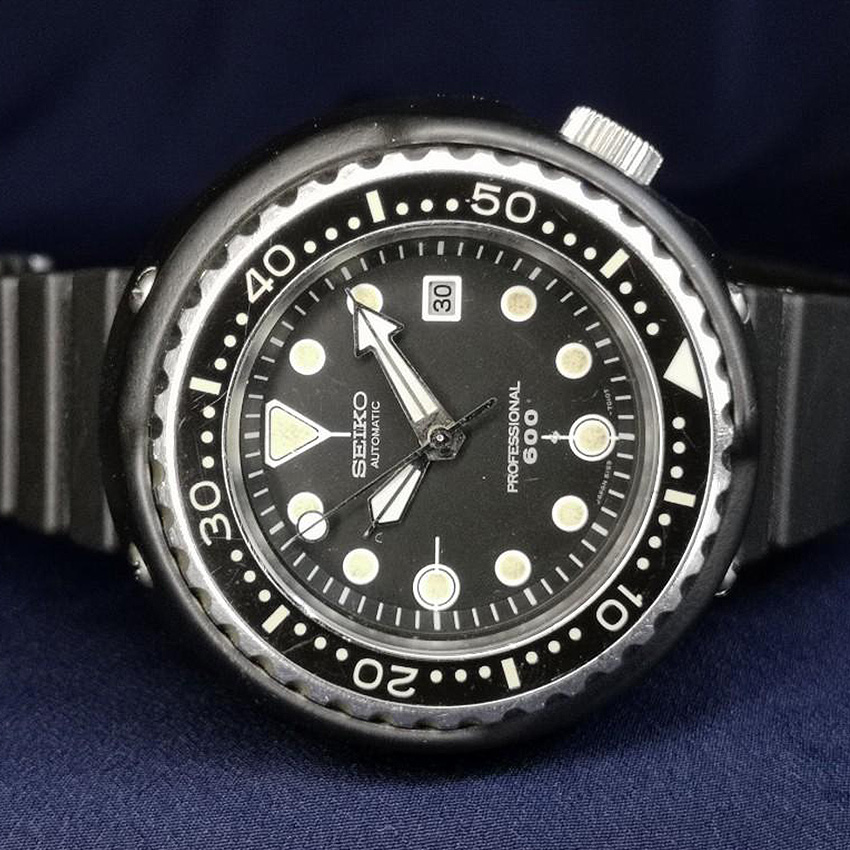 After intense research and development, Seiko's answer to the problem was the 600m water-resistant 6159-7010, featuring a titanium case swathed in a ceramic-coated titanium shroud to protect the watch from immense underwater pressure. This unique shroud gives the saturation dive watch its signature tuna can-like silhouette, and paved the way for the nickname. While Seiko continues to make Tuna dive watches today, the original model, the one known as the Grandfather Tuna is a collector's item with prices starting at $3,000 and going well beyond that for top-notch examples.
The modern reissue of the Seiko Grandfather Tuna is the Seiko Prospex S23631, which retails for $2,400. The quartz-powered watch is water-resistant to 1,000m and it retains the iconic ceramic outer case and titanium monobloc inner case combo of the inaugural 1975 model.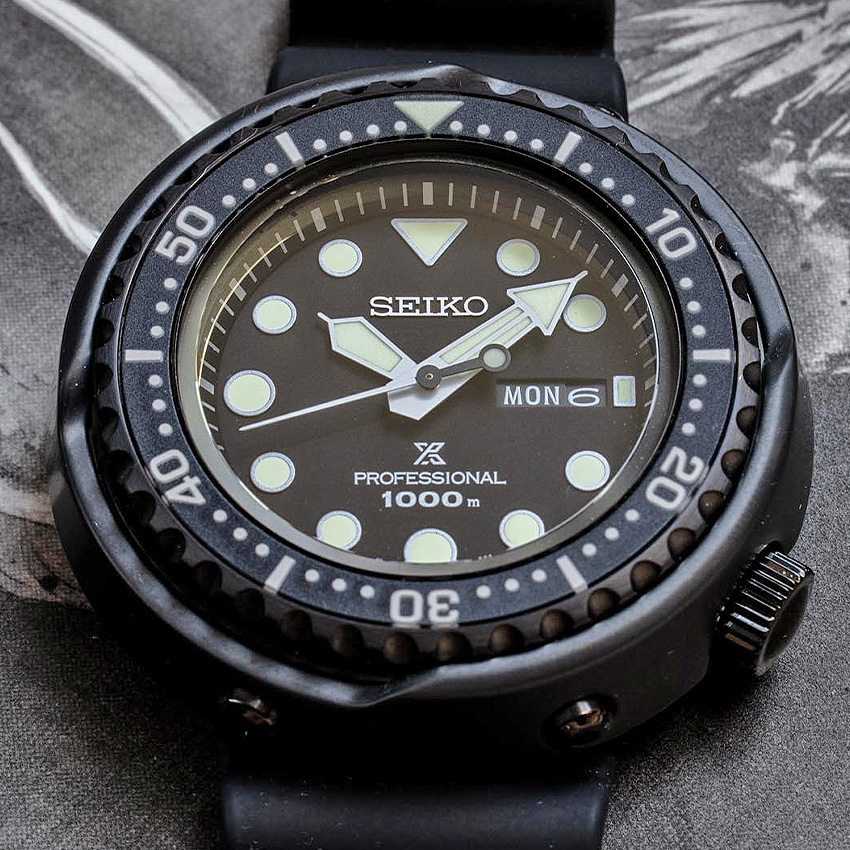 ---
Seiko 7A28-7000 "Ripley"
If you've seen the 1986 movie, Aliens, then you'll remember Sigourney Weaver's badass character, Ellen Ripley. Zoom in on her wrist and you'll spot the unconventional Seiko 7A28-7000, designed by celebrated Italian car designer Giorgetto Giugiaro (of DMC DeLorean fame) This watch, later dubbed the Seiko "Ripley," was released in 1983 as part of the Seiko x Giugiaro Speedmaster watch series.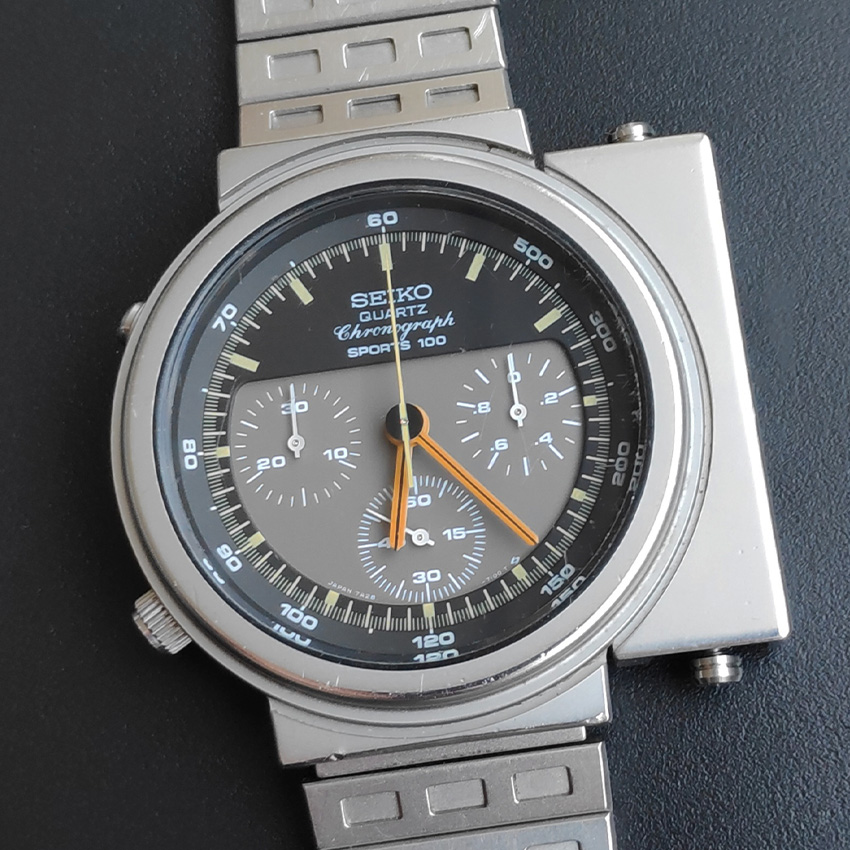 The Seiko 7A28-7000's futuristic design, characterized by a large rectangular protrusion on the right side of the case to house the chronograph pushers and a crown and pusher on the left, was perfectly suited for the blockbuster science fiction film. An original 7A28-7000 Ripley is not easy to come by and when this collectible Seiko watch comes up for sale, it can easily command prices north of $3,500.
In 2015, Seiko re-issued the Seiko x Giugiaro Ripley as the Spirit Smart SCED035 (in gray) and the SCED037 (in black) limited edition models. These modern versions remain quite faithful to the original design but the duo of buttons on the cases' left side is no longer there. These Ripley Seiko reissues typically range in price from $1,300 to $2,000 in the pre-owned market.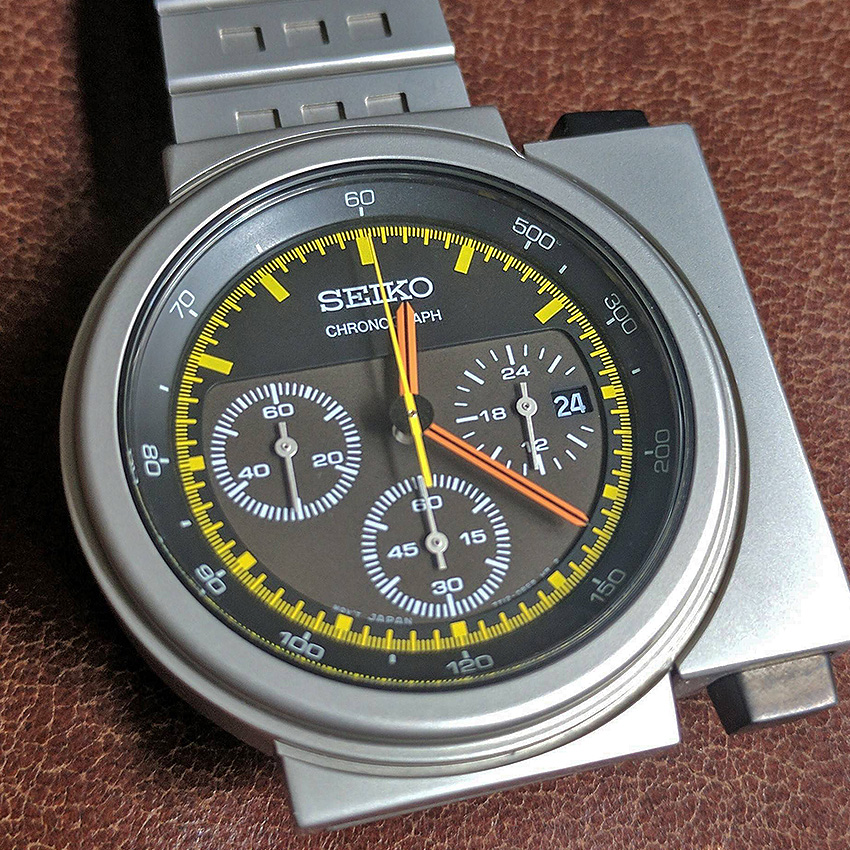 ---
Seiko H558-5009 "Arnie"
Introduced in 1982 and produced until 1990, the Seiko H558-5009 ana-digi watch is simply known as the "Arnie" since Arnold Schwarzenegger—the biggest action hero of the eighties— regularly wore this watch in many of his films.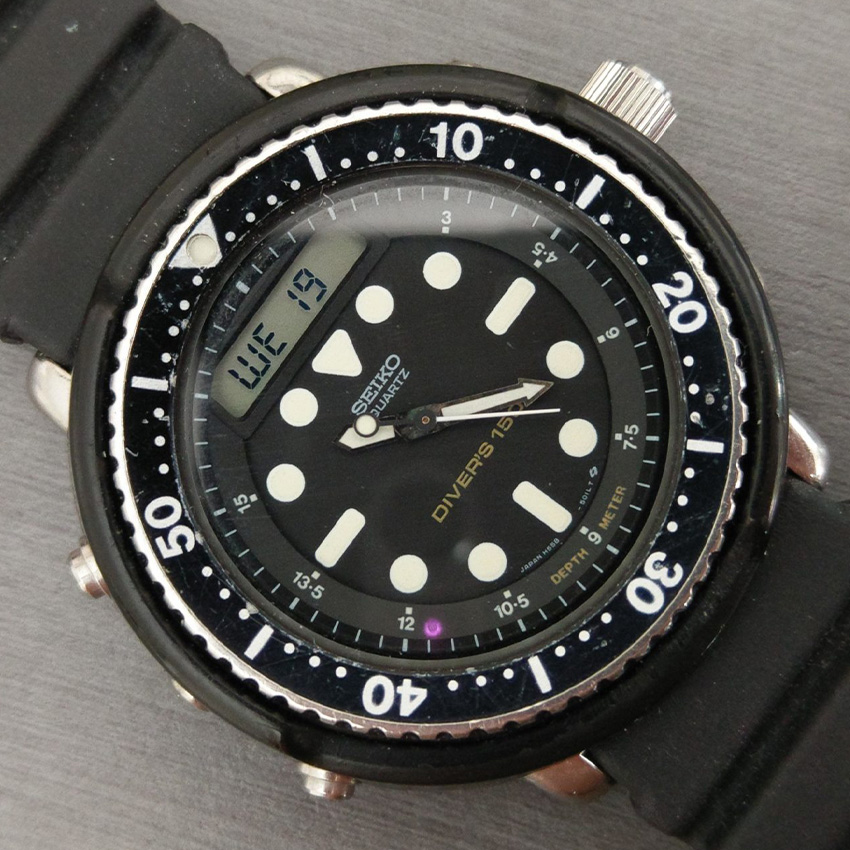 If you want to see the 45mm Seiko H558-5009 strapped around Schwarzenegger's massive arm for yourself, check out the movies Commando, Raw Deal, Predator, Running Man, and Twins. This Tuna-style shrouded Seiko hybrid dive watch was water-resistant to 150m deep and came furnished with an alarm and chronograph. If you want to own this retro Seiko (one of the world's first analog-digital dive watches), expect to pay around $1,000 for an H558-5009 Arnie.
In 2019, the Seiko Arnie was resurrected with the launch of the Seiko Prospex SNJ025, SNJ027, and SNJ028. With its stainless steel case and black bezel, the Seiko Prospex SNJ025, which retails for $525, is most like the original Arnie out of the three next-generation solar-powered models.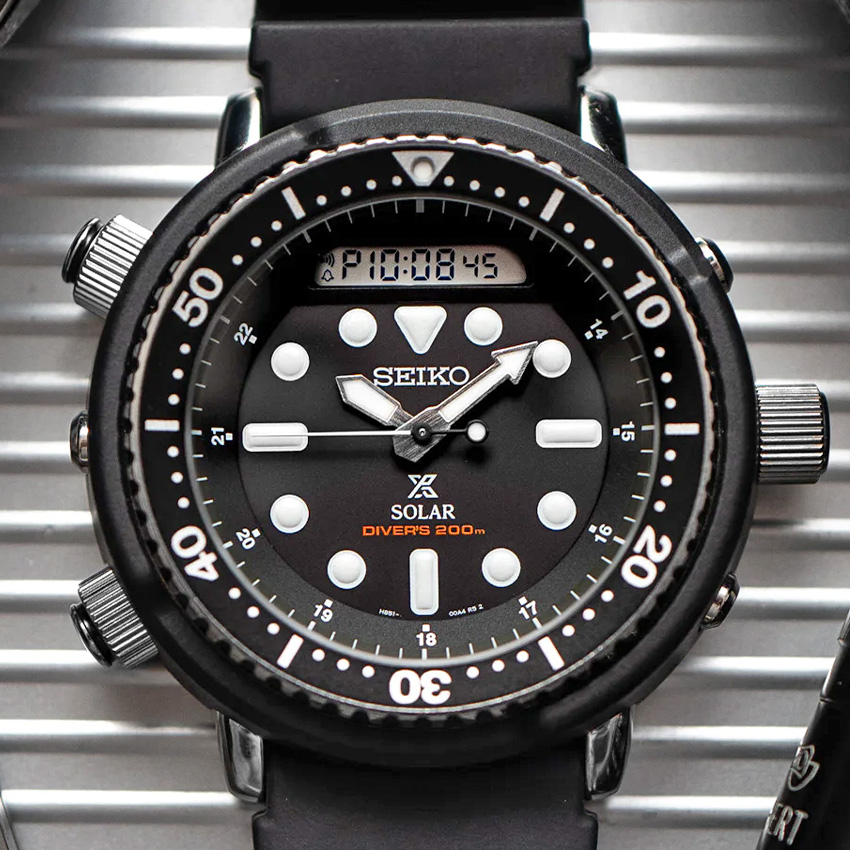 ---
There you have it—five of our favorite collectible Seiko watches, each one boasting an intriguing history and an enthusiastic following. Do you own any of these famous Seikos or any other collectible Seiko models? If so, let us know in the comments below.