As humans have striven to dive deeper and longer, the need for underwater timekeeping has only increased, and many of our favorite watch brands have developed dive watches that were up to the task. Ways to seal the crown and caseback, different materials for the crystal that wouldn't be compromised by underwater pressure, and other innovations that slowly steered us towards the modern dive watches that we all know and love. Rather than go through every minor breakthrough, we thought we would walk you through a bit of a history lesson of some of the most noteworthy dive watches throughout history, starting with (you guessed it) our pals at Rolex.
1926 – Rolex Oyster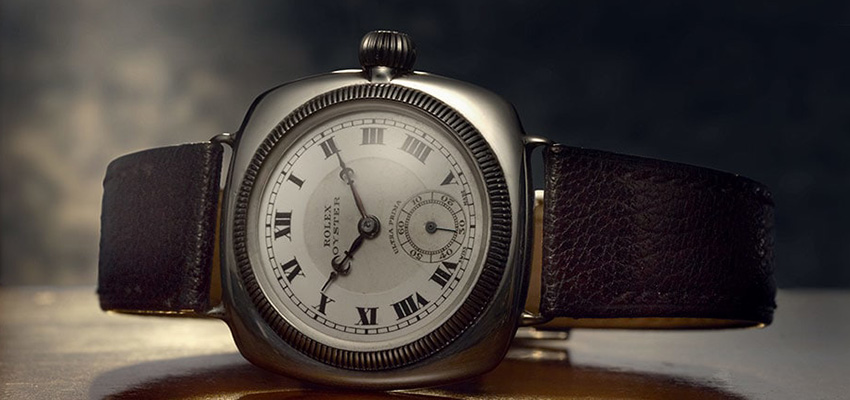 (Image: Rolex)
Sure, it looks nothing like a conventional dive watch, but the first Rolex Oyster still holds the title as the first truly waterproof and dustproof watch. The following year, the brand put their money where their mouth is, strapping it to the wrist of a young English swimmer named Mercedes Gleitze for her swim across the English Channel. The Oyster case included a screw-down caseback, and a screw-down crown, earning it the title of being a truly water-resistant case. This is the first of a duo of innovations whose names still grace every modern Rolex caseback—the other being the Perpetual self-winding movement that came in 1931 (though that's another story in and of itself).
1932 – Omega Marine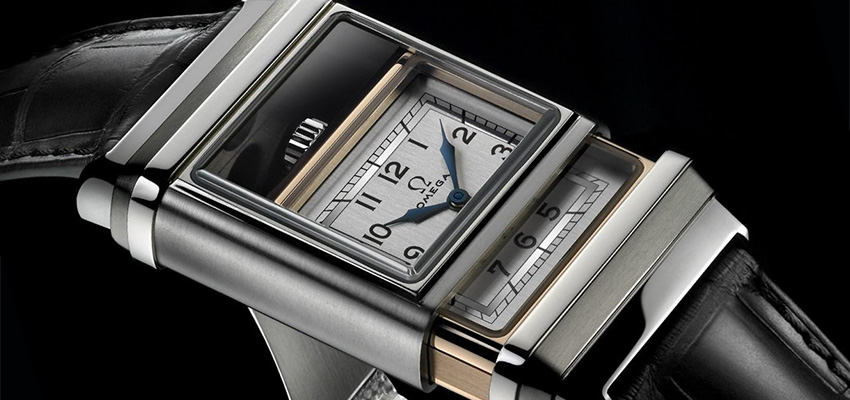 (Image: Omega)
Hot on Rolex's heels, Omega holds the title as the first commercially-produced dive watch. This compact and Reverso-esque piece gets its water-resistance from its fascinating "case inside another case" design. What's more, it is touted as being the first time a "diving extension" in a bracelet clasp was put into production. We're still no closer to the modern dive watch, but the details are just starting to come together.
1936 – Panerai Radiomir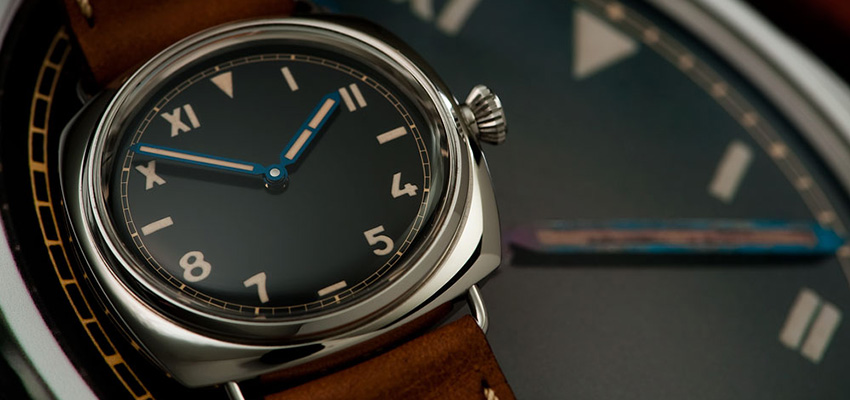 (Image: Martin Wilmsen)
Contracted by the Italian Navy, these early Panerais are incredibly scarce, as only 10 of the 1936 prototypes are known to exist. Some of the earliest versions used both cases and movements manufactured by Rolex, but what eventually became the Panerai Radiomir was significant to the world of dive watches for a different reason. Measuring 47mm across and equipped with a strap long enough to be fitted over a diving suit, these watches were the first water-resistant watches to use a heavy application of a luminous material (that's right, Radium) to allow the Italian Frogmen to read their timepieces deep below the surface. That said, we're still only talking about a depth of 30 meters so far.
1953 – Blancpain Fifty Fathoms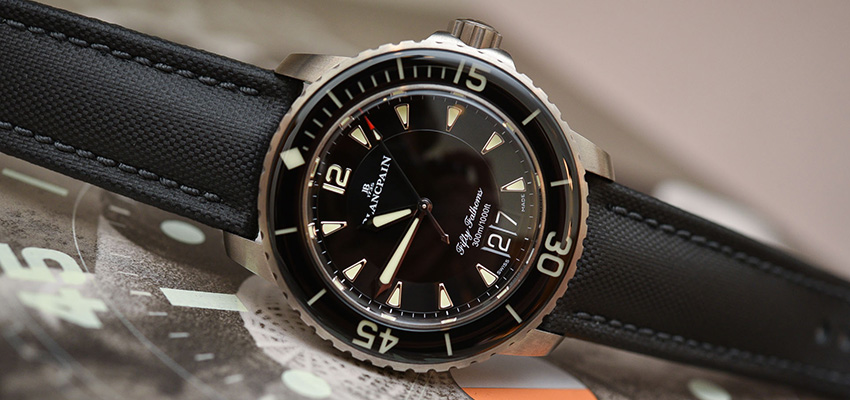 (Image: Brice Goulard @ monochrome-watches.com)
Though our first three candidates were the first to go diving, the Blancpain Fifty Fathoms should really hold title as the first modern dive watch. Once again, the use of a luminous material and water-resistance were crucial, though this time the depth demands were much greater—to the tune of 50 fathoms (or 91 meters). At these depths, resurfacing too quickly becomes dangerous, and divers needed a way to properly time their ascension to the surface. Enter the uni-directional rotating bezel. This innovation came from a pair of minds; Blancpain's new CEO was an avid diver who was looking to create a wrist instrument that could tag along on his adventures. At the same time, Robert Maloubier—founder of the French elite combat diver unit—had been sketching a design for a dive watch and was hunting for the right manufacturer. It was a match made in heaven, and thus a legend of the watch industry was born.
1960 – Rolex Deep Sea Special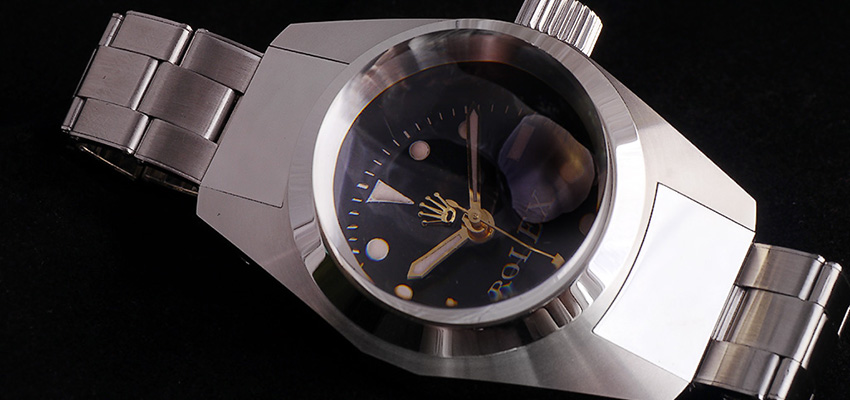 (Image: Peter Chong @ deployant.com)
Blancpain didn't have a whole lot of time before Rolex set a new benchmark with the Deep Sea Special. Jaques Piccard and Don Walsh set out to explore the deepest point on earth—the bottom of the Mariana's Trench—and Rolex decided to tag along for the ride on the outside of their vessel. In that era, the Deep Sea Special had to be built like an absolute tank. An immensely thick domed crystal was needed to spread out the pressure and avoid the risk of implosion. The whole thing wound up measuring 3.6 centimeters thick, making it quite a beast to say the least.
1965 – Seiko 62MAS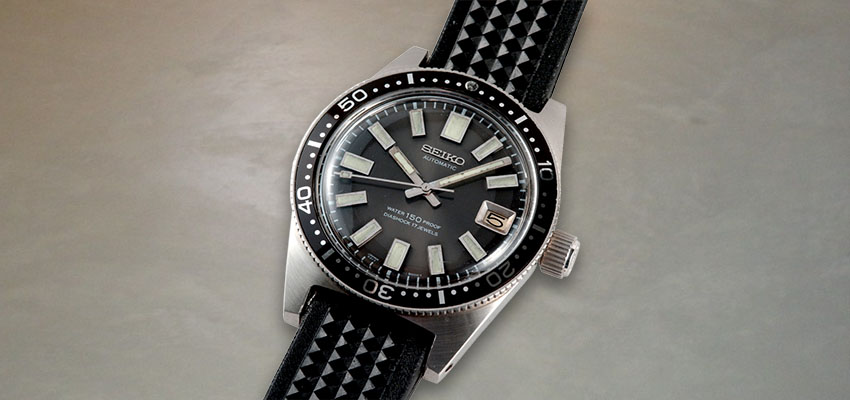 (Image: Seiko)
Considering the strong Swiss emergence in the dive watch market, the always-competitive and innovative Seiko wanted to earn its skin in game, and they did just that. In 1965 Seiko released the Seiko 62MAS – their first professional-grade dive watch. With its bidirectional bezel, strong lume, 38mm case, automatic movement, and water resistance up to 150M, it made quite an impression. The Seiko 62MAS would pioneer Seiko's incredibly popular collection of Prospex dive watches that maintain a heavy cult following to this day..
1969 – Doxa Sub 300T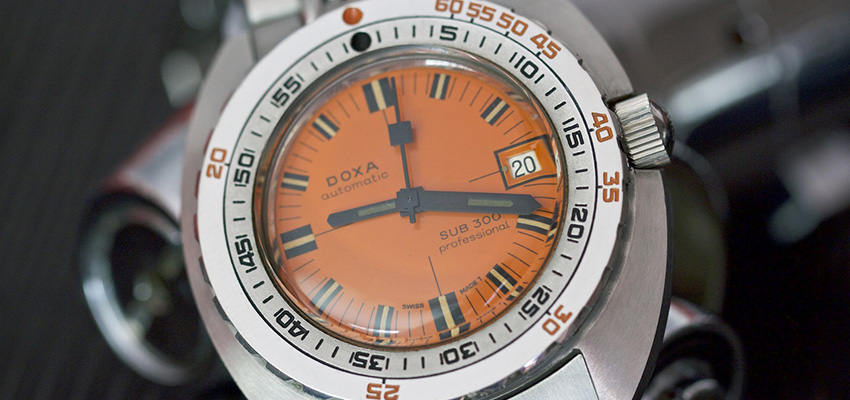 (Image: Marco Their)
Sure, we could talk about the Comex Submariners here instead, but the fact of the matter (which irks Rolex to this day) is that the first commercially-available watch with a helium escape valve (HEV) was the Doxa Sub 300T. Doxa also holds the earliest patents for an HEV for that matter, but regardless, the HEV made a huge difference when it came to watches being able to dive deeper below the surface. For an in-depth lesson on what a helium escape valve really does, our friend Jason Heaton explains things quite well over on Hodinkee.
1982 – The ISO 6425 Dive Watch Standard
Given how long the dive watch has been around, it's a little surprising that a formal industry standard only came about in 1982. The ISO (the International Organization for Standardization) ground rules reached their current version in 1996, and state that any watch that is to be referred to as a dive watch must meet certain criteria, including the following:
Must include a time pre-selecting device (timing bezel) with a scale of 60 minutes, and clear indication every 5 minutes.
Must have constant indication that the watch is functioning, with a seconds hand.
Must be usable in complete darkness, with the following components being visible:

Current time
Bezel timing indication
Running seconds hand
If quartz powered, a low battery indicator
The list goes on from there (and you can read more details here as shared by the folks at Helm Watches), but the following two tests are the most crucial: The watch must be able to withstand pressure at 125% its dive rating, as well as be able to pass a condensation test.
The Modern 1000+ Meter Dive Watches
These days, the dive watch segment is saturated to say the least (see what we did there?), and we could spend hours compiling a list of our modern favorites. That would be an entire story on its own, so instead we put together a short list of our favorites, batting within the sub-1000m depth rating. To be fair, none of us would ever survive at 1000 meters, nor will 99.9% of us ever descend that deep in a submersible. Regardless, we give these watches a nod purely for their over-engineered glory.
Omega Seamaster PloProf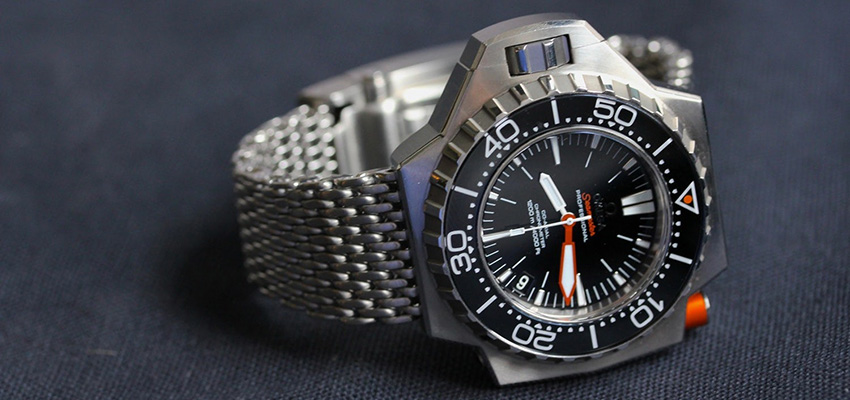 (Image: Hodinkee)
This behemoth from Omega was first launched in 1970 and was capable of 600M, but when Omega launched the modern reissue, they doubled down for a whopping 1200m. The coolest thing about the PloProf is its locking bezel mechanism that can only be released by pressing that big orange button. It takes some getting used to, but at the same time ensures that you'll never have a skewed reading.
IWC Aquatimer Automatic 2000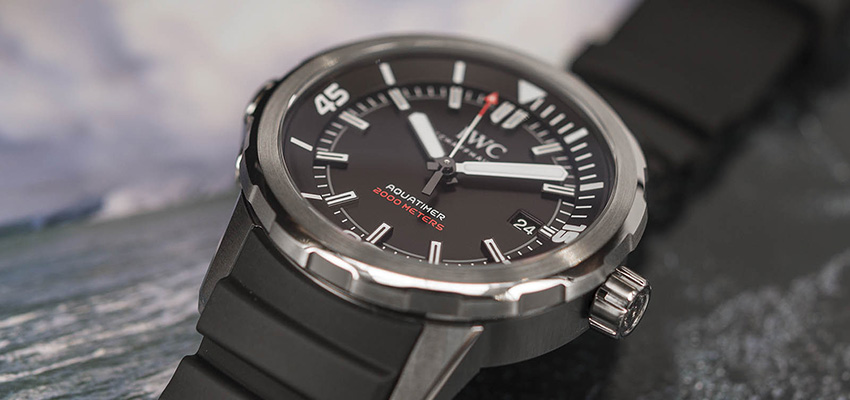 (Image: Cenk Öncü @ horobox.com)
Pushing to 2000m with a titanium case and internal bezel, the IWC Aquatimer Automatic 2000 pays tribute to a watch build by IWC in 1982, and designed by none other than Ferdinant A. Porsche. This new version speaks the design language of the rest of the IWC collection, with a larger 46mm case required to reach its depth rating.
Zodiac Super Sea Wolf 68 Bronze

(Image: Zodiac)
Last but certainly not least, Zodiac's 1000m beast is the brand's top-of-the-line diver in every budding watch nerd's favorite case material: Bronze. A sprung bezel lock prevents motion without the bezel being depressed, and its lugless case design helps it wear relatively small, given its 44mm x 50mm proportions.
What's your favorite dive watch?