For dive watch enthusiasts, it's hard to beat the appeal of Seiko dive watches. Rather than so-called desk divers, which may look and work like a dive watch but have probably never been deeper than a hot tub, Seiko dive watches are constructed for actual scuba diving by adhering to the ISO 6425 standard. Plus, with a range of price points, there really is a Seiko diver for just about everyone. These top tool watches have without a doubt earned a cult following—but how did they get here? Let's plunge right into the history of Seiko dive watches to see how the brand evolved its diver models over the years.
Seiko Introduced Its First 150M Dive Watch in 1965
Not content at being Japan's leading watch brand, Seiko clearly had a goal of becoming a dominant player on a global stage. And to do that, it had to surpass the Swiss, who were the leaders in the field.
The 1960s was an important era for Japan's premier watch brand. This was the decade that Seiko launched the first Grand Seiko (1960), which boasted a mechanical movement with the best accuracy and precision in the world. Taking full advantage of its Official Timekeeper role at the 1964 Tokyo Olympics, Seiko unveiled Japan's first chronograph wristwatch (manual-wound) that very same year. In March 1969, Seiko introduced the world's first automatic chronograph watch to the Japanese market. Later that year, in December, Seiko unleashed a technology that would just about topple the Swiss watch industry: the Seiko Quartz Astron, which was the world's first quartz wristwatch.
But let's rewind a little to the 1950s/1960s, when there was already a race among top Swiss watchmakers like Blancpain, Rolex, Omega, and Breitling, to make the best diving watches. And Seiko wanted to throw its hat into the ring too.
So, in 1965—one year after the Olympics and Japan's first chronograph wristwatch—Seiko released Japan's first dive watch. It was the Seiko 150M Diver's (62MAS-010), which had a 38 mm case water resistant to 150 meters (492 feet), a bidirectional rotating bezel to time dives, and an automatic movement that operated at a frequency of 18,000bph.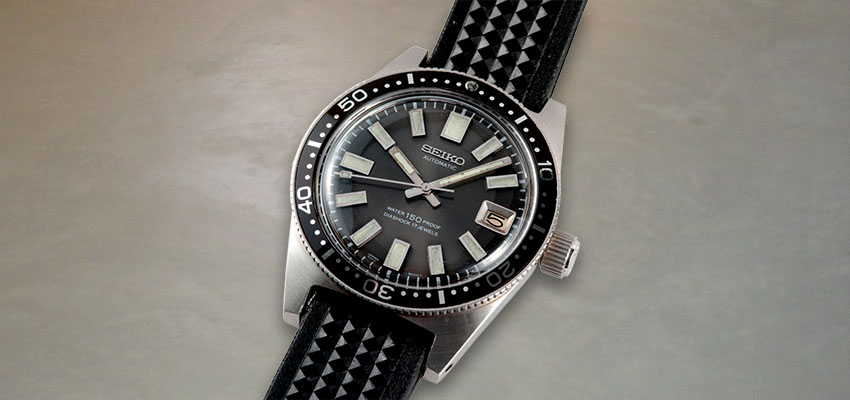 (Image: 1965 Seiko Diver's 150M 62MAS-010)
This pioneering move by Seiko laid the groundwork for the brand's Professional collection, better known as Prospex (Professional Specifications).
Seiko Introduced Its First 300M Diver in 1967
While a dive watch in mid-1960s Japan was very much a niche product, Seiko continued to develop their divers. In 1967, Seiko doubled the water resistance of its dive watch and unveiled the Seiko Diver's 300M (6215-010) with a water depth rating of 300 meters (985 feet). Seiko notably placed the winding crown at the 4 o'clock position—a signature design trait that carries on today.
One year later in 1968, the company launched the Seiko Diver's 300M (6159-7001) with a high-beat movement operating at 36,000bph (the same used in Grand Seiko watches) for improved precision.
Shortly after the release of its high-beat Diver's 300M watch in 1968, Seiko received a letter from a professional saturation diver that would change the course of the company's dive watches. The professional diver informed the company that at depths greater than 300 meters, Seiko diving watches simply did not hold up. Either the crystals would pop off due to a build-up of helium gas during saturation dives or that the watches would break if they got knocked around.
The Seiko management team took this correspondence very seriously and as a result, established a new R&D team, led by engineer Ikuo Tokunaga, charged to build a proper professional dive watch that could withstand the pressures of the very deep.
Seiko Continues to Develop Its 150M Divers in the 1970s
While Ikuo Tokunaga's team worked on making a professional saturation diver, Seiko continued to develop its range of Seiko 150M Diver's. A particularly notable one is the automatic 6105-811X with an asymmetrical cushion-shaped case. Seiko made this model from 1970 until 1976 and it was especially popular with US military servicemen during the Vietnam War due to the diver's robustness and topnotch quality. In fact, the watch became globally famous after Martin Sheen wore it while playing "Captain Willard" in the movie Apocalypse Now, and it is now known as the Seiko "Captain Willard" in collecting circles.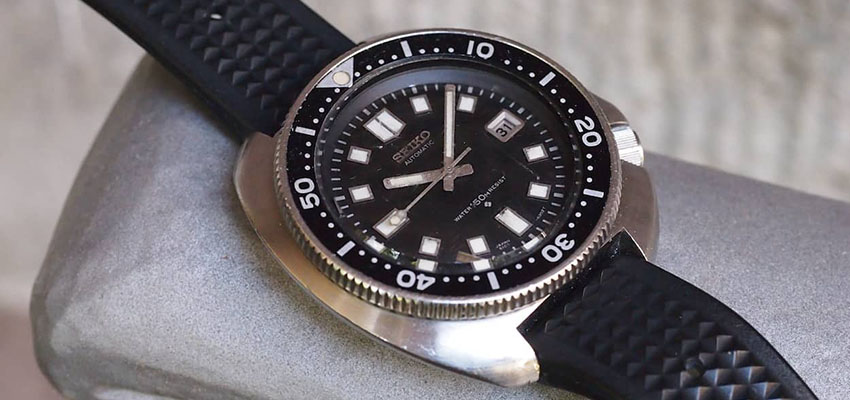 (Image: Seiko "Captain Willard" 6105-8110 – Michael Stockton @ Fratello Magazine)
Seiko eventually replaced this model with 6306/6309 references, which had a redesigned cushion case. And because of their silhouettes, these cases ultimately became known as the Seiko "Turtles." Seiko eventually stopped making turtle-style cases in the late 1980s, but to the delight of vintage Seiko enthusiasts, the company brought them back in 2016.
Another important seventies Seiko release was the 1978 launch of the 150M Diver's 7548, which gave us the case design used on the legendary SKX007—generally accepted as the most affordable mechanical ISO-rated dive watch.
It's important to note that the Seiko 150M Diver's eventually became 200M Diver's in the mid-1980s.
Seiko Introduced Its First Professional Dive Watch in 1975
Finally, in 1975, Seiko presented the Professional Diver's 600M (6159-022); a groundbreaking diving watch packed with 20 patented innovations. Not only was it the world's first titanium dive watch waterproof to 600 meters, but it was also highly luminescent, anti-magnetic, and shock-resistant. Plus, it was also presented on the world's first accordion-style rubber strap to better accommodate contracting and expanding wrists and/or wetsuits.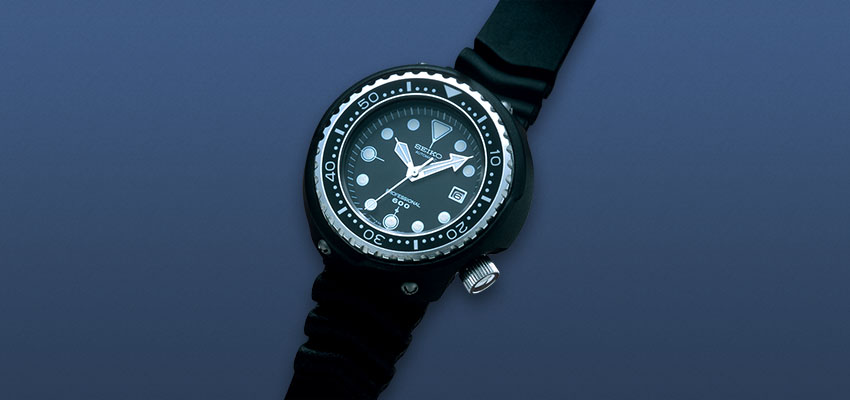 (Image: Seiko Professional Diver's 600m 6159-022)
The most distinctive part of the Seiko's first Professional Diver's 600M watch (affectionately nicknamed the Grandfather Tuna) however, is its case design. The one-piece case was fashioned from titanium, a material prized for its anti-corrosion properties and lightness. The case was further shrouded with an outer case protector structure (cut in a way to still permit bezel turning) and the crystal was fitted into the case sealed with an L-shaped gasket. All of these thoughtful design details created a case that helium simply could not penetrate. Therefore, the Professional Diver's 600M watch did not need a helium release valve found on other professional dive watches such as the Rolex Sea-Dweller and the Omega PloProf. This iconic case silhouette paved the way for the popularity of future Seiko "Tuna Can" watches.
Three years later, Seiko produced a quartz version of the Professional Diver's 600M (7549-7009). Again flaunting their innovation-focused culture, this was the world's first saturation dive watch powered by a quartz movement. It is often referred to as the "Golden Tuna" thanks to its gold-toned accents.
In 1986, Seiko unleashed the world's first Diver's 1000M (7C46-7009) with a ceramic outer case, a unidirectional rotating bezel, a water resistance rating of 1,000 meters (3,280 feet), and a quartz movement with a five-year battery life.
Modern Seiko Divers
From the 1990s onwards, Seiko continued to expand their line of diving and professional diving watches with a particular emphasis on digital and electric technology. There was the Scuba Master, the world's first computerized diver's watch, launched in 1990. Following this was the world's first Seiko Kinetic Diver's 200M, which used the motion of a moving wrist to swing a rotor (similar to an automatic movement) which then charged a battery to power the ultra-precise quartz movement.
1996 was the birth year of the iconic SKX007 Seiko dive watches we mentioned above and 2000 saw the introduction of the so-called "Monster" Seiko SKX779 dive watch, which set the stage for a whole collection of beefy Seiko divers with "toothy" bezels.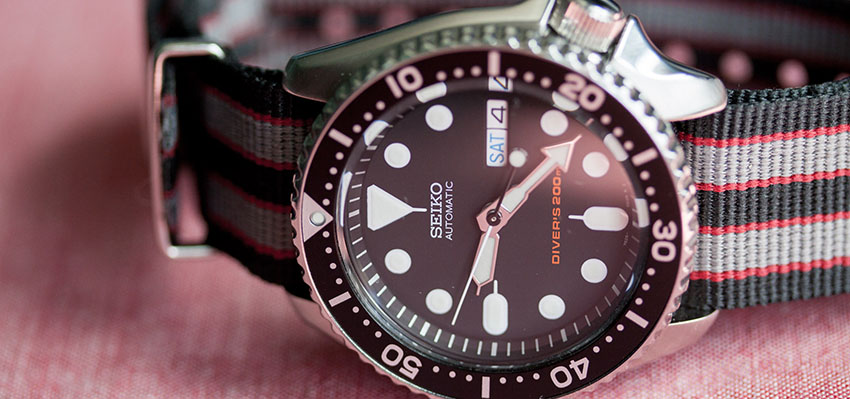 (Image: Seiko Diver's 2000m SKX007 – Ilya Ryvin @ Worn & Wound)
In 2005, Seiko announced the world's first Spring Drive Diver's 600M, which boasts Seiko's innovative Spring Drive technology. A Spring Drive movement gets its energy from a moving wrist (like an automatic mechanical watch) while offering the precision of a quartz movement, complete with a sweeping seconds hand (rather than the "ticking" one commonly found on quartz watches).
A bevy of new designs continuously joins the Seiko dive watch lineup. For instance, there's the Seiko "Samurai" launched in 2004 and the coveted Seiko Prospex Scuba Dive Watch, aka the "Seiko Sumo," introduced in 2007. And the list goes on and on.
In short, you simply cannot have a genuine conversation about the history of dive watches without highlighting Seiko's significant contributions to the field. Let's not forget that Seiko influenced the formation of the ISO 6425 standard for dive watches. So whether you go Tuna, Turtle, Monster, Sumo, or otherwise, know that your Seiko dive watch is a result of a long history of impeccable engineering, horology milestones, and thoughtful design.