Vintage watch collecting is certainly not a new phenomenon—there have always been collectors interested in older timepieces. However, what is relatively recent is how widespread the interest in vintage watches has become. Thanks to the advent of online sites dedicated to vintage watch sales, as well as plenty of resources dedicated to the study of vintage timepieces, it's never been easier to jump into the hobby. However, if you're considering getting into the vintage watch collecting game, brush up on the following tips first to make sure you're off to a good start. Welcome to our vintage watch collecting guide.
---
Decide on an area of focus
Wristwatches have been in production for well over a century—and other timepieces such as pocket watches and clocks have been around for much longer than that. They've been produced by countless brands in numerous countries around the world. As such, the sheer volume of vintage watches out there to consider is immense.
Therefore, our first tip when embarking on this pursuit is to decide what type of watch do you want to focus on.
• Watches from a certain country? (Switzerland, Japan, Germany, France, Italy, etc.)
• Watches from a certain period? (1920s, 1930s, 1940s, 1950s, 1960s, 1970s, 1980s, etc.)
• Watches from a certain brand? (Rolex, Omega, Breitling, Heuer, Cartier, Seiko, Bulova, Hamilton, etc.)
• What type of watch movement? (Manual, automatic, quartz, etc.)
• What style of watch? (Dress, sports, diving, chronograph, time-only, complications, etc.)
• What is your budget per watch?
You must ask yourself these questions first to zero in on a particular niche of the vintage watch market; otherwise, it will just be too overwhelming. You don't have to know the answers to all these questions immediately, and of course, your strategy may change slightly as you get deeper into watch collection.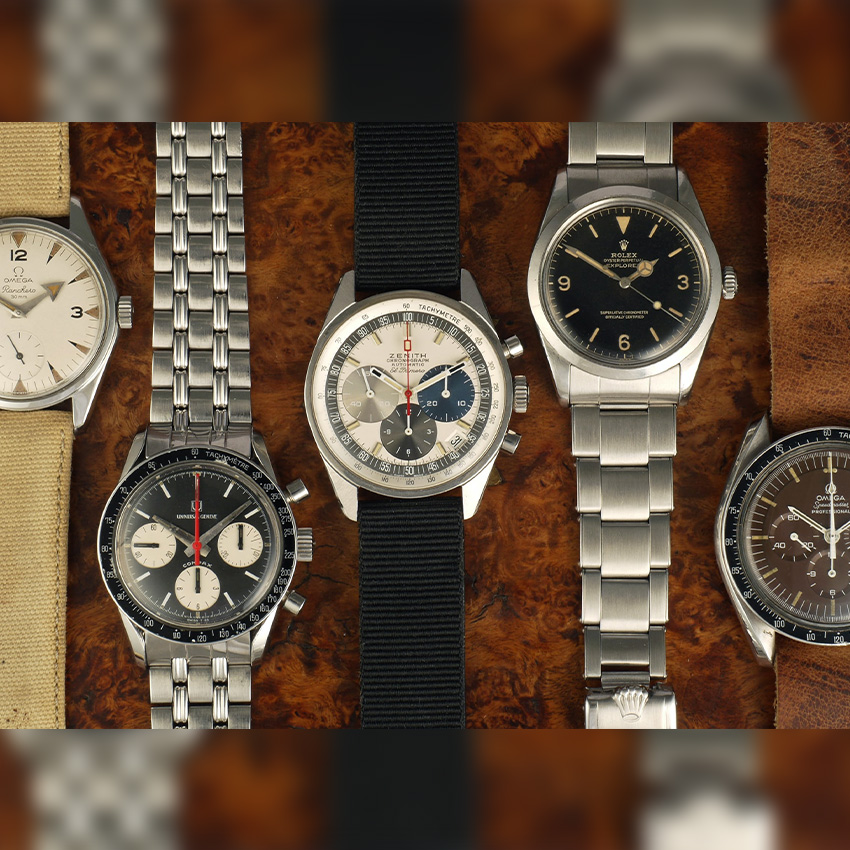 However, narrowing down some choices in the beginning is a good strategy to get started. Don't forget to decide on a budget and don't stray too far from it – watches can get expensive so keep yourself in line by sticking to cost parameters.
---
Don't rush the research
Read, read, and then read some more. Lucky for you, this is probably the best time to get into vintage watch collection since there is so much information out there to discover. Armed with your specific area of focus, start looking for as much data (online and offline) as possible—and don't forget to study pictures too. Some resources to explore include:
• Online websites dedicated to watch news & information
• Vintage watch dealers
• Watch magazines
• Watch forums
• Vintage watch ads
• Vintage watch catalogs
• Books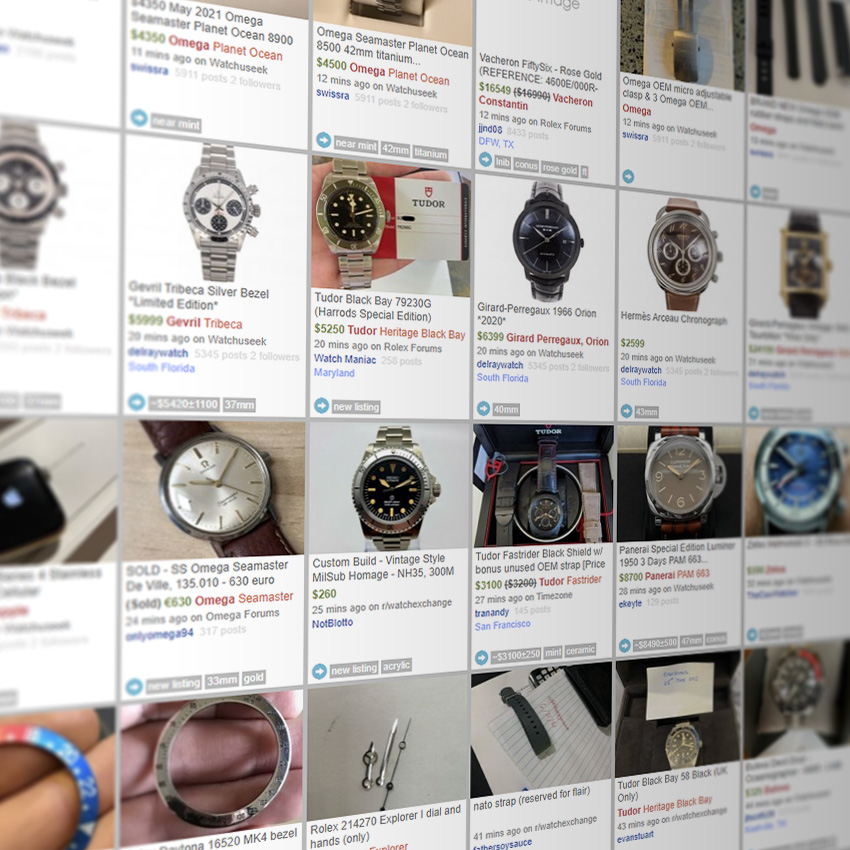 Using this information, learn about the references you should be looking out for, how particular models evolved over the decades, and variations in designs you need to be aware of. Also, study current price points and market values.
---
Understand what watch condition means
One of the most important factors that will determine a watch's value and collectability is its condition. However, condition is an area that deserves some special attention because it can be a little more complicated than what you may initially think.
For instance, a watch that has mostly factory original parts instead of replacement parts is generally more valuable. Although a watch with a newer dial/handset/bezel that was added during service may look better to the untrained eye, an original dial with imperfections gained from aging will always be more desirable for a collector.
What's more, before buying a watch, check to see if it has been relumed, which essentially means that newer luminous paint has been added to the hands and/or indexes. Vintage watches typically used radium and/or tritium paint for luminescence, which will no longer glow today.
Another condition detail to check is what type of polishing has the watch undergone over the years. Some watches have been over-polished to the point that the original shape of the timepiece has been lost. When a watch is polished, small layers of metal are being shaved off—therefore, if the job is poorly done, it can permanently damage the look of the case and lugs.
Also, be wary of sellers that try to position damaged components as "patina" or "tropicalization." Older watches will naturally develop a patina, which can transform certain parts of the dial like indexes or hands into dark or creamy tan shades.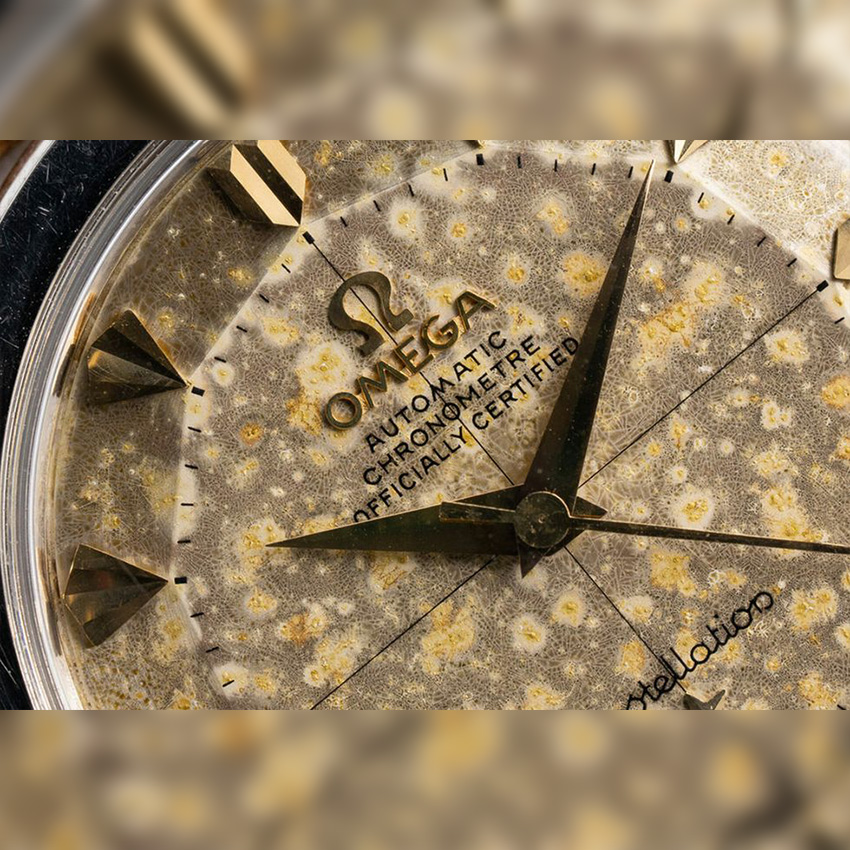 Tropicalization is the nickname given to some watches that have turned into different colors (for instance, from red to pink, brown to green, or blue to purple) due to prolonged exposure to the sun triggering a specific chemical reaction. Patina or tropicalization is one thing (both of which can be very sought-after by collectors), but water damage, breaks, or cracks is entirely different.
To recap:
• Factory original parts or replacement parts?
• Are there relumed components?
• Is the watch over polished?
• The difference between patina and damage
It's increasingly difficult to find all factory original watches (particularly from popular brands) so you have to decide what is your threshold for replacement/service parts.
---
Buy the seller
You've probably heard the saying "buy the seller" countless times before but it's worth repeating it if you're going to venture into the world of vintage watch collecting. Only buy from sources that you trust and that have a stellar reputation.
• Read reviews
• Look at pictures and request more from the seller if needed
• Don't be scared to ask the seller questions if you're uncomfortable with anything
• Ask other watch collectors about their experiences with certain sellers
• Trust your gut and don't rush
The last thing you want to do is inadvertently buy a fake watch or purchase a watch that's different than what you imagined it would be. It's often worth paying more to buy from a reputable source because a seemingly cheaper alternative from a less-than-honest seller may cost you much more in the long run.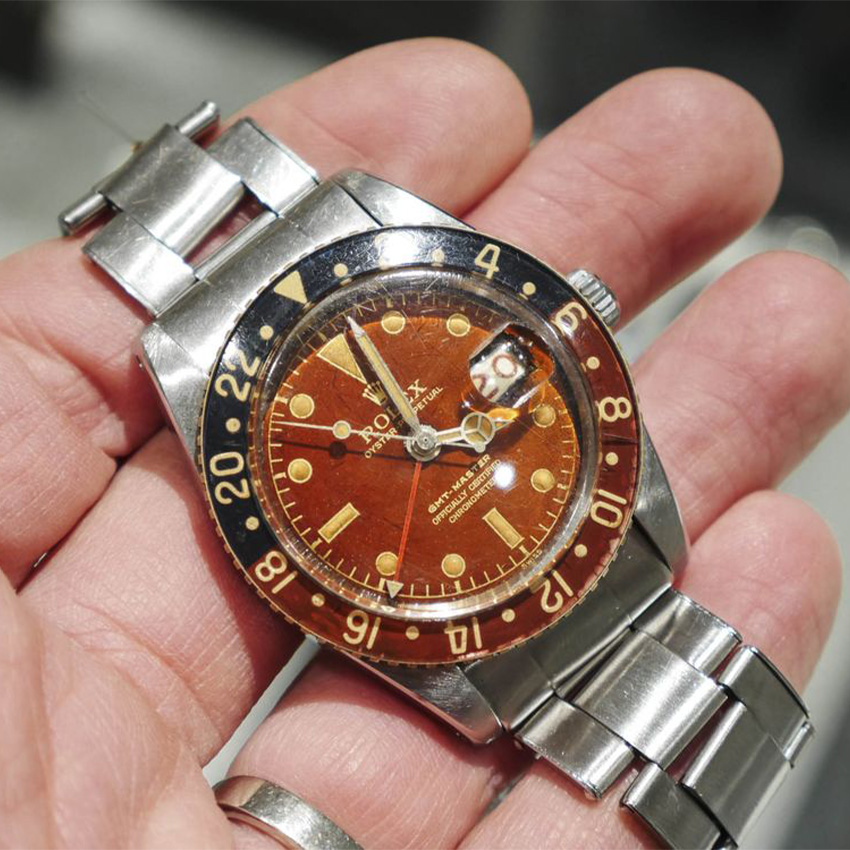 Finally, if you're starting your vintage watch collecting journey, the last thing we'd like to remind you is that it is normal to make some mistakes. Any new interest has a learning curve and it's no different with vintage watches. Enjoy the journey, learn as much as you can, and hopefully, you'll score some awesome watches in the near future.
---
Do you collect vintage watches? If so, do you have any advice you'd like to share with those just starting? Leave us your thoughts in the comments below.