Newcomers are typically enticed to the watch world because of appealing timepiece designs or the big brand names attached to them. However, once you hang out in this space long enough or listen to what seasoned watch enthusiasts have to say, you'll soon hear plenty of discussions about watch movements. Are mechanical movements or quartz movements better? Should I pick Swiss or Japanese movements? What is the difference between manual movements and automatic movements? Are ETA movements bad? What's the deal with solar movements? And who is COSC and what is a chronometer-certified movement?
There are so many questions and even more information to read up on. However, we're going to keep it as simple as possible—starting with the basics. If you're looking for a simple guide to watch movement types, read on as we explain the essentials.
---
What is a Watch Movement?
A watch movement is basically the watch's engine. It's the mechanism inside the case that is not only responsible for powering the timepiece but also regulating any displays you see on the dial (such as the time or date). A watch movement is also known as a watch caliber.
Watch movements can be made in-house by a brand or purchased from specialized movement makers. ETA is Switzerland's largest movement manufacturer with countless big and small brands outsourcing calibers from them. Other famous Swiss movement makers that produce calibers for other companies include Sellita, Dubois Dépraz, and Ronda.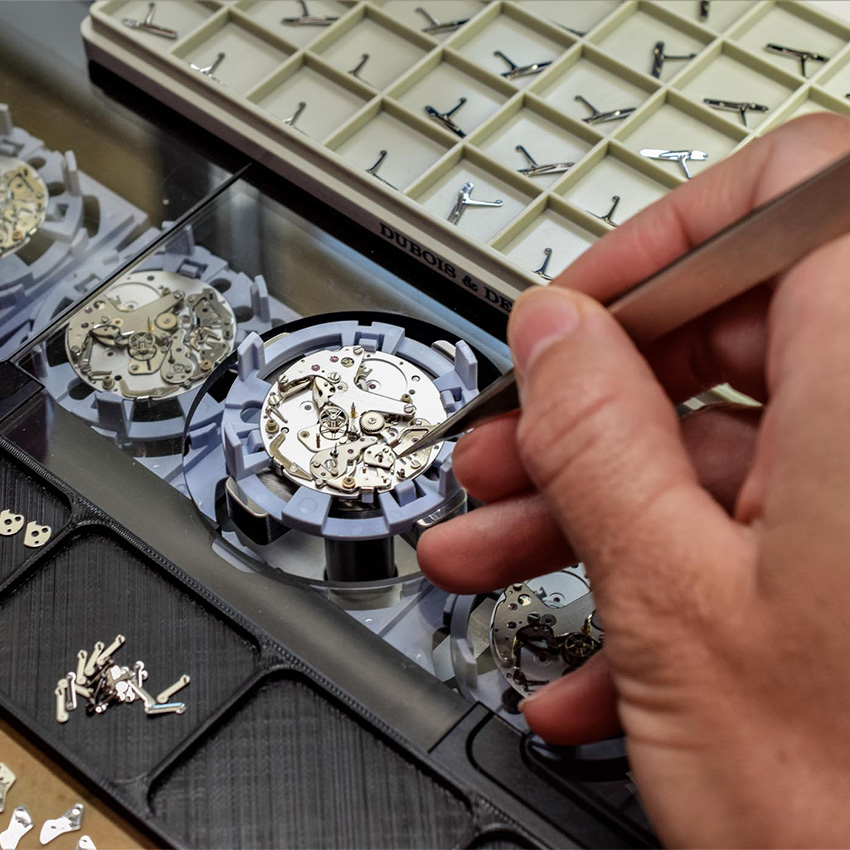 What's more, some watchmakers like Jaeger-LeCoultre and Piaget, not only make calibers for their own watches but also supply them to other renowned watch brands. It is not uncommon for watch brands — even high-end ones — to outsource a base movement (known as an ebauche or an ETA watch movement) and modify it to meet in-house technical specifications and decoration requirements. For example, Rolex only began making in-house chronograph movements for the Daytona collection in 2000 — prior to that, the Swiss watchmaking giant relied on companies like Valjoux and Zenith to supply chronograph movements. Feel free to bring up that historical horology tidbit the next time you hear the tired argument about in-house movements being better than outsourced ones!
While Swiss watch movements have a certain cachet, Japanese watch movement makers, such as Miyota (owned by Citizen) and Seiko produce far more movements than Switzerland does. According to a recent EuropaStar article, Miyota produces around 100 million calibers per year!
---
Mechanical vs. Quartz Movements
Now that we have a better understanding of what a watch movement is and where they are made, let's explore various types of watch movements.
A mechanical watch movement relies on a wound mainspring for power. There are two main types of mechanical movements: manual winding (also known as hand-wound) and self-winding (also known as automatic). Thankfully, these names are quite self-explanatory.
A manual winding or hand-wound watch needs the wearer to regularly wind the crown (anywhere from once a day to once a week, depending on the watch) to keep the movement running. On the other hand, a self-winding or automatic watch movement will keep on running as long as the watch is in motion (such as when on a wrist or stored in a watch winder) thanks to a rotor that swings back and forth that serves to wind the mainspring. A mechanical watch will have a seconds hand that sweeps around the dial (because the seconds hand moves anywhere from six to 10 times per second, depending on the frequency).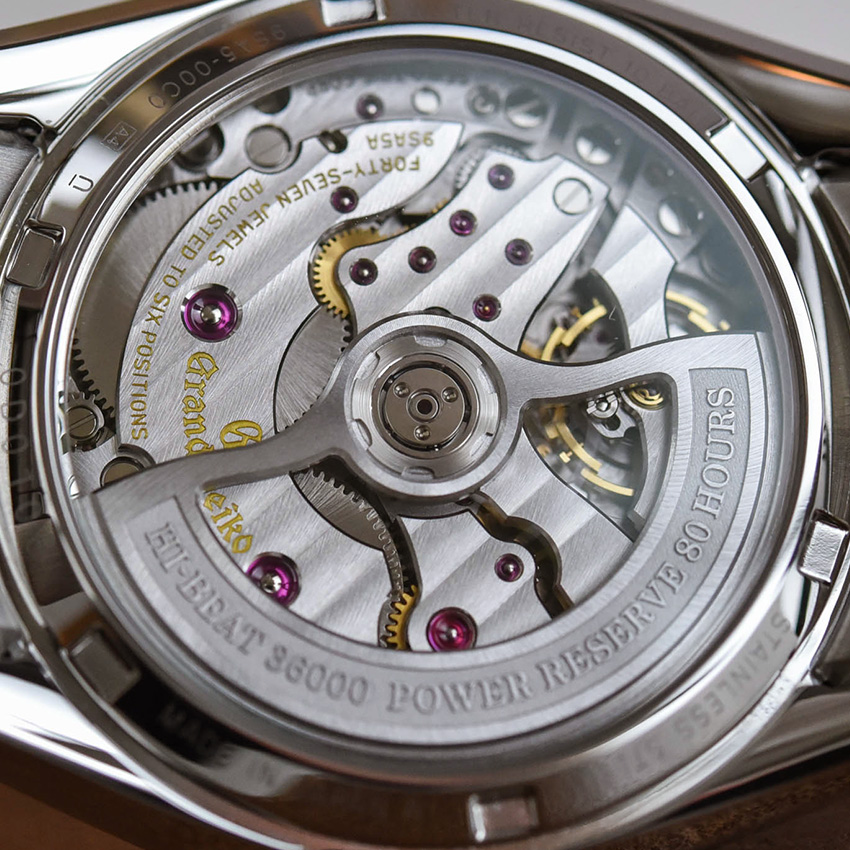 Conversely, a quartz watch movement relies on a battery for power and houses a quartz crystal, which vibrates at a precise frequency of 32,768 times each second. The battery sends an electric charge through an electronic circuit to the quartz crystal and the circuit then produces one electric pulse per second, which drives the seconds hand on the dial. This is why if you look at a dial of an analog quartz-powered watch, the seconds hand jumps to its next position once every second (usually accompanied by an audible tick). With electronic quartz movements, the battery inside a quartz watch generally has to be replaced every two to five years, depending on the watch. However, a solar quartz movement converts light into electric energy and stores the energy inside a rechargeable battery.
Japanese quartz movements took over the watch landscape starting in the late-1960s and almost decimated the Swiss mechanical watch industry throughout the 1970s and towards the end of the 1980s. In the watch world, this period is either known as the Quartz Crisis or the Quartz Revolution, depending on which side of the battle you were on. It was only in the late-eighties and early-nineties that the industry saw a strong resurgence of mechanical movements. Quartz movements are more precise and practical (not to mention, more affordable to produce) than manual and automatic mechanical movements.
However, generally speaking, mechanical movements (especially mechanical Swiss watch movements) are more respected and desirable among collectors — thus, more expensive too.
---
What is a Chronometer Movement?
A chronometer is a high-precision watch that has to pass specific tests to be deemed as such. The Contrôle Officiel Suisse des Chronomètres (COSC) is responsible for certifying Swiss watches. One parameter (of several) states that a chronometer has to fall comfortably within a -4/+6 seconds average daily rate. It's been reported that COSC certified around 1.8 million watches a year as chronometers, complete with engraved ID numbers and certificates. According to COSC, Of the Swiss-made mechanical watches, approximately 5% of Swiss-made mechanical watches are chronometers.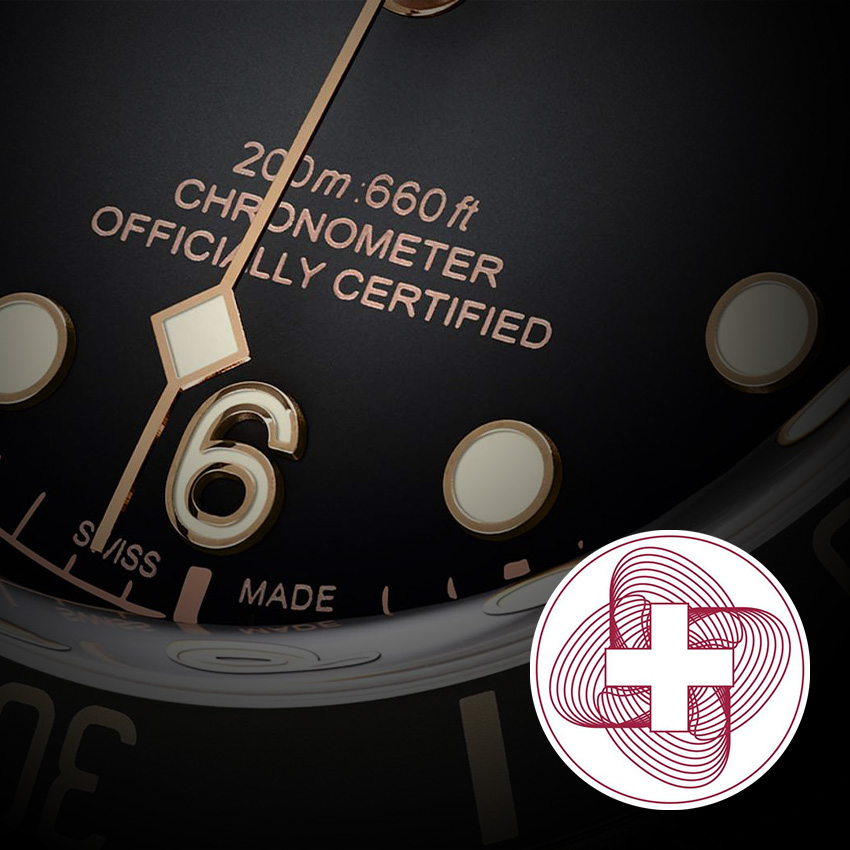 Contrary to popular belief, both mechanical and quartz watches can be COSC-certified (they are simply subjected to different tests). For example, Breitling offers a wide collection of quartz chronometers. Some famous watch brands that offer mechanical chronometers include Rolex and Omega. Rolex dubs its chronometers as Superlative Chronometers Officially Certified, which goes above the COSC standard to guarantee an accuracy rate of -2/+2 seconds a day. Omega also goes further by combining the COSC certificate with eight METAS (The Federal Institute of Metrology) tests into what the brand calls Master Chronometers.
---
There you have it, our quick and easy guide to watch movement types. Do you have strong opinions about watch movements in general or are they an afterthought for you? Are you a mechanical-movement-only wearer or do you appreciate quartz watches too? As always, we welcome your opinions in the comments below.