Once an essential timing tool in the early- to mid-20th Century, chronograph watches have graduated to become one of the most stylish watch types to wear. It also happens to have a mechanical stopwatch function, should you ever need one. Owing to its fantastic sporty style and built-in practicality, the chronograph is considered a must-have piece for many watch collectors, and a handful of watch brands stand out as making particularly good ones.
Rolex, Omega, and Zenith all make popular chronograph watches—but what sets them apart? Join us as we compare the iconic Rolex Cosmograph Daytona, the legendary Omega Speedmaster Professional "Moonwatch," and the newly-released Zenith Chronomaster Sport El Primero in this head-to-head chronograph battle to see which one reigns supreme. Plus, there are some intriguing overlaps between these famous chronographs that may just surprise you. Let's dig in to uncover the details!
---
History & Evolution
Omega debuted the Speedmaster in 1957 as the world's first chronograph to have the tachymeter scale on the bezel instead of on the dial. Tachymeters help wearers calculate the average speeds and/or distances of moving objects between two points, which makes them especially good for racing events. As such, the Omega Speedmaster was positioned as a watch for motorsports. However, in the 1960s, NASA flight-qualified the Speedmaster and it became the first watch to land on the Moon during the Apollo 11 space flight. As a result, even if there are car racing-inspired Speedmaster references, this famed Omega chronograph is forever connected to space exploration with several "Moonwatch" models in its catalog.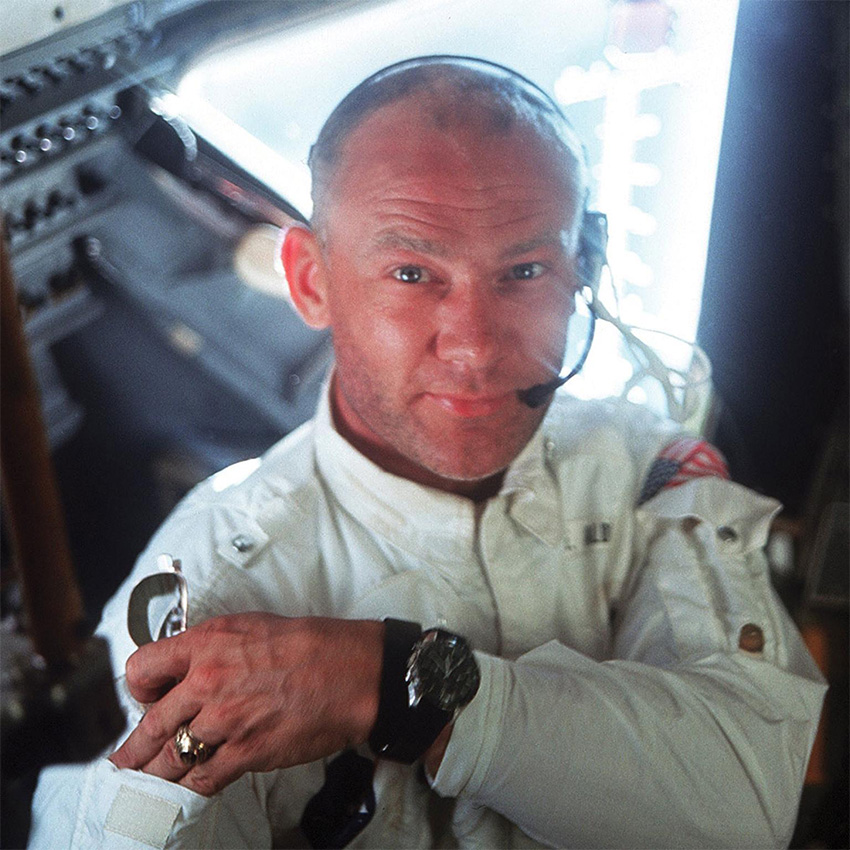 Image: Buzz Aldrin wearing Omega Speedmaster in Space
Rolex introduced the Cosmograph in 1963 and shortly thereafter, added "Daytona" to the name to emphasize the link between the chronograph and the adrenaline-fueled world of auto racing. Rolex Daytona chronographs initially ran on manual-winding movements until they were replaced by automatic ones in the late-1980s. Today, those hand-wound Daytona vintage chronographs are some of the most collectible watches in the market, and in 2017, Paul Newman's Rolex Daytona sold for a whopping $17.8 million at auction.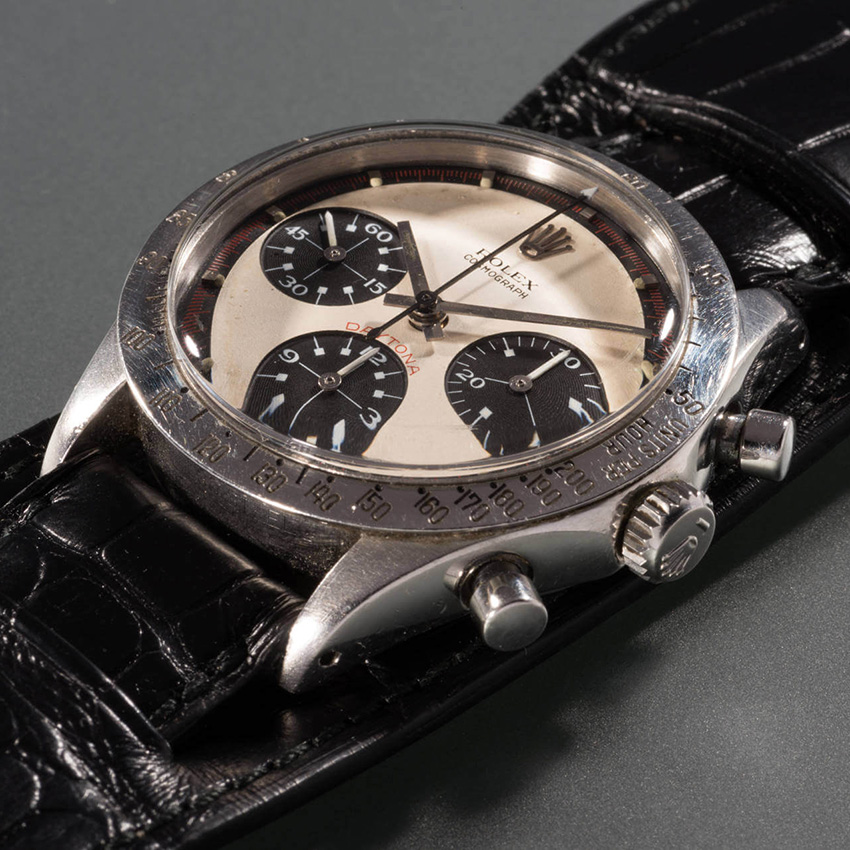 Image: Paul Newman's Rolex Daytona "Paul Newman"
In 1969, Zenith became the first watchmaker to announce its plans to launch an automatic chronograph movement, which the brand called "El Primero," which means "the first" in Spanish. Other brands also introduced automatic chronograph watches that same year and some made it to market earlier than Zenith, however, the El Primero high-frequency, fully integrated automatic movement stood out for its excellent performance and inclusion of a running seconds hand and date complication. However, the Quartz Crisis brought Zenith to the brink and after it was sold to a Chicago-based firm in 1971 the American owner wanted to focus on making quartz movements and demanded that all of Zenith's mechanical movement machinery and tools be sold. However, Zenith engineer Charles Vermot defied orders and hid essential equipment and plans in a dusty attic in one of the company's facilities in Switzerland, where they sat dormant for about a decade.
When Rolex wanted to modernize its manual-winding Daytona in the 1980s, Zenith was able to supply El Primero movements to Rolex thanks to Charles Vermot's secret stash of machinery and blueprints. Rolex launched the first automatic Daytonas in 1988 and continued to produce these El Primero-powered chronographs (aptly nicknamed "Zenith Daytona" watches) for over 20 years. In 2000, Rolex switched to in-house-made automatic movements for its line of Daytona models, and continues to use them today.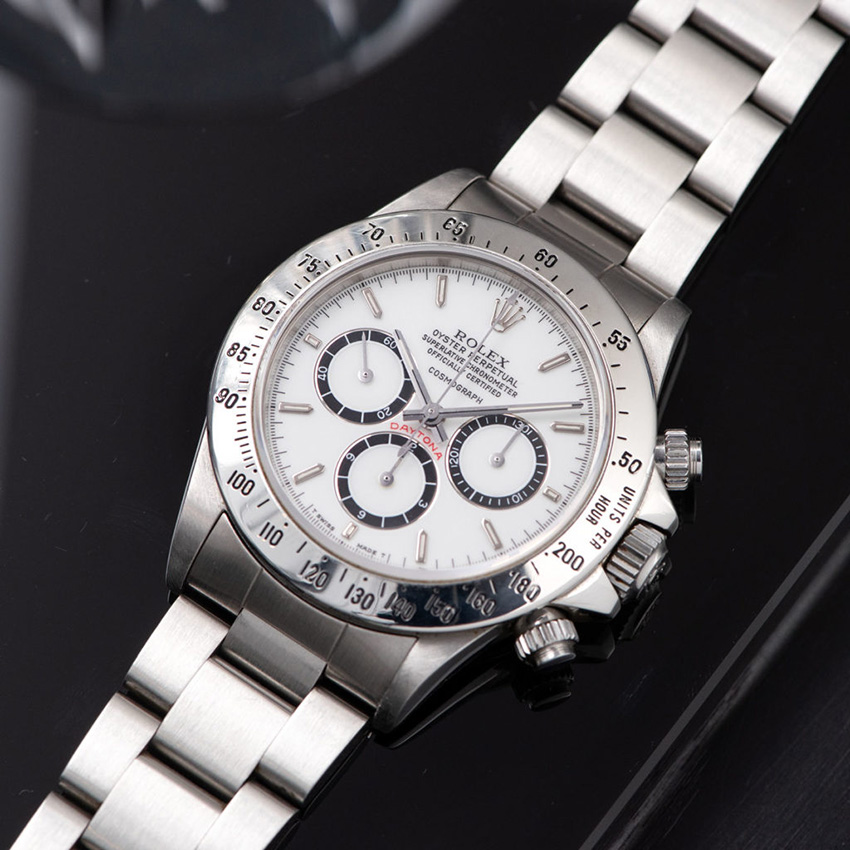 Image: El Primero-powered Rolex Daytona "Zenith Daytona"
Along with supplying its famed caliber to other watch brands, Zenith also expanded its line of mechanical chronograph line with various models—but always with the El Primero movement inside. In 2021, Zenith released the Chronomaster Sport line, complete with a new El Primero 3600 caliber and a striking resemblance to a modern Rolex Daytona.
---
Design & Mechanics
Since there has been a myriad of Daytona, Speedmaster, and El Primero models made over the last six decades, we've picked three specific references from the current lineup to make a fair comparison:
• Omega Speedmaster Professional "Moonwatch" ref. 310.30.42.50.01.002 (launched in 2021)
• Rolex Cosmograph Daytona ref. 116500LN (launched in 2016)
• Zenith Chronomaster Sport 03.3100.3600 (launched in 2021)
At first glance, all three of these chronographs by Rolex, Omega, and Zenith are quite similar in design as they all feature steel cases, black bezels, sapphire crystals, black dials with a trio of registers at 3/6/9 o'clock, and sporty steel bracelets. However, upon closer inspection, there are some notable differences to consider.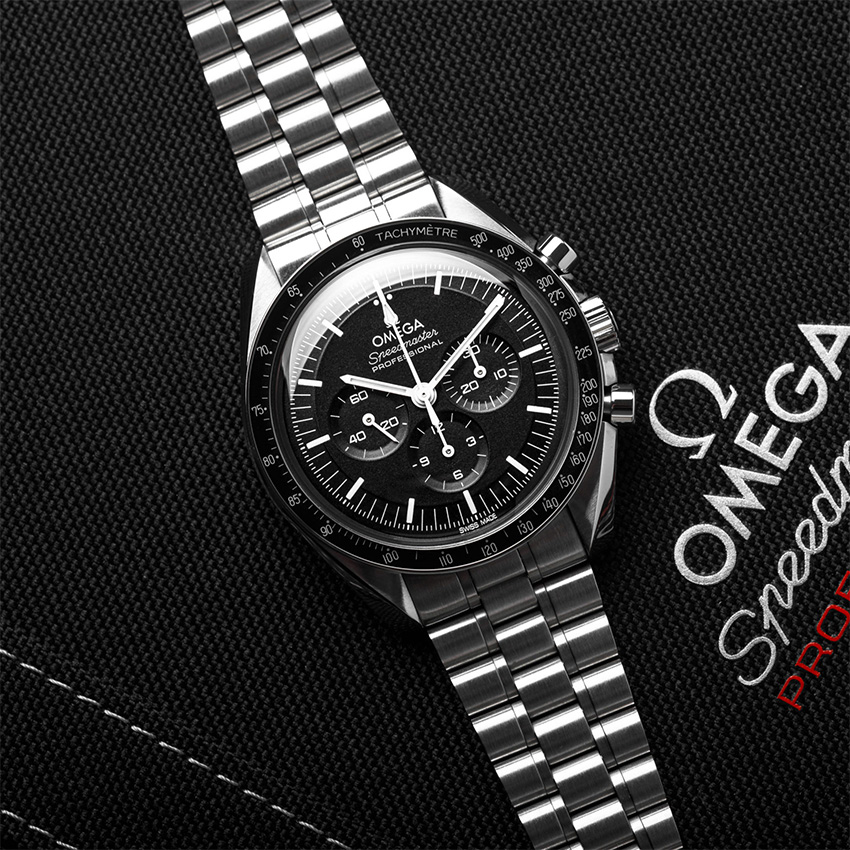 Image: Omega Speedmaster Professional "Moonwatch"
In terms of size, the Cosmograph Daytona is the smallest of the bunch coming in at 40mm, followed by Zenith Chronomaster at 41mm and the Omega Speedmaster at 42mm. The first has screw-down chronograph pushers while the latter two have pump pushers. The Chronomaster Sport has a date window at 4:30 whereas the Daytona and Speedmaster do not include any date indicators. Both the Zenith and the Rolex chronographs have modern ceramic bezels whilst Omega retains a classic aluminum bezel. Yet, while the Daytona and Speedmaster have tachymeter scales on their bezels, the Chronomaster Sport is marked to 1/10 of a second increments to accommodate the fast-moving center chronograph hand that sweeps around the dial every ten seconds.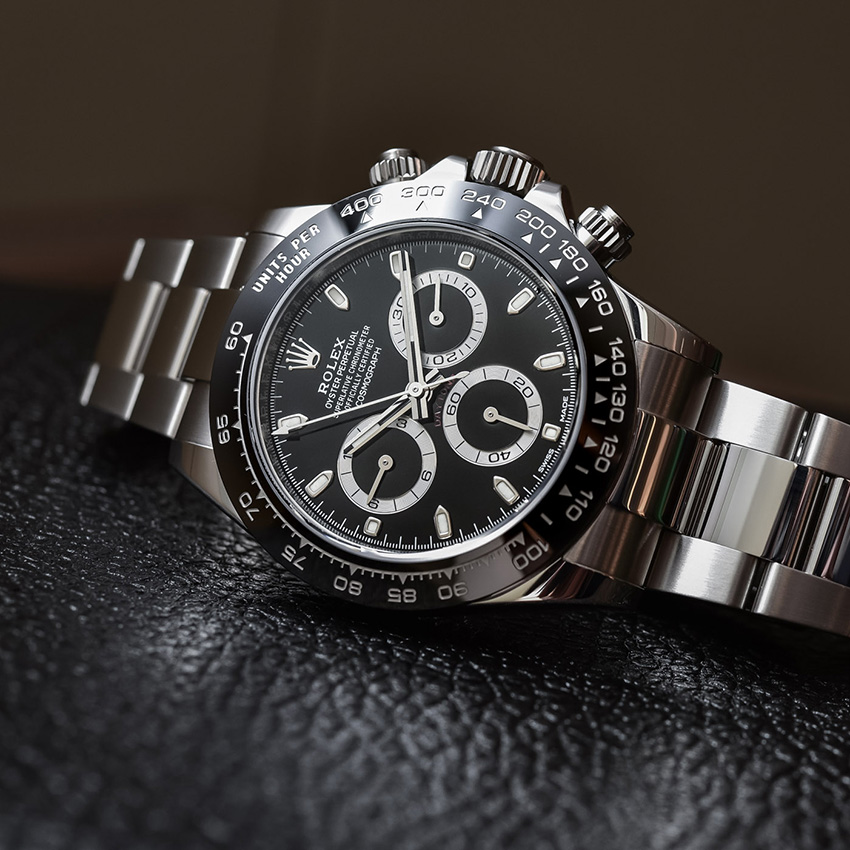 Image: Rolex Cosmograph Daytona
The movements that drive each of these chronographs are where most of the differences lie—the Speedy "Moonwatch" is of course manual-winding while the Daytona and Chronomaster Sport are both self-winding. However, the Zenith's El Primero automatic movement is high-beat (36,000 beats per hour), which means the chronograph hand moves at a much faster rate and measures elapsed time with a precision of 1/10th of a second (compared to Rolex's 1/8 of a second). Power reserve ratings also differ with the Speedmaster supplying 50 hours, the Chronomaster Sport supplying 60 hours, and the Daytona supplying 70 hours.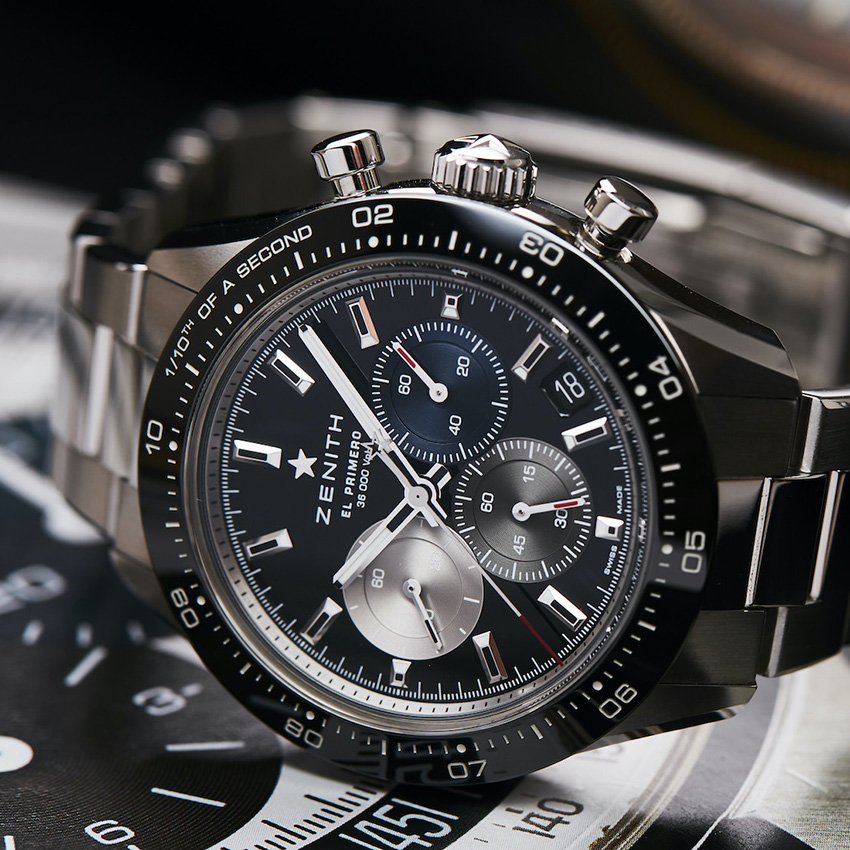 Image: Zenith Chronomaster Sport El Primero
Both the Speedmaster and the Chronomaster Sport have sapphire casebacks for a view of their respective movements while in true Rolex form, the Daytona has a solid caseback. The Daytona and Chronomaster Sport are water-resistant to 100 meters but the Speedmaster is rated to 50 meters.
---
Prices & Value
The prices for the Rolex Daytona, Omega Speedmaster, and Zenith Chronomaster Sport differ quite significantly. The least expensive of these three high-end chronographs is the Speedmaster, which has a manufacturer's suggested retail price (MSRP) of $7,150. The Zenith Chronomaster sits in the middle with an MSRP of $10,000 and the Rolex Daytona is the most expensive, retailing for $13,150.
The price variations are even starker in the secondary market. While pre-owned versions of the Omega Speedmaster 310.30.42.50.01.002 and Chronomaster 03.3100.3600/21.M3100 are selling close to or slightly less than retail prices, pre-owned Rolex Daytona 116500LN watches are selling well over double their MSRP due to their lack of availability at authorized retailers. The current value of a steel and ceramic Rolex Daytona ranges from $30,000 to $36,000 on the secondary market.
---
Winner
The Speedmaster, Chronomaster Sport, and Daytona are all incredible luxury chronograph watches that boast impressive pedigree, sleek designs, and top-notch performance. They each offer something distinctive too, whether it's the Omega Speedmaster Professional's faithfulness to its vintage-inspired design and mechanics, the Daytona's luxurious appeal, or the Chronomaster Sport's modern approach to showcasing the groundbreaking El Primero movement. They each have a place in watchmaking history and will no doubt continue to be favorites among the watch crowd for the foreseeable future.
With all that said, there can only be one winner. Although all three of these watches are top contenders, we think the Zenith Chronomaster Sport is the best of the best, and is most deserving of this title. Rivaling the elusive Rolex Daytona on nearly every metric, including water-resistance, power reserve, and sporting a self-winding movement—all the while being more affordable and easier to find—the Chronomaster Sport leaves very little room for buyer's remorse. And although it may not be as iconic as the Rolex or Omega, we can't really argue with good value and a solid spec sheet.
Do you agree with our decision? Is there another chronograph you think would put up a good fight? Let us know in the comments below!