Mechanical watches have a reputation for being expensive timepieces, yet that's not always true. There are indeed plenty of fantastic budget-friendly options out there in the vast automatic watch universe. To illustrate our point, here are five of the best automatic watches under $300, ranging from casual to sporty to dressy. Plus, we've thrown in two bonus entries that retail for slightly higher, but thanks to sales and coupon codes they still fall within our less than $300 price bracket goal.
---
Swatch SISTEM BOREAL – $215
Swatch is often cited as having saved the Swiss watch industry during the Quartz Crisis by offering fun, fashionable, and affordable Swiss watches made from plastic and powered by quartz movements. That was in 1983 and fast-forward 30 years, and Swatch made a head-turning statement yet again by releasing the Sistem51—an automatic Swiss watch with a movement built from only 51 components but boasting 90 hours of power reserve, and priced at 100 Swiss francs. As expected, the brilliant move was a success and the SISTEM collection is now a mainstay of the brand's catalog.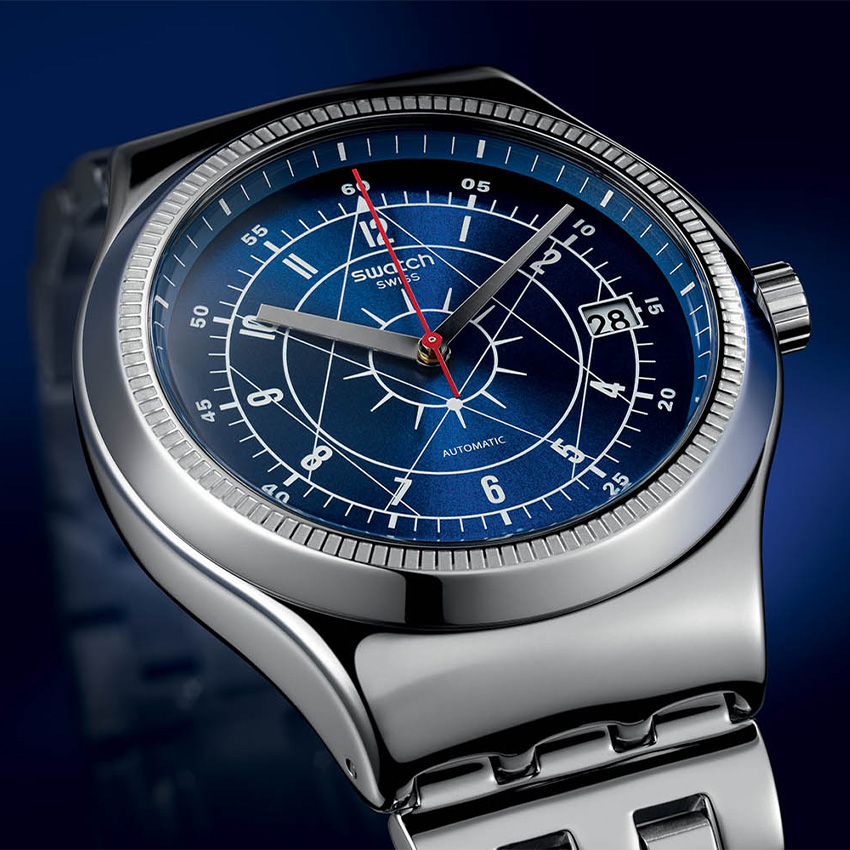 For just slightly more than $200, the Swatch SISTEM BOREAL packs a punch. The stainless steel 42mm case is fitted with a matching full steel bracelet and furnished with an exhibition caseback for a view of the groundbreaking automatic movement inside. The vibrant blue dial is designed after a maritime compass and even includes a date window at 3 o'clock.
---
Timex Marlin Automatic California Dial – $249
Timex is another watch brand known for making affordable watches but with the added benefit of being watch snob approved. For fans of vintage-looking watches, Timex offers a fantastic value proposition in the form of a modern iteration of its famed 1960's Marlin model priced at less than $250. What's more, this particular Marlin Automatic line houses a 1930's era California dial, characterized by a layout that combines Arabic numerals, Roman numerals, and geometric hour markers.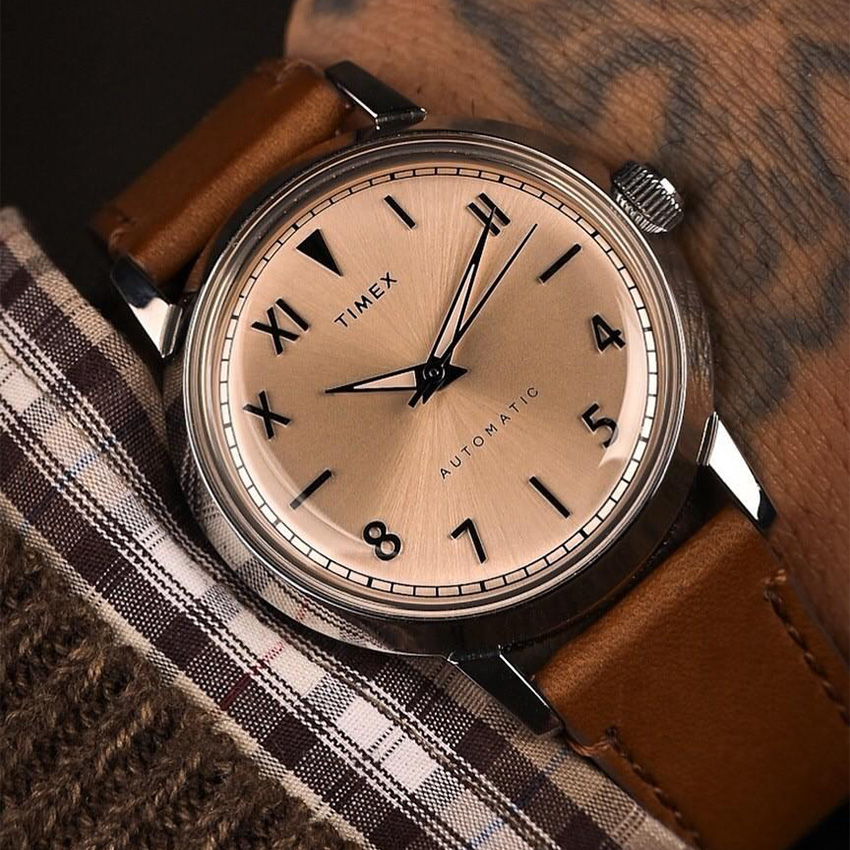 Further emphasizing the Timex Marlin Automatic's retro vibe is the dramatically domed acrylic crystal that sits above the 40mm case. On the opposite side is a display caseback to showcase the 40-hour self-winding movement that powers the watch. The dressy Timex Marlin Automatic California Dial is currently available in two colorways: a steel case with a light natural colored dial and brown leather strap and a rose gold-tone steel case with a black dial and black leather strap.
---
Orient Pilot – $280
With a reputation for making reliable and inexpensive watches that run on in-house movements, Japanese watch company Orient has built a loyal and appreciative fan base. One of the brand's more popular models is the Orient Pilot, which brings together the fundamental design traits of a traditional military aviation watch and a budget-friendly price point.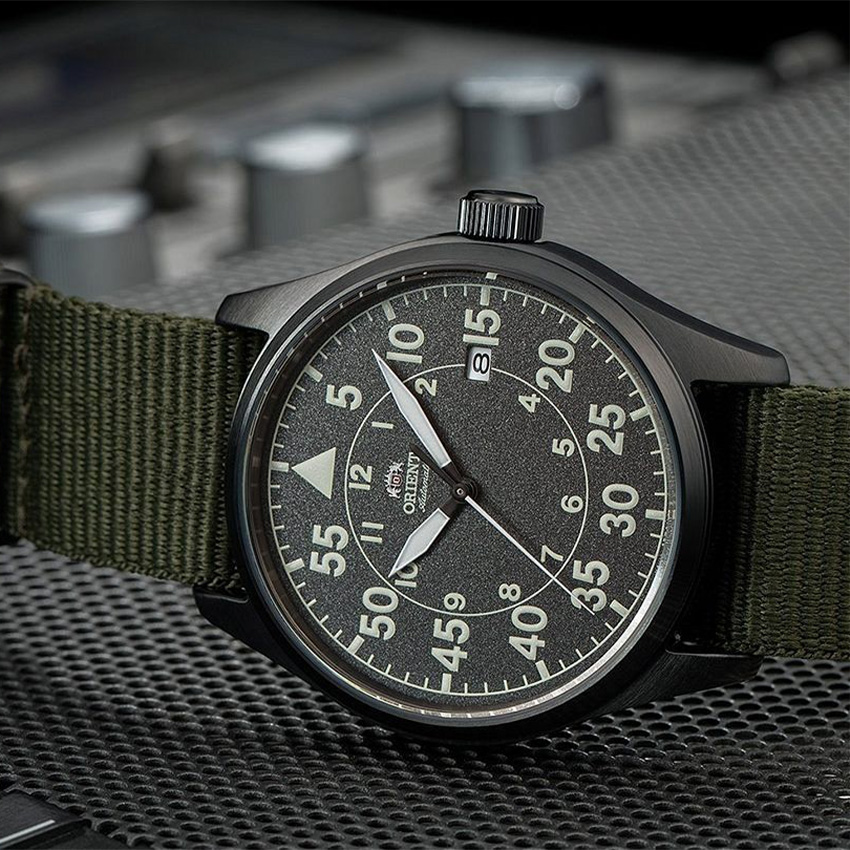 For the easy-to-digest price of $285, you will get a 42.5mm black ion-plated steel case with a stealthy brushed finishing that encases a dark gray Flieger Type-B dial. The Orient Pilot dial comes alive in the dark due to the super bright Nemoto Luminova coated hands and indexes while the green nylon NATO-style strap completes the vintage military pilot watch look.
---
Dan Henry 1970 Automatic Diver – Starting at $280
Longtime watch collector Dan Henry is the eponymous founder of a relatively new watch microbrand, established in 2016. With a passionate watch enthusiast at the helm of the company, it comes as no surprise that the watches are thoughtfully designed. However, what is refreshing is that Dan Henry watches are affordable too, therefore accessible to a wide range of watch fans.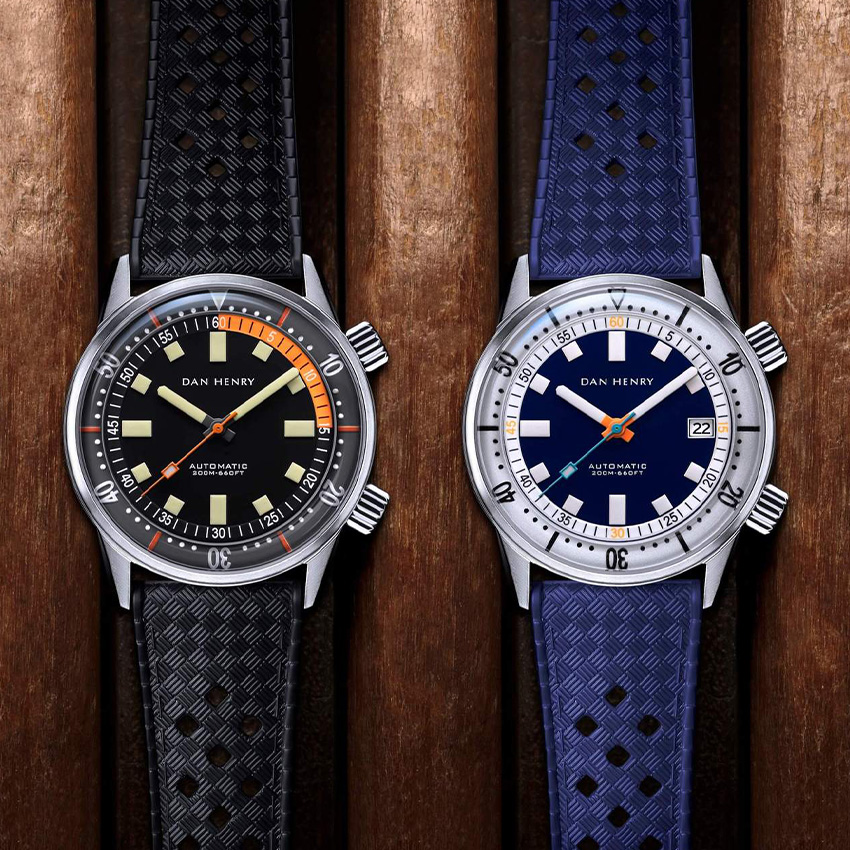 Although the majority of Dan Henry watches are quartz to keep prices low, there's a stellar automatic diving collection steeped in vintage character. Meet the Dan Henry 1970 Automatic Diver watch, featuring a 40mm steel case water-resistant to 200 meters, punctuated with two crowns to operate the inner rotating bezel and adjust the time. The seventies-inspired dial is not only home to period-correct oversized markers and thick hands but is also available in a range of bright color palettes.
---
Seiko 5 SRPD – $295
Arguably the masters of ultra-dependable and affordable watches, Seiko has plenty of economical watches under its far-reaching umbrella—particularly in the automatic dive watch space. While it was tough to choose a single reference, one of our favorites right now is the Seiko 5 SRPD.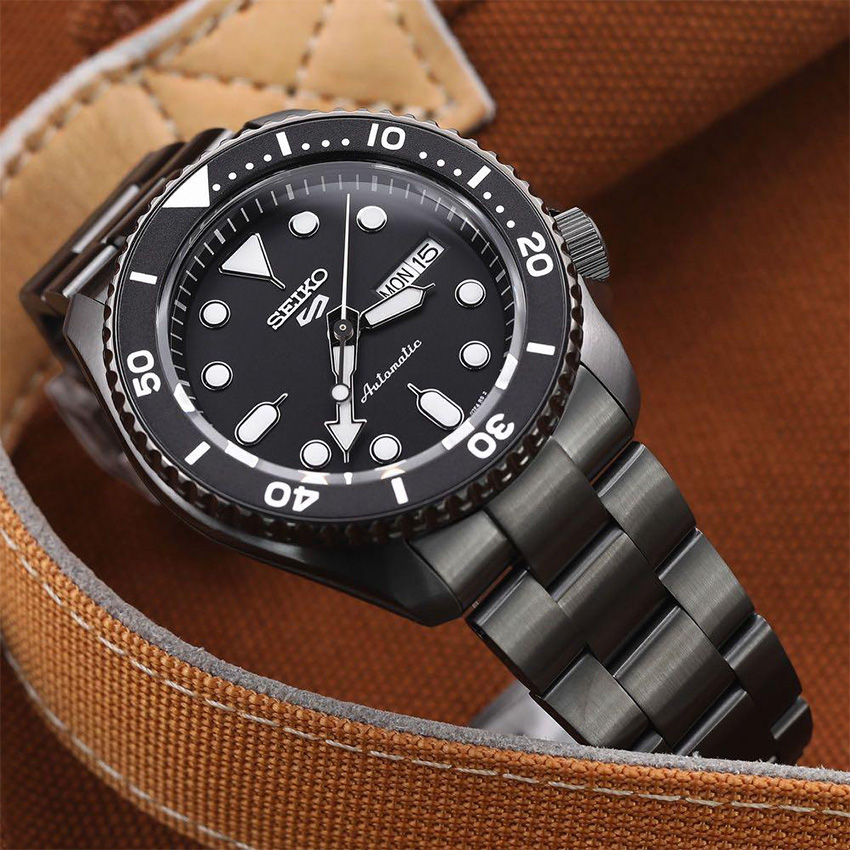 Carrying a price tag of under $300, the Seiko 5 SRPD boasts a fantastic mix of classic diver styling with a variety of colorways to choose from. The 100-meter water-resistant 42.5mm steel case can be paired with black, blue, or green bezels and dials, and there's even an orange dial variant for those looking for something more dynamic. Whether fitted with a matching steel bracelet or a lighter nylon strap, a Seiko 5 SRPD checks all the boxes when shopping for a reasonably priced automatic diving watch.
---
Bonus Contenders:
As promised, in addition to five of the best automatic watches under $300, there are two extra watches worth your consideration. First up is the self-winding Spinnaker Hull Riviera, which, thanks to its large 42mm cushion case, blue striped dial, and steel tapered bracelet, satisfies that hankering we all seem to have for the nautical luxury steel sports watch genre that was born about five decades ago. The Hull Riviera is currently priced at $315; however, there's a 20% promo code (still relevant at the time of publishing) that brings the price down to under $300.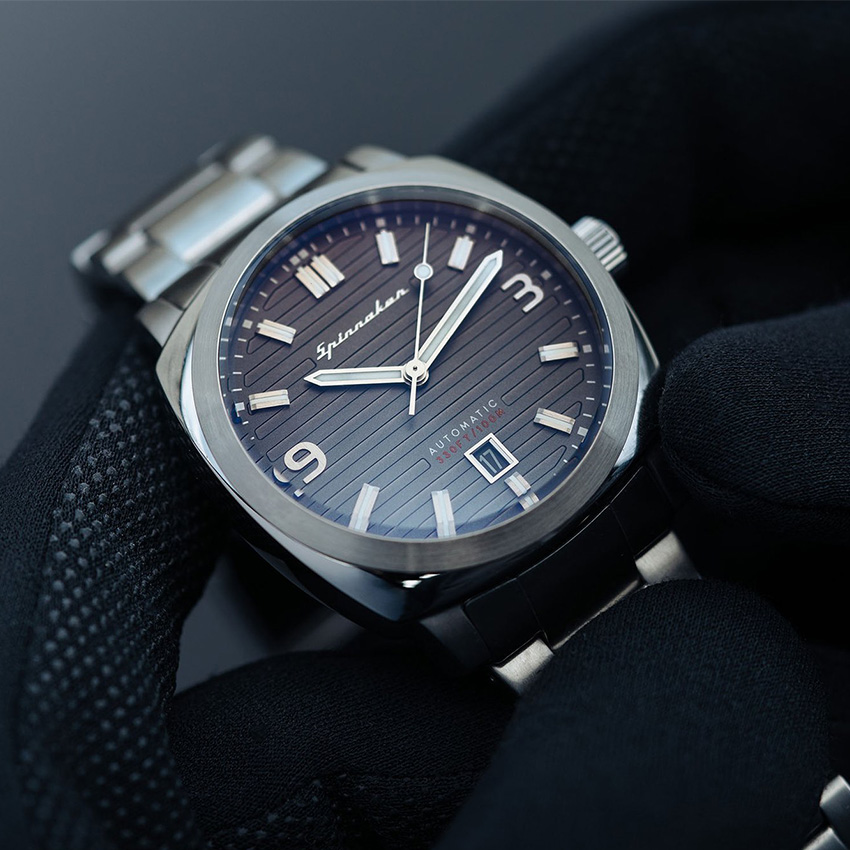 Next on the list is the Bulova Hack with a higher MSRP on the brand's website but the watch is regularly available for less than $300 across different platforms. The Bulova Hack is a classic military field watch with a restrained 38mm steel case and black leather strap. The ivory-colored dial gives a fresh touch to the watch and allows the customary duo of hour and minute markers to stand out. The 42-hour automatic movement is shielded by a solid steel caseback while a double-domed mineral crystal covers the dial.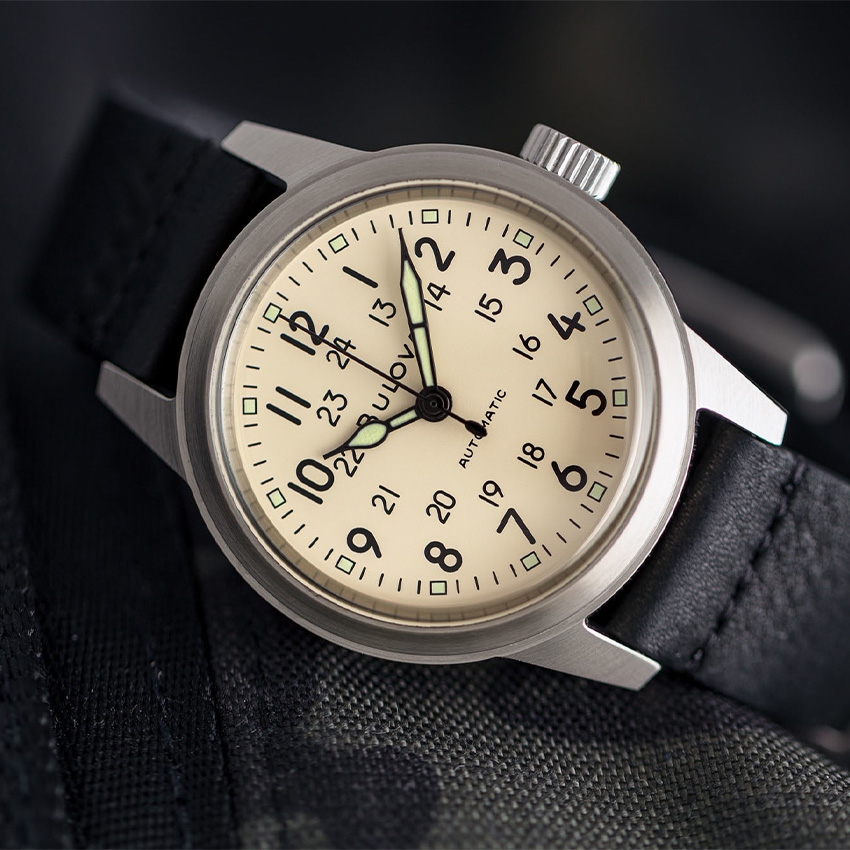 ---
If you've wanted to add a new automatic watch to your collection but have been wary about how much it would cost, we hope the above sub-$300 self-winding models give you some inspiration.
Do you have a favorite from this list, or are there any other automatic watches that cost less than $300 that you think we should add to the roundup? Share your comments with us below.