It's no secret that James Bond is well-known for his fancy cars, tailored suits, and state-of-the-art gadgets, but he has also been known to have some serious watch game as well. We all know that Sean Connery rocked a Rolex Submariner somewhere along the way, and that OMEGAs have made many appearances in the epic spy series, but what about all those other odd watches that hit the screen along the way? How many can you name?
Not to worry—we did some digging on your behalf, and have compiled a list of the many other Bond watches that have come and gone over the years. To play it safe, we're avoiding the much-debated and never-confirmed pieces (such as the gold watch believed to be a Gruen in 'You Only Live Twice' and 'Diamonds are Forever'), but beyond that, we're confident you'll be set the next time a James Bond-themed round of Trivial Pursuit comes about.
The Rolex Era: 1962 – 1977
Before we get to the more obscure sightings, we must cover the icons, starting with the Rolex that started it all: The Rolex Submariner 6538. The mighty 300m diver, measuring 38mm across and sporting that iconic red marker on its bezel, first made an appearance in 'Doctor No' (1962) as a simple timekeeper. The piece also turns up as a gadgetless wonder in both 'From Russia with Love' (1963) and 'Goldfinger' (1964) on 007's wrist, whereas the darling (uncomfortably named) Pussy Galore opted to make use of a different Rolex in 'Goldfinger'—the GMT Master Ref. 6542.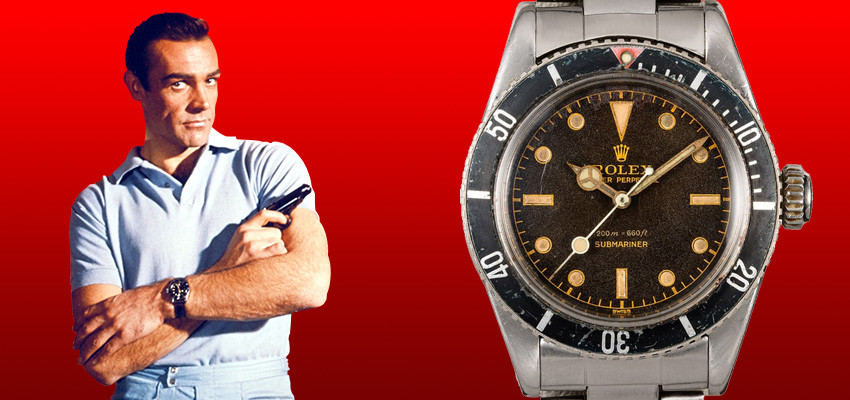 When it comes to 'Thunderball' (1965), Connery still has his trusty Rolex handy, though a Breitling Top Time also makes an appearance when he's in need of a portable Geiger counter. This marks the beginning of wrist-mounted gadgetry in the Bond franchise, and things get much more interesting from here on.
Fast forward to 1969—straight past 'You Only Live Twice', and a gold watch that many fans believe is a Gruen Precision—and Rolex is back in action in two new forms, and new references. George Lazenby finds himself wearing the Rolex reference 5513 Submariner, as well as a pre-Daytona chronograph. Ref. 6238. When Roger Moore takes the reigns of the franchise in 'Live and Let Die' in 1973, he's also flying the Rolex flag with the same Submariner, which he also wears again in 'The Man With the Golden Gun' (1974). What makes matters more interesting is that Moore's Submariner has a few tricks up its sleeve. Not only can it cut through handcuffs, but its clever magnet can both deflect bullets AND disrobe women, given the right opportunity.
Rolex's last hurrah in the Bond franchise finally came in 1977, as Roger Moore opted for a Rolex GMT Master as his watch of choice in 'The Spy Who Loved Me'.
The Obscure Years: 1977 – 1989
Other than the Breitling Top Time we mentioned earlier, where things started to shift was the early '70s. The first sighting was that of a Pulsar LED in the opening sequence of 'Live and Let Die', though it did not resurface through the balance of the film. In 1977's 'The Spy Who Loved Me', a digital Seiko 0674 LC doubled as a transponder that could print out messages from M. This kicked off a surprisingly strong run of appearances from the Japanese powerhouse.
Seiko's M354 Memory Bank Calendar is put to work in 'Moonraker' (1979). Trapped in a blast pit underneath a Moonraker Space Shuttle, Bond retrieves the plastic explosives hidden underneath the Seiko's caseback, and uses them to blow open the hatch door, escaping what would have otherwise meant certain death.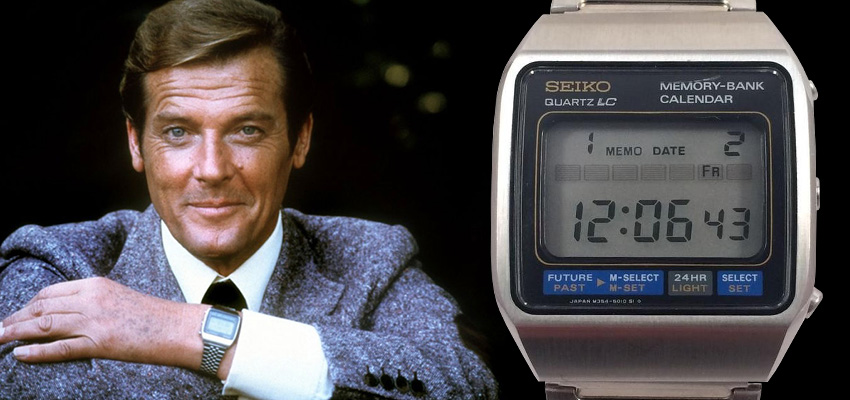 In 1981 Seiko secured two leading roles on the wrist of Roger Moore, as he wore both an H 357 Duo display as a communication device in the film, as well as a 7549-7009 "Golden Tuna". 1983 and 1985 proved to be the final run for Seiko as 007's timekeeper of choice, with a Seiko Sports 100 TV watch making an appearance in 'Octopussy', and a trio of Seikos, including an SPW001 Quartz diver, a SPR007 Quartz Chronograph, and finally a two-tone SPD094 that has a very Rolex Datejust sort of aesthetic.
One of the coolest and often forgotten Bond wristwatches came just before the Pierce Brosnan era, as Timothy Dalton wore a pair of Heuer divers, including the Professional Night‑Dive 980.031 with a full lume dial in 1987's 'The Living Daylights'. For his last appearance as Bond in 'License to Kill' (1989), Dalton swaps back to the iconic Rolex Submariner—this time the modern 16610 gets called into action.
The OMEGA Era: 1995 – 2020
Starting with Pierce Brosnan's appearance in 'Goldeneye', OMEGA remains the watch of choice for all things James Bond up to present day. Brosnan kicked things off with the reference 2541.80—the quartz version of the classic Seamaster. Through 'Tomorrow Never Dies', 'The World is Not Enough', and 'Die Another Day', Bond shifted to the self-winding 2531.80, which is arguably the most reliable and accessible Bond watch out there. Though OMEGA released a number of Bond special editions, original well-kept examples of the 2531.80 are easy to track down on the secondary market for less than $2,000.
With Daniel Craig landing the role as 007, OMEGA leveled things up by giving Bond the significantly larger Seamaster Planet Ocean 2900.50.91. In 'Quantum of Solace' an updated version of the 600m Planet Ocean 2201.50. For 'Skyfall' a number of different watches made it into a variety of scenes, most notably the one-off Planet Ocean in titanium, that Christie's auction house sold in 2012 for 157,250 GBP (with proceeds going to Orbis, a charity providing optometry care to struggling youth in 3rd world countries). Craig was also spotted with an Aqua Terra in 'Skyfall', specifically the model seen here which was recently discontinued.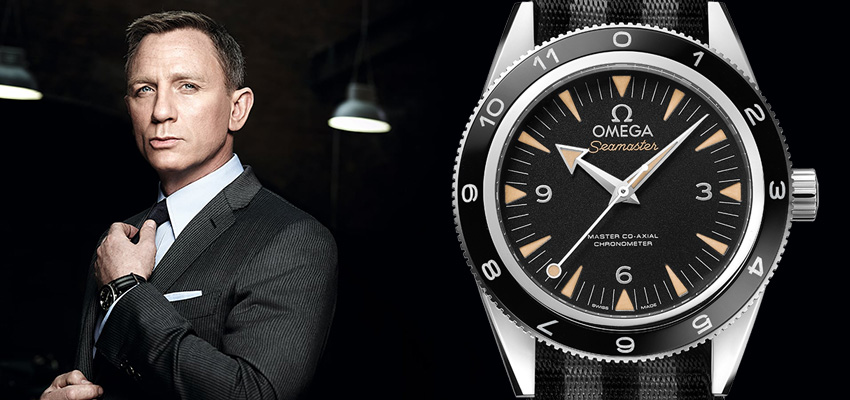 Announced in early July 2017, the latest Bond watch from OMEGA was unveiled a long way ahead of the next film. The news came in conjunction with Daniel Craig confirming his return for the production of the next Bond film (currently unnamed), which is expected in theaters by 2020. The watch itself—known as the "Seamaster Diver 300M Commander's Watch Limited Edition"—returns to the original Brosnan-era Seamaster design in a 41mm case with a white dial and Pepsi-style Liquid Metal (ceramic) bezel. It will be available on a NATO strap in blue with red and grey stripes. It will be fitted with OMEGA's caliber 2507 co-axial COSC-certified movement.
First impressions of the latest piece are a bit mixed, as the white dial seems very stark against the more muted bezel colors. In steel the piece will be limited to a fitting 7007 pieces, though an even more obscure yellow gold example (complete with yellow gold second hand) will appear in a production run of only 7 pieces worldwide. The new pieces are expected to land at OMEGA boutiques before the end of the year, with steel models priced at $5,000.