We've all been seeing this coming over the last years. Brands peppering in mid-sized pieces into their catalogs slowly but surely. The 40mm Oris Divers Sixty-Five, Black Bay 36, and Omega's Speedmaster CK2998 are just a few examples of this slow and steady migration away from the glory days of the 47- 50+mm cased watches that were all the rage for a fair number of years. As anyone in the room with large wrists will attest, there's certainly still a need for larger watches in the marketplace, however brands can no longer rely on it selling solely for its size. Even on my puny wrists, there are some chunky pieces of hardware I'd happily add to the collection for those "making a statement" moments. With that in mind, here are a handful of our favorite dinner-plate scale watches that are worth dropping some coin on.
Zenith Heritage Pilot Type 20 GMT 1903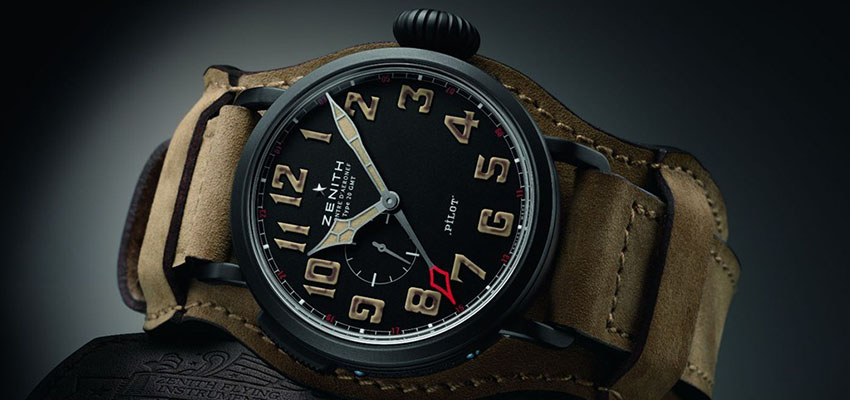 At 48mm across and strapped onto a heavy oversized Bund strap, the Type 20 GMT is one badass tank of a pilot's watch if you can handle the size and heft. Zenith's historical claim to fame was when Louis Blériot made the history books by flying across the English Channel with one of their watches on his wrist in 1909, and ever since, the pilot's watch has been a key piece of Zenith's history. You could go down to the 45mm and grab the Heritage Pilot Ton-Up chronograph — a watch that still qualifies as being big in its own right — but the Type 20 GMT 1903 gets the nod for those looking for serious size.
CLERC Hydroscaph Central Chronograph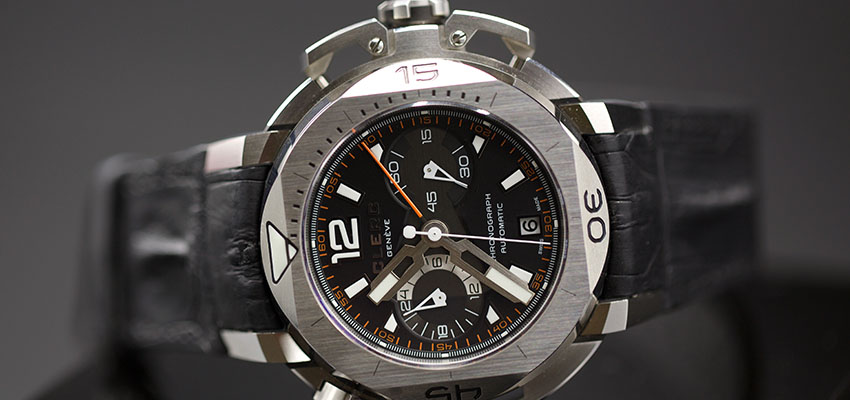 One of the really cool things about these seriously chunky dive watches from CLERC is the fact that they use articulated lugs. Sounds gimmicky at first, I know, but the benefits are HUGE. Even at 49.86mm across, the Hydroscaph Central Chronograph still don't look out of place on the wrist of someone who would otherwise quickly tap-out at the 44 or 45mm mark! Speaking from experience, don't let the case specs fool you here. On top of general comfort, I love the fact that they use a central chronograph minute hand (sort of like a Lemania 5100) for increased legibility on the 60-minute timing scale. Icing on the cake? The locking bezel uses that crown at 10 o'clock for adjustment, and the brand is involved with the building of personal luxury submarines, meaning part of their R&D is done with the watches strapped to the outside of a sub.
Graham Chronofighter Steel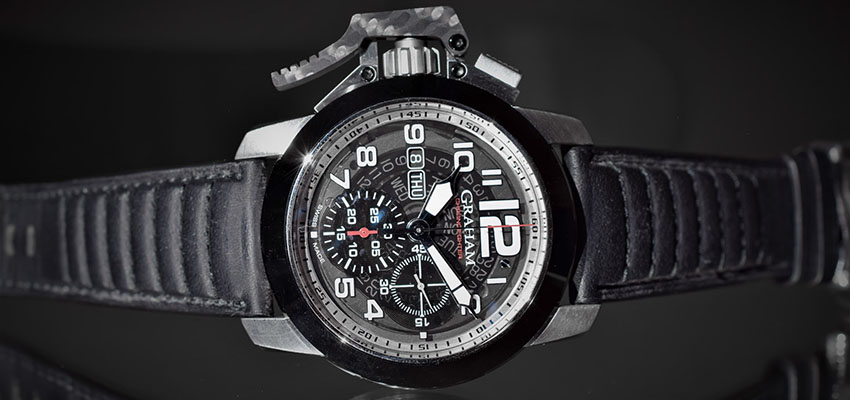 Unlike with CLERC, you really do need to have big wrists to pull off any of the variations of the 47mm Chronofighter Steel from Graham. The brand uses a carbon fiber trigger as a chronograph pusher, and a ceramic bezel both to shed weight and to cut down the risk of accidental scratches. That funky trigger/pusher design has been part of their repertoire for ages, making it a very cool and easy to identify piece from across the room. We're particularly fond of any of their stealthy PVD models, but most recently they also launched a 44mm vintage-inspired series that's pretty cool too.
U-Boat Chimera 46 Carbon/Titanium Chronograph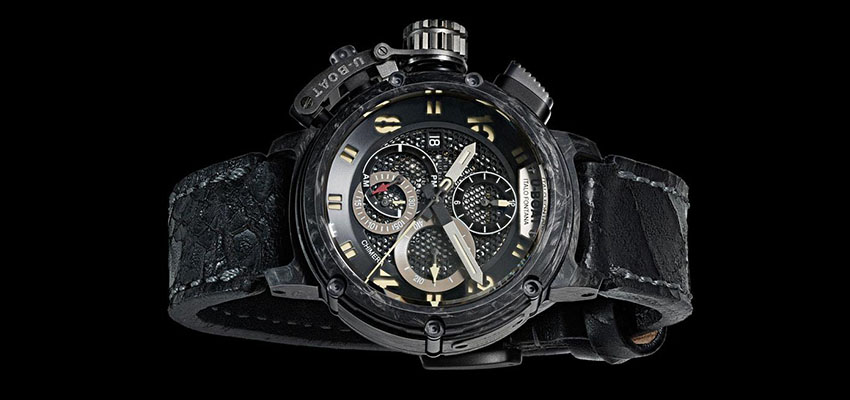 U-Boat was one of the biggest players when large cases were at their peak, and I have to give them credit for continuing to evolve and innovate as the trend has been dying down. Last year we saw them launch a smaller-cased bronze version of their Chimera canteen-cased watch (alongside numerous larger bronze offerings) but most recently this Carbon and Titanium chronograph instantly became the new favorite of the bunch. Generally speaking the dark matte finish of forged carbon makes a watch look a little smaller on the wrist than its steel counterpart, but at 46mm across and a significant (though unlisted) thickness mean it's plenty chunky for those who need the extra size.
How big is too big for you? Let us know in the comments below!