Can't afford a Daytona or find one at a Rolex store? Don't worry, most people can't these days—they're some of the most expensive Rolex models out there. When it comes to top luxury chronographs, the Rolex Daytona is one of the most recognizable and collectible ever made—which makes it near impossible to get one at retail and out of reach for most in the pre-owned market. At retail, Rolex Daytona watches start at $14,550 but expect to pay more than double for a pre-owned example on the secondary market. So what's the alternative?
How about Daytona homage watches? As we've previously discussed in our roundup of Submariner homages, homage watches are not replica watches pretending to be the real deal. Rather, homage watches are designed to mimic the look of a famous timepiece without any pretense that they're original. As expected, there's quite a bit of controversy around these copycat watches. However, pushing those debates aside, we're here to show you some solid Rolex Daytona homage watch options if you're in the market for one.
---
The Basics of a Rolex Daytona
Before we jump into the homage watches, it would help to outline what makes a Daytona a Daytona. The Rolex Daytona is a chronograph watch, featuring three subdials on the dial, a tachymeter scale on the bezel, and two chronograph pushers on the case flanking the winding crown.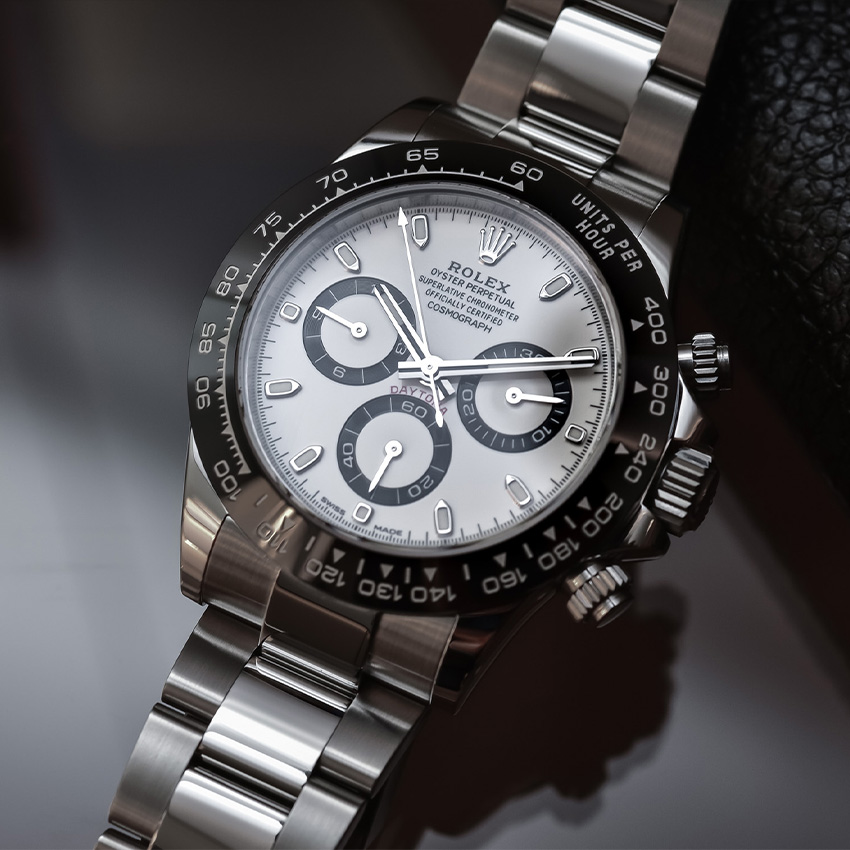 Vintage Daytona watches, which were produced from 1963 until 1988, are 38mm in size and run on manual-winding movements. Modern Daytona watches, which debuted in 1988, have 40mm cases and run on automatic movements. They're available in a wide range of materials, and are fitted with one of Rolex's signature bracelets—either the three-link Oyster metal bracelet or the Oysterflex rubber strap. What's more, depending on the specific reference, a Rolex Daytona can either have a metal bezel, acrylic bezel (vintage), or Cerachrom ceramic bezel.
With these design fundamentals in mind, let's have a closer look at some alternatives to the Rolex Daytona.
---
Pagani Design Chronograph Sport
Prices starting at $75
China-based Pagani Design makes a large assortment of Rolex lookalike watches, including the Daytona. The Pagani Chronograph Sport is the least expensive offering of our homage picks starting at around $75. For that price, you get a 40mm quartz chronograph that looks remarkably like a Daytona, complete with a three-link bracelet and sapphire crystal. However, the Pagani includes a date window on the dial, which of course, the Daytona does not have.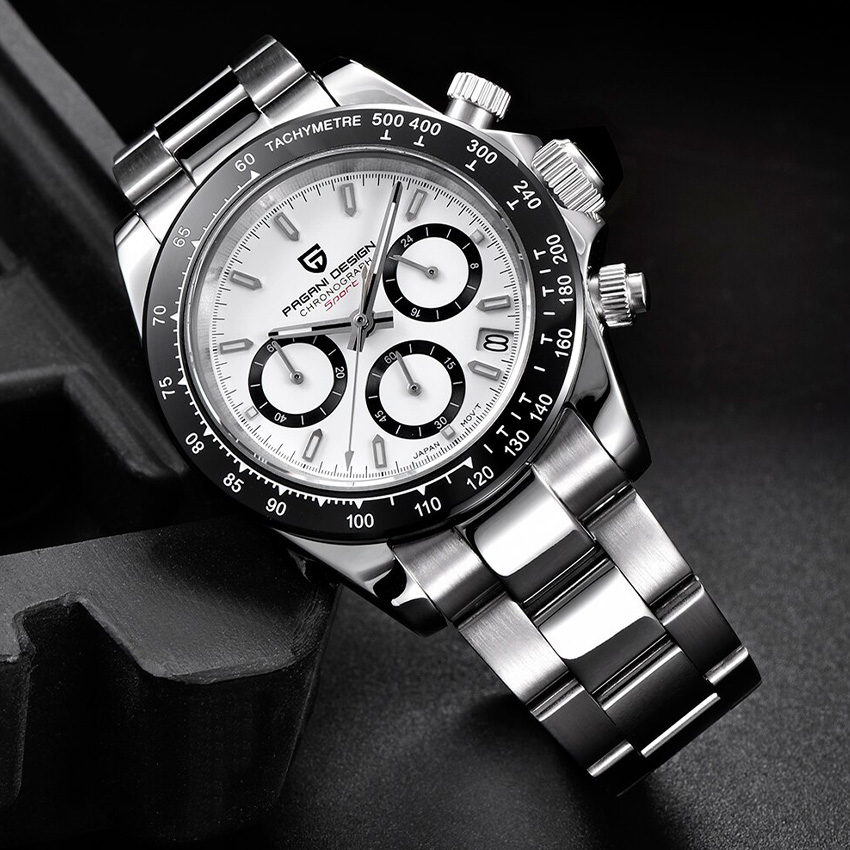 The Pagani Chronograph Sport is available in a variety of colorways including steel with a ceramic bezel (like the popular Daytona 116500LN), two-tone steel and gold-colored shades, and bright options like green and blue.
---
Invicta Speedway
Prices starting at $80
Affordable watch brand, Invicta, is famous for its vast collection of watch models, many of which are based on iconic luxury watch designs. The Invicta Speedway is undoubtedly the brand's take on the Rolex Daytona—its name is even a not-so-subtle nod to the famous racetrack in Daytona, Florida.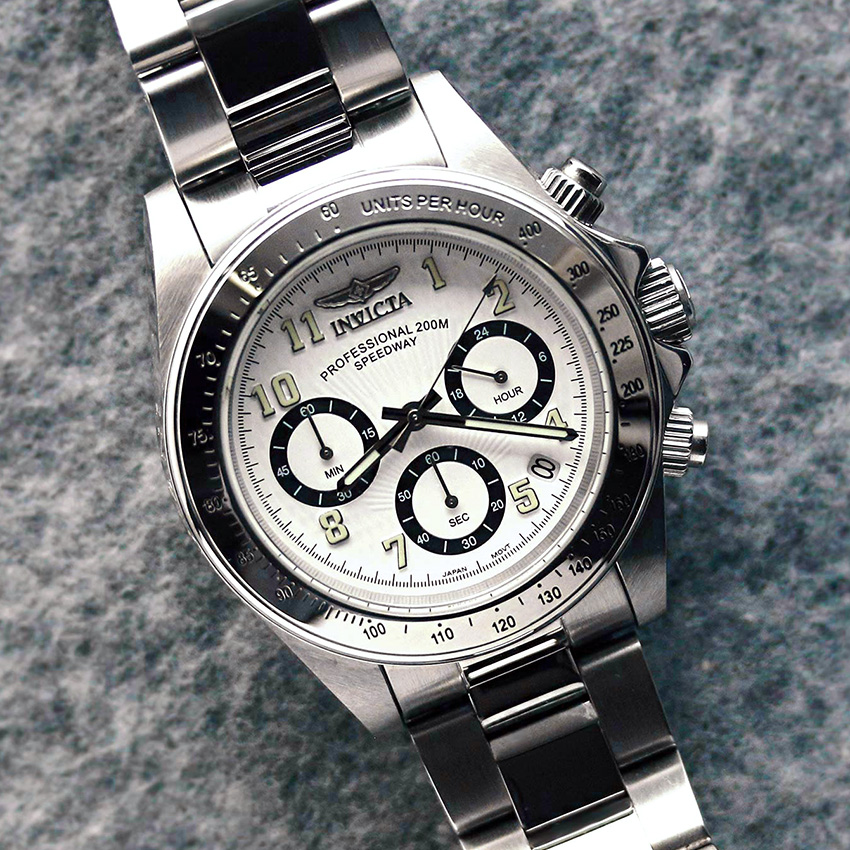 The Invicta Speedway sports a 39.5mm case that houses a quartz movement. The three-register dial also includes a date window wedged between 4 and 5 o'clock and the tachymeter scale is engraved on the metal bezel. Loyal to the Daytona design, the Invicta Speedway also comes with a three-link Oyster-like bracelet, in addition to screw-down pushers and crown. However, unlike the original Daytona, the Speedway is offered in more dial and metal colors, including non-traditional options like blacked-out cases and pink accented dials.
---
Stührling Ultima
Prices starting at $95
Stührling is another well-known maker of affordable homage watches, often taking design cues from popular luxury sports models. For a larger Daytona homage, there's the Stührling Ultima 3960 with a 42mm case. These quartz-powered chronographs include ring outlines around the three subdials—just like the Daytona— but with the addition of a date window.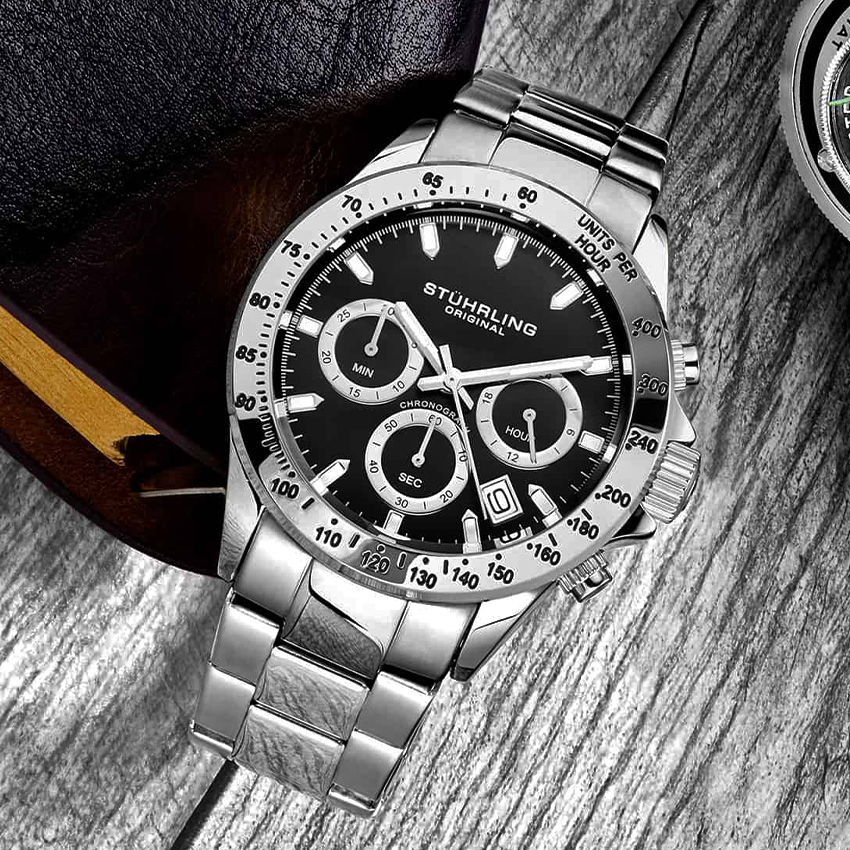 Thanks to screw-down pushers, crown, and caseback, the Stührling Daytona homage watches are water-resistant to 100 meters and a mineral crystal protects the dial. Similar to other lookalikes, the Ultima chronographs are offered in plenty of case, dial, and bezel colors but they all include bezels (no ceramic here) engraved with the tachymeter scale.
---
Alpha Chronograph
Prices starting at $245
The Alpha Chronograph is an interesting proposition since not only does it look like a vintage Daytona "Paul Newman" but it's also powered by a manual-winding movement. And you can see that Seagull mechanical movement at work via the transparent caseback.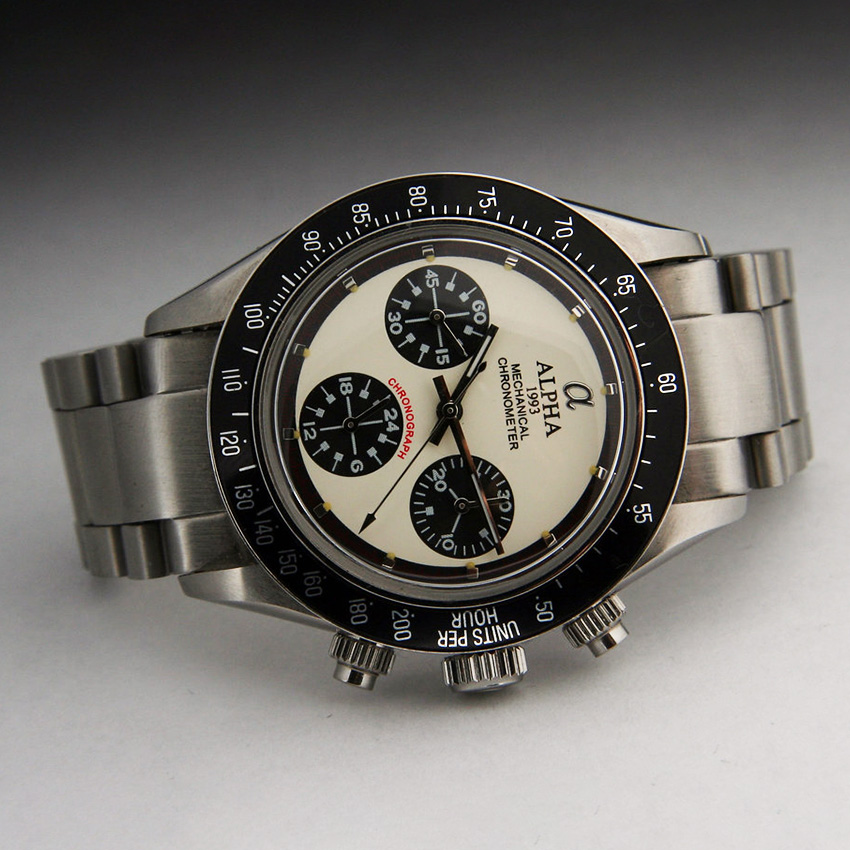 Dial-side, there's plenty Paul Newman-inspired details including the Art Deco numerals on the subdials, dark registers contrasting with the light background, round lume plots, and a dark minute track running around the periphery. The 39mm steel case is topped with a black bezel and comes equipped with a three-link steel bracelet. However, thanks to drilled lug holes in the case, you can easily switch out the bracelet for a retro-looking leather strap or a different metal bracelet design.
---
Seiko Prospex Speedtimer Solar Chronograph SSC813
Prices at $675
If you're looking for a watch that looks similar to a Daytona made by a respectable brand with a long watchmaking history, then Seiko may have what you're looking for in the form of the Prospex Speedtimer Solar Chronograph SSC813. Readers of this blog will know how much we love Seiko watches, which manage to boast solid quality and in-house movements with accessible price points.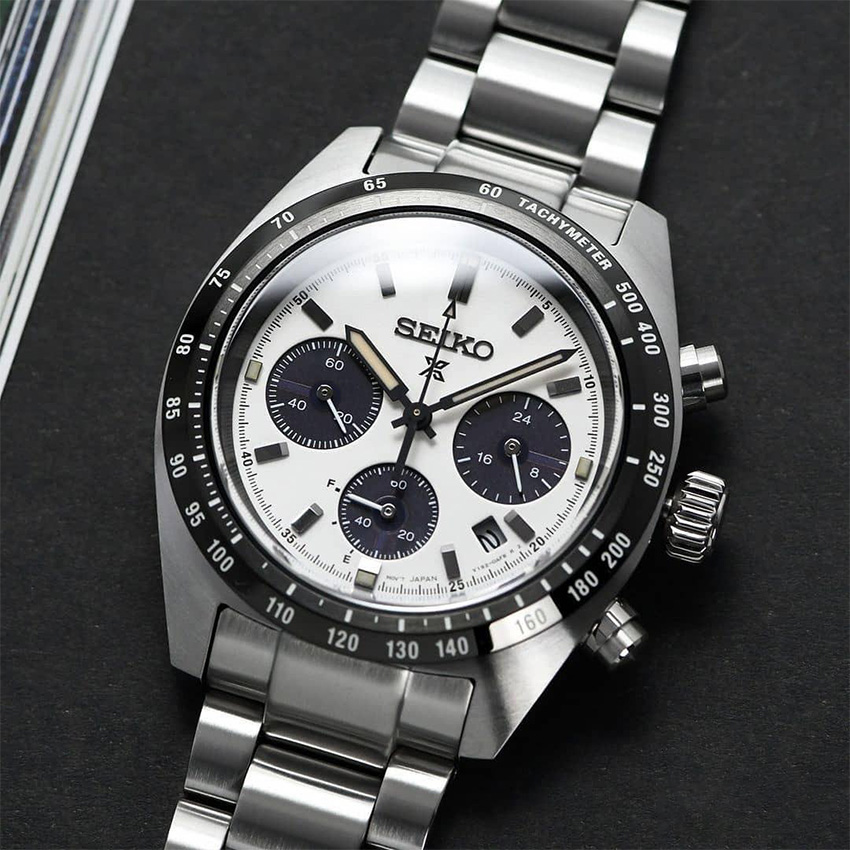 The Prospex Speedtimer Solar Chronograph SSC813, which has been nicknamed the "Seitona" in some circles due to its uncanny resemblance to Rolex's flagship chronograph, is inspired by Seiko's first precision chronographs that were developed for international sporting competitions in 1964. The 39mm steel case houses a Panda-style dial with three black subdials punctuating the white background, and there's a date window at 4:30. There's also a domed sapphire crystal, a black tachymeter-scale bezel, and a three-link steel bracelet. Furthermore, since the Prospex Speedtimer Solar Chronograph is powered by light energy, you won't have to change the battery.
---
Steinhart Ocean One Vintage Chronograph
Prices starting at $1,060
Steinhart is a Germany-based brand that uses Swiss-made movements in its watches, most of which are directly inspired by big brand timepieces. The quality of Steinhart watches is a step up from some of the other homage watches we've covered here—and its price tag reflects that.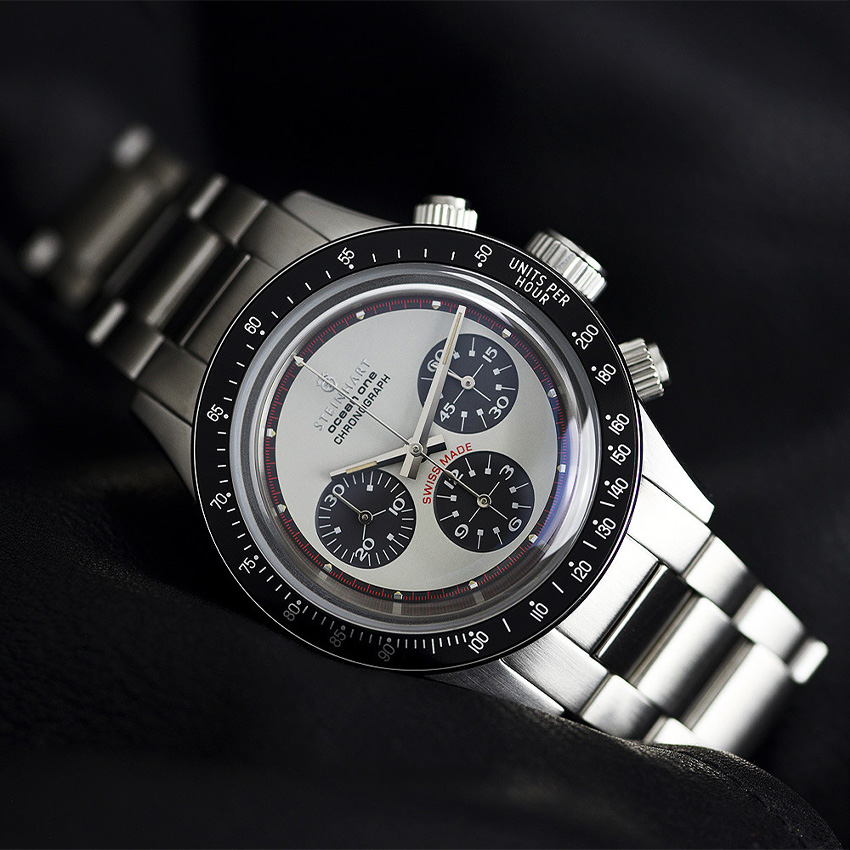 The Ocean One Vintage Chronograph collection is home to the Steinhart vintage Rolex Daytona "Paul Newman" homage watches. These pieces include 42mm steel cases, domed sapphire crystals, and a few dial color options such as beige (with black registers) and black (with beige registers), along with the familiar red minute markers around the outer edge. Powering the Ocean One Vintage Chronograph models are the automatic Dubois Dépraz DD 2020 movements, which can be viewed through the exhibition caseback.
---
Tudor Black Bay Chrono
Prices starting at $5,000
We can't discuss Daytona lookalikes without mentioning Tudor, Rolex's younger and more affordable sister brand. While affordability is of course relative, the $5,000 cost of a Tudor Black Bay Chrono is still significantly cheaper than a Rolex Daytona. To be clear, the BB Chrono is not a copy of the Daytona—it has a style of its own. However, we do see it as a very worthy alternative when the Daytona is simply not a realistic option.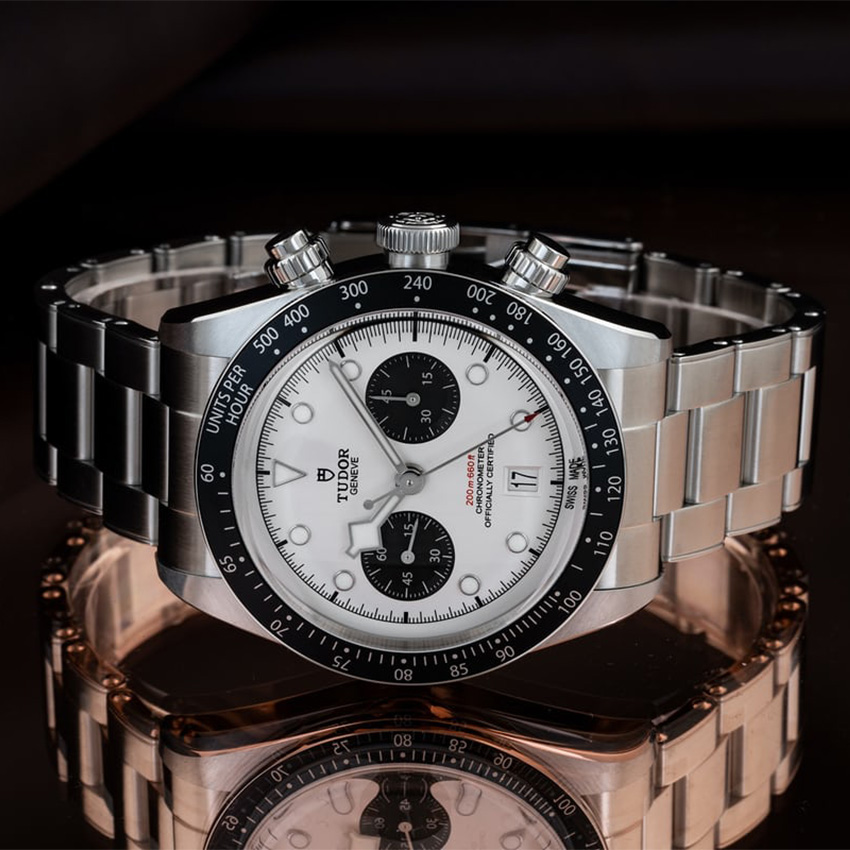 The Black Bay Chrono has a 41mm case topped with black aluminum tachymeter bezels. The dial has only two subdials, a date window at 6 o'clock, and in true Black Bay form, snowflake hands on the dial. Although the vast majority of BB Chrono models are in stainless steel, Tudor does offer a few two-tone steel/gold versions too. All these watches are offered with the choice of a metal three-link riveted bracelet, a wide leather cuff, or a black fabric strap.
---
Whether you want to spend less than $100 or are willing to drop four figures, the market for Rolex Daytona lookalikes has plenty to offer. What do you think of our list of Daytona homage watches? Do you own one or are thinking of getting one? Drop us a comment down below.