When looking at a watch, most of the attention is naturally given to the watch case. This is, after all, not only where the watch's functions are, but also what makes up most of a watch's general design. However, a watch's bracelet is also a significant component of a watch's overall style. As I'm sure you'll agree, wearing the same watch case on either a metal bracelet, rubber strap, or leather band gives the timepiece an entirely different look.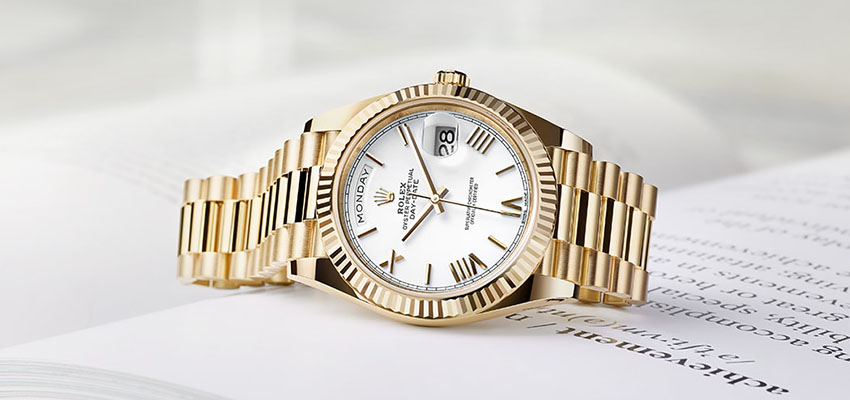 Rolex clearly understands the importance of the watch's bracelet. In fact, no other luxury watch brand comes close to how Rolex approaches development, design, and marketing of watch bracelets. Rolex's watch bands are not merely an afterthought, but rather an integral component of the Crown's watches, worthy of their own names and distinct styles. Rolex currently offers six different types of watch bracelets and straps, and many of these Rolex style bracelets have histories that stretch back well over six decades and have become famous in their own right. As such, we have compiled a comprehensive guide to Rolex bracelet types, complete with design details and sizing charts.
Rolex Jubilee Bracelet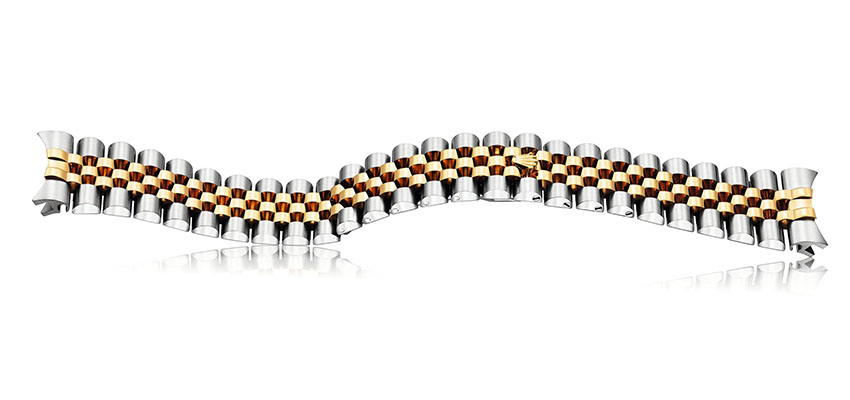 In 1945, Rolex unveiled the Datejust watch to celebrate the company's 40th anniversary. Along with the brand new watch model, Rolex also introduced a new bracelet style, fittingly called the Jubilee bracelet.
The Rolex Jubilee bracelet is a five-piece link metal bracelet, where two rows of larger links border three rows of smaller-sized center links. The links of the Jubilee bracelet are semi-circular in shape, and the bracelet is fitted with either a concealed Crownclasp or an Oysterclasp. The Jubilee bracelet is available in a wide range of metals and sizes.
Rolex Oyster Bracelet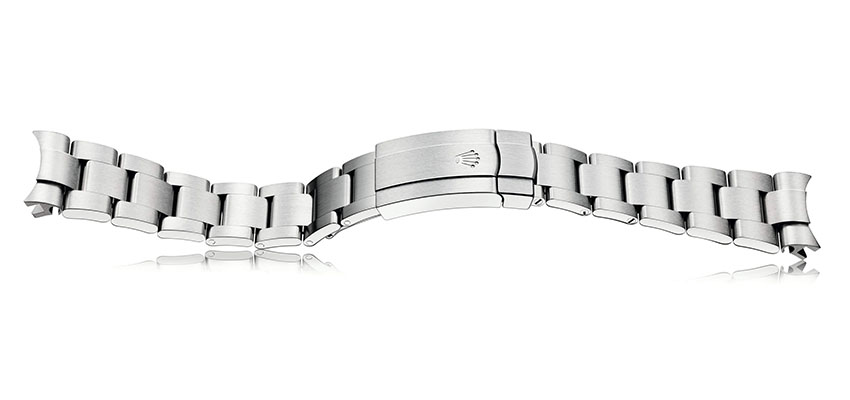 In 1947, Rolex patented a new style of bracelet called the Oyster, and the Rolex Oyster bracelet was subsequently introduced to the public in 1948. However, the origins of this particular style of Rolex bracelet date back to the 1930's when a company called Gay Frères produced Bonklip (also known as Bamboo) bracelets for Rolex.
The Rolex Oyster bracelet is a three-piece link metal bracelet, where two rows of thinner links flank a row of wider links. The links of the Oyster bracelet have a flat shape, and the bracelet can be equipped with all types of Rolex clasps, and when accompanying Rolex's dive watches, it can also be fitted with a diver's extension clasp. The Oyster bracelet is available in almost every Rolex collection, and is offered in every metal the company uses.
Rolex President Bracelet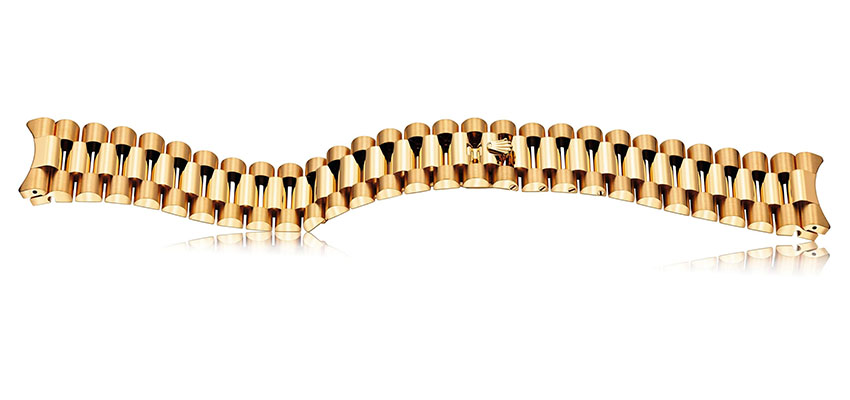 In 1956, Rolex presented yet another new watch model called the Day-Date, and yet again Rolex designed a brand-new bracelet to accompany the watch, this time called the President bracelet. Today, the Day-Date watch is often simply referred to as the Rolex President.
The Rolex President bracelet is a three-piece link metal bracelet, where two rows of smaller semi-circular links flank a row of larger semi-circular links. The President bracelet is the most exclusive Rolex style bracelet, only ever made in precious metals (gold or platinum) and only available within the Day-Date collection or on select Lady-Datejust models.
Rolex Pearlmaster Bracelet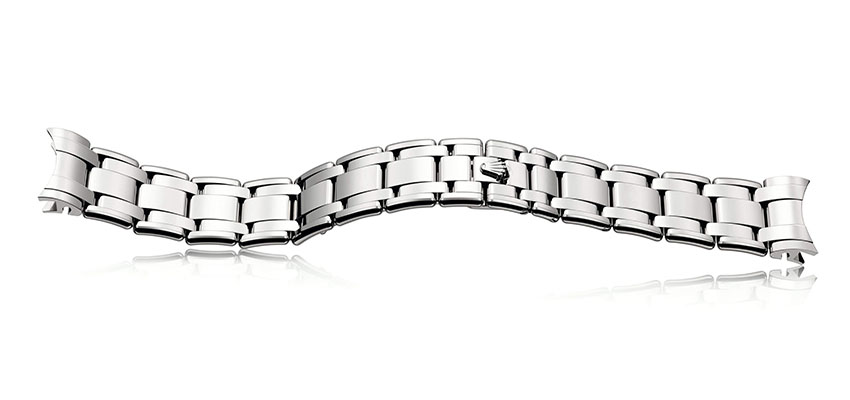 Rolex introduced the Pearlmaster bracelet in 1992 on the then-new Pearlmaster watch. The Rolex Pearlmaster bracelet is a five-piece link metal bracelet with rounded links in alternating sizes. Pearlmaster bracelets are exclusively fashioned from precious materials, such as gold or platinum, and they are always fitted with a concealed Crownclasp.
The Rolex Pearlmaster bracelet is also sometimes referred to as the Masterpiece bracelet. This is because Rolex released a few special-edition Day-Date "Masterpiece" watches in the 2000s fitted with the Pearlmaster bracelet.
Rolex Oysterflex Rubber Strap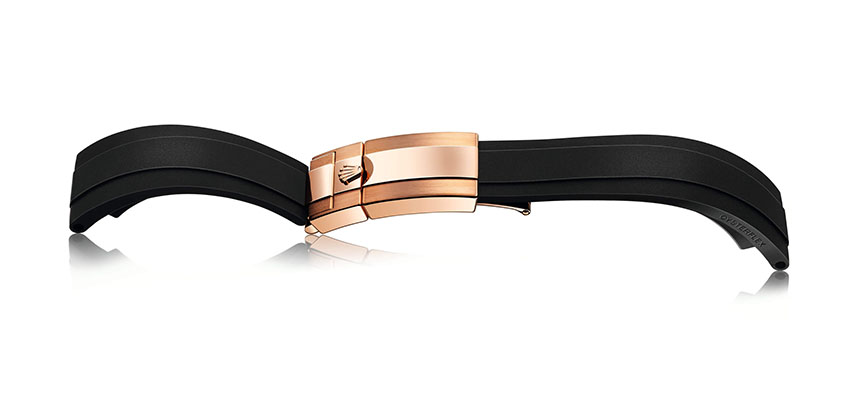 The Oysterflex rubber strap is the newest Rolex style bracelet, having made its debut in 2015 on a novel Yacht-Master watch in pink gold. This is the first time Rolex has made a rubber strap for its watches.
This is not your standard rubber strap however; The Rolex Oysterflex rubber strap is comprised of a metal bracelet core (made from titanium and nickel alloy) that is then coated in black elastomer, which is why Rolex insists on calling it a bracelet, and not a strap. The Oysterflex band is currently limited to gold versions of the Daytona chronograph and gold versions of the Yacht-Master watch, and it is always fitted with a gold Oysterlock safety clasp. Rolex released the Yacht-Master 42 in 2019, which is also fitted with a rubber band.
Rolex Leather Straps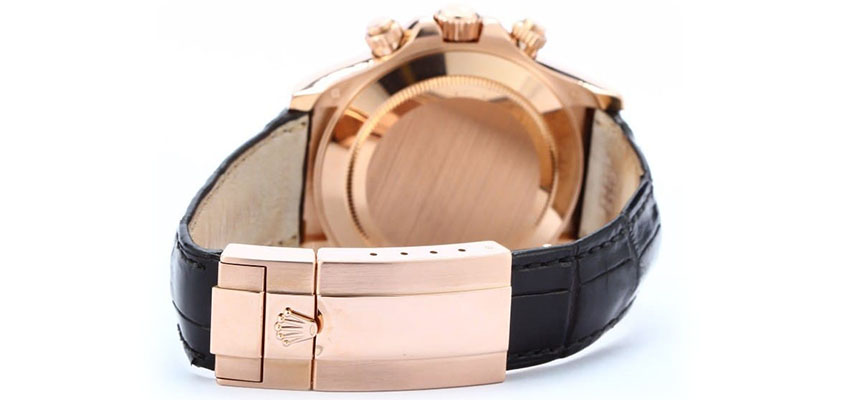 Leather bands are the oldest style of straps that Rolex uses, yet they are not that common in the company's current catalog. Rolex leather straps are found on select Daytona, Sky-Dweller, and Day-Date watches and are fitted with folding Oysterclasps. The modern Rolex Cellini watches also have leather straps, but these have tang buckles.
Rolex Bracelet Codes and Sizes
These are the codes for modern Rolex bracelets. The last digit reveals the material used.
0 = Steel
1 = Rose Gold/Steel
3 = Yellow Gold/Steel
5 = Rose Gold
8 = Yellow Gold
9 = White Gold
| | | | |
| --- | --- | --- | --- |
| Bracelet Style | Bracelet Code | Size | Watch |
| Oyster | | | |
| | 70130 | 13mm | Oyster Perpetual 26 |
| | 70160 | 16mm | Oyster Perpetual 31 |
| | 70190 | 19mm | Oyster Perpetual 34 |
| | 70200 | 20mm | Oyster Perpetual 36 |
| | 70400 | 20mm | Oyster Perpetual 39 |
| | 72130 – 72131 -72133 | 13mm | Lady-Datejust 26 |
| | 72340-72341-72343 | 14mm | Lady-Datejust 28 |
| | 72160-72161-72163 | 16mm | Datejust 31 |
| | 73168 | 16mm | Datejust 31 |
| | 72190 | 19mm | Oyster Perpetual Date 34 |
| | 72600- 72601 – 72603 | 20mm | Datejust 36 |
| | 72801-72803-72800 | 20mm | Datejust 36 |
| | 72210 – 72213 | 21mm | Datejust II |
| | 72610-72611 | 21mm | Datejust 41 |
| | 73205-73208-73209 | 20mm | Day-Date 36 |
| | 73605 | 20mm | Day-Date 36 |
| | 72415-72418-72419-72223-72220 | 21mm | Sky-Dweller |
| | 72400 | 20mm | Milgauss |
| | 77200 | 20mm | Explorer 39 |
| | 77210 | 21mm | Explorer II |
| | 71200 | 20mm | Air-King 40 |
| | 78200-78203-78208-78209-79201-79205 | 20mm | GMT-Master II |
| | 78210-78211-78218-78219 | 21mm | Yacht-Master II |
| | 78590-78593-78595-78596-78598-78599 | 20mm | Cosmograph Daytona |
| | 78740-78743-78750-78753 | 17 mm | Yacht-Master 35 |
| | 78763-78800 | 20mm | Yacht-Master 40 |
| | 97200 | 20mm | Submariner |
| | 97200-97203-97208-97209 | 20mm | Submariner Date |
| | 97400 | 20mm | Sea-Dweller 40 |
| | 97220-97223 | 22mm | Sea-Dweller 43 |
| | 98210 | 21mm | Deepsea |
| | 98220 | 22mm | Deepsea |
| Jubilee | | | |
| | 63130-63131-63133 | 13mm | Lady-Datejust 26 |
| | 63160-63161-63163 | 16mm | Datejust 31 |
| | 63345-63348-63341- | 14mm | Lady-Datejust 28 |
| | 63600-63601-63603-63608-62803-62800 | 20mm | Datejust 36 |
| | 62613 | 21mm | Datejust 41 |
| | 69200 | 20mm | GMT-Master II |
| President | | | |
| | 83165-83168-83169-83369-83368-83365 | 16mm | Datejust 31 |
| | 83205-83206-83208-83209-83408-83405-83409 | 20mm | Day-Date 36 |
| | 83345-83346-83348 | 14mm | Lady-Datejust 28 |
| | 83415-83416-83418-83419 | 21mm | Day-Date 40 |
| Pearlmaster | | | |
| | 72945-72948-72949 | 14mm | Pearlmaster 29 |
| | 72845-72848-72849 | 17mm | Pearlmaster 34 |
| Oysterflex | Strap Segment Code: 350557 | 20mm | Yacht-Master 40; Daytona |
| | Strap Segment Code: 350501 | 18mm | Yacht-Master 37 |