For some of us, owning less than a handful of watches is enough — especially when those watches are strap monsters and bands can be easily swapped out for an entirely new look. However, there is a bevy of watch collectors out there with dozens, hundreds, or even thousands of pieces in their collections. While it's impossible to know who has the world's biggest watch collections in the world (some collectors are notoriously secretive about their stash for security or financial scrutiny reasons), here some of the world's largest watch collectors that we know of.
---
John Goldberger
Author of almost a dozen books on watches and a prolific collector of fine timepieces, John Goldberger (whose real name is Auro Montanari) is a well-known figure in the watch-collecting community.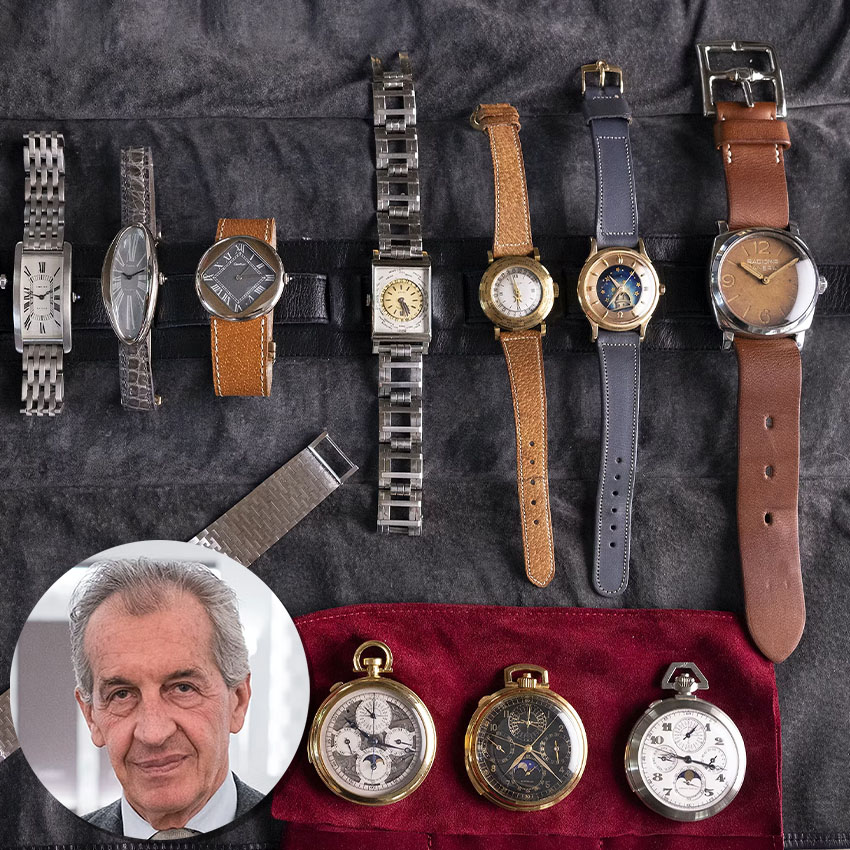 Goldberger's watch collection is famous for including, among others, some ultra-rare vintage Patek Philippe, Rolex, and Cartier watches. A few notable highlights include a stainless steel Rolex chronograph ref. 4133 with split seconds, an 18k gold Patek Philippe Perpetual Calendar Chronograph ref. 2499 from 1951, and a platinum Cartier Paris Tank Cintrée from 1929. He began buying watches in the 1970s and hasn't stopped since!
---
Patrick Getreide
French businessman and entrepreneur Patrick Getreide is the owner of the OAK (One of A Kind) collection that went on display in May 2022 at the Design Museum in London. While the pieces that were exhibited were already mind-blowing, this selection of over a hundred incredible watches represents only a fraction of Getreide's collection.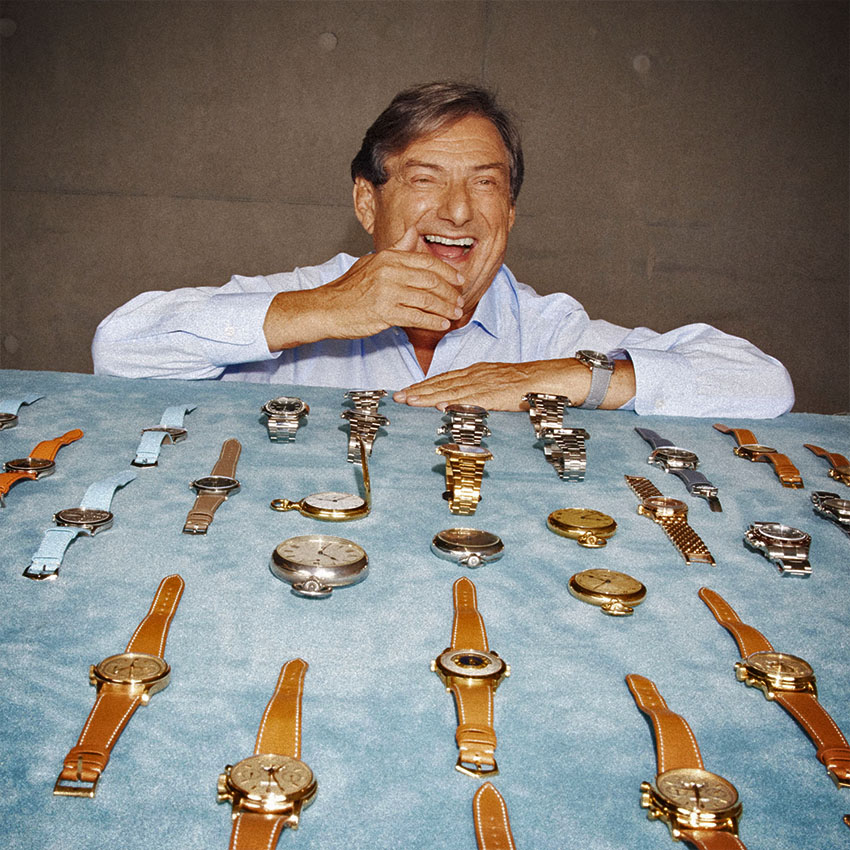 By his own estimation, he owns around 600 watches including one of the most impressive selections of Patek Philippe watches. Getreide credits buying an Omega while he was attending a Swiss boarding school at the young age of 10 years old as the start of his astounding watch-collecting journey.
---
Sandro Fratini
In 2018, Sandro Fratini and Christie's published a 688-page coffee table book called 'My Time' featuring more than 650 extraordinary timepieces from Fratini's enormous watch collection. The Italian businessman admits to owning more than 2,000 fine watches from brands like Audemars Piguet, Vacheron Constantin, Rolex, Cartier, Patek Philippe, and others.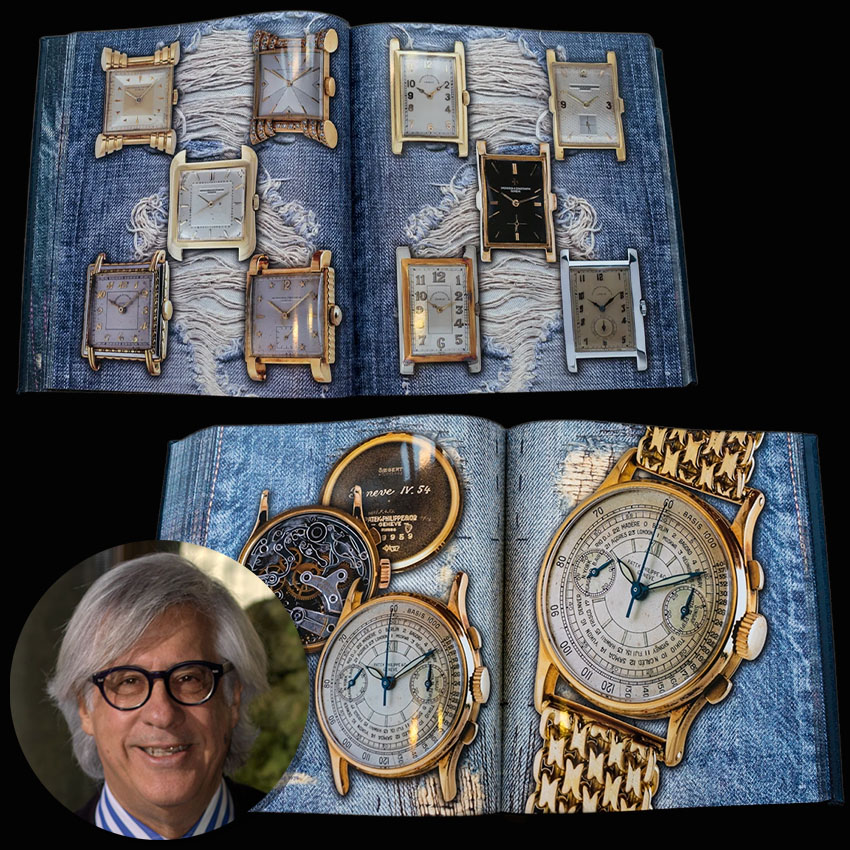 But it was a Longines watch he received as a gift for his first communion when he was nine years old that ignited his obsession with wristwatches. He has stated that his favorite piece in his collection is a Patek Philippe ref. 1518.
---
Jasem Al Zeraei
Known as @patekaholic on Instagram, Jasem Al Zeraei is one of the most well-known collectors of Patek Philippe watches today, with a particular appreciation for Tiffany stamped Patek dials.
While we don't know exactly how many watches Al Zeraei owns, what we do know is that not only does he own some of the most coveted modern Patek references in his collection his opinion on the matter has influenced the Patek Philippe market—his followers value his opinion. Al Zeraei has declared the Aquanaut Chronograph ref. 5968 is his favorite modern Patek to wear.
---
Alfredo Paramico
Alfredo Paramico is another famous watch collector that has been collecting watches for decades. He started amassing his collection in the 1990s when he was an investment banker.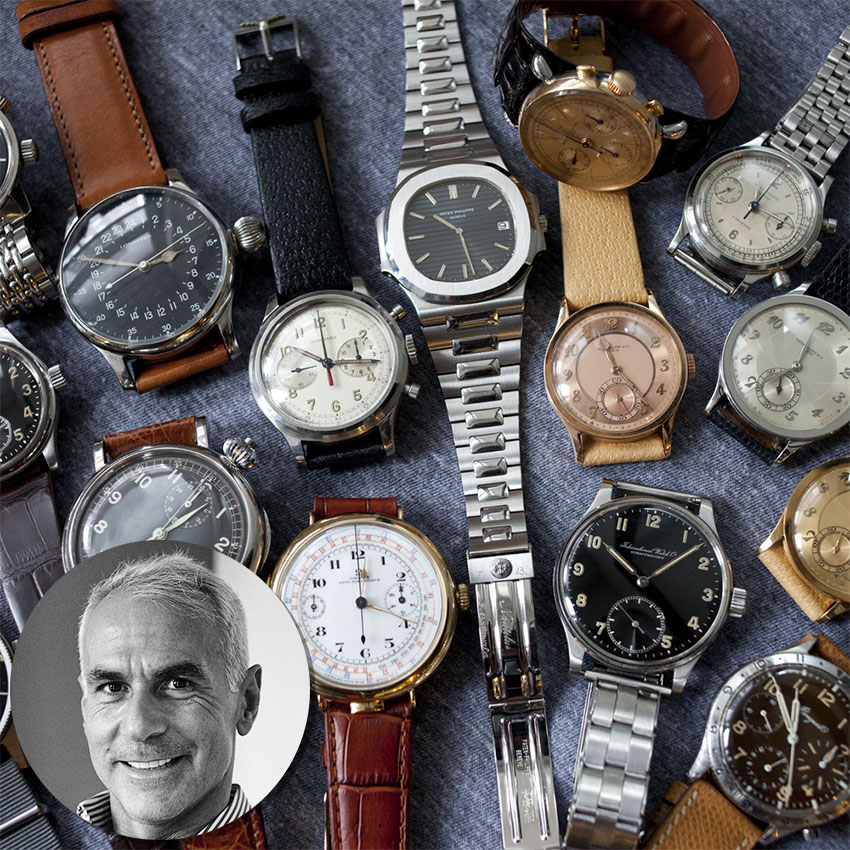 Although he collects high-end brands such as Rolex, Patek, AP, Vacheron, Breguet, Blancpain, IWC, Omega, and the like, Paramico admits that he has a huge love for the more accessible brand, Longines, too. Some of his notable Longines pieces include a Longines 'Swiss Air' from the 1950s, a Longines United States Military A7 from the 1930s, and a Longines 13ZN Central Minute Chronograph from the 1950s.
---
Roni Madhvani
Roni Madhvani has built his impressive watch collection by focusing on shaped watches (also known as non-rounded watches) as well as uniquely designed pieces.
From rare Gilbert Albert-designed Patek Philippe watches to a Cartier Cintrée watch with a dial he designed himself, Madhvani's collection is distinctive in that it focuses predominately on creative designs.
---
Jason Singer
A retired ER doctor, Jason Singer has been collecting watches since the early 1980s and has amassed one of the most impressive watch collections in the United States. Although Singer started with Hamilton and Gruen watches, he quickly transitioned to Rolex "Bubbleback" watches – owning over 1,000 of them at one point!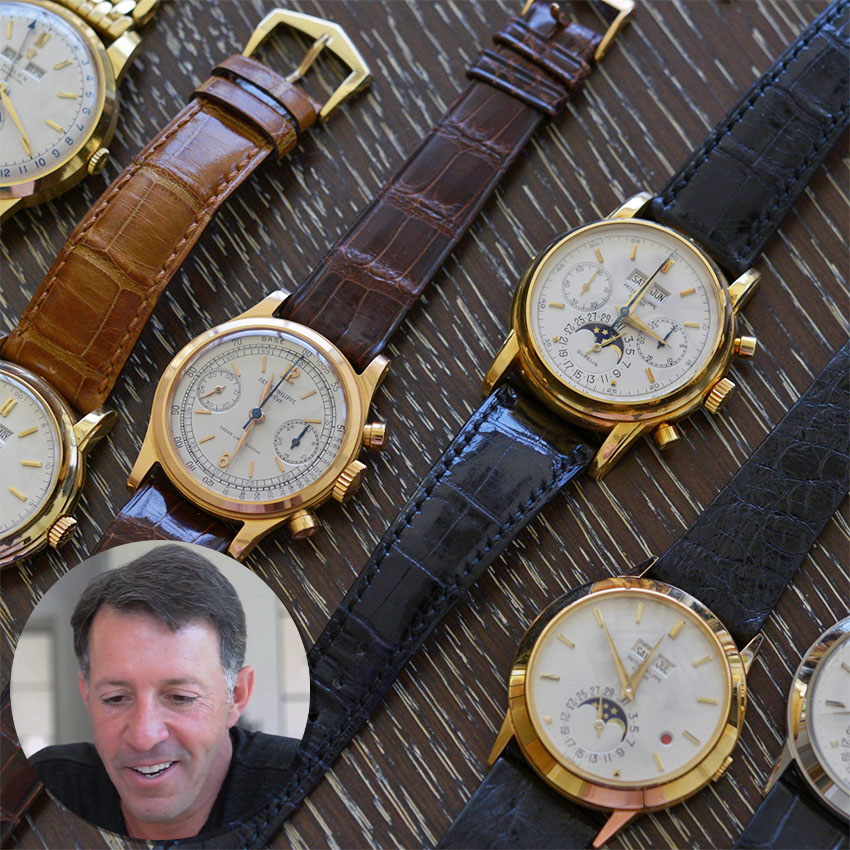 Singer has also said in various interviews that he bought and sold watches to put himself through medical school. Like most collectors, Singer's taste and focus have evolved over the years and since he purchased his first Patek in the late-1990s he is now recognized as a leading Patek collector.
---
Kevin Hart
Comedian and actor Kevin Hart may be world-famous for his stand-up comedy specials and Hollywood movies, but in the watch world, he's also known for his epic collection of modern luxury watches, particularly highly complicated ones.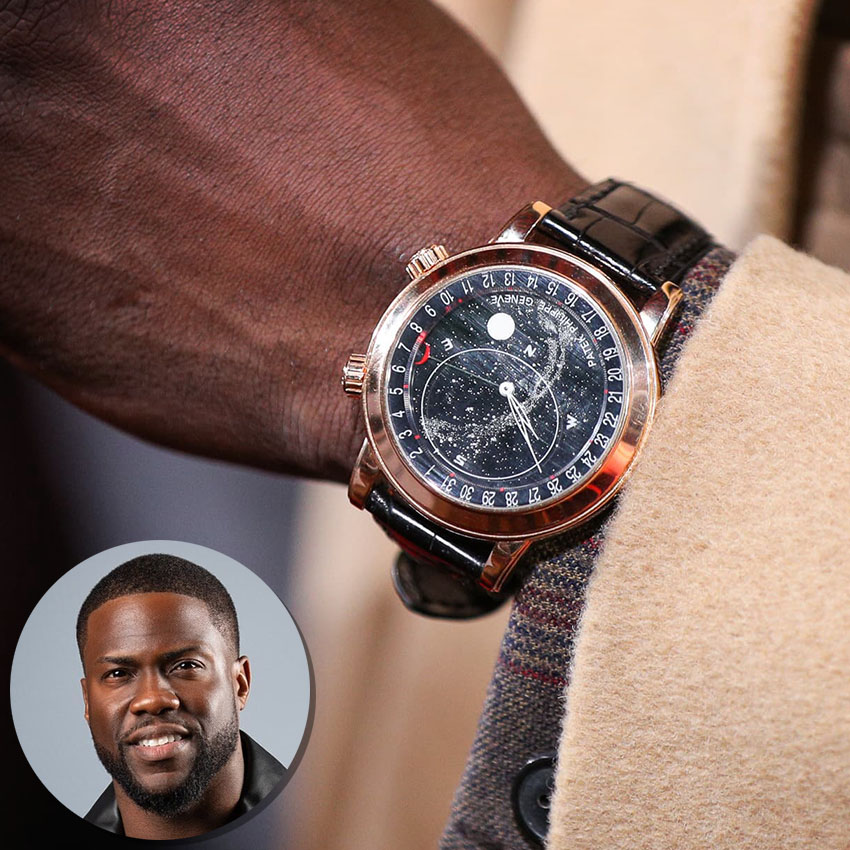 Kevin Hart's watch collection features more than a few tourbillons, perpetual calendars, and minute repeaters from the likes of Patek Philippe and Audemars Piguet, as well as, plenty of coveted Rolex sports watches and ultra-rare factory gem-set references.
---
Mark Wahlberg
Mark Wahlberg is another celebrity that's big into watches, focusing his time and energy predominately on Rolex and Patek Philippe watches.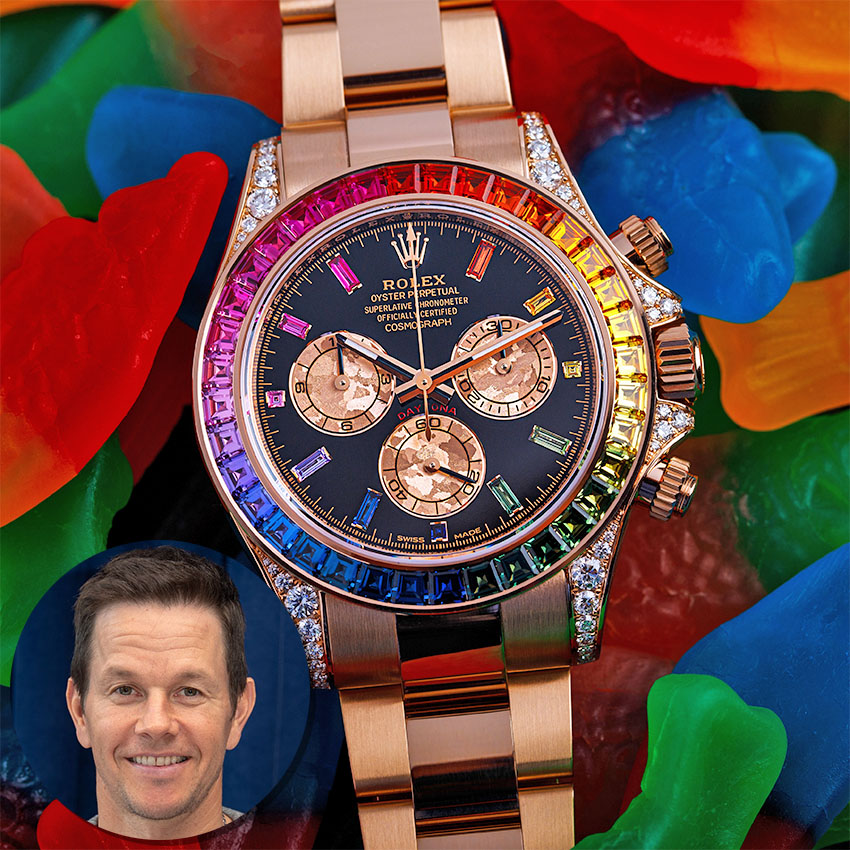 He's been seen wearing some of the most sought-after gem-set Rolex sports watches including the Daytona Rainbow, an off-catalog sapphire Submariner, and ruby and sapphire GMT-Master II. Plus, he's also the owner of the exceedingly desirable Patek Philippe Nautilus with a Tiffany & Co. dial.
---
John Mayer
Ever since John Mayer appeared on Hodinkee, whether as a guest on the site's famous Talking Watches video series or as a contributing editor, the award-winning musician's name has become famous in watch collecting circles as a leading celebrity watch collector.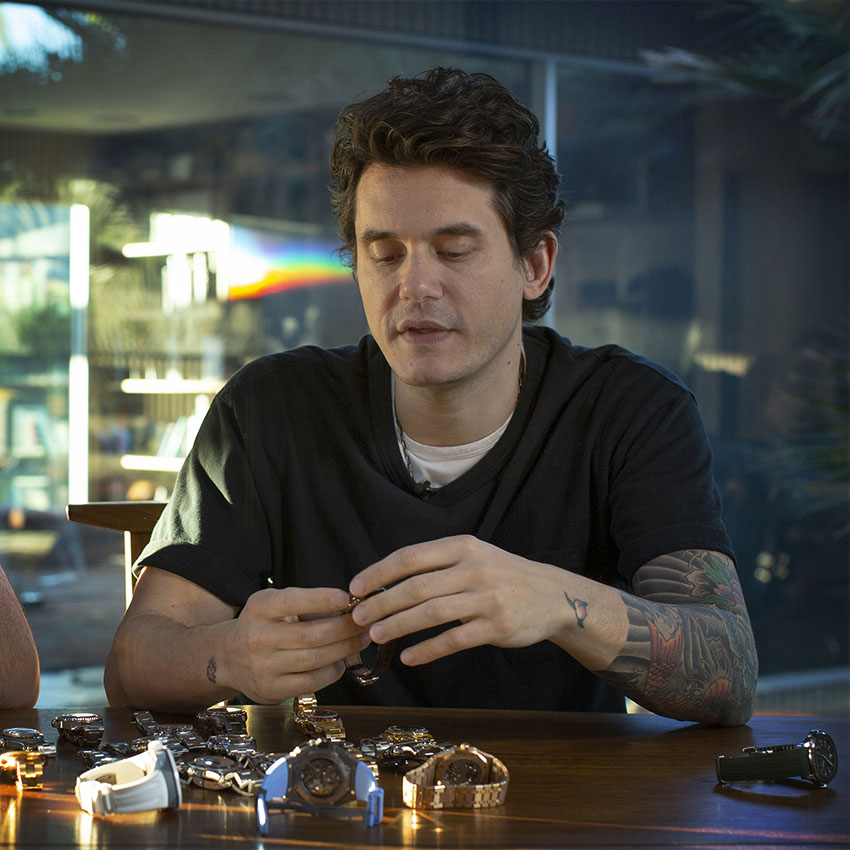 Although he's an admitted fan of many watch brands, John Mayer's watch collection demonstrates his passion for Rolex watches, particularly Daytona chronographs. In fact, the yellow gold Daytona with a green dial that he showed from his personal collection years ago is now nicknamed the "John Mayer."
---
Jay-Z
Jay-Z may not have a social media account to show off his collection, yet the rapper and billionaire businessman is recognized as a mega collector of ultra-expensive watches. In fact, Jay-Z is credited for introducing Audemars Piguet to the hip-hop world and it's safe to say that the brand wouldn't be as beloved in popular culture as it is today if it wasn't for him rapping about AP as early as 2005.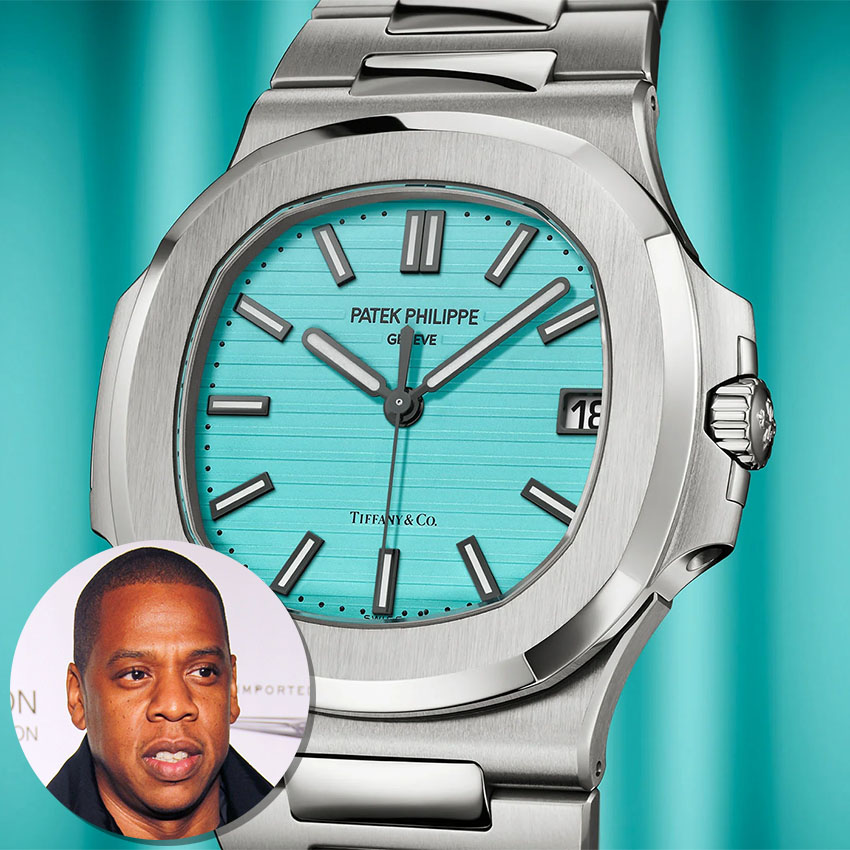 In addition to a plethora of Rolex watches and a Nautilus 5711 with a Tiffany dial, Jay-Z's watch collection includes superb complicated pieces from Patek Philippe, Audemars Piguet, and Richard Mille, just to name a few.
---
There you have it, some of the world's biggest watch collectors in today's market. Are there any names we're missing from the list? Who would you like to see added? Drop us a comment below and we might work on a Part II in the near future.