As the old saying goes, time is money—and this rings especially true for captains of industry. So how do the world's leading executives manage their schedules? Let's have a closer look at the watches worn by top CEOs and business leaders to find out.
---
Warren Buffet Wears a Rolex President
Warren Buffet, the CEO of Berkshire Hathaway, is a legendary investor with an estimated net worth of over $85 billion. Although he could afford a massive watch collection, Warren Buffet is loyal to just one watch.

(Image: Warren Buffett, Rolex Day-Date "President" in Yellow Gold)
His timepiece of choice is a yellow gold Rolex Day-Date, better known as the Rolex President. It's a fitting choice for the man affectionately known as the Oracle of Omaha since the Rolex President is the must-have watch among the wealthiest and most powerful. Fun fact: Warren Buffet once expressed interest in buying the Rolex company and he was quoted saying, "Luxury watchmakers such as Geneva-based Rolex are great companies. They know my phone number, but they haven't called."
---
Bill Gates Wears a Casio Duro Marlin
Co-founder of Microsoft, Bill Gates, is the fourth richest man on the planet, worth over $136 billion. Yet, despite having enough money to buy entire luxury watch companies and not just the timepieces, Gates wears a watch that can be bought for less than $50!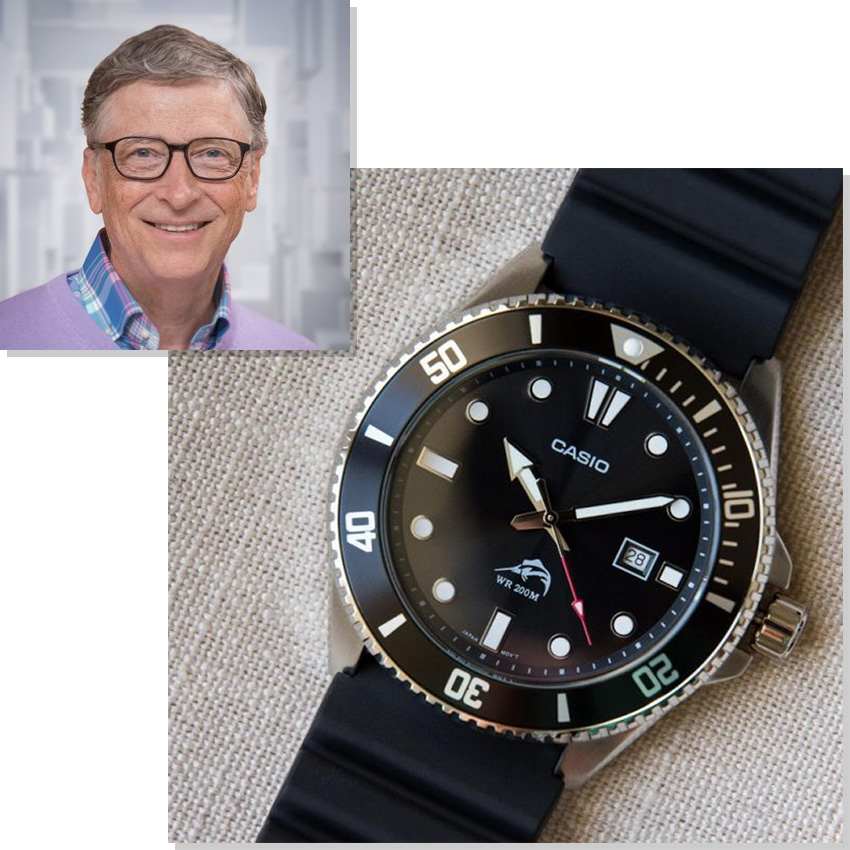 (Image: Bill Gates, Casio Duro Marlin)
His watch of choice is a Casio Duro Marlin MDV106-1A, which is a quartz-powered dive watch with a steel case and an accordion-style rubber strap.
---
Oprah Winfrey Wears an Apple Watch
A recommendation from Oprah Winfrey is so influential that it's been dubbed "The Oprah Effect." When she hosted The Oprah Winfrey Show on TV, which aired for 25 years with 40 million viewers a week at its peak, she had the power to make or break a business.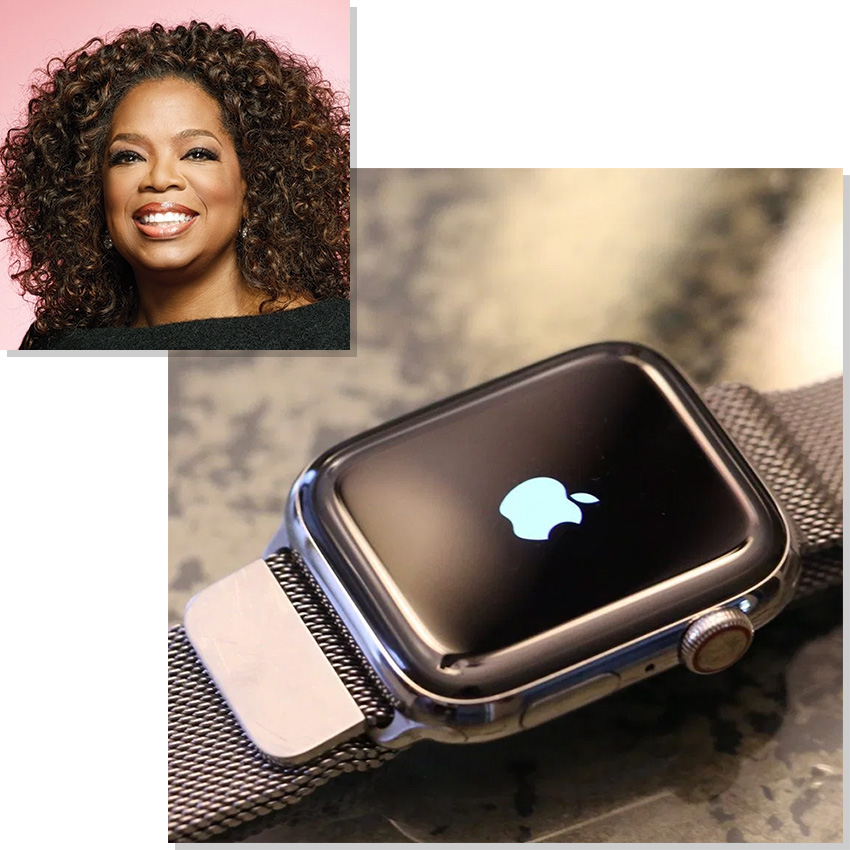 (Image: Oprah Winfrey, Apple Watch)
Her most popular shows were the annual "Oprah's Favorite Things" where she listed her top picks for the holiday season. And the Apple Watch made the cut several times. So it comes as no surprise that Oprah, who boasts a net worth of over $2.5 billion, wears the Apple Watch, upgrading it to the latest models every few years.
---
Larry Ellison Wears Panerai, Rolex, and Richard Mille Watches
Larry Ellison is a co-founder of Oracle and is estimated to be worth $85.5 billion. Along with buying an island, a yacht, homes, and private planes, Larry Ellison also likes to spend some of his vast fortune on luxury watches.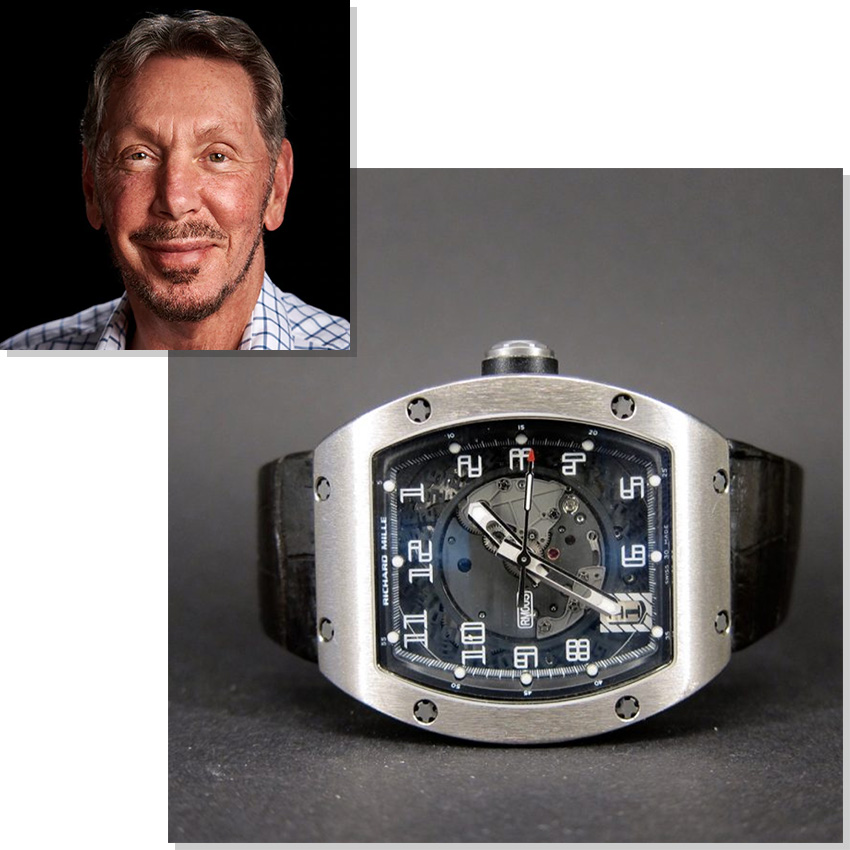 (Image: Larry Ellison, Richard Mille RM005)
He rotates through several top-tier timepiece brands but the ones we've seen Larry Ellison wearing the most are Panerai, Rolex, and Richard Mille watches.
---
Whitney Wolfe Herd Wears A Rolex Day-Date
Whitney Wolfe Herd is the founder and CEO of the dating app Bumble. She made history this year by becoming the world's youngest self-made female billionaire after Bumble went public. The 31-year-old is currently worth an estimated $1.6 billion.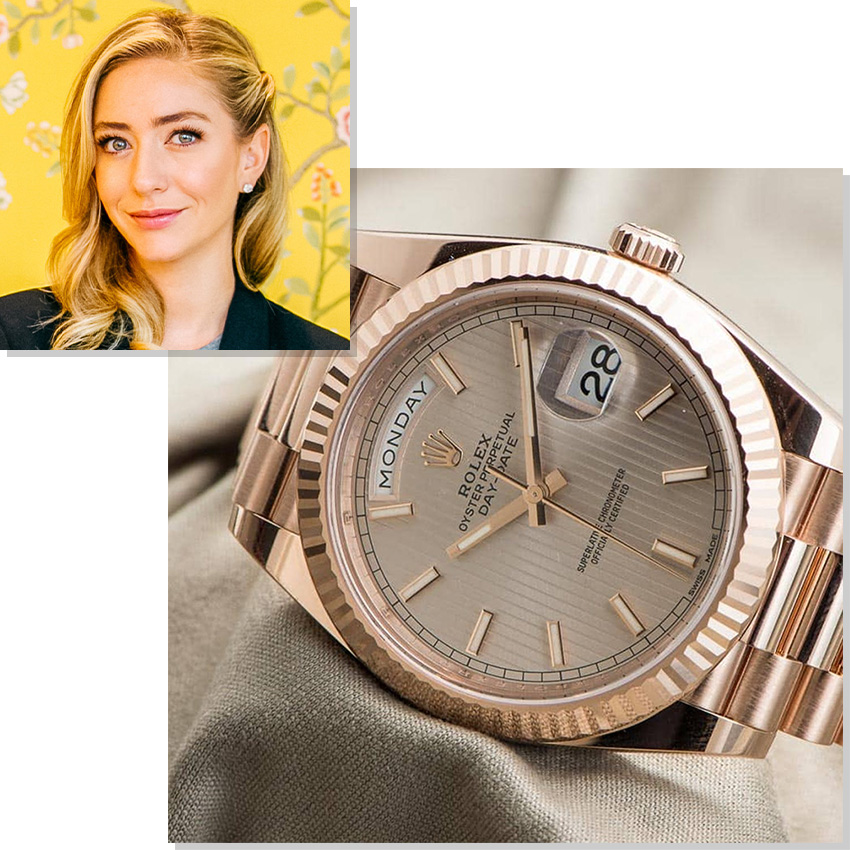 (Image: Whitney Wolfe Herd, Rolex Day-Date "President" in Everose Gold)
While Whitney Wolfe Herd doesn't always wear a watch, when she does, it's a Rolex. And her Rolex is Day-Date 36 in Everose gold with a matching President bracelet.
---
Jeff Bezos Wears an Ulysse Nardin Dual Time
Jeff Bezos recently announced that he'll be stepping down as CEO of Amazon to become executive chairman. Worth over a staggering $181.5 billion, Jeff Bezos is yet again the world's richest person, overtaking Elon Musk just this month.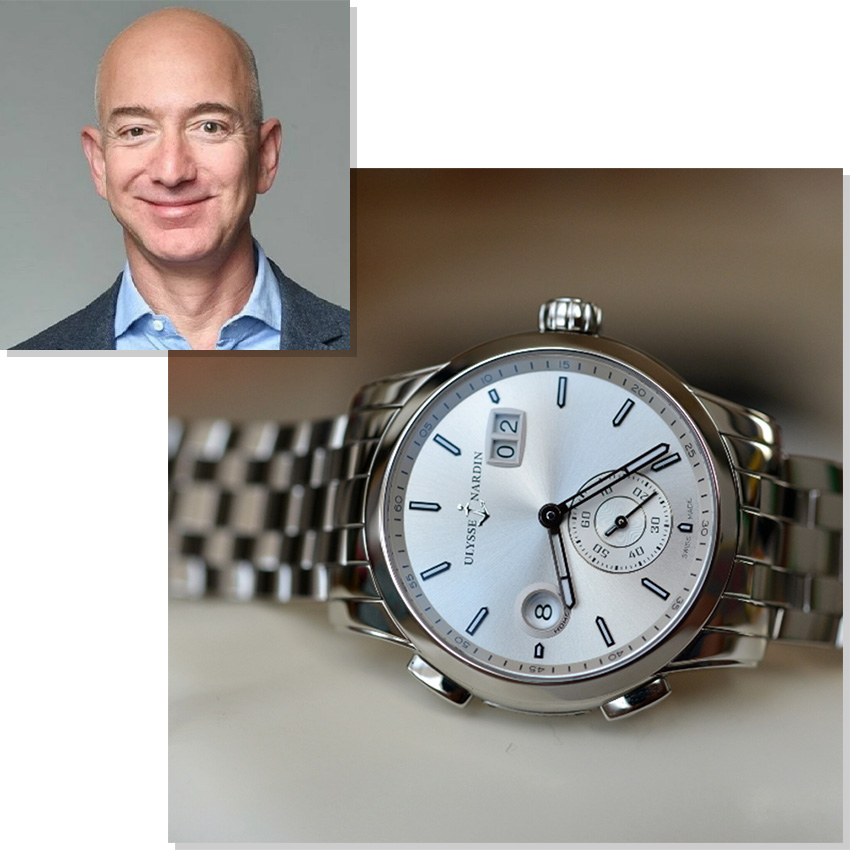 (Image: Jeff Bezos, Ulysse Nardin Dual Time)
The Amazon founder may be building a 10,000-Year Clock inside a Texas mountain (which at 500 feet tall will tick once per year and chime once per millennium), but on his wrist is a subtler time-telling device. Jeff Bezos wears a steel Ulysse Nardin Dual Time watch, which includes a second time zone display that can be adjusted either backward or forward. His particular version comes with a coordinating steel bracelet and an understated silver dial.
---
Bob Iger Wears a Rolex and Panerai
Bob Iger served as CEO of The Walt Disney Company from 2005 until 2020 and he's currently the executive chairman of the company. In 2020, Forbes reported Bob Iger as the entertainment industry's highest-paid executive and estimated him to be worth $690 million—although that number may be much less now considering that Disney has been hit hard during the pandemic.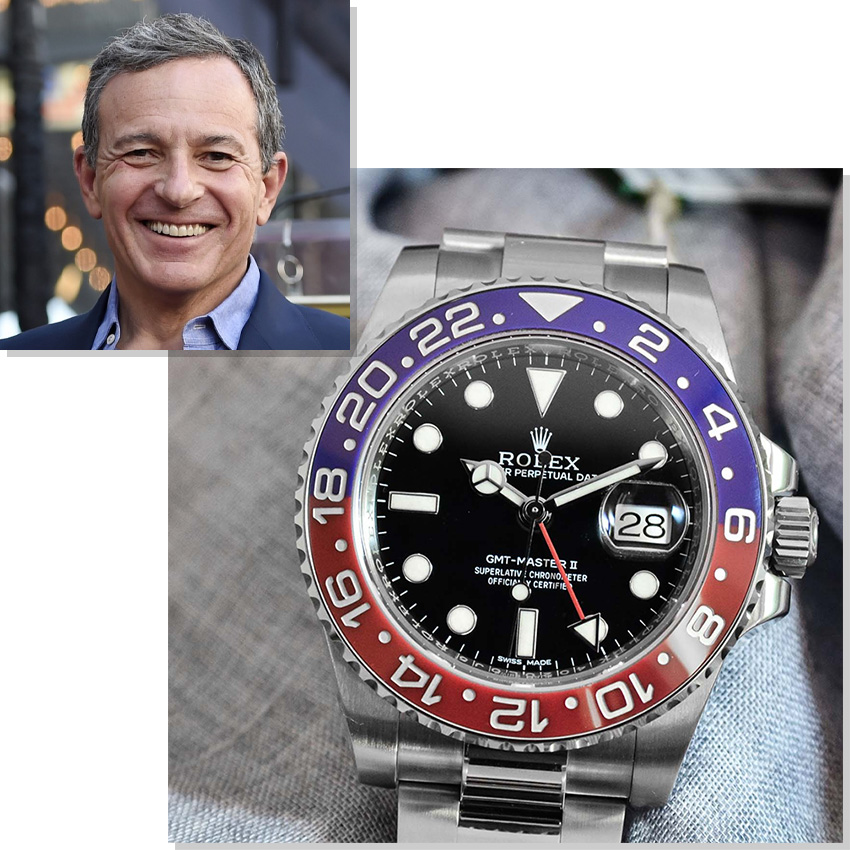 (Image: Bob Iger, Rolex GMT-Master II "Pepsi")
We've spotted Bob Iger wear several watches over the years, namely from Rolex and Panerai. Some standouts include a steel and ceramic Daytona and a GMT-Master II "Pepsi."
---
Jay-Z Wears Audemars Piguet, Patek Philippe, Richard Mille, Rolex, and So Much More
Shawn Carter, better known as Jay-Z, was already a billionaire but he's reportedly added an extra $300,000 million to his wealth now that he's just sold 50% of his champagne brand (Armand de Brignac, aka Ace of Spades) to LVMH.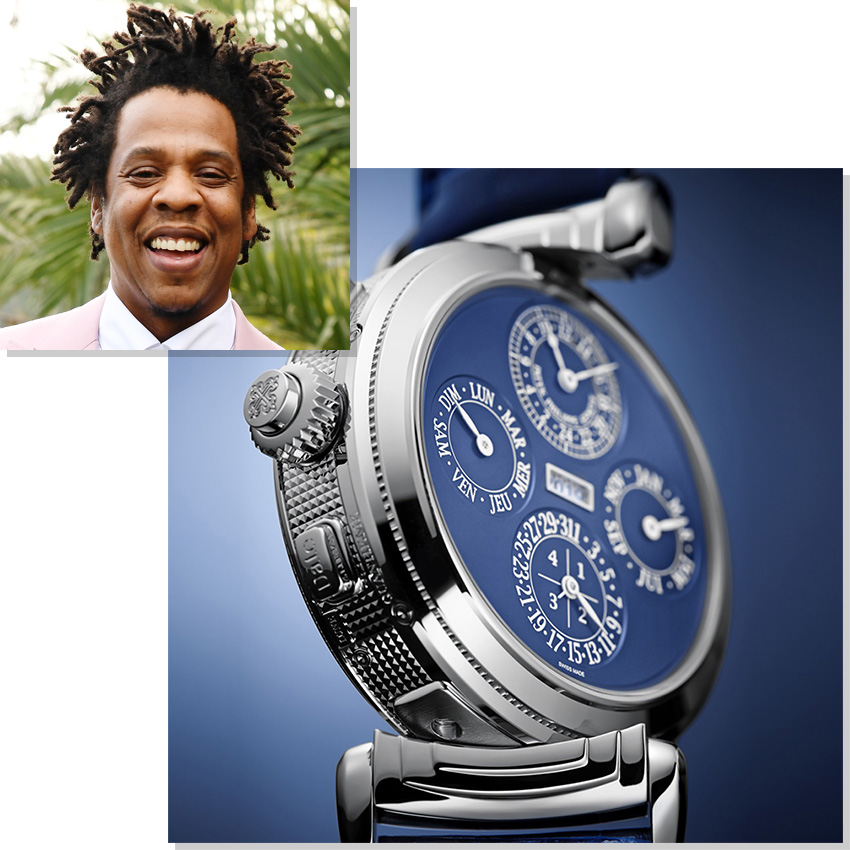 (Image: Shawn "Jay-Z" Carter, Patek Philippe Grandmaster Chime 6300G)
To the outside world, Jay-Z may be famous for his music, his label Roc Nation, and his slew of business ventures, but to the watch enthusiast community, he's also recognized as a serious watch collector. His collection includes a wide range of watches from Audemars Piguet, Patek Philippe, Richard Mille, Rolex, and others. But the one that tops them all is the $2.2 million Patek Philippe Grandmaster Chime 6300G he wore to Diddy's 50th birthday bash.
---
Susan Wojcicki Wears a Cartier Panthere
Susan Wojcicki was hired as Google's 16th employee in 1999 and has had a significant role in products like AdSense, Google Analytics, Google Books, and Google Images. She became the CEO of YouTube in 2014 and remains in that position today. With a net worth of $580 million, Susan Wojcicki takes the 38th spot in Forbes' 2020 list of America's Richest Self-Made Women.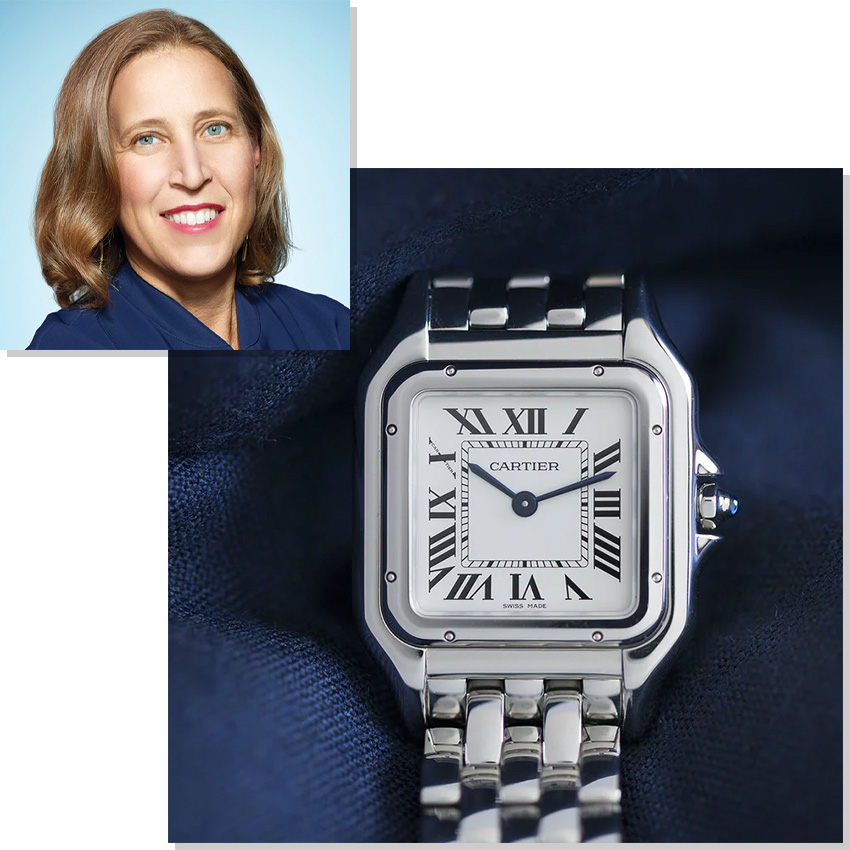 (Image: Susan Wojcicki, Catrier Panthere)
Rather than a smartwatch, this tech executive opts to wear a classic Cartier Panthère wristwatch, complete with the iconic brick-style bracelet.
---
Kevin O'Leary Wears All The Famous Luxury Watch Brands
One of the stars of the ultra-popular television show, Shark Tank, Kevin O'Leary is estimated to be worth around $400 million. He made a bulk of his fortune when he sold his software company in 1999 and continues to increase his wealth with savvy business deals.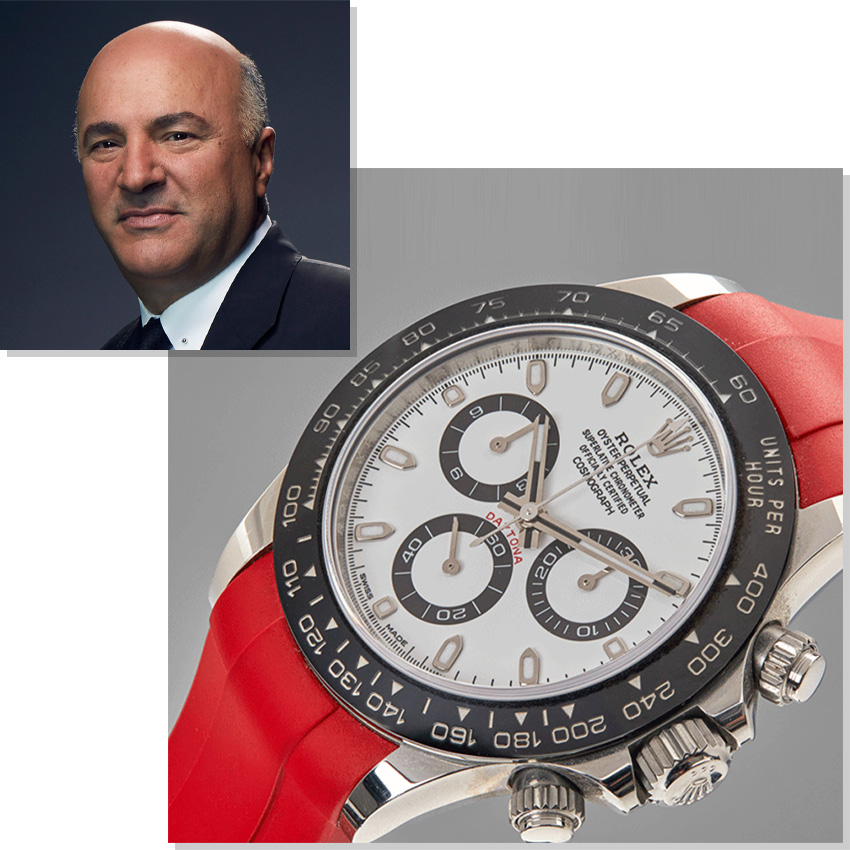 (Image: Kevin O'Leary, Rolex Cosmograph Daytona 116500LN)
In addition to growing his bank account, Kevin O'Leary, who is also known as "Mr. Wonderful," spends plenty of time growing his watch collection too. He owns watches from all the finest brands including Patek Philippe, Vacheron Constantin, Audemars Piguet, Rolex, Cartier, Omega, and F.P. Journe, just to name a few. He also insists on pairing his watches with bright red straps while on Shark Tank—making it impossible to miss what's on his wrist.
---
From $50 watches to multi-million dollar collections, it's intriguing to see what timepieces these business titans deem worthy to strap around their wealthy wrists. Which of these watches are you most surprised to see on the list? Share your thoughts with us in the comment section below.