When we speak about affordable watches, some genres offer numerous budget options. For instance, there are plenty of affordable time-only, diving, chronograph, and GMT watches out there. However, there are some watch types that are a little more challenging in the pricing department; for example, tourbillon watches are known to be some of the most expensive watches on the market. So the term "affordable" is relative in our roundup of affordable tourbillon watches.
Yet, compared to the six- to seven-figure prices of most tourbillon watches these days, these options are indeed remarkably reasonable. With that in mind, here are four affordable tourbillon watches to consider if you're on the hunt for one of the most prestigious timepiece types ever made.
---
What is a Tourbillon Watch?
A tourbillon, in case you need a refresher, is a mechanism invented by Abraham-Louis Breguet in the 18th century (and patented in 1801) that was designed to offset the negative impact of gravity on timekeeping. The watch's escapement is housed in a cage that constantly rotates, thereby canceling out any positional errors a watch (such as a pocket watch) might have if it's stuck in one position.
There is some debate as to whether or not a tourbillon is a complication. A complication is normally defined as a function on a watch that goes beyond telling the time; some examples include calendar indications, chronographs, minute repeaters, and multiple time zones. So, because a tourbillon doesn't "tell" the wearer anything extra, some say it isn't strictly a complication. However, others maintain that a tourbillon does qualify as a complication since it's so complex to design and manufacture.
The word "tourbillon" is French for "whirlwind," which perfectly describes the continuously moving cage. Since tourbillon mechanisms are so intricate to design and build, watchmakers typically place them proudly on the dial for all to see. While there are some exceptions, most tourbillon cages make one full rotation every 60 seconds.
---
Sugess Tourbillon Master SU8230SW
Price: $689
Perhaps the most well-known of all affordable tourbillon watches, the Chinese-made Sugess Tourbillon Master watch ref. SU8230SW costs less than $700. Inside the watch is the Caliber ST8230 manual-winding tourbillon movement made by the Tianjin Seagull Watch Group, which has a history that dates back to 1955. The movement, which is visible from the exhibition caseback, has a 60-hour power reserve and operates at a frequency of 21,600 beats per hour.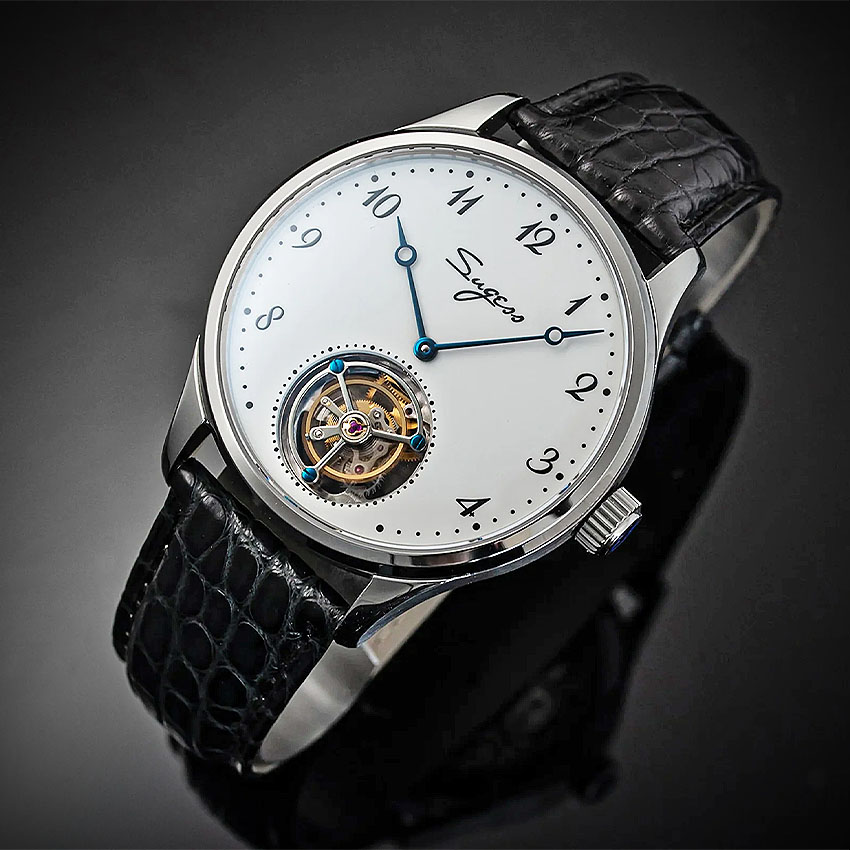 The Sugess Tourbillon Master SU8230SW watch has a 41mm stainless steel case, a white enamel dial, blued steel Breguet-style hands, and a tourbillon placed above 6 o'clock on the dial. Paired with a black leather strap, this Sugess timepiece offers a classic approach to a tourbillon watch for under $1000.
---
Xeric Halograph Tourbillon
Price: $1,995
The Halograph Tourbillon by Xeric watch is a whimsical execution of a tourbillon, featuring a split display and halo hands—two design features that are signatures of the brand. The time is indicated via several arcs on the upper portion of the dial while the tourbillon is nestled on the lower section.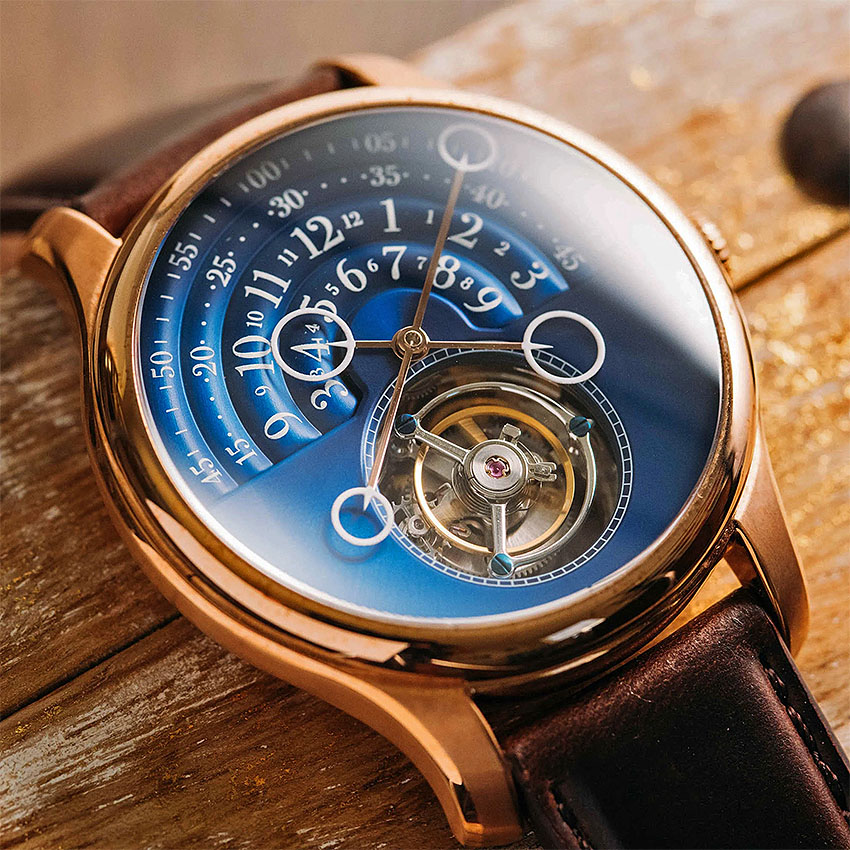 Although Xeric is a California-based brand, the watch runs on a Chinese-made PTS 3301 tourbillon manual-winding movement with 40 hours of power reserve. The dial and movement are housed within a generously sized 46mm steel case (13mm thick), which is paired with a Horween leather strap. Plus, there are sapphire crystals on both sides of the case.
Xeric offers five versions of the Halograph Tourbillon: Fumé Black, Oxblood, and Emerald for the natural steel versions and Azul and Silver for the rose-colored versions. Each colorway is limited to just 99 examples.
---
Peacock Climber Tourbillon
Price: $2,369
The Peacock Climber Tourbillon is another Chinese-made tourbillon watch, but offers a much sportier approach to the old-school watch mechanism. The angular steel cases measure 45mm in diameter and 13.5mm thick, and are topped with round bezels punctuated with six exposed screws. The dials are decorated with a hobnail pattern and include a power reserve indicator at 12 o'clock, a tourbillon at 6 o'clock, and a pair of luminous hour and minute hands at the center.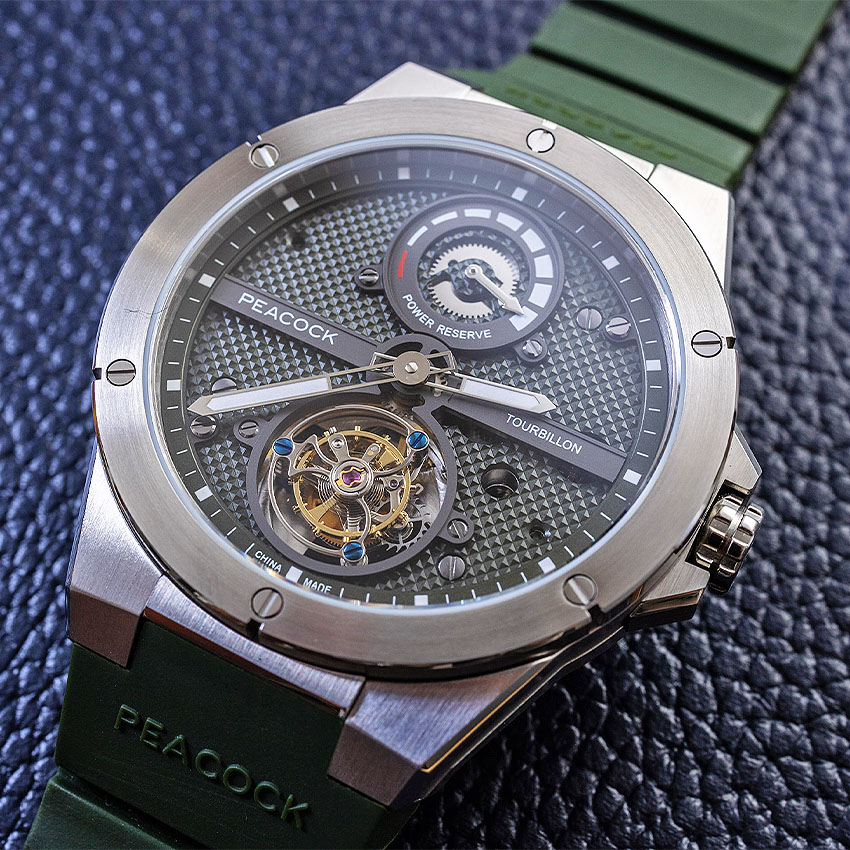 Unlike the other manual-winding movements we've mentioned above, the Peacock Climber Tourbillon is powered by an automatic tourbillon movement—the Caliber SL5215D with 45 hours of power reserve. As expected, the movement is visible through a transparent caseback.
Peacock makes the Climber Tourbillon in four variations. Two steel versions offer the option between brown or green dials while the two blackened steel versions offer the option between blue or black dials. Each variant is paired with an integrated silicone strap in a color that matches the dial.
---
BA111OD CHAPTER 4.1 T.V.D.
Price $5,620
BA111OD prides itself on making modern high-quality Swiss-made watches at accessible prices—including the most affordable Swiss Made tourbillon watch on the market. Entirely designed and produced in Switzerland, BA111OD Chapter 4.1 T.V.D sports a 44mm Grade 5 titanium case coated with tantalum gray DLC. The winding crown is placed at 4 o'clock rather than the traditional 3 o'clock position and the case is water-resistant to 50 meters.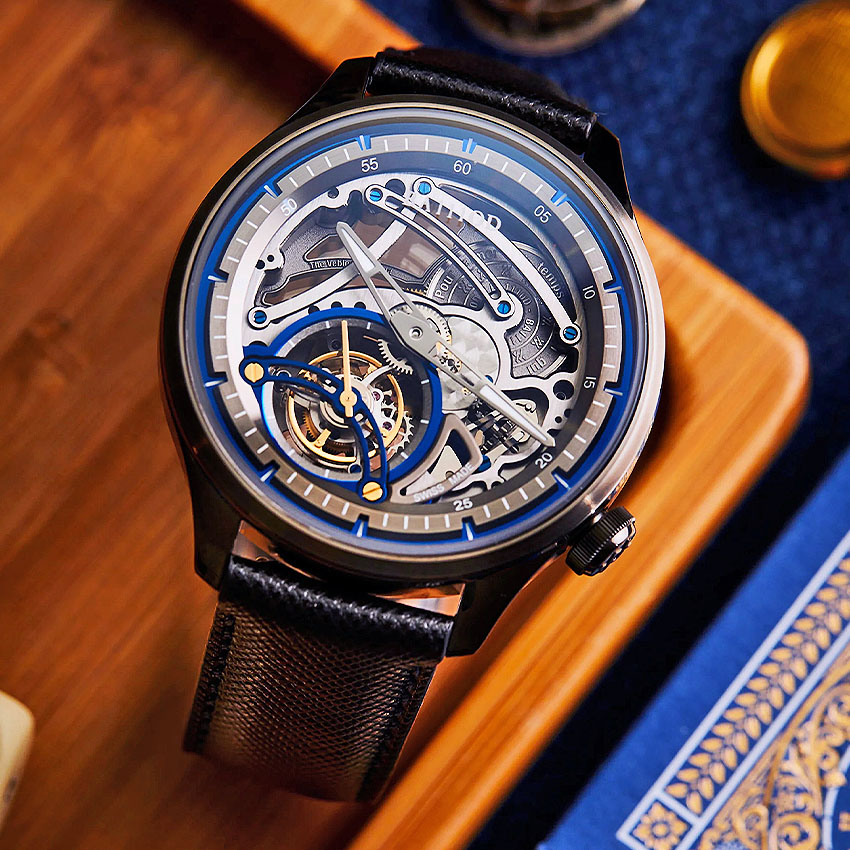 Beneath the sapphire crystal sits the skeleton watch movement, which is executed in a similar tone to the case but with blue and gold details peppered throughout. Of course, the star of the show is the tourbillon mechanism that spans from 6 to 8 o'clock and makes one full revolution every 60 seconds.
The hand-wound BA.01 movement—designed and manufactured in La Chaux-de-Fonds, Switzerland, beats at 21,600 vibrations per hour and supplies an impressive 105 hours of power reserve. It's also worth noting that the sapphire crystal is NFC enabled to store information about the watch's authenticity. Finishing off the look of this affordable Swiss tourbillon watch is a blue Italian Saffiano cowhide leather strap with blue stitching.
---
Affordable tourbillons allow more people to enjoy a watch complication that was once reserved for the ultra-wealthy at a fraction of the cost. Although they may not have the same quality as their much, much more expensive counterparts, they are getting better and continue to lower the barrier of entry to one of horology's most prestigious movements.
What do you think of tourbillon watches? Do you own one or have another recommendation to include in our list of affordable tourbillon watches? Drop a comment below to share your thoughts!