Three Queens, a Hungarian Countess, a young girl, a German Emperor, an Argentinian aviation pioneer and several wars make for an unusual combination that leads to a rather potted history of the watch strap's evolution!
If you'll kindly excuse the pun, the invention of the wrist watch goes hand-in-glove with the watch strap! Here's our timeline of the wristwatch and the watch band throughout history.
---
1571: Queen Elizabeth 1 of England is given the present of a "clocke" with an "arm band" by her lover, Robert Dudley whom she had made Earl of Leicester.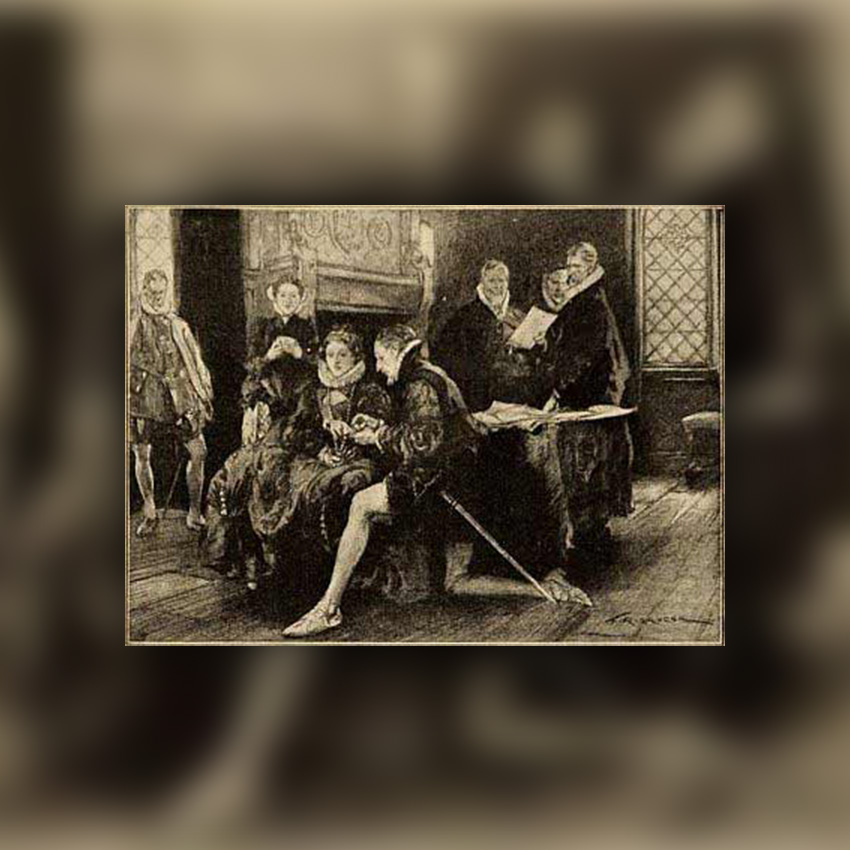 Image: Queen Elizabeth receiving a watch from Robert Dudley
---
1782: An order is placed with Abraham-Louis Breguet for a "wristwatch" to be made for Marie-Antoinette, Queen of France. It would not be completed until 1823, 34 years after she was guillotined. In 1983, this priceless timepiece was stolen from a museum, and was eventually recovered more than 20 years later!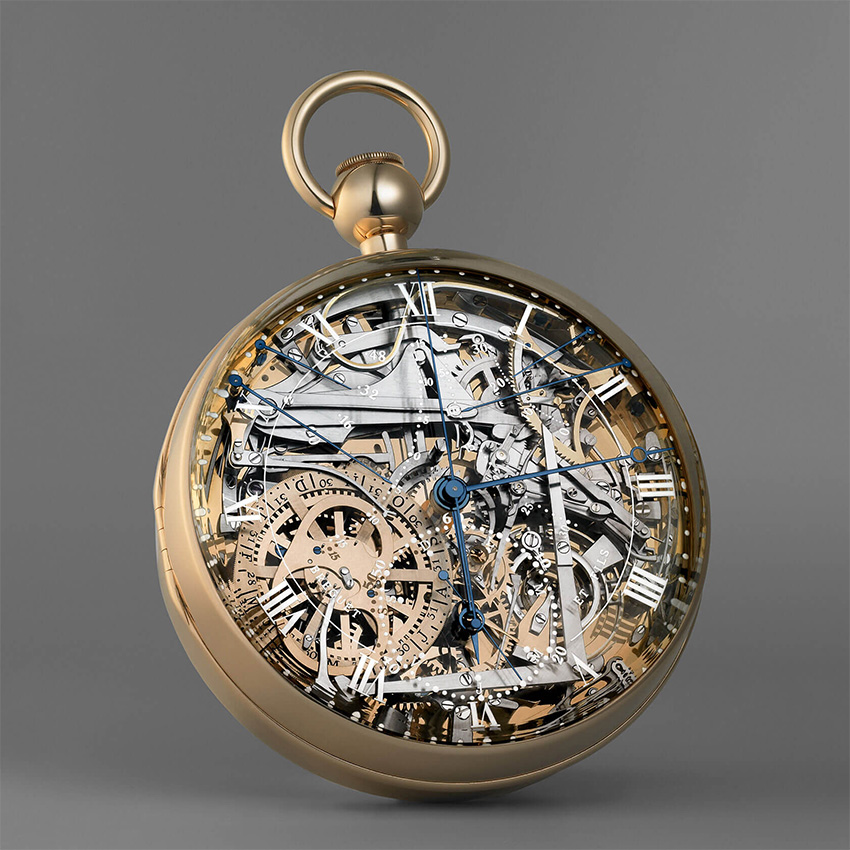 Image: Breguet's "Marie-Antoinette" timepiece
---
1810: Breguet receives an order for a timepiece for Caroline Murat, the Queen of Naples and sister of Napoleon Bonaparte This is the first watch specifically designed to be worn on the wrist, having a "wristlet" made from hair interwoven with gold thread. Probably the world's most valuable watch, today it is worth at least US$40,000,000!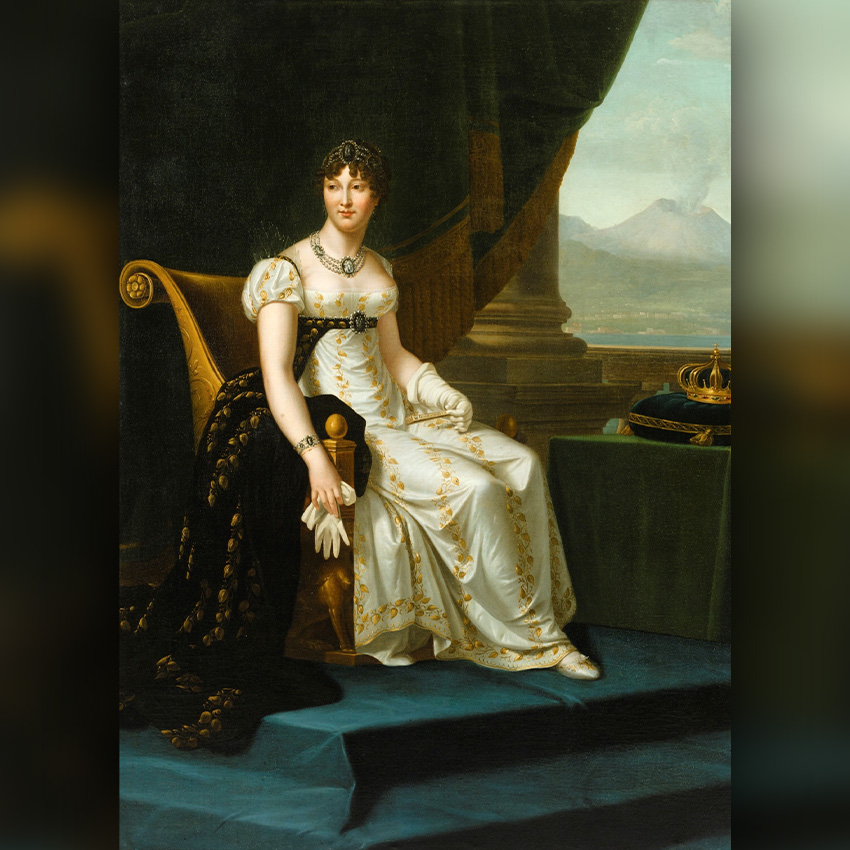 Image: Portrait of  Caroline Murat, Queen of Naples
---
1868: Antoni Patek designed his first wristwatch with gold and diamonds. It is also the first Swiss wristwatch and was sold to the Hungarian Countess Koscowicz in 1876.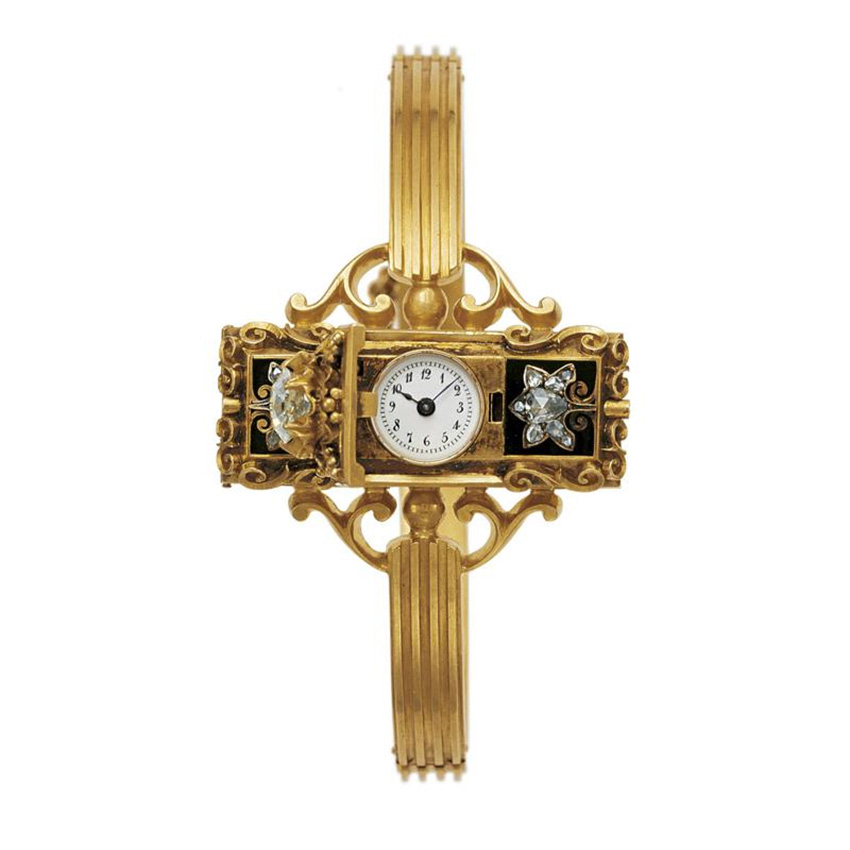 Image: Patek's timepiece designed for Hungarian Countess Koscowicz
---
1879: Kaiser Wilhelm 1 is supposed to have placed an order for 2,000 wristwatches with Constant Girard (latterly Girard-Perregaux). These watches with gold cases, shrapnel guards, luminous numerals and leather watch straps, were intended for Kriegsmarine (German Navy) officers, but they never caught on. Not a single one has ever come to light though there is a replica (based on plans) in the Girard-Perregaux museum in La Chaux-de-Fonds, Switzerland.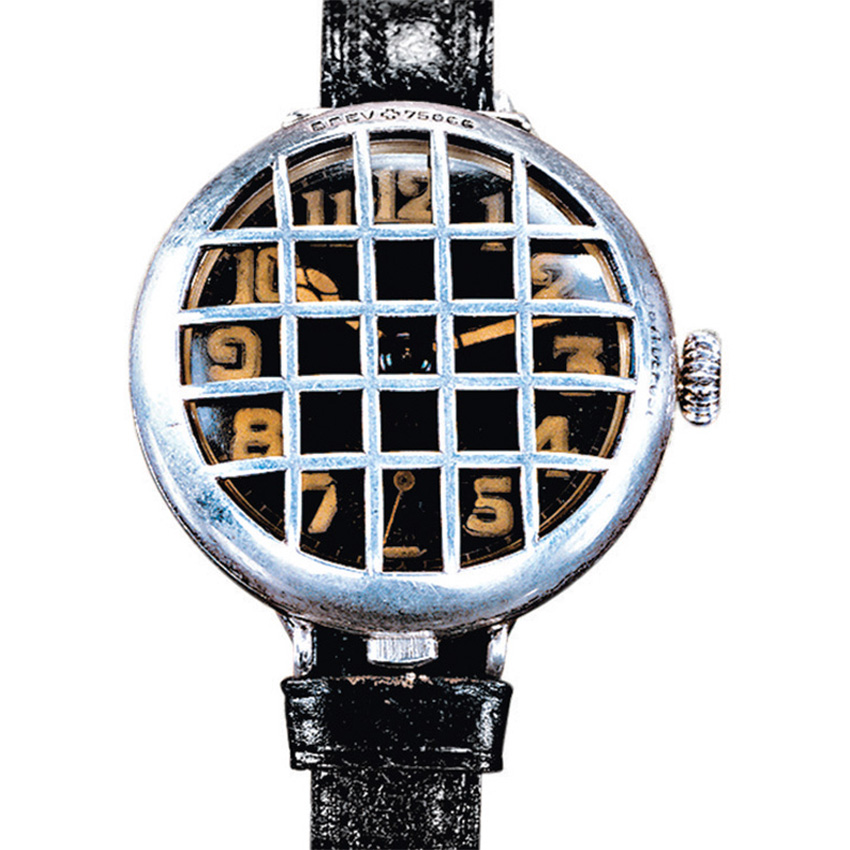 Image: Replica of Girard's watch design with shrapnel guard
---
1899-1902: The (2nd) Boer War created the absolute necessity of precision timing for troop movement coordination and the synchronization of attacks. Officers couldn't be fumbling for their pocket watches with one hand and trying to load their revolvers with the other! The answer was the campaign watch with its leather band.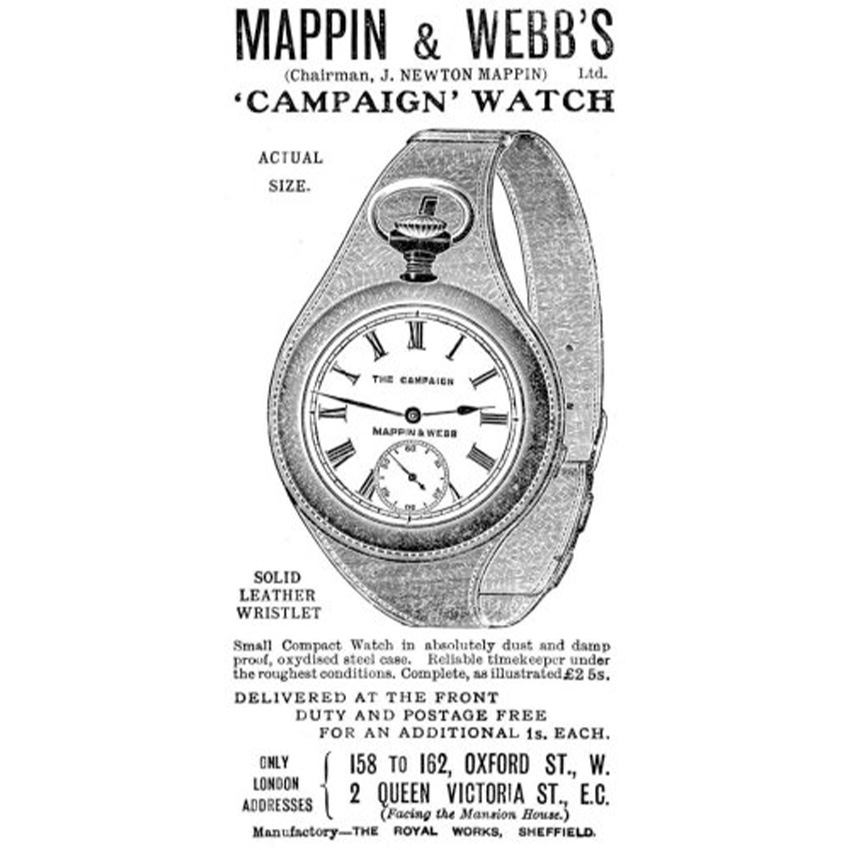 Image: Advertisement for Mappin & Webbs's 'Campaign Watch'
---
1904: Over an undoubtedly good lunch at Maxim's (Paris), the famed Argentinian aviation pioneer Alberto Santos-Dumont complained to his friend Louis Cartier about the difficulties of flying and trying to look at his pocket watch at the same time. Louis listened and thus was born the first "Pilot's Watch", the Cartier Santos!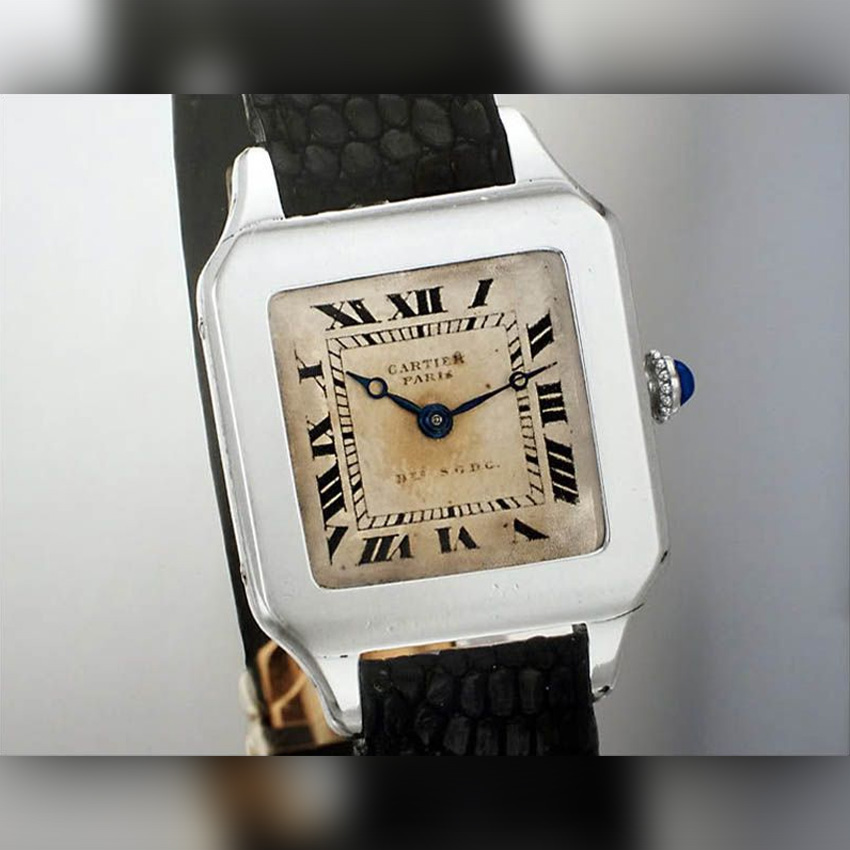 Image: Cartier Santos, the first pilot's watch
---
1912: Jacqueline Hermès, the second daughter (of 4), complained to her father about the needs of being able to see the time when she was out riding. This resulted in her daddy making a beautiful small pocket watch in a leather pouch with strap. M. Hermès named it "Le Petit Oignon" or "The Little Onion". This watch later made it into the Hermès line up and was reintroduced on its 100th anniversary in 2012.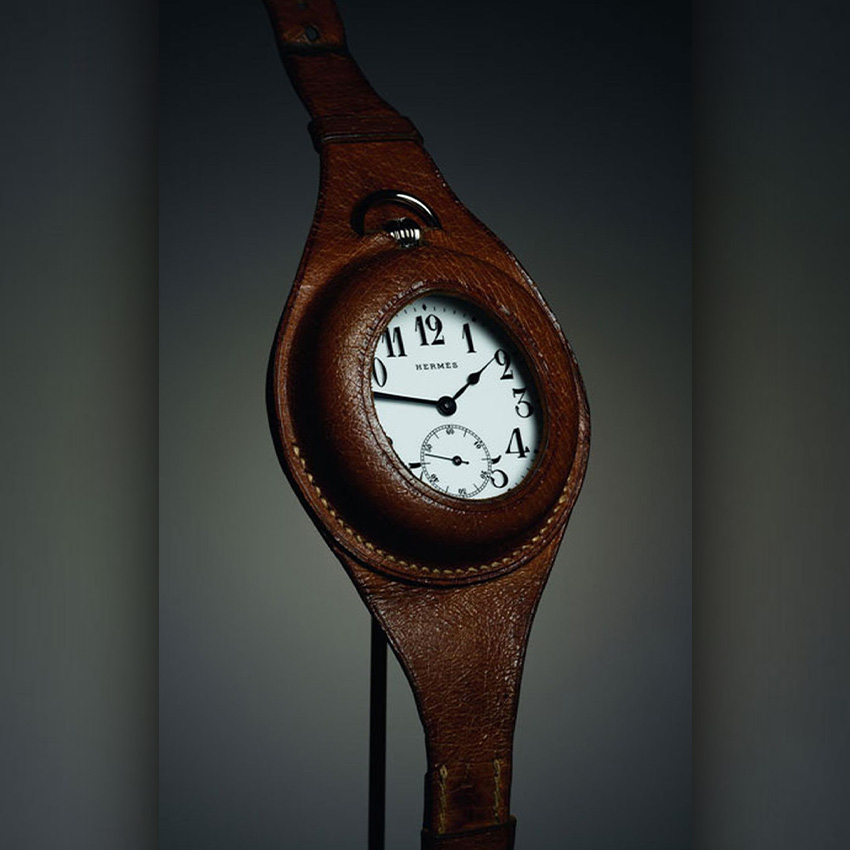 Image: Hermès' "Le Petit Oignon" wristwatch with leather strap
---
1914-1918: WW1 saw men beginning to take over from women on "The Wrist Watch Front". Synchronizing of watches was very important during the Great War. The precise timing of infantry going "over the top" needed to be synchronized with the end of the artillery barrage. Prior to the attack, a runner would come round distributing "our watches which had been synchronized at Bilge Street (Headquarters!)". The case generally had bars soldered at 12 and 6 with a leather strap, usually 10mm or 12mm in width.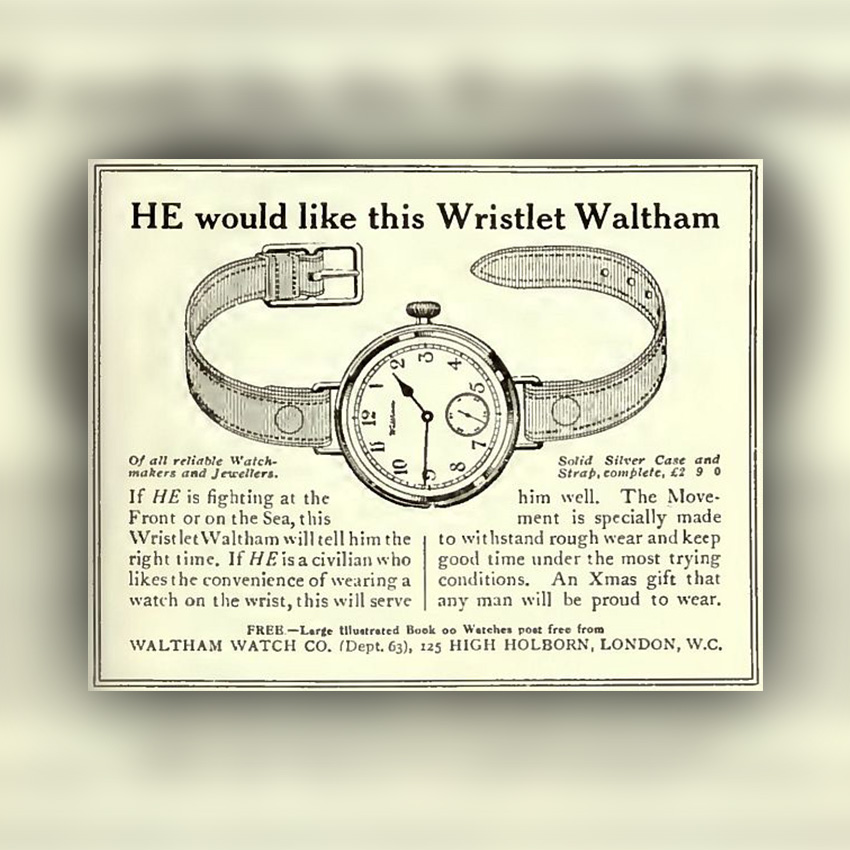 Image: Advertisement for Waltham Watch Co.'s 'Wristlet Waltham' wristwatch
---
1939-1945: WW2 saw most military watches having fixed bars between the lugs. This resulted in open-ended leather or canvas straps, the ends of which were located with metal tabs and/or adhesive. There were also special extra length pilot's straps that could be worn over a flying suit and as well as "bund" straps.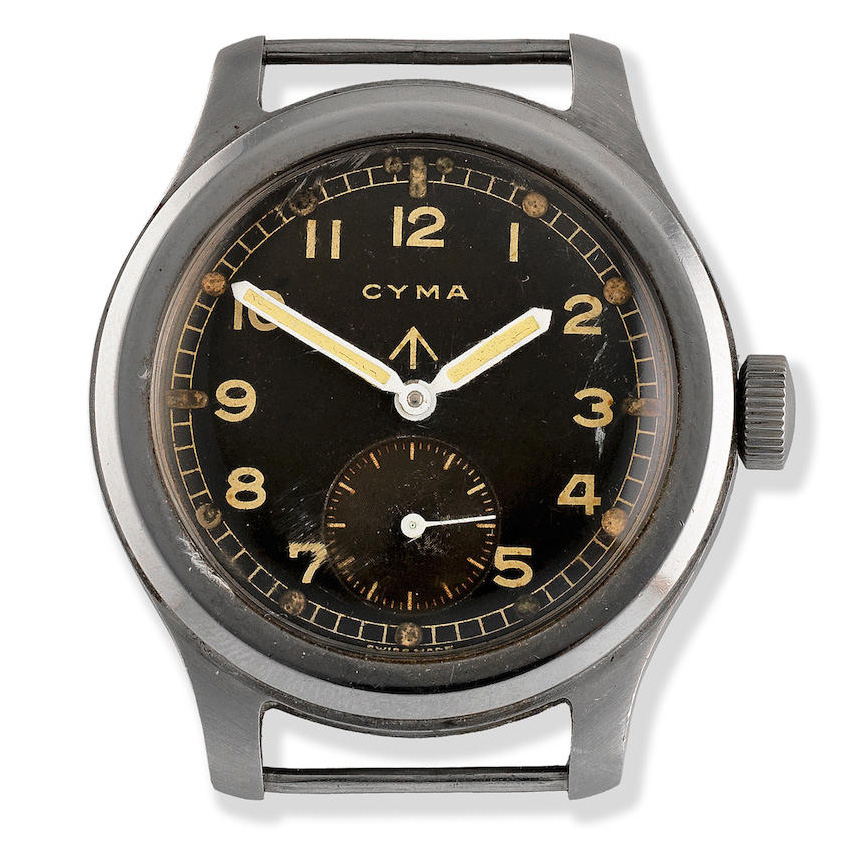 Image: CYMA wristwatch with fixed lug bars
---
1946-present: The end of WW2 to the present time saw the greatest number of changes in watch strap design and materials. Possibly the most important of these was the evolution of the A.F.2010 British Army strap into the NATO/G10 strap. In 1949 NATO was formed. This resulted in the requirement of common numbering systems which were based on the US Federal Stock Number (FSN). In 1973 A.F. 2010 evolved into British Ministry of Defense standard G1098, known as the G10, which became the "Daddy" of the NATO/G10 nylon strap.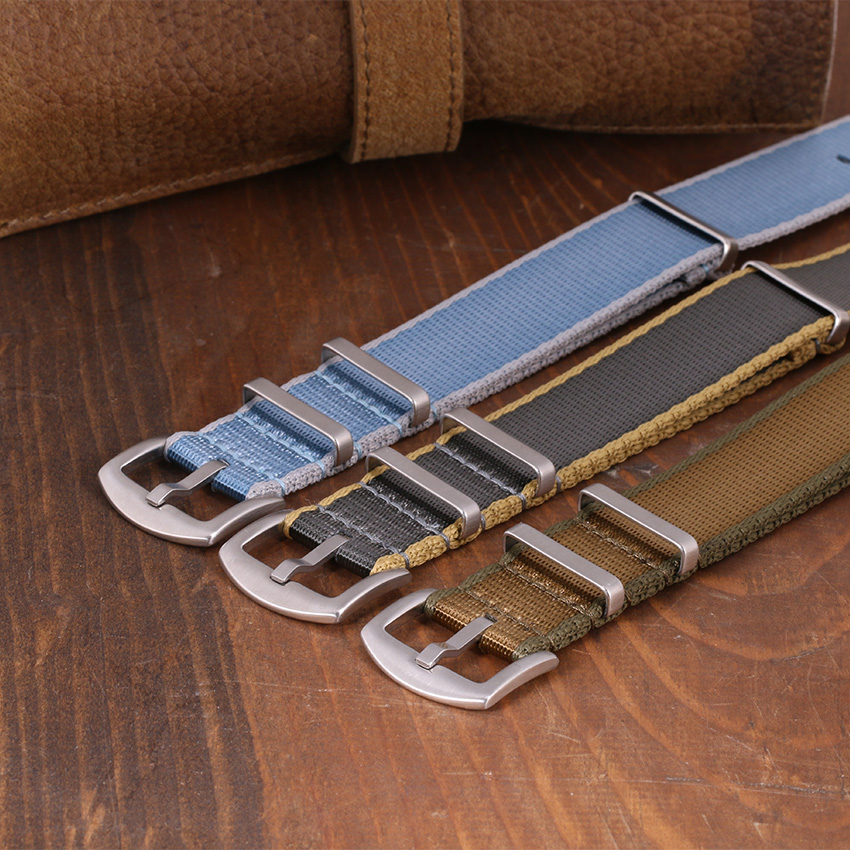 Image: Nylon NATO strap is three (3) colorways (StrapsCo)
There are other updates of older styles like two-piece leather straps with spring bars and the very popular quick release spring bars, facilitating easy strap changes. Other more modern materials like rubber composites and silicone are used for modern diver's watches. Last but very much not least, are metal bracelets of which there are many types: Steel Mesh, "Bonklip", "Beads of Rice", "Milanese", "Shark Mesh" and Ladder to name but a few.
---
In conclusion great watchstraps require great materials, each with its own place in the StrapsCo portfolio.