Whether fraudsters, mob bosses, drug lords, or thieves, the one thing that drives many of these criminals is wealth accumulation. And what do these lawbreakers do with all that illicitly gained money? Most like to spend lavishly on homes, cars, yachts, and other luxury items, such as watches. From infamous gangsters that made their mark on history, to modern-day scammers, here are some watches linked to famous criminals.
---
Al Capone
One of the most famous criminals in American history, Al Capone, also known as "Scarface," was the co-founder and leader of the violent Chicago Outfit organized crime syndicate to control the distribution of illegal alcohol during Prohibition. He was finally put behind bars in 1931—not for any of the gruesome crimes he was responsible for, but for tax evasion—only to be released less than a decade later due to his failing health.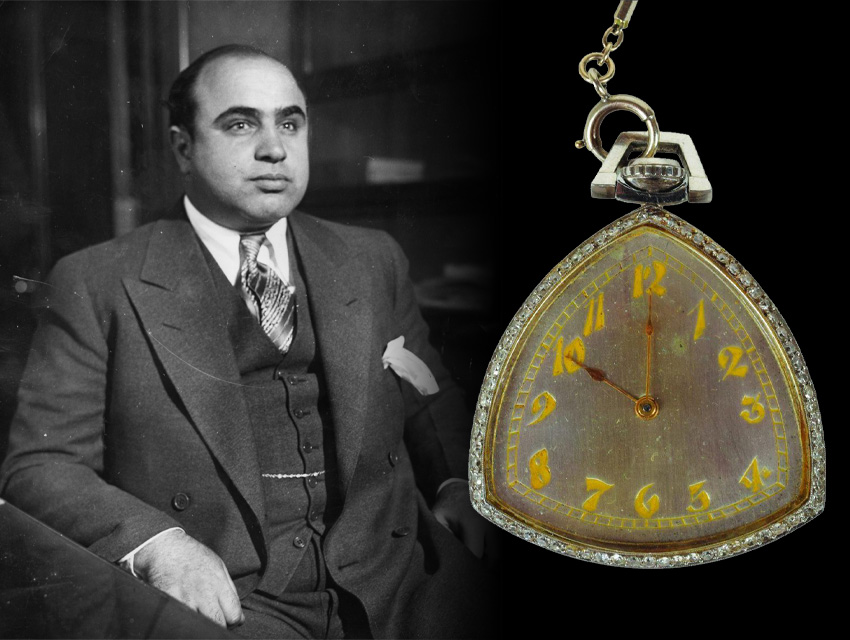 The mob boss was known for his decadent lifestyle, and had a particular love for flashy jewelry. In 2017, Al Capone's diamond, white gold, and platinum pocket watch sold for $84,375. It's also rumored that the crime boss wore a yellow gold rectangular Rolex Prince watch on a leather strap.
---
Pablo Escobar
Known as "The King of Cocaine," Pablo Escobar founded and controlled the notorious Medellín Cartel in Columbia, which monopolized the cocaine trade in the US in the eighties and nineties. Not only was Pablo Escobar the most powerful drug trafficker during his era, but he is also the wealthiest criminal in history, with an estimated net worth of $30 billion when he died in 1993.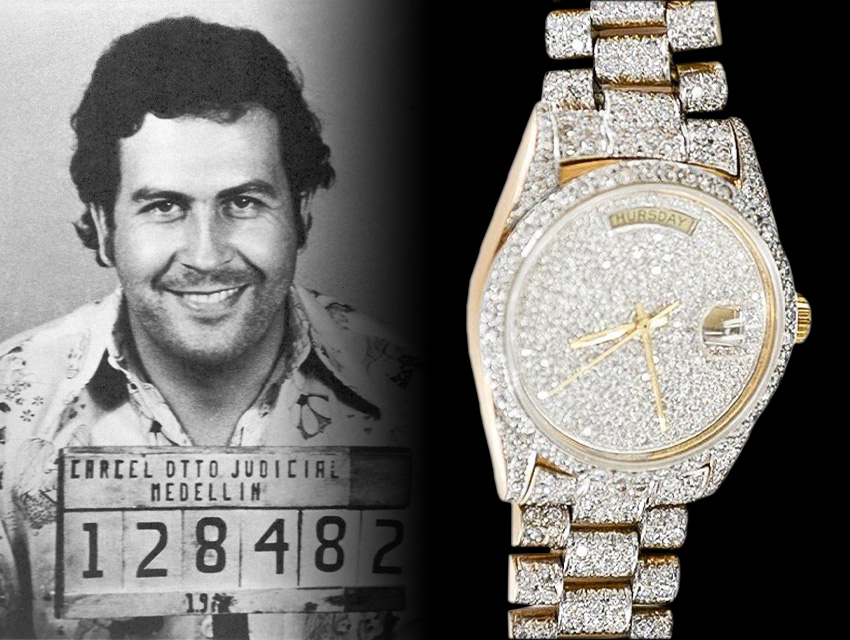 In 2013, an auction of goods seized from narcos by the Columbian government was held in Bogotá. One of the lots included Pablo Escobar's diamond-encrusted yellow gold Rolex Day-Date President watch. While his watch had a pre-sale estimate of $70,000, it only managed to fetch $8,500 at auction—and the buyer admitted that he wanted to melt it down to make another piece of jewelry.
---
Bernie Madoff
Former financier Bernie Madoff is currently serving a federal prison sentence for executing the largest Ponzi scheme in history, defrauding tens of thousands of people out of tens of billions of dollars over almost two decades. After pleading guilty to 11 counts in 2009, Bernie Madoff was sentenced to 150 years in prison.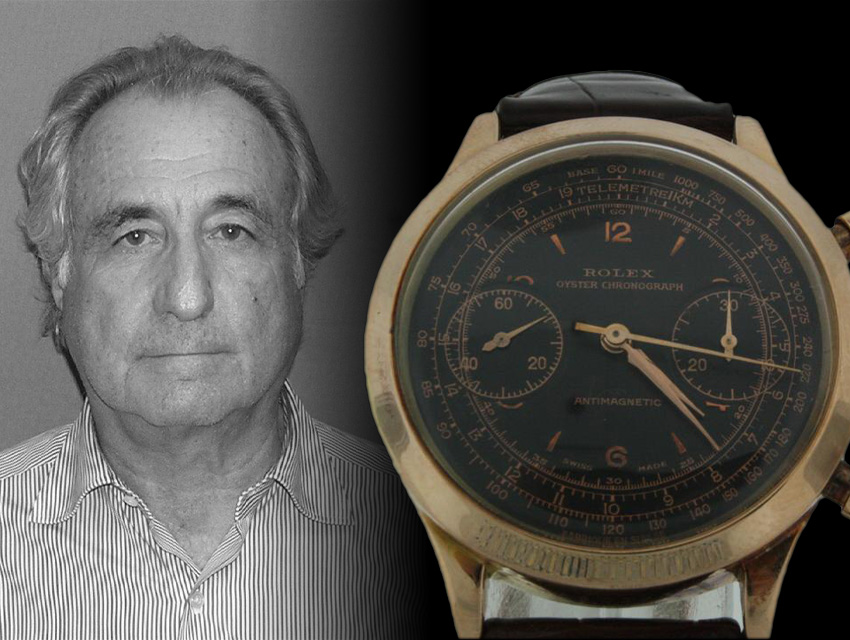 Since his arrest, the US Marshals have hosted several auctions selling off Bernie Madoff's personal belongings to pay back the thousands of victims who lost fortunes. During these auctions, it was revealed that the once ultra-wealthy Wall Street man had amassed quite the watch collection. Some highlights included a vintage Rolex Oyster Perpetual chronograph "Monoblocco", a rose gold Jaeger-LeCoultre Reverso Duo, a white gold Patek Philippe Annual Calendar, a vintage gold Cartier Tank, an IWC Pilot's Watch on a steel link bracelet, a 1960's Rolex Submariner, and a Hublot on a black rubber strap.
---
Billy McFarland
Modern-day scammer Billy McFarland had not just one but two documentaries (Netflix and Hulu) dedicated to his failed Fyre Festival of 2017, which was supposed to be a luxury music festival held in the Bahamas. After hiring some of the most popular influencers on Instagram to promote the event, selling thousands of tickets, and defrauding investors of millions of dollars, the party-goers who flew to Great Exuma island expecting a great time were instead met with serious housing, food, and security issues. McFarland was arrested on charges of wire fraud, and while he was out on bail, he was caught running a separate concert-ticket scam. After being sentenced to six years in prison for defrauding investors of $27.4 million, McFarland is currently serving time at a Federal Correctional Institution in Ohio and was ordered to forfeit $26 million.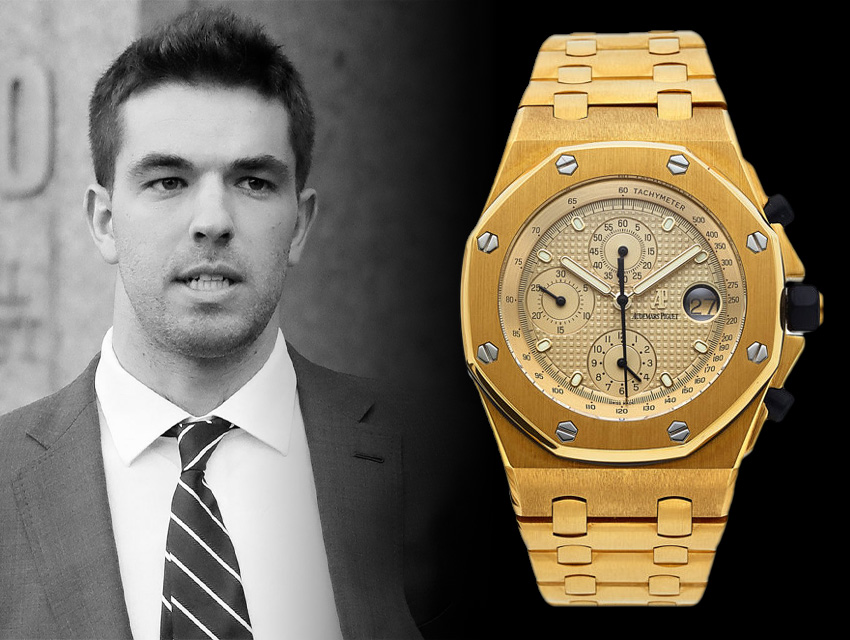 So, what watches did the high-life loving fraudster wear when he was still a free man? He frequently alternated between a stainless Breitling Chronomat on a tan leather strap and a solid gold Audemars Piguet Royal Oak Offshore with a matching gold bracelet.
---
Jordan Belfort
Jordan Belfort, better known as the Wolf of Wall Street, was sentenced to four years in prison in 1999 after he pleaded guilty to securities fraud and money laundering in connection with scams that led to investor losses of around $200 million. However, Belfort only served 22 months and was ordered to pay back $110.4 million thanks to a plea deal he made with the FBI. Belfort's infamous story was first told through his memoirs, and was later adapted into a Martin Scorsese-directed Hollywood movie where Belfort was portrayed by Leonardo DiCaprio.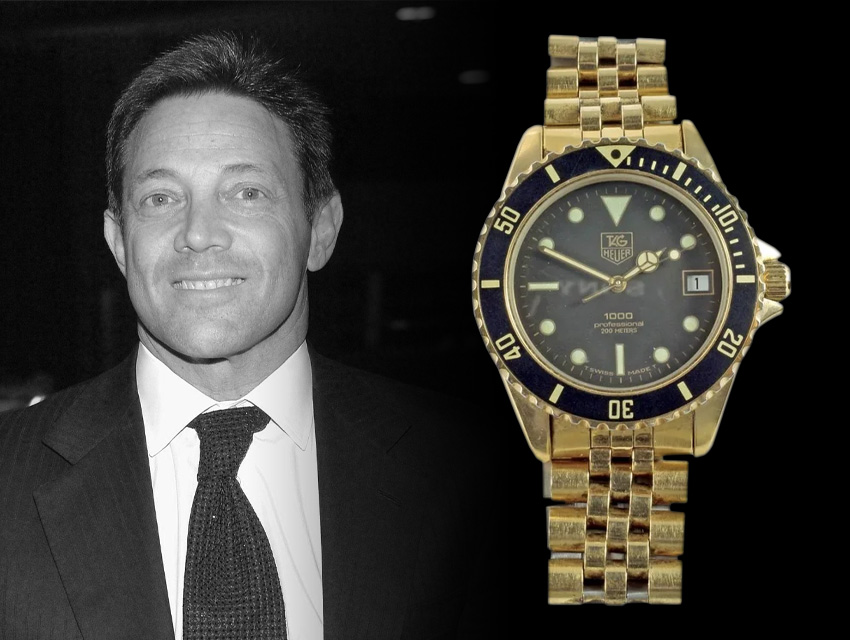 In The Wolf of Wall Street movie, DiCaprio wore a solid gold Tag Heuer diving watch while playing Belfort. But the real-life ex-con, who has since pivoted to motivational speaker and podcast host, has been spotted wearing a variety of different watches like AP Royal Oak, Hublot Big Bang, and Apple Watch.
---
Na'aman Diller
In 1983, the Museum of Islamic Art in Jerusalem discovered that over a hundred clocks worth tens of millions of dollars had been stolen from the Sir David Lionel Salomons collection housed inside the museum. The Sir David Salomons collection was considered one of the most important collections of rare clocks and watches, including the famous Breguet "Marie Antoinette" timepiece, valued at $30 million. An admirer of Queen Marie Antoinette commissioned the pocket watch from renowned watchmaker Abraham-Louis Breguet in 1783 with the stipulation that it be as remarkable as possible. The grand complicated pocket watch, dubbed Breguet No. 160, was only completed in 1827, well after the deaths of the queen and the watchmaker. The Israeli police never figured out who stole the priceless timepiece collection.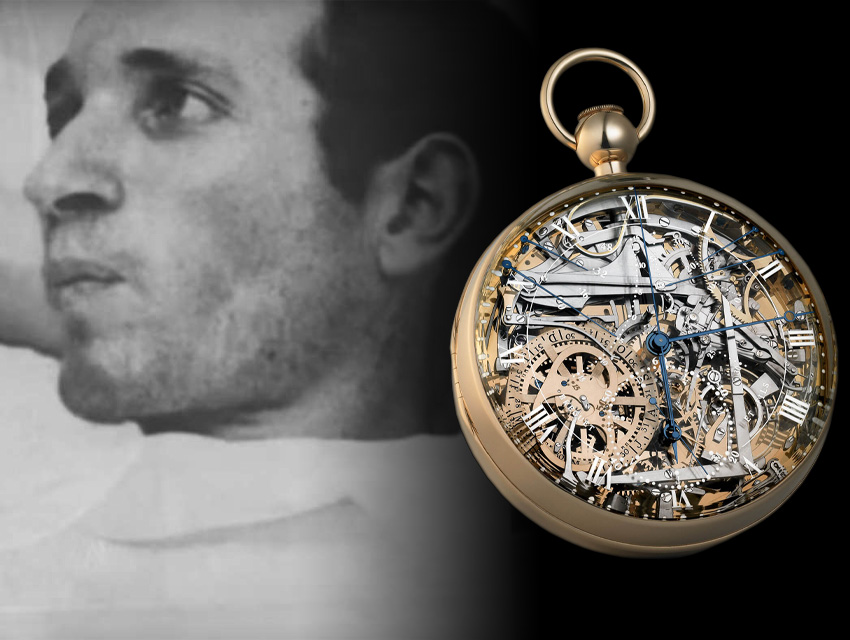 More than 20 years later, it was discovered that a lone man—prolific burglar Na'aman Diller, who gained notoriety in the sixties and seventies—was behind the daring heist. Diller confessed his crime to his wife on his deathbed, and told her of the several safes throughout Europe where he stashed the loot. Incredibly, his widow Nili Shomrat tried to anonymously sell the pieces back to the museum through a lawyer in 2006, and that's when the investigation into the robbery was re-opened. The timepieces were eventually recovered—including the "Marie-Antoinette"—and returned to the museum.
Can you think of any other famous criminals who known for their watches? Let us know in the comments below!