Given their fortunes and proximity to exclusive products, it comes as no surprise that celebrities are often wearing the most luxurious watches available. So it's particularly refreshing when we spot the rich and famous wearing budget-friendly watches that almost anyone can buy. Here's a roundup of celebrities wearing affordable watches made by the likes of Casio, Seiko, Timex, and others.
---
Celebrities Wearing Casio Watches
From retro-looking watches to solar-powered digital gadgets, the celeb crowd, including personalities like actress Kristen Stewart, actor Ryan Reynolds, and billionaire Bill Gates, has accepted Casio as an affordable watch brand worth wearing.
Mark Ruffalo may play the Hulk on screen but in real life, he doesn't wear the Rolex Hulk (the affectionate nickname given to the green Submariner). He declared in an interview that, "my daily wear is my Casio solar-powered watch, because I'm pro-solar. And that thing will last. I can beat the living hell out of it. And it gets enough sun by just walking around on a sunny afternoon."
Fellow actor Ryan Gosling is often seen wearing an understated Rolex Air-King but he sometimes switches it out for the vintage series Casio A168WA-1—particularly when he's performing with his band, Dead Man's Bones. This silver and black digital Casio can be picked up for less than $20, brand new!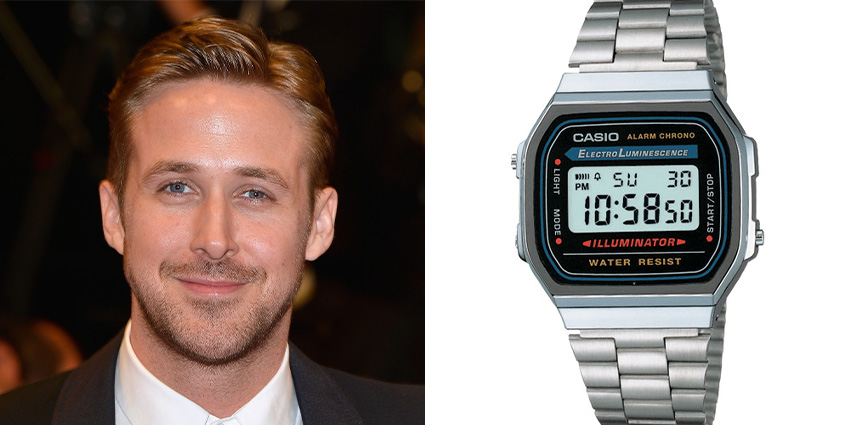 (Image: Ryan Gosling / Casio A168WA-1)
Prolific rapper and producer, Tyler, the Creator is also famous for opting to wear a super affordable Casio watch despite him being worth millions of dollars. His Casio of choice is the quartz-powered MQ24-9B analog watch, which will set you back anywhere from $15 to $20.
---
Celebrities Wearing Casio G-Shock Watches
While Casio of course also manufactures G-Shock, these mega tough timepieces have proven to be so successful that the G-Shock name has spun off into its own universe, boasting a diverse line of watch models. Plenty of celebrities such as Kanye West, Usher, Rihanna, Pharrell, and Justin Bieber, have been known to wear G-Shocks throughout the decades and the watches' appeal among the famous has remained strong.
To the outside world, John Mayer is a successful musician with a slew of Grammy awards to his name. But to those within the watch world, he's also a legendary watch collector and enthusiast. While his collection houses an incredible assortment of coveted luxury watches, John Mayer also appreciates affordable watches—like the G-Shock. In fact, his love for G-Shock, particularly the Mudmaster and Frogman, paved the way for the recently released limited edition Casio G-SHOCK "Ref 6900" by John Mayer (designed by the musician himself), which retails for $180.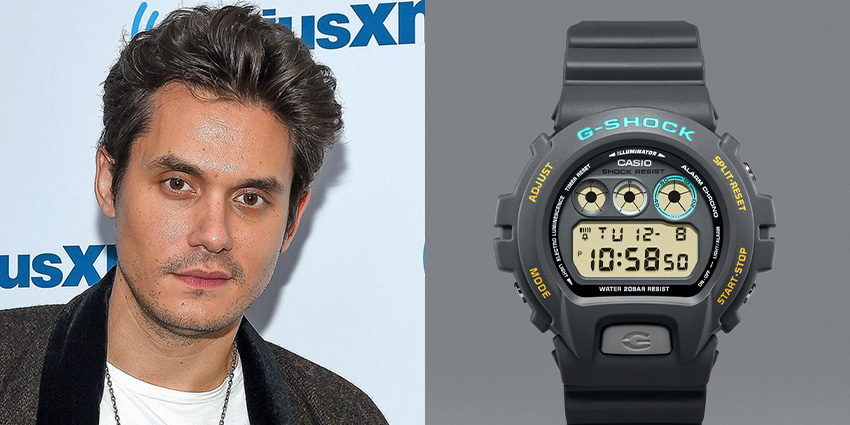 (Image: John Mayer / Casio G-SHOCK "Ref. 6900")
As the frontman of Coldplay, Chris Martin is another incredibly successful musician (estimated to be worth around $100 million) that loves a good G-Shock watch in a bright colorway. We've spotted him wear a colorful array of G-Shock watches in red, yellow, pink, blue, and others, both on and off stage.
---
Celebrities Wearing Timex Watches
As an American company that makes affordable watches, Timex has been a popular choice with many U.S. politicians (including American Presidents like George W. Bush and Bill Clinton) to convey a non-elitist and approachable demeanor. Outside political circles, Timex is also the go-to watch for some celebrities.
Actor, director, and all-around Hollywood A-lister, Mark Wahlberg is known within the watch community for his impressive collection of super high-end Rolex and Patek Philippe watches. However, he's not above wearing much more affordable timepieces—especially during his grueling workouts. He alternates between a few Timex watches but one we see often on his wrist is the black Timex Ironman Rugged 30, which sells at the bargain-basement price of around $40.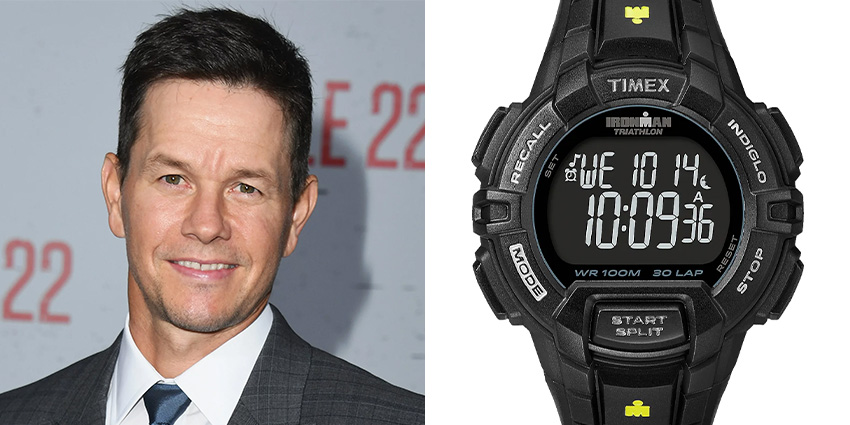 (Image: Mark Wahlberg / Timex Ironman Rugged 30)
Actor Steve Carell is best known for his role of Michael Scott in the hit sitcom, The Office. On the show, Michael Scott wore a Timex Perpetual Calendar, which NBC auctioned to raise money for the United Way non-profit organization. Off-screen, Steve Carell also wears a Timex, once telling a magazine reporter, "I have a Timex that lights up. That's maybe my favorite watch." He also added, "I think I got it at Target."
Despite being one of Hollywood's most recognizable veteran actors, Jack Nicholson likes to keep his wristwatch low-key when sitting courtside at a Laker's game. The star of beloved film classics like The Shining, As Good As It Gets, and The Departed wears a Timex Easy Reader with a nice big legible white dial and a stretchy expandable bracelet.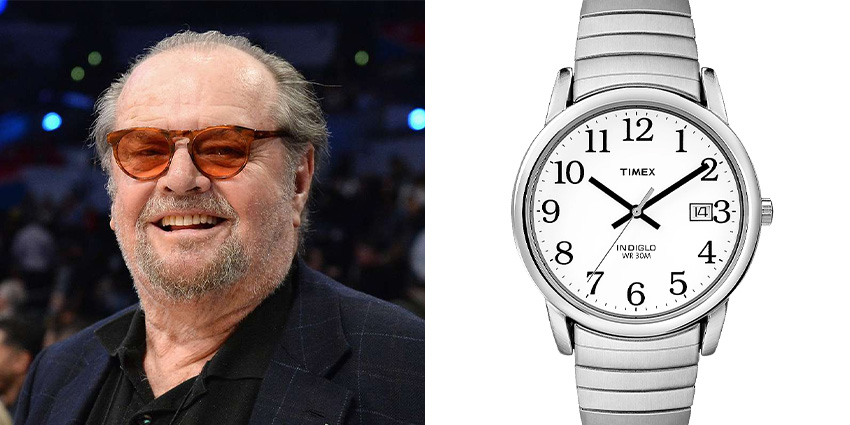 (Image: Jack Nicholson / Timex Easy Reader)
Actor Bill Murray, who has starred in movies like Ghostbusters, Groundhog Day, and Lost in Translation, has also been seen with a Timex Easy Reader on his wrist; however, he pairs his with a black leather strap for a more classic take on the popular affordable watch.
---
Celebrities Wearing Seiko Watches
Seiko has long been a favorite brand among watch enthusiasts, prized for their diverse range of solid watches sold at accessible price points. Plus, Seiko watches have been a part of pop culture for decades with appearances in movies like Apocalypse Now (1979) worn by Martin Sheen, Ghostbusters (1984) worn by Dan Akroyd, Bill Murray, and Harold Ramis, and Aliens (1986) worn by Sigourney Weaver, and several blockbuster films starring Arnold Schwarzenegger.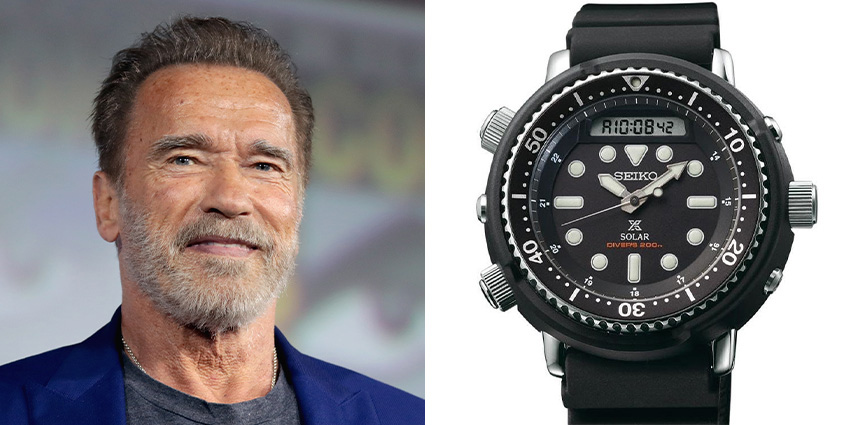 (Image: Arnold Schwarzenegger / Seiko H558-5009 "Arnie")
Released in 1982, The Seiko H558-5009 was one of the world's first hybrid analog-digital dive watches and gained cult status when it appeared on Arnold Schwarzenegger's wrist in action flicks like Commando (1985) and Predator (1987). The association became so strong that the watch was nicknamed the Seiko Arnie, and became a highly collectible piece. In 2019, watch fans welcomed the Seiko Arnie reissue—the Seiko Prospex SNJ025, which retails for $525. Not a bad price for a celebrity watch with a history starring in big Hollywood movies!
---
Celebrities Wearing Hamilton Watches
We can't discuss affordable watches worn by celebrities without mentioning Hamilton. Hamilton, known for its range of high-quality yet accessible Swiss-made watches, has had a long history with Hollywood and cinema. There are plenty of Hamilton watches featured in blockbuster movies due to, among other things, the company's close ties with prop masters.
There's, of course, the now-famous "Murph" watch in the film Interstellar starring Matthew McConaughey and Jessica Chastain. Then there are the Hamilton Ventura watches that appear in the Men in Black films with Will Smith and Tommy Lee Jones. John-David Washington and Robert Pattinson wear Hamilton Khaki BeLOWZERO watches in the movie Tenet as does Matt Damon in The Martian.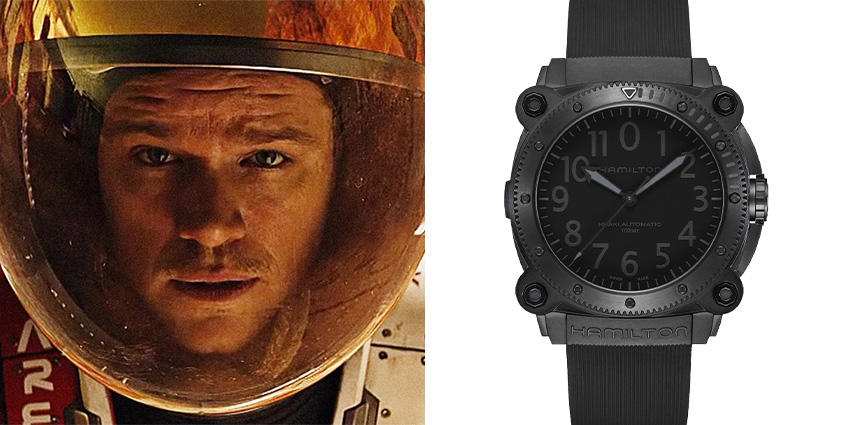 (Image: Matt Damon in 'The Martian' / Hamilton Khaki Navy BeLOWZERO)
Whether or not these actors keep the Hamilton watches post-filming is unclear; yet, what is certain is that Hamilton's presence in over 500 films certainly has helped the affordable watch brand gain more recognition from moviegoers everywhere.
---
Celebrities Wearing MoonSwatch Watches
The biggest watch release of 2022 was not a high-end Rolex or limited edition Patek Philippe; it was the inexpensive Swatch MoonSwatch inspired by the famed Omega Speedmaster. The introduction of the MoonSwatch collection, which is home to 11 chronographs produced via an Omega x Swatch collaboration, took the world by storm.
There were immense lines at all the Swatch boutiques that were lucky enough to have them for sale on release day and social media soon became flooded with pictures of the colorful plastic Speedy lookalikes. Each of the 11 models is inspired by a celestial object: Earth, Jupiter, Mars, Mercury, Moon, Neptune, Pluto, Saturn, Sun, Uranus, and Venus. The frenzy for these affordable takes on the much more expensive Omega Speedmaster Professional was phenomenal. The biggest complaint we've heard so far about the watch (aside from the fact that they're still hard to get at Swatch stores) is the Velcro strap; however, switching it out for another strap is easy to do.
A few celebrities have been spotted wearing a $260 MoonSwatch. For instance, Ed Sheeran, who has one of the most impressive luxury watch collections, was seen wearing the "Mission to the Moon" MoonSwatch, which is the model that most resembles the Speedmaster Professional "Moonwatch."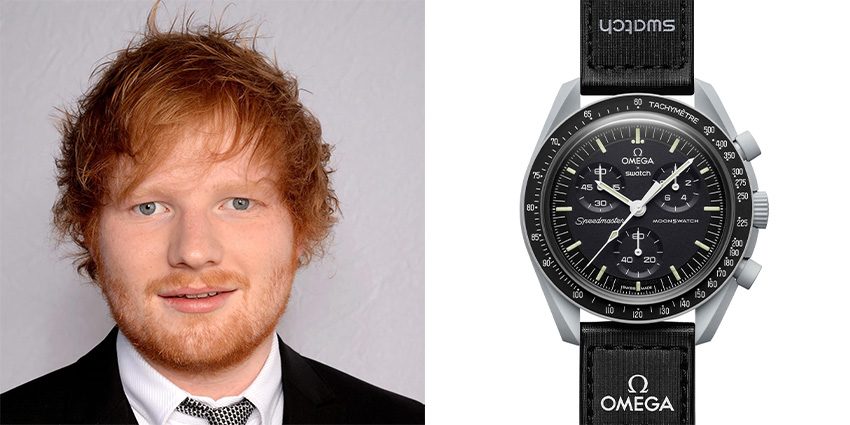 (Image: Ed Sheeran / Bioceramic MoonSwatch "Mission to the Moon")
Furthermore, Swedish football (a.k.a. soccer) star Zlatan Ibrahimović wears the red-and-white "Mission to Mars" variant, which resembles the Omega Speedmaster Alaska Project watches from yesteryear. Finally, former football striker Alessandro Matri also wears a MoonSwatch. His choice is the beige and brown "Mission to Saturn" edition, complete with Saturn's rings at 6 o'clock.
---
Celebrities Wearing Apple Watches
The Apple Watch is perhaps the most popular accessible watch brand among celebs right now. Stars like Jon Hamm, Oprah, Mindy Kaling, J.J. Abrams, Gwen Stefani, Frank Ocean, Sophie Turner, and others are frequently seen with a reasonably priced Apple Watch on their wrists.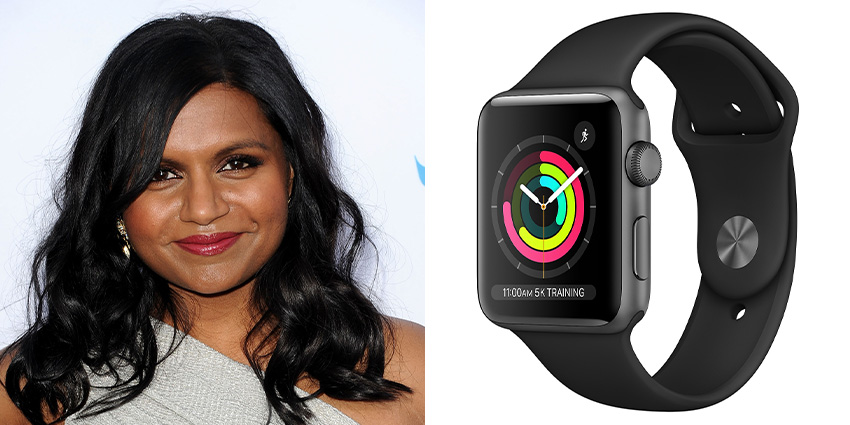 (Image: Mindy Kaling / Apple Watch)
However, while the Apple Watch starts at an affordable $199, the cost can quickly skyrocket with premium metal cases and special edition Apple Watch straps. For instance, the all-gold Apple Watch, as seen worn by Kanye West, Katy Perry, and Drake, tops out at around $17,000 while Beyoncé and the late Karl Largerfeld have worn custom Apple Watch models with solid gold straps estimated to be worth more than $30,000! Though the gold editions are well beyond the affordable realm, sticking to models in steel or aluminum won't break the bank.
---
Clearly, the appeal of an affordable watch is not reserved for those with limited budgets. Regardless of the millions of dollars in their bank accounts, these celebrities still choose to wear inexpensive watches—and look great doing so.
Are there any other celebrities that wear affordable watches that we've missed on this list? If so, let us know in the comments section below.