Hard to believe, but we're already well into the first month of 2022! At the start of each fresh year, it's only natural to consider what types of trends will take hold over the next 12 months. While watch styles don't change as rapidly as let's say, clothes or shoes, there still are timepiece trends that stand out over the course of a year. We may not have a crystal ball but we do see some likely developments over the horizon. Here are some of our predictions for top watch trends to look out for in 2022.
---
Even More Color
Once relegated to quirkier brands or sporty divers, colorful dials have become more mainstream across all types of watches — even from the big brands. From Rolex's bright Oyster Perpetual dials and Patek Philippe's hyped-up Nautilus with a Tiffany blue dial to Cartier's new Tank Must watches in head-turning shades, typically conservative watch houses are jumping on the colorful bandwagon. Plus, there's the Oris Cotton Candy line, the Seiko Cocktail Time selection, and various color-forward capsule collections from Breitling.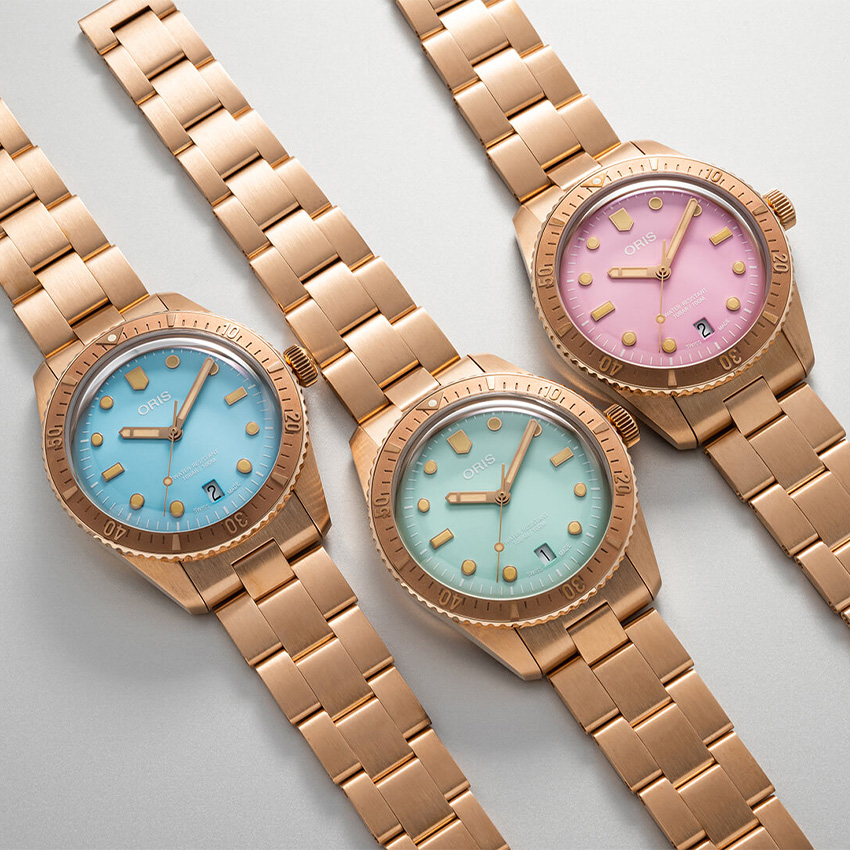 Image: Oris Divers Sixty-Five 'Cotton Candy'
Popular colors right now include serene turquoises, blues, and greens, as well as fire-fueled yellow, orange and red dial watches.
We predict that brands will continue to add more color choices to their current catalogs this year, especially ones that really pop. If you want to take your color game to the next level, borrow a cue from Cartier and consider pairing your colorful dial with a matching strap. Monochromatic outfits have been all the rage recently, so why not apply that fashion trend to the wrist for a statement-making style!
---
Return to Gold Dress Watches
Stainless steel watches have dominated the watch popularity contest for ages now—and it doesn't look like it'll slow down any time soon. However, the ubiquity of steel sportiness paves the way for other types of watches to stand out from the same old, same old. Our choice would be the complete opposite style: dressier watches with gold cases, minimal lighter-colored dials, and sophisticated leather straps. Think mid-century elegance.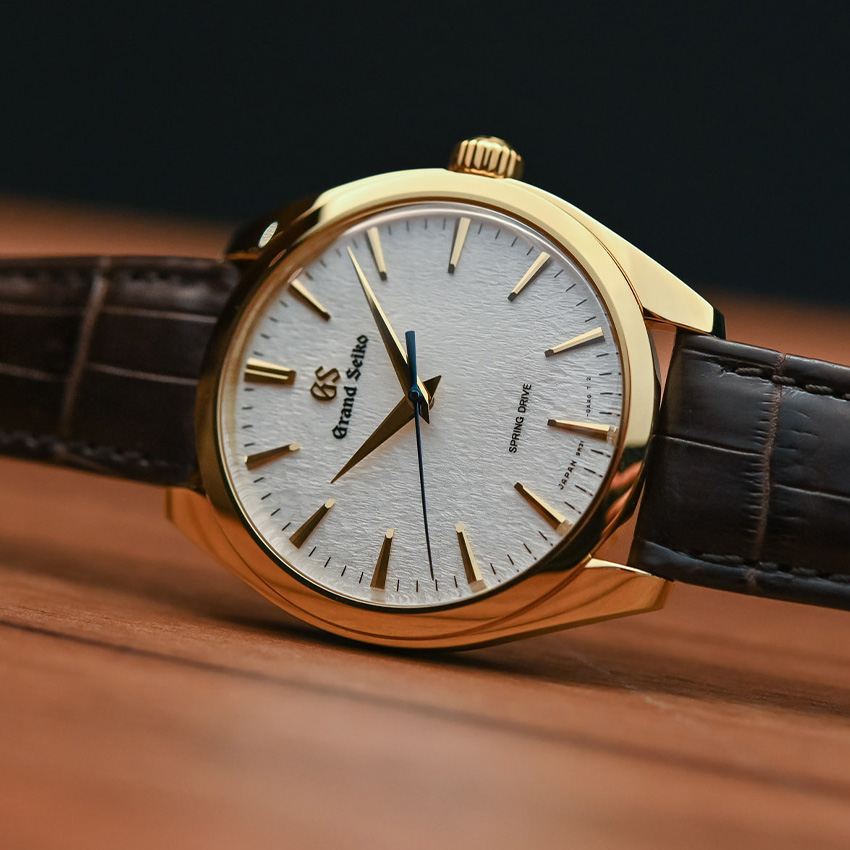 Image: Grand Seiko Spring Drive (SBGY002)
And just because it's called a dress watch, it doesn't mean it has to be exclusively paired with formal wear. These watch types look just as good with jeans as they do with a suit.
To make an old-school-style dress watch more modern, play around with strap colors. While dress watches will always look good with neutral tones like black and brown, why not experiment with unexpected brighter shades for something new?
---
Big Anniversary Watches
2022 will mark some milestone anniversaries for famous watch models. The Patek Philippe Calatrava (launched in 1932) will turn 90, the Breitling Navitimer (launched in 1932) will turn 70, and the Tag Heuer Autavia (launched in 1962) will turn 60.
Furthermore, Rolex will celebrate the 30th birthday of the Yacht-Master (launched in 1992), in addition to the 40th anniversary of the GMT-Master II, which was released in 1982. Can we expect to see a new GMT-Master II with a black and red "Coke" bezel to celebrate the occasion? After all, it was that inaugural GMT-Master II from 1982 that debuted that highly popular bezel colorway.

Image: Rolex GMT-Master II 'Coke' Bezel
However, we think that the biggest watch celebration of 2022 will be the 50th anniversary of the Royal Oak, which Audemars Piguet unveiled in 1972. The Royal Oak kicked off the ultra-luxe steel sports watch category and it changed the watch landscape forever. There will no doubt be a slew of commemorative Royal Oak watches in 2022, so keep an eye out for that.
---
Smaller Independents Continue To Rise
Although big brands — particularly the big four (Rolex, Patek Philippe, Audemars Piguet, and Richard Mille) — will remain the dominant forces in the primary and secondary watch markets for the foreseeable future, smaller high-end independent watchmakers will also continue to cultivate their cult followings in 2022.
A handful of small-batch boutique watchmakers are favorites among seasoned watch collectors and watch enthusiasts looking for unique creations. The recognized leaders in high-end independent contemporary watchmaking are F.P. Journe and Philippe Dufour, but other names include H. Moser, MB&F, De Bethune, Akrivia, Petermann Bedat, and Laurent Ferrier.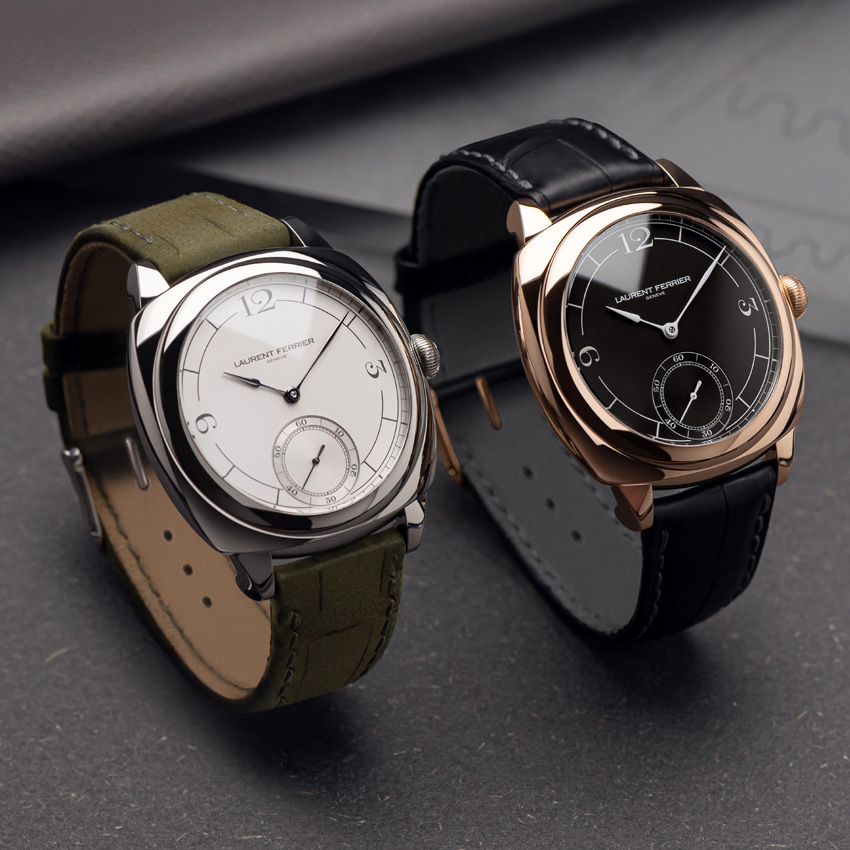 Image: Laurent Ferrier Micro-Rotor Square
There are also plenty of independent watch brands making more affordable timepieces such as Sinn, Baltic, Anordain, Brew, and Weiss just to name a few.
If you haven't already, take the time to discover the creations of independent watchmakers; you may be surprised at what they offer.
---
Sustainability, Conservation, and Transparency
Like almost every other industry out there, watchmakers are under increasing pressure to demonstrate a genuine commitment to sustainability. Some brands, such as Breitling and Panerai have leaned into eco-friendly timepieces by using recycled materials in some of their watches while other companies, like Oris, have announced that they are now climate neutral. Omega, Blancpain, Rolex, and Hublot have long teamed up with conservationist organizations to raise funds and/or awareness.

Image: Hublot Big Bang Unico SORAI "Save Our Rhino Africa / India"
In 2022, we predict that more watch brands will undertake sustainable practices, whether that'd be less packaging waste, more recycled materials, or more partnerships with foundations that do important work in the areas of sustainability and conservation. We're also optimistic about improved transparency about how materials are sourced and genuine steps towards ethical sourcing. There's plenty of work to be done, but if pressure mounts from consumers, then watchmakers will have to take their commitments seriously.
We'd argue one of the most sustainable approaches to watch collecting is to buy pre-owned where possible. When you choose a watch that's already been around a while (or a few decades in some cases), you're giving it new life. Karine Szegedi, Head of Consumer and Fashion & Luxury at Deloitte Switzerland says: "Whether it's the sharing economy or being more socially conscious, younger consumers today are far less reluctant to buy items that were previously owned. This generational shift will continue to benefit the pre-owned watch industry in the years ahead and is certainly part of a wider trend towards more sustainable shopping behavior among young people."
We couldn't agree more.
---
There you have it, a few of our watch trend predictions for the rest of 2022. What do you think will be big this year in timepieces? Is there anything in particular you're looking forward to? Let's continue the conversation in the comments below.