It's hard to believe, but the holiday season is upon us! Aside from listening to cheery songs and indulging in festive foods, another way to get into the spirit of things is by wearing certain colors.
Red is of course the favorite shade for the most wonderful time of the year — so let's have a closer look at some of the best red dial watches to wear for the holidays, or anytime (And don't forget to check out last year's article about while dial watches). Get your pen ready because you may just want to add a few of these to your Santa wish list.
---
Rolex Oyster Perpetual
Generally speaking, Rolex is a conservative watch brand, preferring to stick to the classics and tried-and-true designs. So when the Swiss watchmaking giant lets loose (even just a little bit), people tend to take notice. This was the case with the release of the new-generation Oyster Perpetual collection. While this is the brand's most basic watch collection, these entry-level Rolex watches are now available with plenty of colorful dials.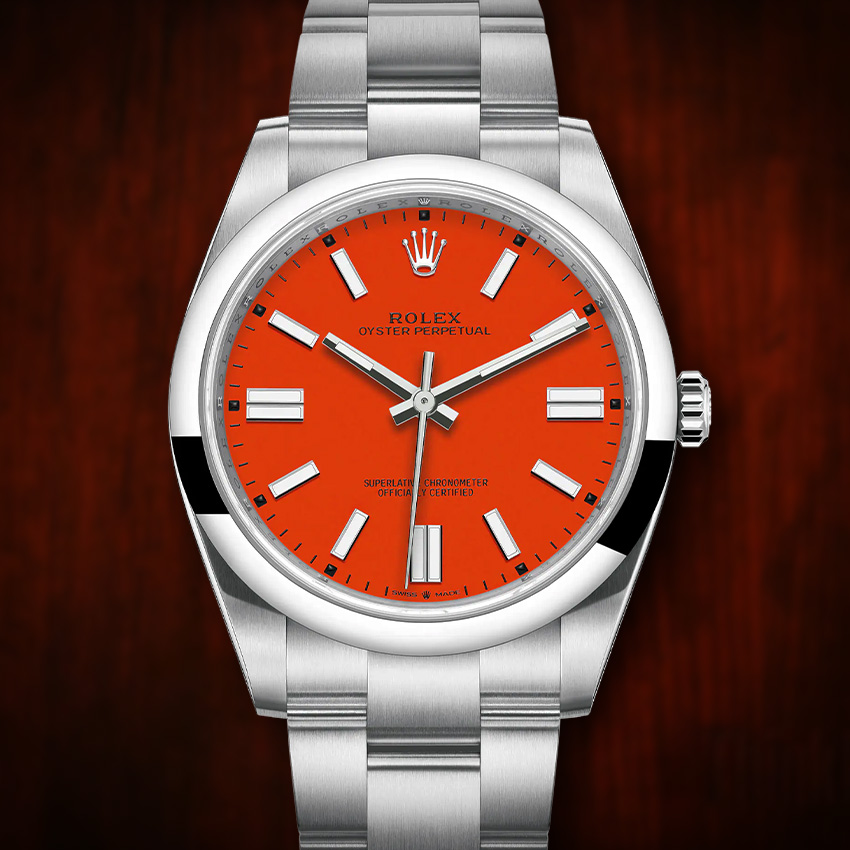 One of those vibrant dials that would be perfect to wear during the holiday season is the Coral Red variant, which is available on the 31mm, 36mm, and 41mm versions of these latest Rolex Oyster Perpetual watches. Make no mistake, this is a vivid shade of red (with a touch of orange to it), so it's not for the faint of heart. But if you're into bright red watches, you'll likely love Rolex's version.
---
Omega De Ville Trésor
The De Ville Trésor collection is quickly becoming home to fantastic dress watches made by Omega. Featuring beautifully proportional round cases in various sizes and materials, minimalist dials, and leather straps, Omega De Ville Trésor timepieces are vintage-inspired but tailored to today's taste.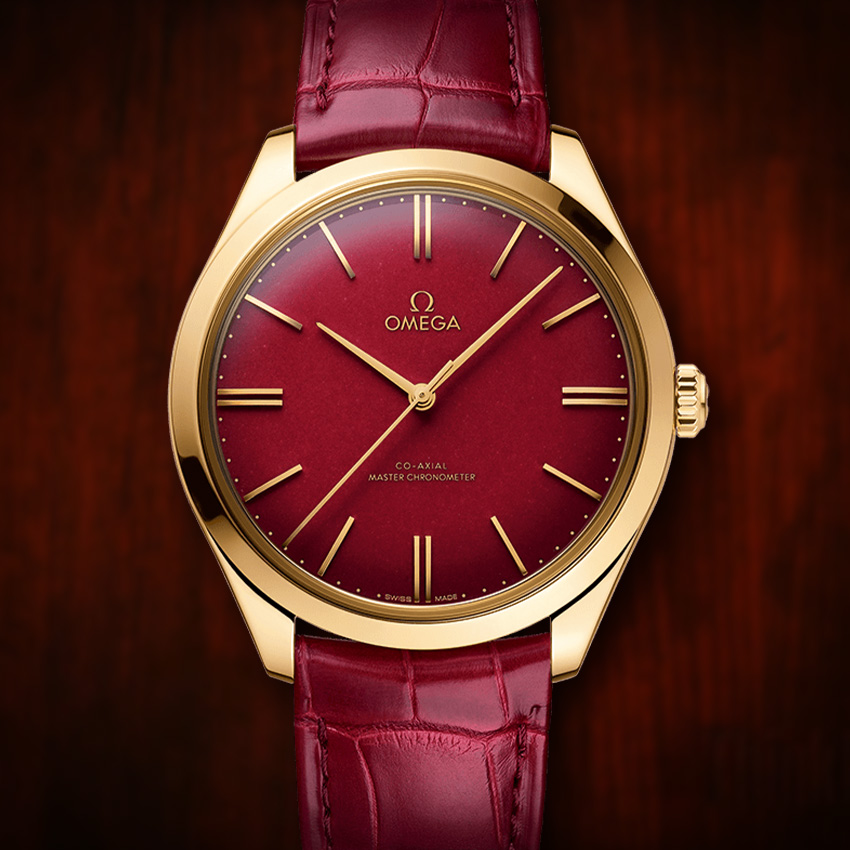 Among all the variants available, the Omega De Ville Trésor 125th Anniversary Edition is the one that looks like it was specifically made for Christmas. It has a 40mm yellow gold case and matching yellow gold markers and hands on the stunning rare red enamel dial. The matching burgundy red leather strap further enhances the festive red dial, and the whole piece comes together like a delectable seasonal treat.
---
IWC Portugieser Chronograph
Not only is the Portugieser Chronograph one of IWC's most iconic models but it's also one of the most famed automatic chronograph models ever made. It's an elegant take on the sporty chronograph complication, featuring an expansive dial punctuated with a pair of registers and Arabic numerals. The look of the IWC Portugieser Chronograph is largely based on old-school pocket watches but the latest generation runs on in-house IWC automatic movements.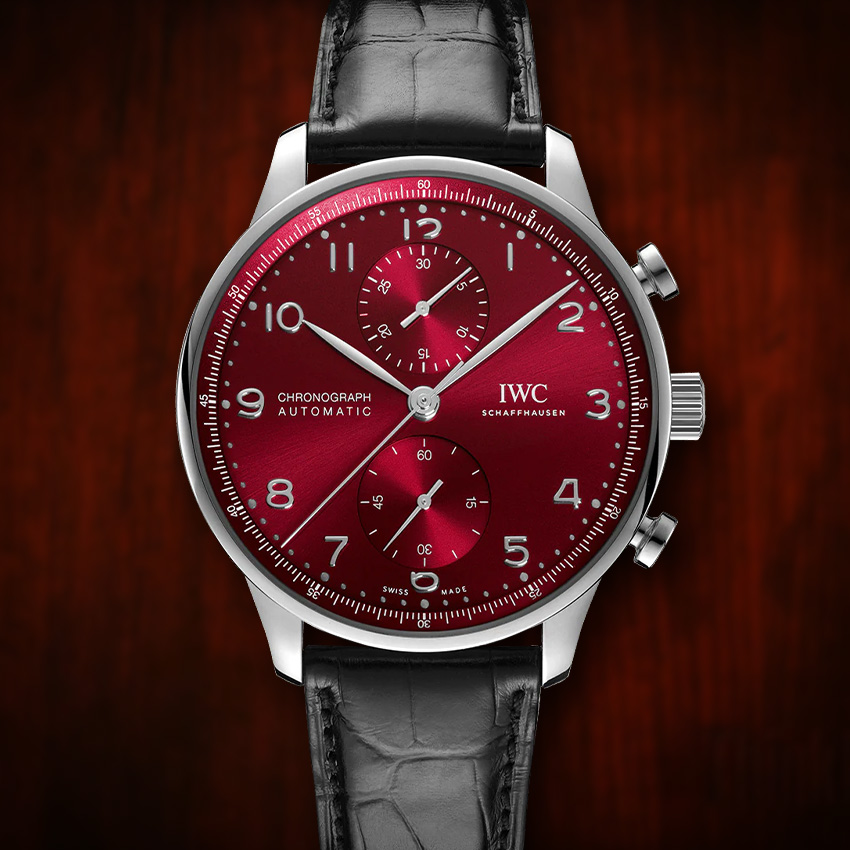 IWC offers the Portugieser Chronograph with several dial color choices including a luscious burgundy one. The rich red hue of the dial contrasts beautifully with the 41mm steel case and the pairing of an elegant black alligator strap ties everything together like a big bow on top of a gift.
---
Breitling Endurance Pro Ironman
One of the great things about the color red is that it can be formal and dressy or casual and sporty. Regardless of the approach, red will always stand out among other colors! An awesome example of a sporty red watch is the Breitling Endurance Pro Ironman, made specifically for those who lead super active lifestyles. It'll keep up with any workout but look just as good on the wrist during non-exercise days too.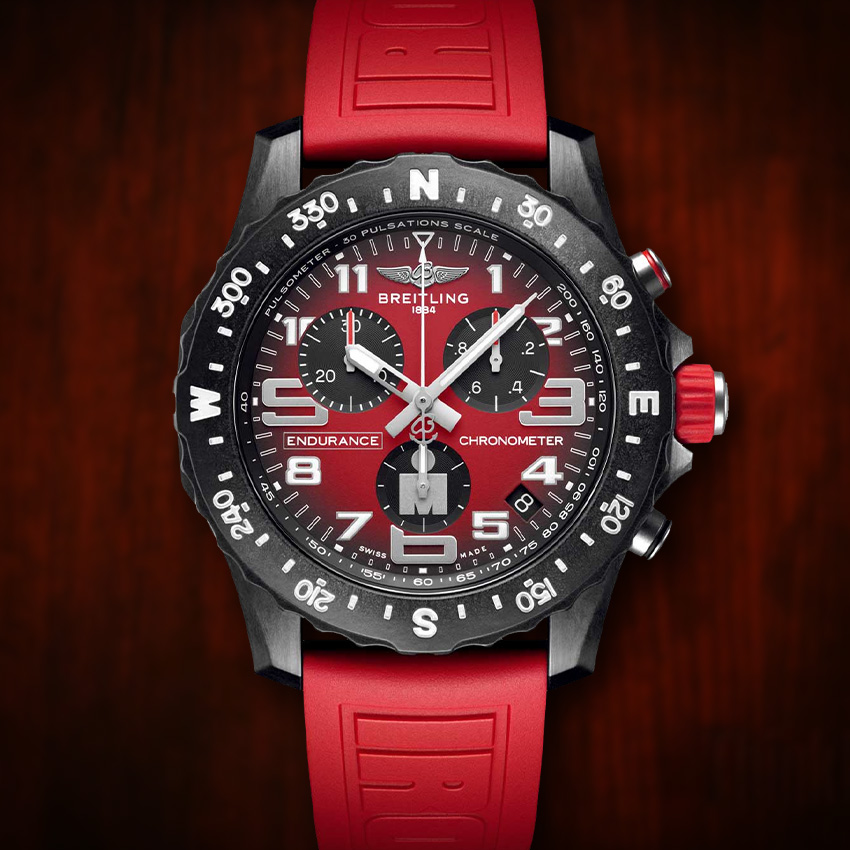 The Endurance Pro Ironman chronograph sports a generously-sized 44mm case but is ultra-light thanks to the proprietary Breitlight material it's made from, which is 3.3 times lighter than titanium and 5.8 times lighter than stainless steel. The red dial and red rubber strap pop against the dark case and dark subdials while the Thermocompensated SuperQuartz movement inside ensures optimal accuracy and precision. This is the watch you'd want to wear for those post-feasting runs.
---
Jaeger-LeCoultre Reverso Tribute Small Seconds
The Reverso has been a mainstay of Jaeger-LeCoultre's catalog since 1931 when it was created for polo players. The watch's clever rectangular swivel case meant that the fragile dial side could be hidden during rough polo matches to prevent damage to the face of the watch. Today, the Reverso is a favorite among fans of classic Art Deco-style watches and will more likely be spotted at elegant soirees than grassy horse-filled fields.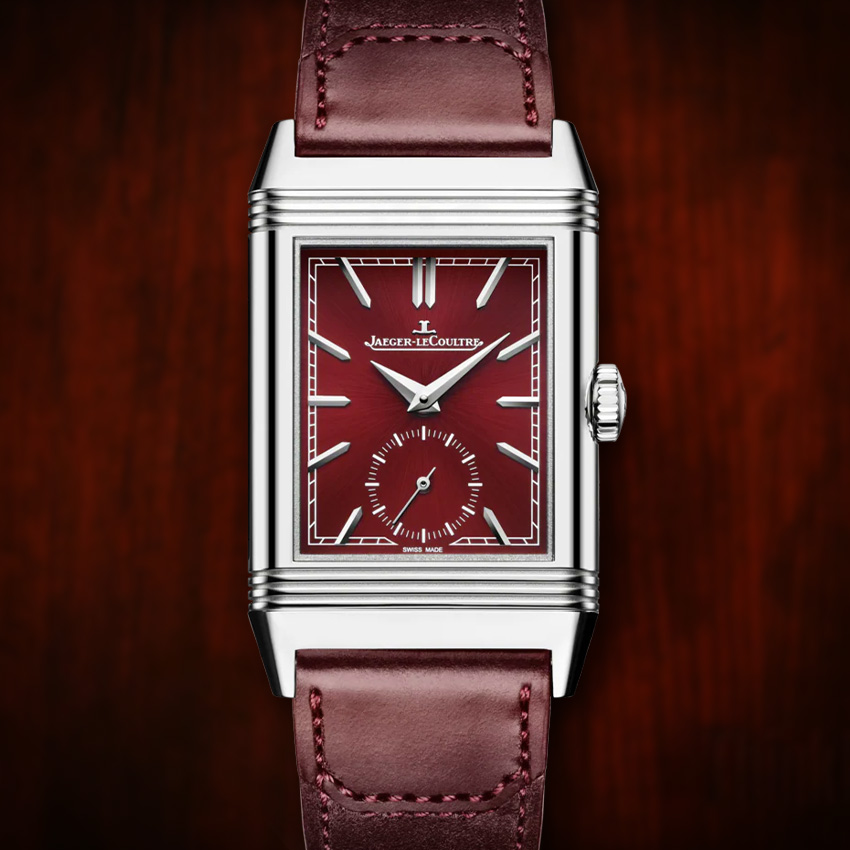 Over the last 90 years, the Reverso has grown to become the brand's most diverse collection with an almost endless variety of sizes, materials, complications, and colorways. For a red Reverso, look to the Jaeger-LeCoultre Reverso Tribute Small Seconds that combines a sleek steel rectangular case, a gorgeous sunray-brushed burgundy red dial, and a brownish-red leather strap. Plus, you can even engrave the other side of the dial with a meaningful message if you wish—a thoughtful gift to give to yourself or someone else.
---
Grand Seiko Heritage "Autumn" Limited Edition SBGH269
Grand Seiko is famous for its exquisite dials, which are crafted by master artisans using various decorative and traditional techniques. Most Grand Seiko dials are inspired by nature and the changing seasons.
Although the limited edition Grand Seiko Heritage "Autumn" is named after the season that comes before eggnog, trees, and Christmas presents, we still love the dark red shade of the dial. The dial draws inspiration from lacquered wooden floors of traditional Japanese architecture, which is clearly illustrated in the vertical gradient effect. The watches have 39.5mm stainless steel cases, complete with the characteristic GS Zaratsu polishing that results in areas with mirror-like finishing. Released in Fall 2019, only 900 pieces of the Grand Seiko Heritage "Autumn" were made.
---
Red watches are certainly not as common as other colors (like black, white, gray, and blue) but they are solid choices when you want a statement timepiece. While watches with red accents look especially good during the holiday season, there's no reason that they can't be worn all year round! Do you own a red watch or are thinking about adding one to your collection? Share your thoughts with us below.