Now more than ever, the sky really is the limit when it comes to the strap options that are available for your favorite watch. Rubbers, leathers, NATOs, metal bracelets and mesh straps are all on the table, depending on the timepiece. We're the first to admit that we occasionally take an unconventional approach to strap pairings, but there are some fundamental rules about which straps to pair with which watches, and following these simple rules will help you gain a few style points as well as avoid spending money on straps that don't work as well with your particular watch.
1 – Right Materials For The Job
Put simply, some strap materials just don't work well for certain watch styles — though there are some exceptions to this rule. For example, dive watches are well-suited to rubber straps and fabric NATOs for a couple of key reasons. From a functional standpoint, both of these materials are perfectly suited for dive watches being put to work underwater. NATOs were originally designed specifically to be worn over dive suits, whereas rubber straps are usually the alternative when manufacturers want to sell a dive watch without a metal bracelet. In certain cases, you may be able to pull off a leather strap on a dive watch if you're wearing a slender, dressier diver (think Omega Seamaster here), but functional materials are at the top of our list. It's also worth noting that if you do go that route, remember that the chunkier the diver, the thicker the leather strap should be.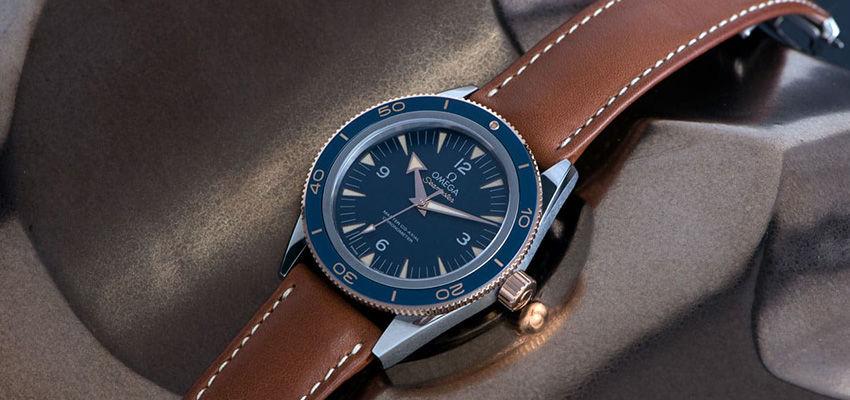 On the flip side, dress watches are all about the leathers (or in some cases, a thin Milanese mesh). You'll want to examine the lugs of your watch to determine how thick or thin your strap should be. Crocodile and alligator straps, or even stingray straps can be the perfect complement to that dressy piece. NATOs are just about always a no-go on a dress watch, unless the piece in question is a particularly high degree of outrageous.
Finally, the classic pilot watch can be a bit of a catch-all when it comes to your strap game. Casual, chunky leather straps with contrast stitching, slim and plain rubber straps, and both fabric and leather NATOs are all fair game in our books. Because so many pilot watches are devoid of color, you can really play around with your picks here. Also, we ALWAYS love a good Bund strap on a pilot, as it's a killer classic look that you just don't see nearly often enough.
2 – Accent Colors Are Your Friend
The title really says it all here, folks. When deciding on a strap, always pay attention to the colors used on the watch's hands, bezel, dial, rehaut, and any other components. Matching a strap to the dial color is always your easy out, but sometimes a more subtle color play is really the way to go. To be fair, we know not everyone is a big fan of this kind of vibrant boldness, however this is where accent stitching will quickly become your best friend. It's quite easy to find plain black, navy, or other colored straps that offer contrasting stitching in a variety of colors that can be used to match your colorful watch without making it something you can spot from across the room. For example, this funky carbon fiber strap with red stitching would be the perfect pairing with TAG Heuer's reissue of the Monza chronograph.
If you're working with a blank slate — a watch that's completely devoid of color — this is not as much of a concern. Black or grey straps are the go-to for those more subtle days, but if you have colorful shoes, jackets, or anything else in your wardrobe, don't be afraid of playing the matching game there either. Whether you pair your strap to your pants, or if you find the exact same strap color as your favorite high tops or sneakers, you'll be making a confident statement to be proud of.
We hope this watch strap styling guide is helpful. Let us know some of your favorite strap & watch combos below!