The Seiko Prospex ref. SRP777K1 is one of many watches to be nicknamed by collectors and enthusiasts, and is colloquially referred to as the Seiko 'Turtle' due to its cushion shape resembling that of a turtle's shell. One of Seiko's most iconic and collectable watches, it features an automatic movement, a water-resistance rating of 200 meters, and is equally popular among both collectors and divers alike due to its classic design and affordable price.
The Seiko Turtle is a strap monster in its own right—particularly the reference we have here, with its understated black dial and white indices. We have put together a collection of our favorite looks for the Turtle that we think you'll love, and we've made sure to include something for everyone. Let's dive right in!
---
Seiko Turtle ✕ Rubber Diver Strap
It is said that utility is the true criterion of beauty, and this combo couldn't be a better example of that. The Seiko Turtle is a dive watch at heart, so this list would simply be incomplete without featuring a rubber diver strap for all the ocean dwellers out there. Even if diving isn't your cup of tea, this strap provides a beautiful understated look, and also happens to be incredibly comfortable as a daily wear!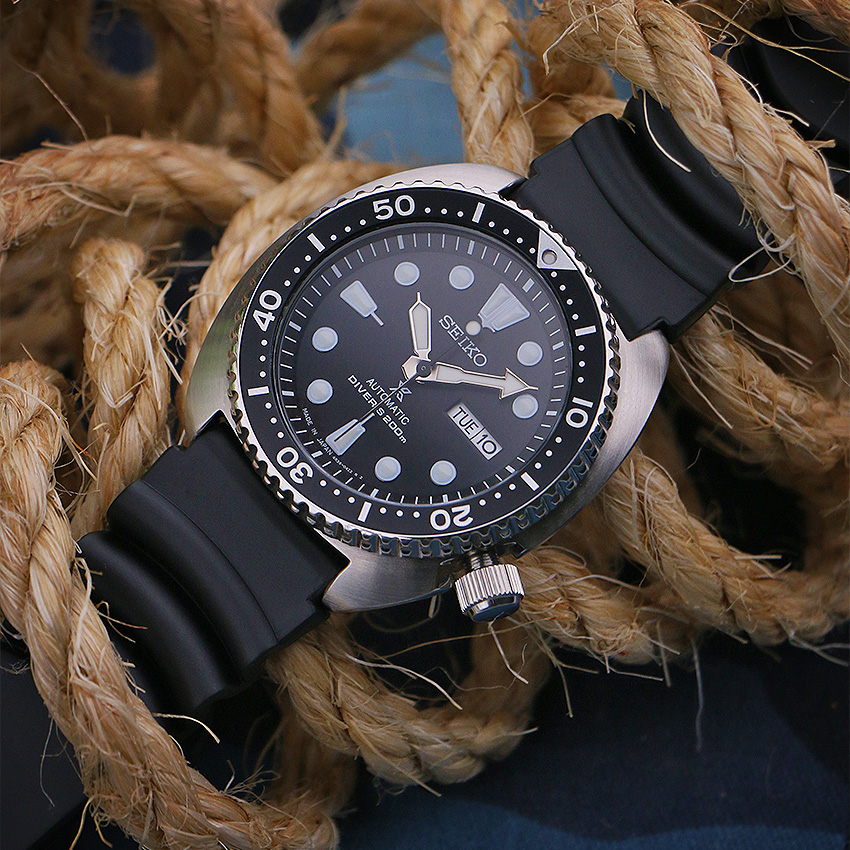 ---
Seiko Turtle ✕ Fitted Vintage Leather Strap
Next up is a look that will appeal to traditionalists of the watch world, featuring a classic vintage-inspired leather strap with minimal stitching. This strap is designed just for use with Seiko Turtle watches and integrates right to the watch case without any gap between the strap and watch. The original Seiko Turtle made its debut in 1976, and although it has evolved significantly over the years in terms of features, it still has the same signature look that perfectly compliments a strap that evokes a strong nostalgic charm.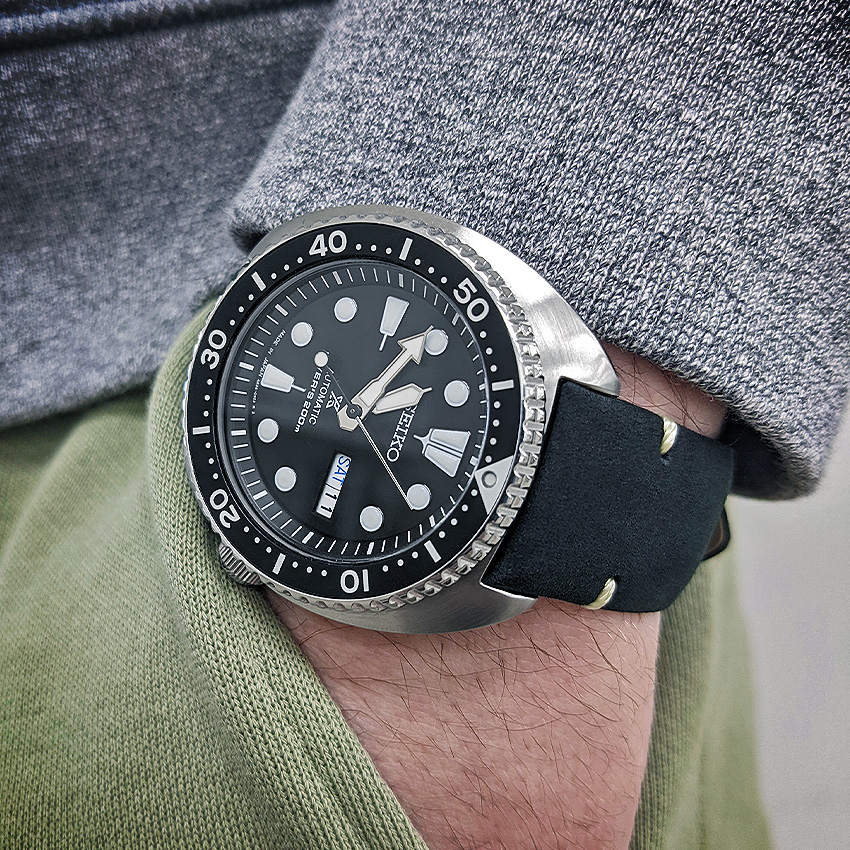 ---
Seiko Turtle ✕ Stainless Steel Ladder Bracelet
Perhaps you're heading out for a date night, or looking to impress some clients, and you need something a little more eye-catching; we have just the combo for you! Featuring a brushed stainless steel ladder bracelet that perfectly compliments the brushed steel case of the Seiko Turtle, this look is as bold as it is beautiful. The ladder bracelet is just about as iconic as the watch itself, designed in the 1960's by the legendary Gay Frères bracelet brothers.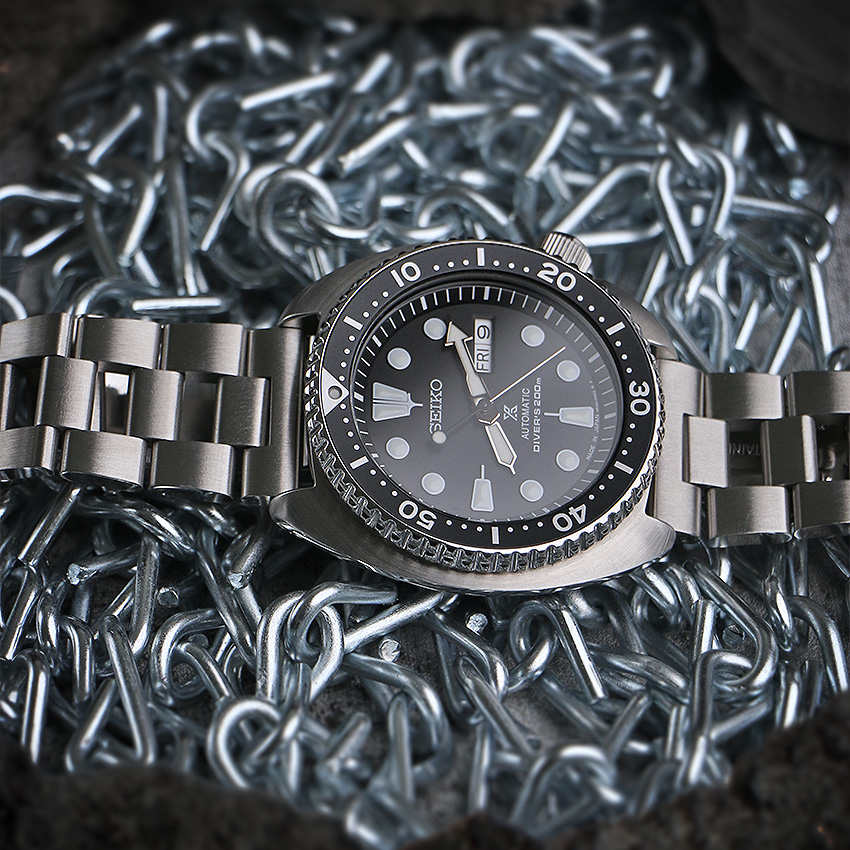 ---
Seiko Turtle ✕ Nylon Strap
If none of the previous looks tickled your fancy, this final combo has a little bit of everything; comfort, style and durability. The Seiko Turtle paired with a beautiful fitted nylon strap is that jack-of-all-trades combo that can go anywhere and do anything without breaking a sweat. Perfect for those with an adventurous lifestyle, you can sport this strap with the confidence that it will make it through whatever challenge the day presents.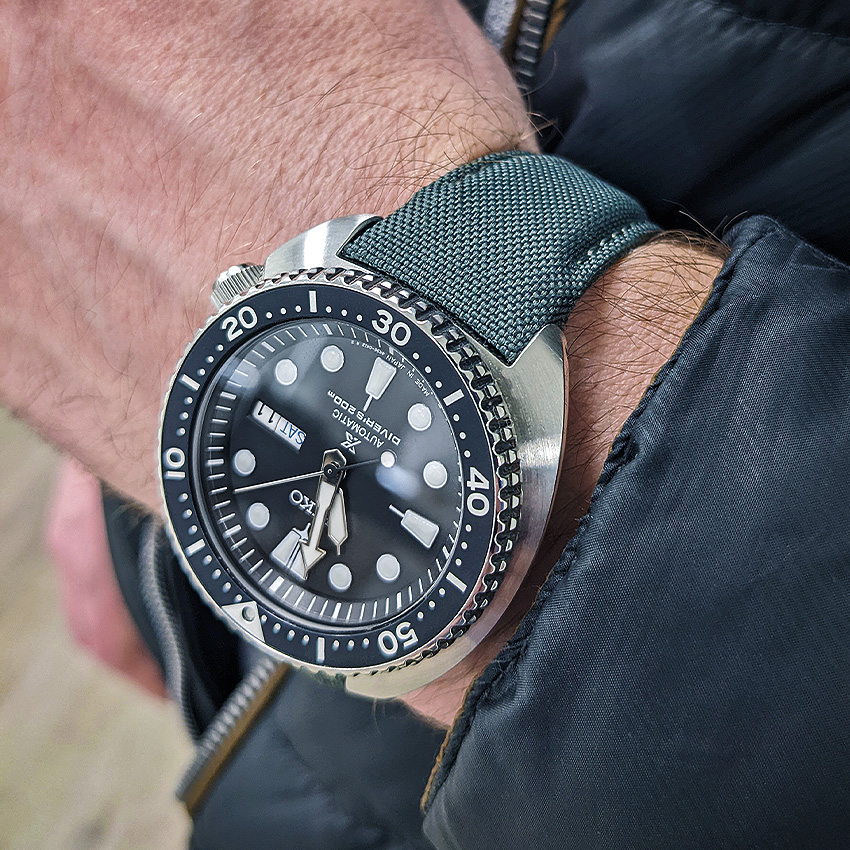 ---
For a watch as versatile as the Seiko Turtle, it wasn't easy to select just four favorites. If your favorite look wasn't on our list, be sure to let us know what you're wearing in the comments below! And if any of these combos are exactly what you've been looking for, we've got you covered on all accounts with the links below.