When we speak of hype watches, there is a handful that comes to mind. There's the Patek Nautilus, Rolex Daytona, Richard Mille RM 011, and, of course, the Audemars Piguet Royal Oak. What these watches have in common aside from their big brand names are their distinctive shapes and designs that can be recognized from a mile away.
The Royal Oak is the watch that started it all upon its release in 1972; it was unabashedly neither a tool watch nor a fine gold timepiece. Rather, it was designed as an ultra high-end steel sports watch that served to tell the time, date — and your status.
Five decades later, the Royal Oak is a grail watch for many but unattainable for most. Its revolutionary design, which was penned by Gerald Genta, comprised of an octagonal bezel dotted with screws, textured dial, and integrated bracelet, gave rise to an entirely new genre and a host of lookalikes. If you appreciate the look of the Royal Oak but don't have the budget for one, don't worry. There are plenty of choices out there that offer similar styles. We've rounded up the top 10 Audemars Piguet Royal Oak homages and alternatives, ranging from less than $100 to five figures, so you can pick your favorite one.
---
1. Timex Essex Avenue Thin
Starting at $89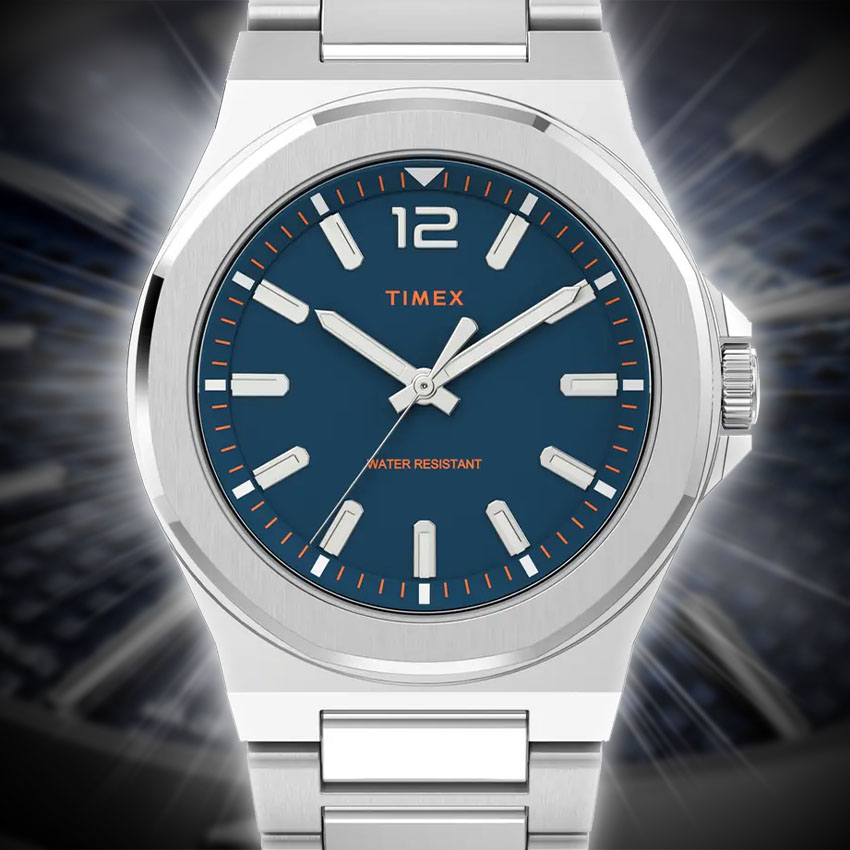 With its 40mm steel case, integrated steel bracelet, and octagonal bezel, the quartz-powered Timex Essex Avenue Thin is a budget-friendly alternative to the Royal Oak. True, the Timex bezel is certainly not as angular as the Royal Oak nor is it punctuated with exposed screws. Yet, even if the Timex version is not a direct copy it does share plenty of the same vibes as the RO at a price that can't be beat.
---
2. Casio G-Shock GA2100
Starting at $99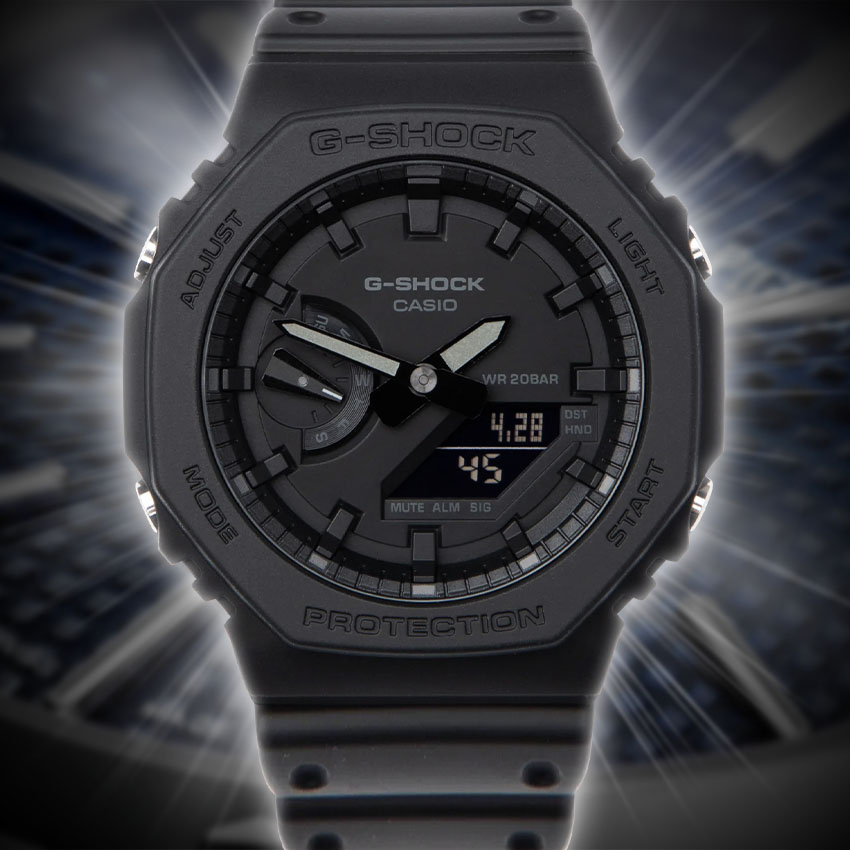 Released in 2020, the Casio G-Shock GA2100 quickly became a smash hit and earned the nickname G-Shock "CasiOak" thanks to its bold eight-sided bezel. Although these analog-digital watches, which are available in a wide range of colors, are sizable coming in at 48.5 × 45.4mm, they're one of the thinnest G-Shock models in the market at just 11.8mm thick. There's also the smaller GMAS2100 "CasiOak" range (46.2 × 42.9 × 11.2 mm) and the new-gen GA-B2100 range with Bluetooth capabilities for even more options.
---
3. Casio Edifice
Starting at $165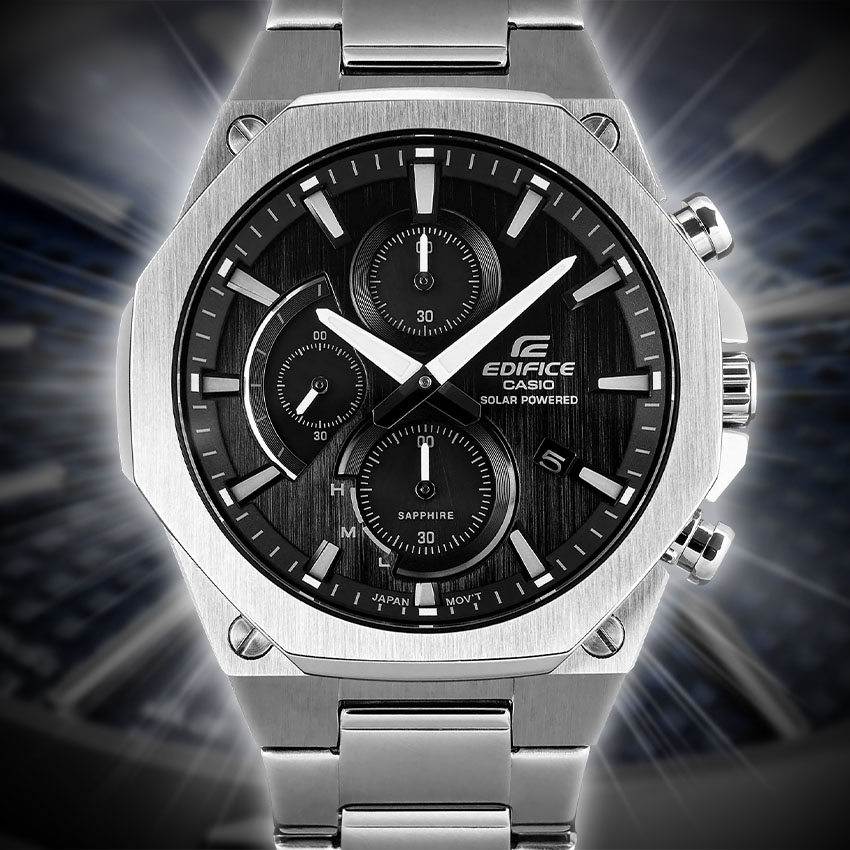 Yet another offering by Casio, we'd argue that this solar-powered Edifice watch is a closer Royal Oak homage than the G-Shock, albeit in chronograph form. There's the octagon-shaped bezel, integrated steel bracelet, and even a few screw accents on the case. The dial, which is protected by sapphire crystal, is home to three subdials, a date window, and oversized hands and indexes.
---
4. Citizen Corso
Starting at $180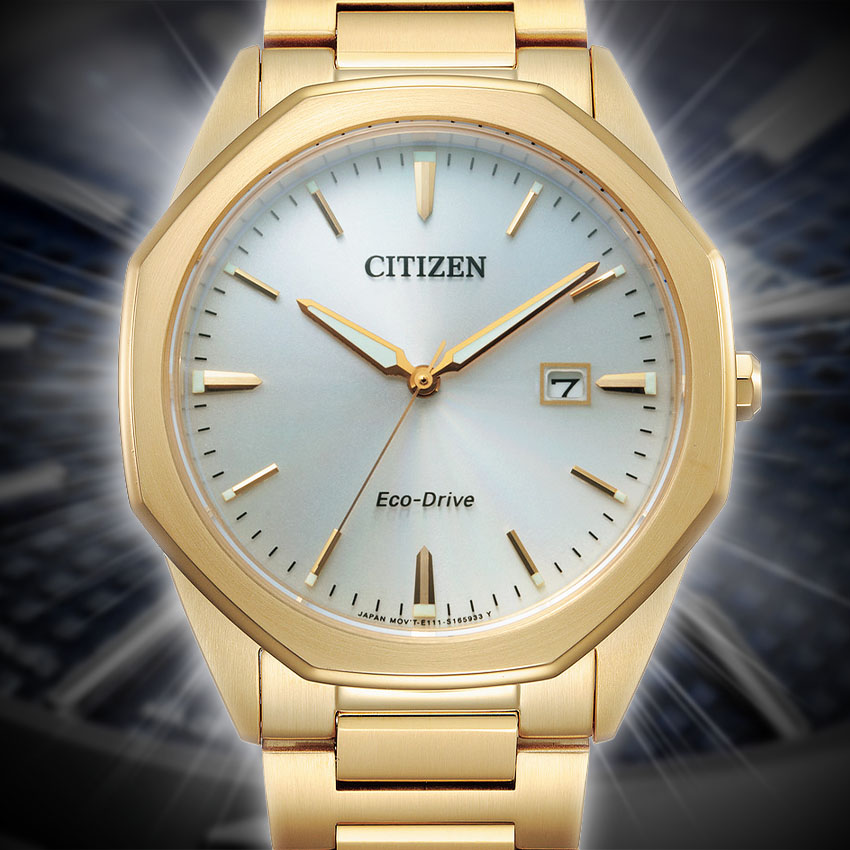 Clean, understated, and affordable, the Citizen Eco-Drive Corso has all the basic Royal Oak homage details, from the eight-sided bezel and simple time and date dial layout to the bracelet seamlessly integrated into the case. What's more, you can opt for a sleek steel and black dial number or a flashier yellow gold-tone variant with a silver dial.
---
5. Bulova Classic Diamonds
Starting at $360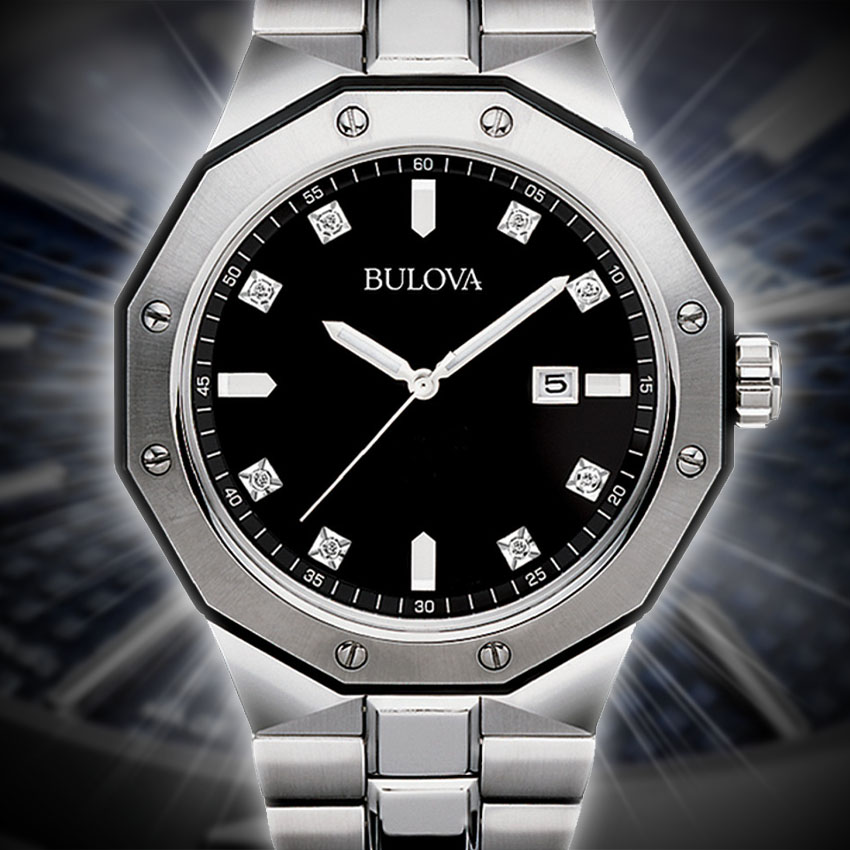 Back in 1979, Bulova released its shameless copy of the Royal Oak with almost identical replicas of Audemars Piguet's famed watch, complete with screws on the bezel, hobnails on the dial, and the same integrated bracelet design. However, those vintage Bulova watches are hard to come by these days so we look to a current quartz Bulova that could be considered a Royal Oak homage. The Bulova Classic Diamonds watch model features a 12-sided bezel that's outlined with a black rim and punctuated with 8 screws, in addition to diamonds hours on the dial and an integrated bracelet.
---
6. Tissot PRX Powermatic
Starting at $650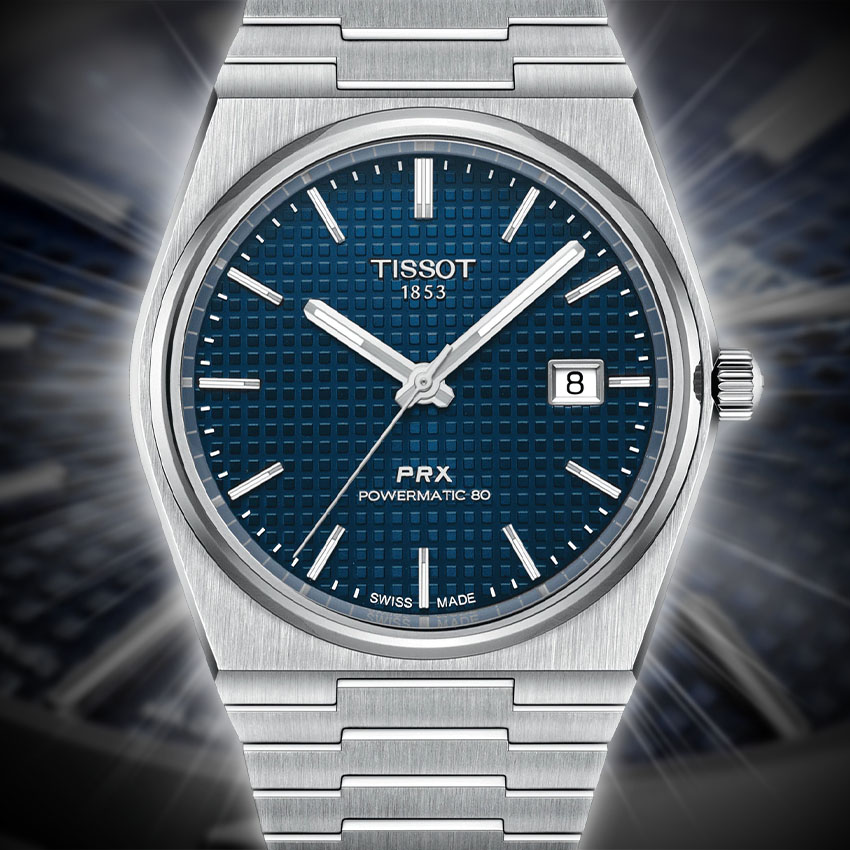 Based on a 1970s design from the Tissot archives, the relatively new PRX line has become one of the most popular mid-range Swiss-made sports watches in recent memory. While Tissot makes both quartz and automatic versions, as well as a range of sizes and colors, the one that is most similar to a classic Royal Oak in our opinion is the self-winding PRX Powermatic 80 with a blue hobnail dial. Although there's no angular bezel, the PRX's seventies vibe certainly plays in the same sandbox as the RO.
---
7. D1 Milano Skeleton Bracelet
Starting at $725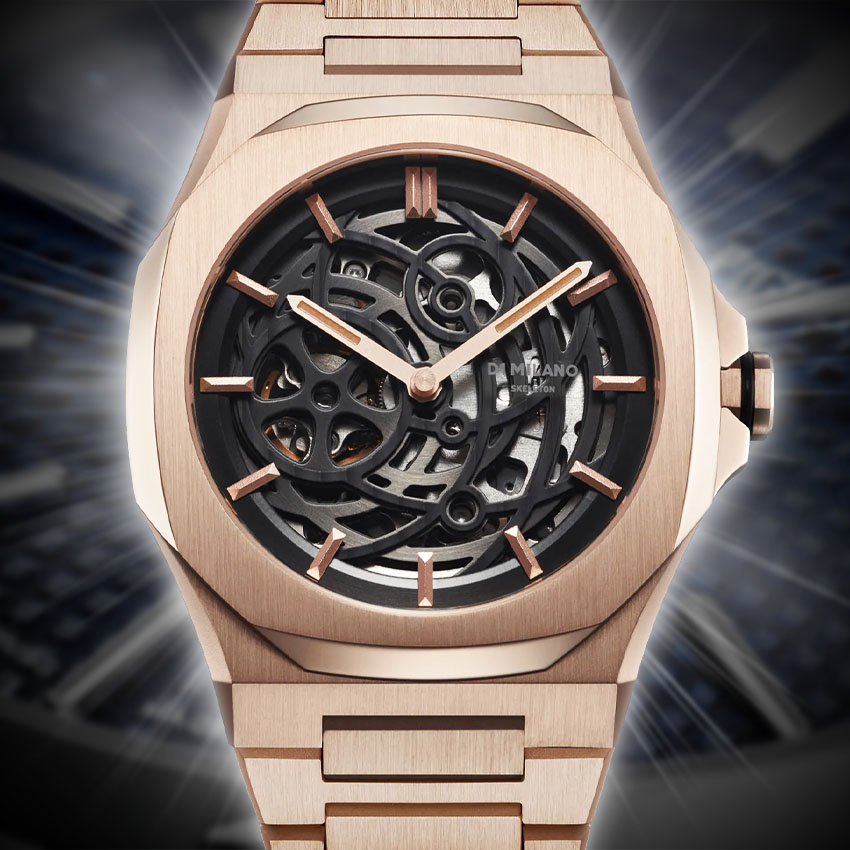 If it's a rose gold skeleton Royal Oak homage you're after, then meet this D1 Milano with a rose gold-toned case and bracelet, skeleton dial, and a self-winding mechanical movement. The case measures 41.5mm while the matching bracelet features a hidden butterfly clasp. The faceted bezel is a highlight of this striking piece, flaunting both brushed and polished surfaces.
---
8. Maurice Lacroix AIKON
Starting at $1,000 (Quartz) and $2,000 (Automatic)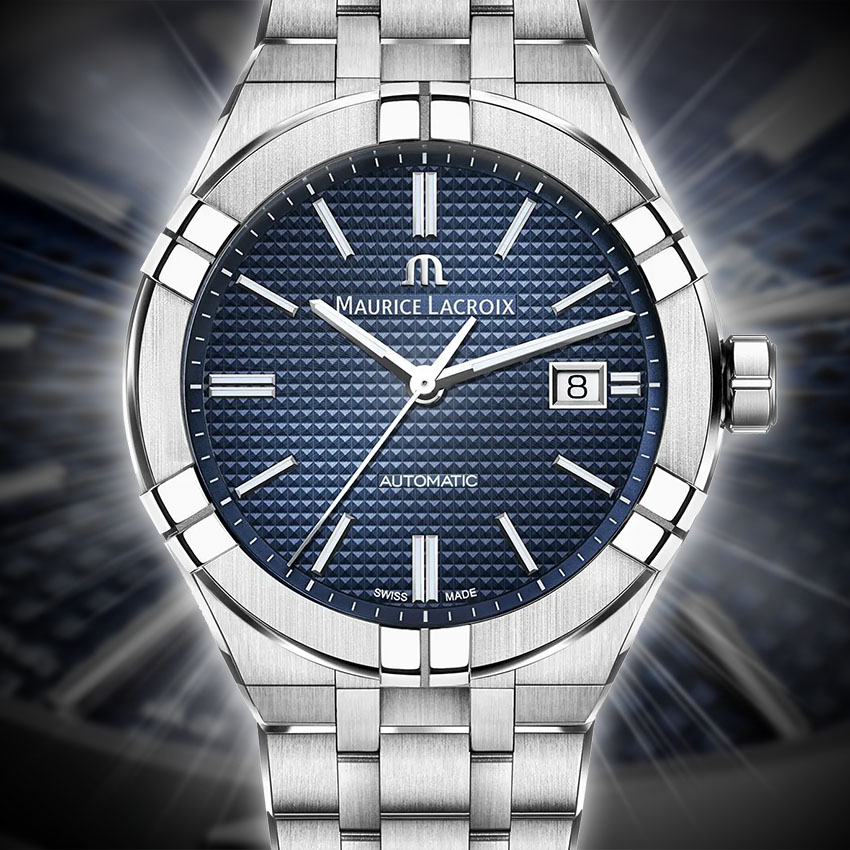 Did Swiss watch brand Maurice Lacroix name this model the AIKON because it borrows heavily from the icon by AP? Who knows, but the resemblance is clear from the style of the five-link tapered bracelet to the tapisserie motif dial. However, the round bezel is quite a departure, which has six polished tabs on top of the brushed surface. The Aikon is available in a multitude of sizes, colors, movements, and complications, but if you want one that's closer to a Royal Oak then the 42mm automatic with a blue dial is a good bet.
---
9. Baume & Mercier Riviera
Starting at $1,800 (Quartz) and $2,600 (Automatic)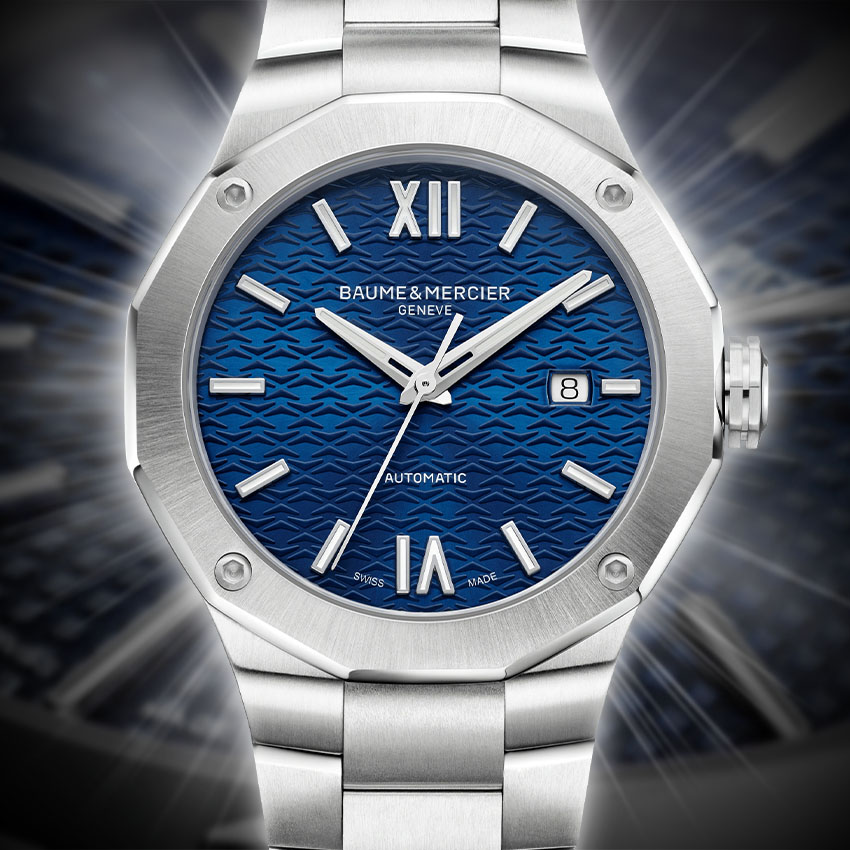 The Riviera is Baume & Mercier's large and varied luxury sports watch collection and you could say, the brand's answer to the Royal Oak — particularly those with metal bracelets. The Riviera's defining feature is its dodecagonal (12-sided) case, which is dotted with four screws at the corners. For a Royal Oak substitute, we particularly like the 42mm automatic version with a blue patterned dial and integrated steel bracelet.
---
10. Girard-Perregaux Laureato
Starting at $12,600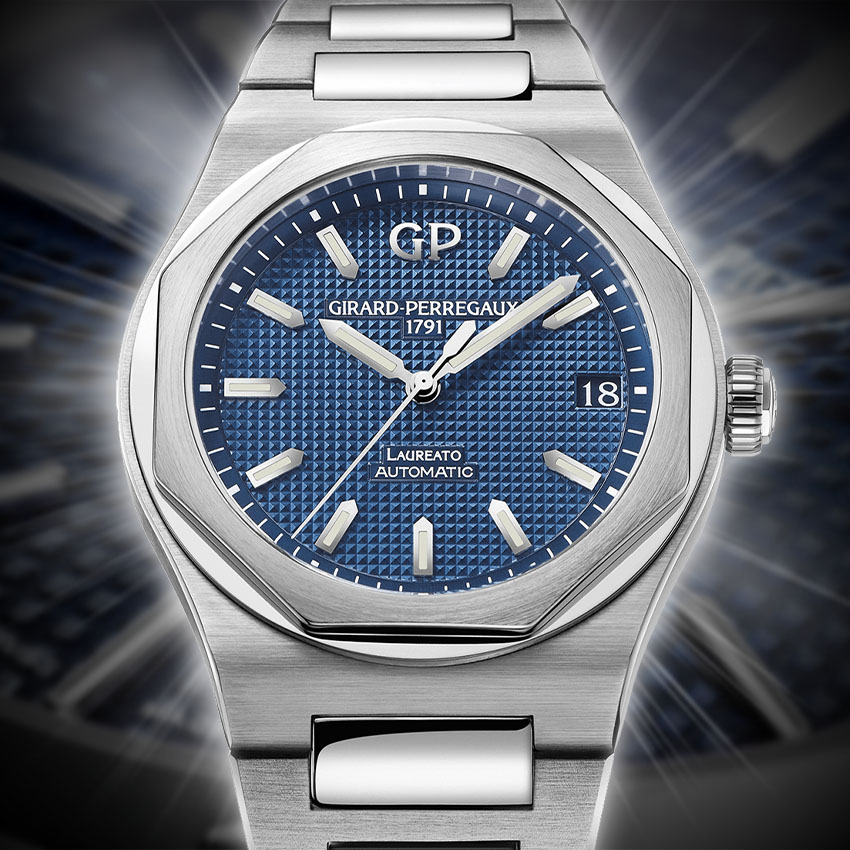 Rounding out our list is not so much a straight homage but a luxury sporty watch that was born three years after the Royal Oak and one year before the Nautilus — the Girard-Perregaux Laureato. Though the original Laureato was a quartz-powered piece (it was the era of the Quartz Revolution, after all), today's versions all run on in-house automatic movements. The classic choice would be the stainless steel variant (either 38mm or 42mm) with a blue dial embossed with the Clous de Paris pattern and a matching steel integrated bracelet. Sure, you need deep pockets to buy this octagonal ultra-luxe sports watch but Laureato watches are still considerably less expensive than Royal Oak timepieces.
---
There are some flagrant copies of the Royal Oak by the likes of Pagani, Didun, Cadisen, and Feice. However, we much prefer the alternatives listed above as they have a little bit of their own personality rather than just ripping off the iconic watch entirely. What do you think of the Royal Oak and would you wear a watch that's similar in style? Leave us your thoughts below.