Garmin smartwatches have made a name for themselves when it comes to withstanding some punishment from an active lifestyle. The Garmin Instinct and Garmin Fenix 5 are two watches that follow similar paths by offering a comparably rugged experience throughout.
Choosing between them isn't so easy when you consider their similarities. Both are smartwatches designed for plenty of outdoor use, in virtually any climate or conditions. While neither svelte nor stylishly contoured, they're meant to evoke confidence in activity and location tracking when out for a hike or jog.
Each watch proves more than capable of getting the job done, but picking one over the other may not be as easy as it seems.
DESIGN
Since neither model is particularly flashy, the design contrast has more to do with size than anything else. Garmin's Fenix line tends to skew higher in girth and weight, making the Fenix 5 look thicker than the Instinct, which more closely resembles the size of a standard timepiece.
Garmin also eschewed touchscreens with both models, opting instead for a five-button array to navigate the interface and make selections. It takes some time, but getting the hang of it shouldn't be a steep learning curve.
The Instinct has a 0.9-inch screen with 128 x 128 resolution, whereas the Fenix has a 1.2-inch screen with almost double the resolution. It should also be noted that the Fenix 5 comes in three sizes: 42mm, 44mm and 51mm. If you have big wrists, the Instinct only offers one size at 45mm, whereas the Fenix 5 is made to accommodate big and small arms.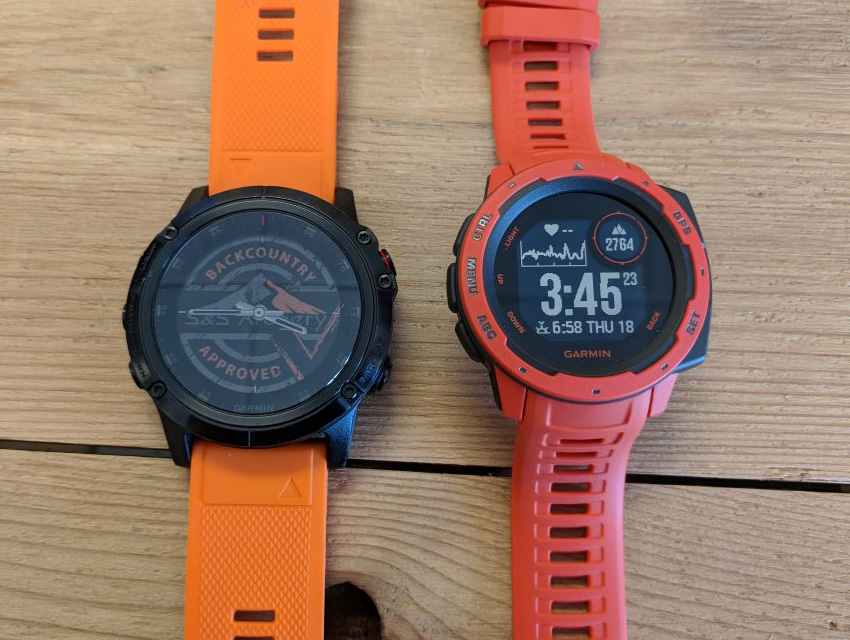 There's also a difference in colors options for each model. The Instinct comes in unique color schemes, like graphite, tundra, flame red, sunburst, lakeside blue and sea foam. And it's not just the straps that make up those colors; the watch's bezels are colored to match as well. Just the same, the Fenix 5 comes in a pretty wide array of straps and colors.
Changing or replacing the straps is quite easy for both models, and they are also both compatible with the same straps. Consider some colorful silicone straps (For Fenix 5|For Instinct) to make it stand out more, or perhaps a leather band (For Fenix 5|For Instinct) would be more your style. Maybe you would prefer a patterned rubber (For Fenix 5|For Instinct) or camo band (For Fenix 5|For Instinct) – with the selection of straps out there, everyone should be able to find something that suits them.
GPS & TRACKING
On the surface, both smartwatches share a lot of the same functionality. You can track your activity, heart rate and stress levels throughout the day. You can also take either one swimming or diving, thanks to the water-resistance up to 100 meters.
The usual exercises and activities are already on-board, such as running, hiking, swimming, cycling and even skiing or climbing. The Fenix 5 has a little bit extra in that regard, since rowing, snowboarding, paddle-boarding and golfing are loaded into the watch as well. If you're a runner, you might prefer the Fenix 5 because of how it leans further toward activities like that. If you're more of a hiker, climber or outdoors-y type, the Instinct might be more your speed for its focus on adding complicated metrics related to those activities.
Regardless of the activity, both watches routinely track heart rate. It can track your sleep too, if you don't mind wearing it to bed.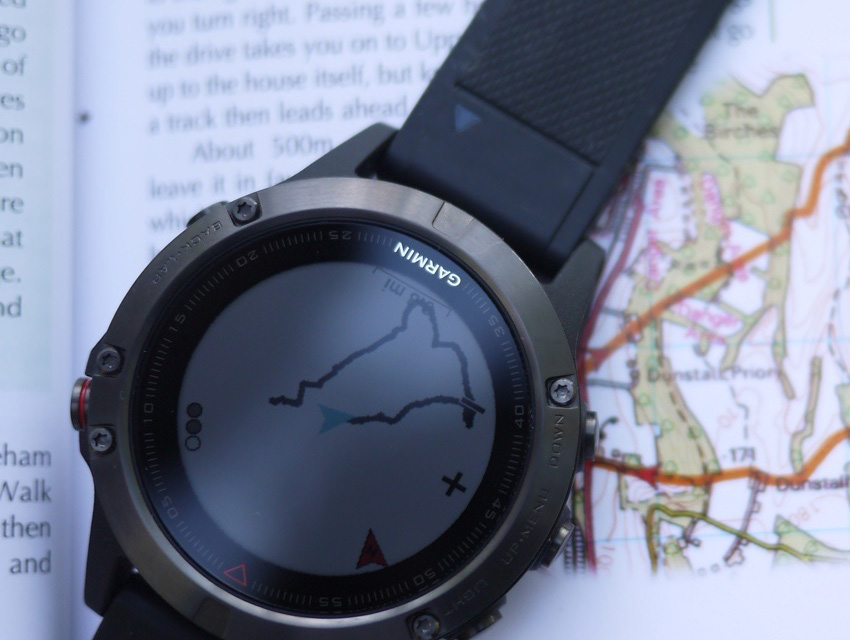 The hallmark feature of both devices is the built-in GPS that tracks location and distance while on your outdoor adventures. If you're an avid runner or dedicated hiker, knowing where you've been and the metrics behind it are what both watches do best.
The Fenix 5 has a color map you can look at to help visualize where you are, but in off-the-beaten-track locales, the watch maintains a breadcrumb-style line to help lead you back to where you started. The Instinct is slightly different in that it uses lines with waypoints — but no actual map. These are visual considerations, though tracking works much the same way on either watch.
If it's an exact location you're seeking, inputting the coordinates can mark the location on the watch to help you get there. Ideal if you have a spot you want to check out but are worried about getting back to where you started.
FEATURES
Either watch will work with Garmin's Connect mobile app on iOS and Android, pulling in the data and storing it in the cloud for you. Functionality doesn't differ a great deal as far as the connection goes. One difference, however, is that Garmin's Connect IQ store has more compatibility with the Fenix 5, where you can use it to change watch faces, and other customization. On the other hand, the Instinct is more limited in this way.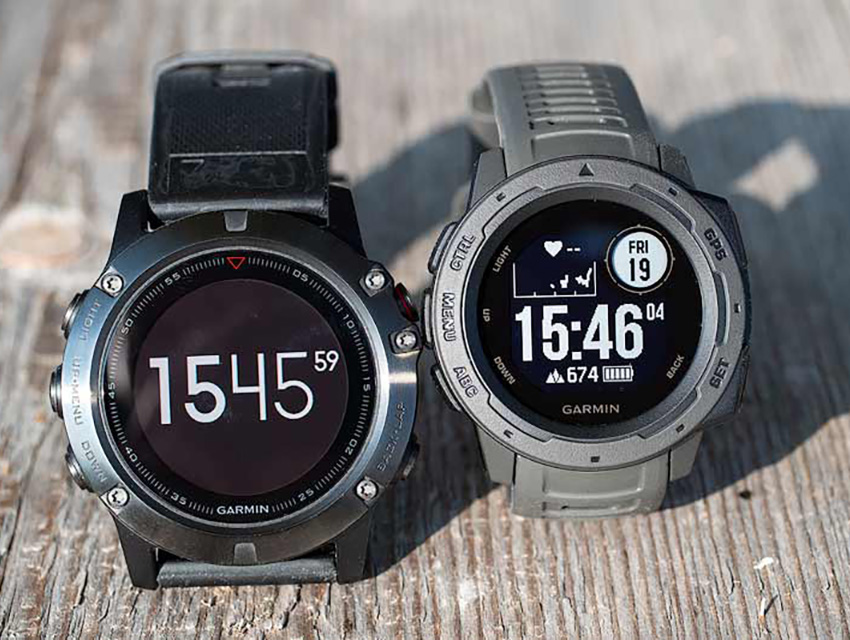 Both devices can control music playback and receive notifications. The Instinct even allows for responding to an incoming text, though it only works with compatible Android phones. The Fenix 5 can also handle widgets, whereas the Instinct cannot.
Neither watch lets you store music on it, so playback is reliant on pairing with a phone. You can play, pause, skip and repeat tracks, but can't otherwise navigate playlists or artists.
BATTERY LIFE
GPS is the ultimate battery drainer for watches like the Instinct and Fenix 5, which is why Garmin rates them at 16 and 24 hours respectively. Leaving GPS turned off completely increases battery life all the way up to two weeks. You're most likely going to use the GPS features only when you need them, so each charge will last somewhere in between.