Choosing between smartwatches isn't always an easy decision, even if you're firmly planted in a particular ecosystem of products. The Apple Watch Series 4 runs on WatchOS, yet has the interoperability of iOS behind it. The Fitbit Versa maneuvers between being a fitness band and smartwatch, making it a unique entry in the category.
Both devices are first and foremost activity trackers, and it's with that in mind that makes them so particularly focused on all things health and wellness. But they are also capable of playing music, reading your heartbeat, paying for things, and running apps, among others.
The more you look into both watches, the more it's apparent they starkly contrast from one another.
Design
The Apple Watch has gone through some form factor tweaks since the debut model, but the design philosophy has largely stayed the same. Over those years, the watch has gotten better at withstanding the rigors of active lifestyles. Starting with the Series 3, Apple made the watch waterproof (to depths of 50 meters), slightly thinner, put a larger screen, and added an electrical heart rate sensor to the existing optical heart rate sensor underneath.
There are both Wi-Fi and cellular versions of Apple's watch, and with 40mm and 44mm sizes available, smaller and larger wrists have options. The 40mm Series 4 has a 324 x 394 OLED display and the 44mm has a 368 x 448 OLED, where both are able to hit 1,000 nits brightness.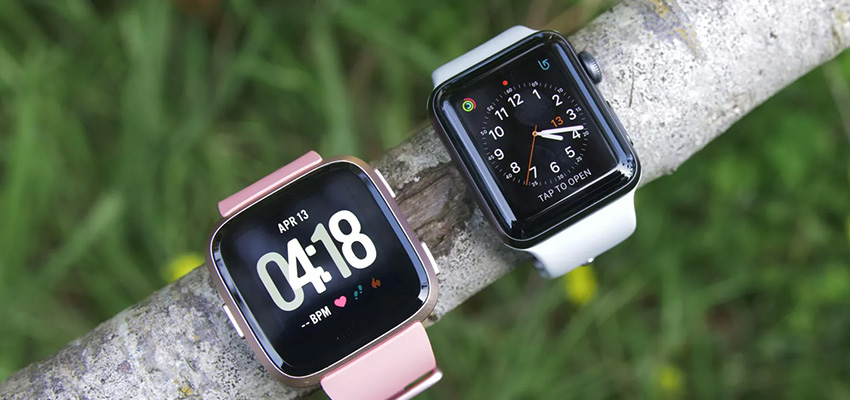 The company added haptic feedback to the digital crown to make it more responsive. The watch comes in aluminium 'Space Grey', 'Silver' and 'Gold', or the LTE-only stainless steel variant in the same three colors.
The Versa was Fitbit's attempt to make a smaller, more nimble smartwatch than the Ionic — and the Apple Watch. Lighter and more flexible, particularly when attaching different bands, it features the same waterproofing of the Apple Watch, though lacks built-in GPS. There is also no LTE connectivity.
Fitbit put a 300 x 300 resolution display, also capable of hitting 1,000 nits brightness. The Versa comes in both small and large sizes (both size bands come in the box), and is available in black, grey and rose gold. The 'Special Edition' version includes an NFC chip for payments via Fitbit Pay, along with a nicer fabric strap included.
Software & Integration
Off the bat, the Apple Watch Series 4 doesn't work with Android phones. Full stop. There is no way to integrate the two. The Versa works with both iOS and Android, and includes a few extra features with Android specifically. For example, you can change watch faces, get incoming notifications and quickly reply to messages. The last of those only works on Android, however.
Fitbit Pay is also limited to fewer card issuers than the Apple Watch is, which benefits from the extensive roster of banks and card issuers supporting Apple Pay. WatchOS will also be getting its own app store, whereas Fitbit's app selection is considerably smaller by comparison. If you prefer fewer distractions, or want better communication, that's one thing to consider
There is no voice assistant integration with the Versa, whereas Siri can work through the Apple Watch. If you are using the LTE version of the watch, many features, including messaging and voice control, can work without an iPhone paired with it.
Activity Tracking
Apple embedded GPS into the Watch Series 4, so that does make it easier to use without a phone, even if it is the non-LTE version. The Versa needs the GPS of a paired phone to track distance on a run.
These two smartwatches also diverge in how they handle activity tracking. The Versa natively tracks varying exercises, like running, cycling, swimming, elliptical, treadmill, yoga and gym workouts. Fitbit also uses a separate app called Fitbit Coach, which offers extra content and personalized workouts for a monthly subscription. The regular Fitbit app collects all the activity data and stores it in the cloud, but unfortunately, there's no way to integrate it into Apple Health or Google Fit, if you're using an iPhone or Android phone, respectively.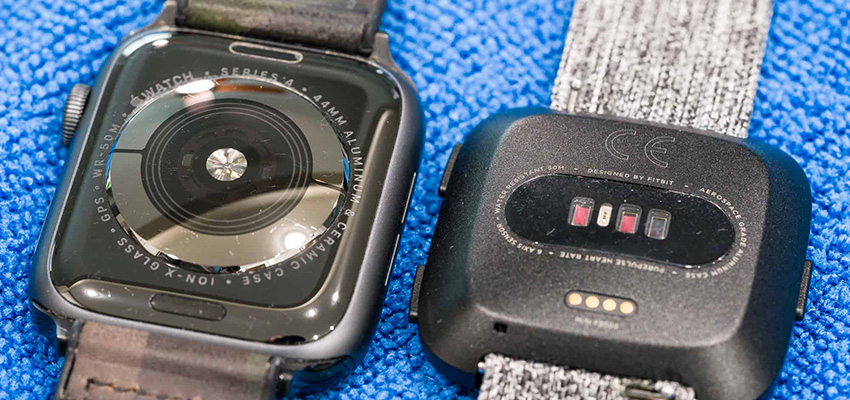 For the Apple Watch, third-party apps do a lot of that tracking, so you end up using one app for tracking runs, and another for tracking yoga or swimming. But the Series 4 is more advanced because of its ability to detect falls, plus an SOS feature that can alert loved ones and emergency response when you've fallen and are unresponsive.
The biggest feature was the electrocardiogram, or ECG, where placing a finger on the digital crown can potentially show any abnormalities related to heart function, like atrial fibrillation.
Both devices can track sleep quality, displaying time durations in light or deep slumber. The Versa features a female tracking feature for menstrual cycles, letting users log their details and see them through the watch and app. Fitbit equipped the Versa with a SpO2 sensor to measure blood oxygen levels, but it has yet to be unlocked.
Personalization
Since both of these watches are designed to stay on for longer periods, accessorizing them is part of the cachet. Rubberized bands are the most common because they make the most sense when active, but there are numerous other materials and styles available.
The Apple Watch Series 4 has a multitude of compatible bands. There is perhaps no other smartwatch with as varied a lineup than Apple's wearable. There's an array of stainless steel bands, and that also goes for leather. Styles, colors, different buckles and alternate textures can especially vary with leather, making the watch look unique for a variety of occasions. Rubber and nylon bands round out any need for bands capable of withstanding a good sweat at the gym.
The Fitbit Versa has no shortage of compatible bands in its own right. Its understated design matches up well in active, casual and even semi-formal situations. That's why there are stainless steel bands, including others with rhinestones. Other metallic ones include the Milanese band and ball link bracelet. Leather and nylon straps also carry a versatile fashion sense that can fit in just about anywhere.
Battery Life
The Apple Watch Series 4 is not a major upgrade in battery life over its predecessor. You can expect up to 24 hours, but more likely to be between 18-24 hours. In contrast, the Versa is officially rated at four days, but can probably stretch out to five or more with limited tracking. Not having to charge it every night makes it easier to track sleep overnight more often.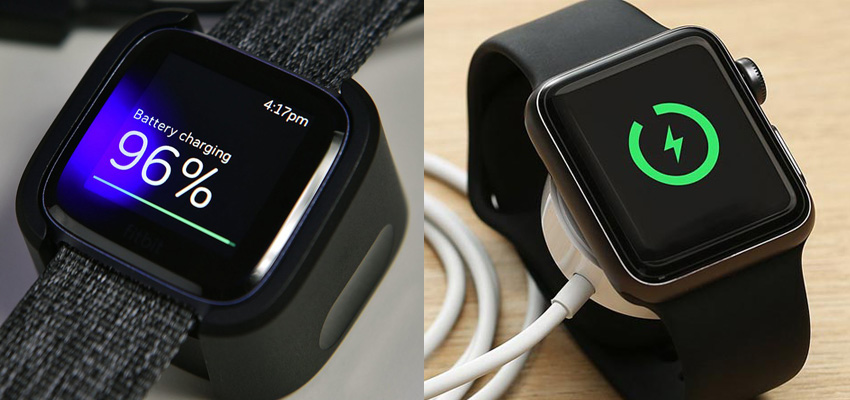 Verdict
Both of these smartwatches are among the best in the category for the reasons noted above. The Fitbit Versa is a solid mid-range option that prioritizes activity tracking above all else, yet lacks the built-in GPS necessary to include location and distance tracking. Without LTE inside, it does need a paired phone to sync and integrate certain apps and features.
The Apple Watch Series 4 is a more premium device because it includes more robust features, like GPS, LTE, ECG and an upcoming dedicated app store. But all that functionality means lower battery life on a day-to-day basis.
These are some of the trade-offs to consider, but in both cases, you end up with a polished and capable product. Let us know in the comments which of these two devices you would go with, and why!