Samsung has long made a name for themselves within the tech industry, and that's no different when it comes to their line of smartwatches. With stunning analog faces, watch hand shadowing, and authentic ticking sounds, Samsung smartwatches really do feel like a real watch. So how do you go about choosing the right one?
Thankfully, just about any Samsung smartwatch on the market today is going to perform well. With phones increasing in size every year, it's rather nice being able to look at your watch and see the time, who's calling, text and email alerts, and so on.
Read below for a quick guide on the latest smartwatches available for Samsung in 2019.
Samsung Smartwatch Design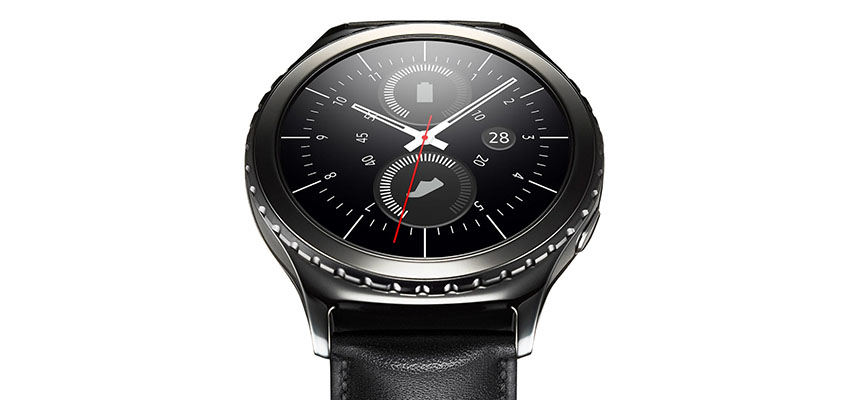 Samsung is known for its leading edge design within the tech industry, and thankfully, this carries over into the design of each their smartwatches. They do a great job of balancing looks with functionality whilst keeping the user experience in mind. Users can even design their very own watch face using the 'Galaxy Watch Designer' software provided by Samsung, which you can learn more about on their website.
The bezel and buttons are excellent, and give each watch that sophisticated and high-quality feel. With multiple color options and a variety of wristbands to choose from, styling your Samsung smartwatch is fun and easy.
Interface And Operating System
Samsung continues to use the Tizen operating system across the board; It's a smooth and thoughtful interface that can be customized quickly and easily, and even rivals Apple's watchOS in terms of functionality.
Battery life is great using the Tizen OS, and is a major reason that Samsung has stuck with it thus far. Keep in mind that not all Samsung watches do the same thing; those that are tailored more towards fitness tracking will have a slightly different user interface, which is something to consider when picking the right smartwatch for you.
Samsung Galaxy Watch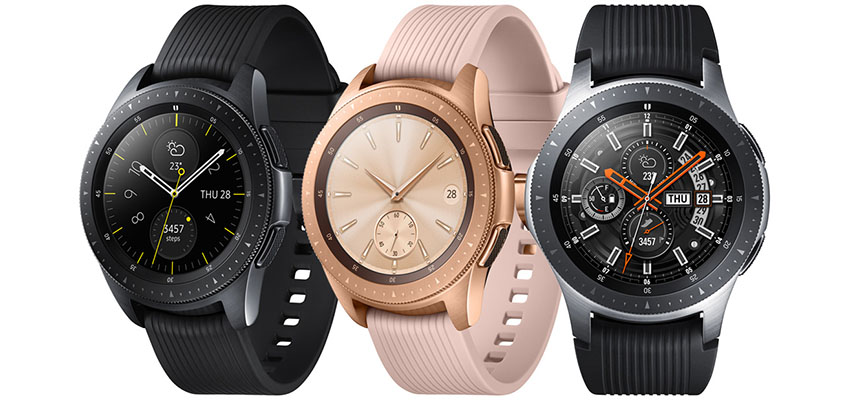 With a customizable analog dial, choice of Bluetooth or standalone LTE models, three color options, and the ability to use your own wristband, it's easy to see why the Samsung Galaxy Watch is their flagship smartwatch.
Battery life is fantastic, lasting up to four days before needing a charge. With the LTE version, you have the ability to stream music anywhere, pair the watch to your wireless earbuds, and leave your phone at home when you're out for a jog. It comes in both 42mm and a 46mm sizes, though the rose gold color is only available in 42mm.
The screen is protected by Gorilla Glass DX+ which provides excellent scratch and impact resistance. The Galaxy Watch is also dust proof and water resistant up to 50m. It has a rather unique 'water eject' feature that allows the device to remove any possible liquid remaining in the watch through the speaker.
The Samsung Galaxy Watch has a rotating bezel which continues to be a defining feature. The rotation of the bezel will allow you to scroll left or right with a twist in either direction, in order to navigate the watch's interface.
Samsung Gear S2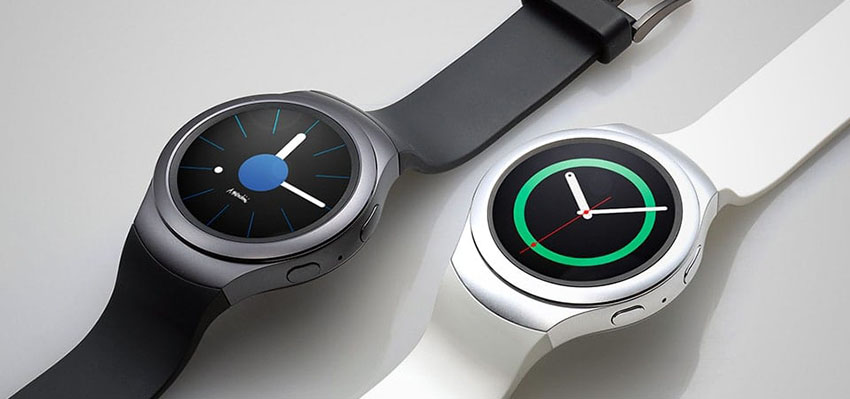 With the release of the Gear S3, it's easy to overlook the smaller (and cheaper!) Gear S2 smartwatch, however not everyone is willing to spend the extra cash on the larger design of the Gear S3.
The Gear S2 also features the signature rotating bezel, and was in fact the first of Samsung's watches to include it. The watch also includes the ability to track your daily activity, heart rate, and water vs. caffeine intake; cool right?
There are two variations of this watch; the standard model, and classic model. The classic model gives the option of 3G and GPS tracking, so you'll have no problem using this watch as a fitness tracker. Samsung has partnered with a variety iconic artists for the S2 to create a collection of beautiful watch faces, available for your customization pleasure.
Samsung Gear Sport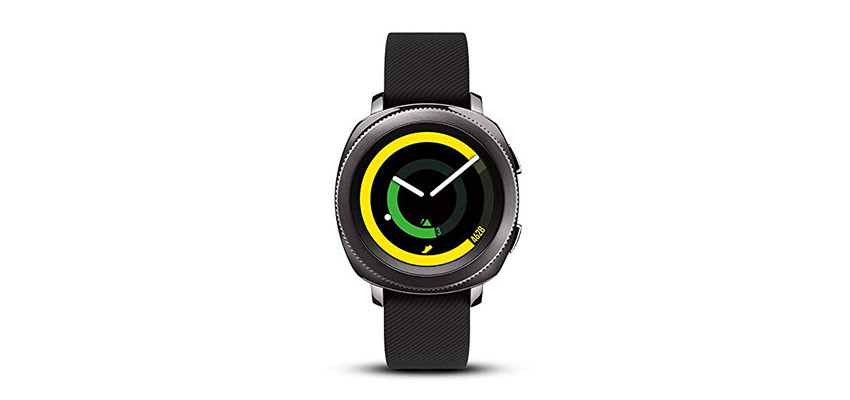 Samsung claims that the Gear Sport is as stylish as it is functional — and they weren't wrong! It can track your calories burned, steps/distance traveled, heart rate, and even your sleep. It's water resistant to 50m, so you can bring it to the pool and start tracking those lap times as well.
The Gear Sport comes with a slim 20mm silicone strap which can easily be swapped out. While silicone straps are great for workouts, you may want to sport a more stylish leather strap if you're going out to dinner. Once again, the rotating bezel can be used to navigate the menus, or you can simply use swipes and gestures for navigation if you prefer.
App support for the watch is limited however; You won't be able to connect your social media accounts to this watch, and unfortunately Google Maps is also unavailable. We do love the styling of the Gear Sport though, as it's lightweight, small, comfortable to wear, and comes in two different colors. Overall, it would be well-suited for someone looking for a great entry-level fitness tracker, rather than a smartwatch.
Samsung Gear S3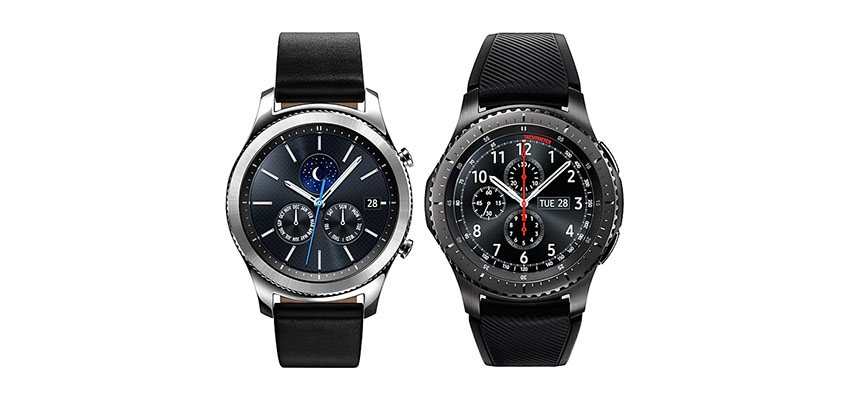 The Samsung Gear S3 is available in two styles: The 'Classic' model, suited as a dress watch, or the 'Frontier' model, which has a chunkier and more rugged look to it. Both versions have nearly identical features, so you can choose whichever one suits your style. And with changeable straps, you can customize 'til your heart's content.
With an excellent AMOLED display, the rotating bezel, and a battery that should last 3-4 days, you'll find the Gear S3 has really great value. Given its shallow water-resistance rating, it's not recommended to go swimming with this watch, although it should be able to hold up in the shower or light rain.
The Gear S3 has a built-in GPS receiver, which means that, like the Apple Watch Series 2, it can track your location even if you leave your phone behind. With a built-in speaker, taking phone calls from your watch is also now possible.
The Gear S3 is also compatible with a wide range of smartphones running at least Android 4.4 or iOS 9.5 (You can see a full list of compatible models here). With exceptional battery life, stunning design, and a decent price tag, it's hard to argue that the Samsung Gear S3 isn't a really great smartwatch.
Conclusion
Before buying a smartwatch, it's always good to check that it will be compatible with your phone, and make sure to pick one with features that suit your lifestyle; It's no good picking a non-waterproof smartwatch if you're an avid swimmer.
Remember to keep battery life in mind, and decide which apps you'd like to run on the watch, as not all watches support every app.
Finally, keep in mind the ability to customize your smartwatch, as you may want to consider changing the strap or watch face for a fresh new look down the line.