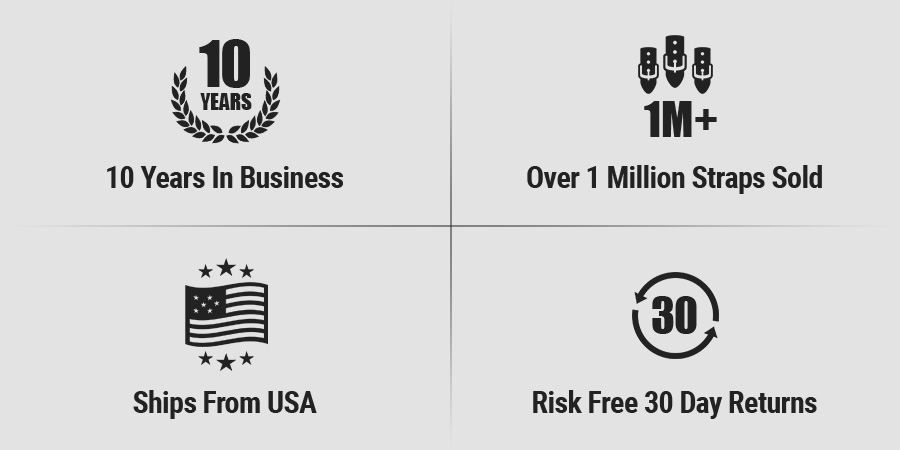 StrapsCo Watch Straps & Bands
The No. 1 Destination for Watch Bands and Watch Accessories
Enjoy the best selections of classic watch and smartwatch bands.
Finding the style you desire is made easier with StrapsCo's massive collection of watch bands. Browse genuine leather bands, metal straps, one-piece, rubber, vintage, and more. We offer stylish, versatile, and premium straps for all types of watches. Choose your style now.
Read more >>
StrapsCo carries watch bands for all leading watch brands.
Classic Watch Brands
Rolex

Breitling

Panerai

IWC

Luminox

Seiko

Hublot

Bell & Ross

Omega

TW Steel

Tag Heuer
Smartwatch Bands
Apple

Fitbit

Samsung

Garmin

Tomtom

Suunto

Polar

Fossil
We have the range to give you any design, color, and material. Order your affordable, top-quality replacement watch straps and accessories here. 
Buy 2 straps, and get 1 for free. We offer shipping worldwide.
Frequently Asked Questions
What are the best watch bands?
StrapsCo carries hundreds of premium watch straps for all major watch brands and more. Our top picks are selected based on popularity, customer rating, style, versatility, and quality. Here is a list of our best watch bands.
Are watch bands universal?
Watch bands come in different designs, shapes, and sizes. Whether a band or strap will fit will depend on the timepiece's lug design. Lugs are the "hinges" of watches and serve to the strap to the timepiece. Universal lugs will, of course, accept more styles of straps or bands. Before buying a band, best check to see if your timepiece's lug design can accommodate the strap. 
How do I get a replacement watch strap?
StrapsCo has hundreds of watch bands in various designs, colors, sizes, and materials. You can browse our massive selection to find the style that suits you best. Get the size and length of your old watch band, and find a replacement with the same measurements. 
Once you've purchased the band you want, it's easy to attach it to your timepieces. You can use a spring bar tool to remove your old strap and replace it with the new one.
How much does a watch band cost?
The cost of a watch band depends on the material and make of the product. StrapsCo offers premium leather bands, starting at $14.99; metal straps at $19.99; one-piece bands at $9.99; and rubber straps at $10.99. If you buy two products, you get one for free.
Check out our top-grade range of products now.
less