While giving a timepiece as a gift to a watch enthusiast may seem like the most obvious strategy, it's actually a tricky endeavor. Watch people are (naturally) particular about the timepieces they wear, and personal taste is always subjective. Best leave it up to them to select the watch they want!
However, there are still plenty of brilliant gifts you can give this holiday season that will make any watch fan happy. If you need some ideas, dive into our essential gift guide for watch enthusiasts to pick the perfect present.
---
Watch Straps
We've said it a million times before, but the easiest (and most economical way) of changing up the look of any watch is to switch out the bracelet or band. If the watch enthusiast in your life only has one or two timepieces in rotation, giving a watch strap (or two) will effortlessly expand his or her collection.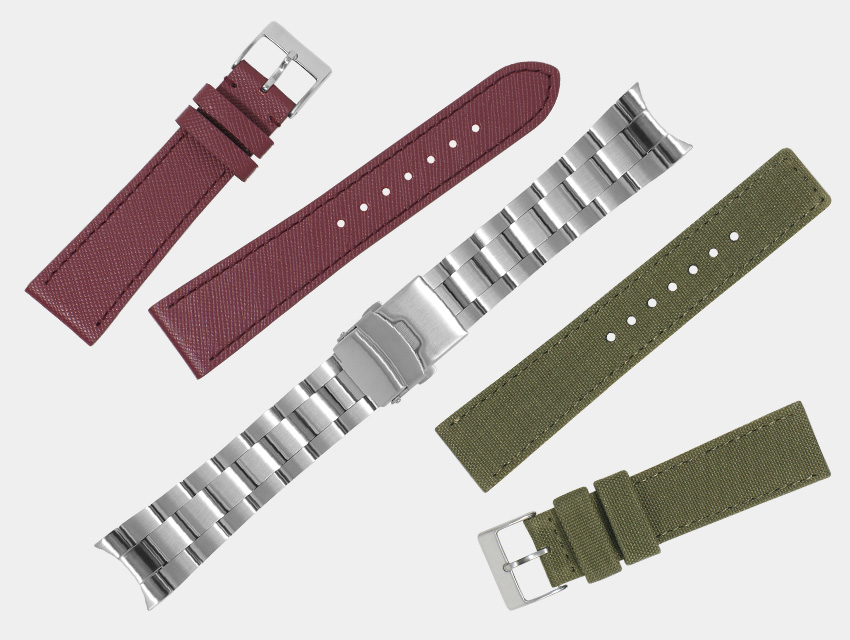 Depending on the watches they already own, you can opt for a handsome leather strap, a dressy metal bracelet, a sporty rubber band, or a casual nylon strap—the choices are endless. Knowing the brand and model of the watch makes it even easier to choose a watch strap, since StrapsCo boasts a robust inventory of bands and bracelets made to fit specific watch brands.
---
Watch Tools
For the watch enthusiast who loves changing straps and bands, having watch tools on hand is always a great idea. Owning the correct tools rather than depending on household items not only makes swapping straps a whole lot easier, but it can also reduce the risk of scratching up the watch.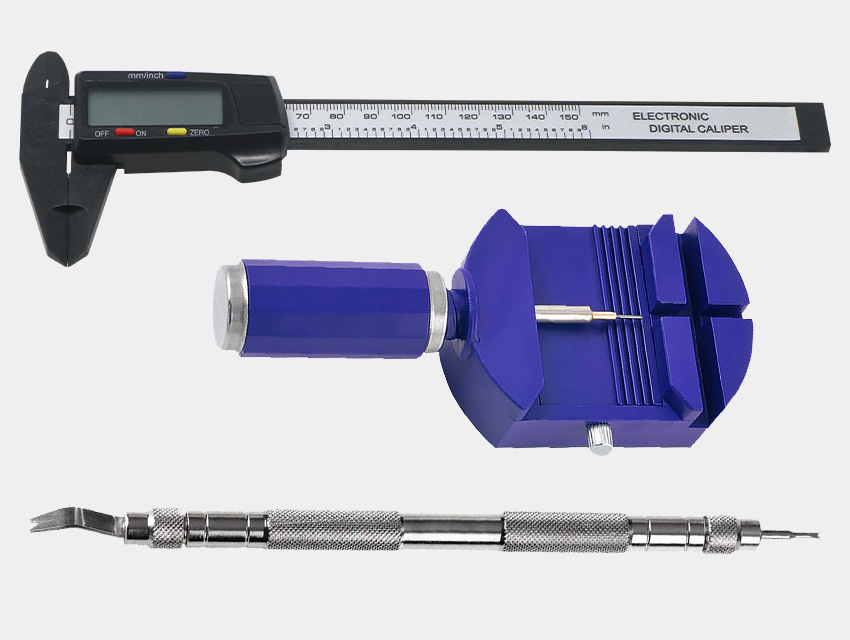 Practical and thoughtful, gifting watch tools like spring bars tools to remove the original strap (and fit the new one), link removal tools to shorten a bracelet, and a caliper to measure dimensions shows that you understand how deep his or her watch obsession runs!
---
Watch Literature: Books and Magazines
A big part of watch collecting culture is reading a ton of material about particular models, brand histories, watch trends, and movement mechanics. Although the internet is replete with information about vintage timepieces and modern watches, there's nothing like having a book or magazine full of glossy pictures and stories to read. So a great gift idea for the nerdiest of watch nerds is some watch literature. You can go the coffee table book route by checking out essentials like 'The Watch, Thoroughly Revised' By Gene Stone and Stephen Pulvirent, or any of the encyclopedic tomes by Mondani.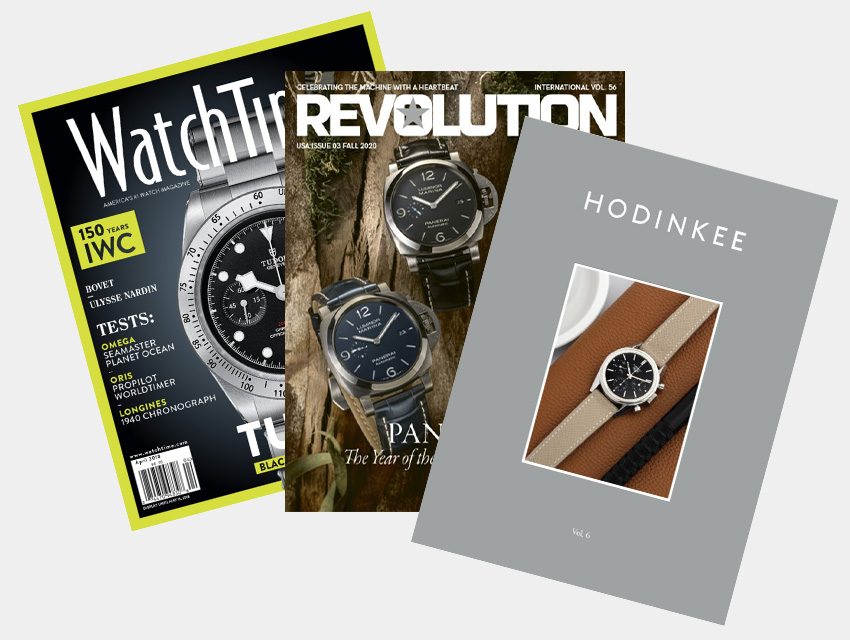 Alternatively, another good idea is to give a watch magazine subscription, which means that they'll be treated to regular publications throughout the year. It's the gift that keeps on giving well after the holiday season is over. Some top watch-centric magazines to consider include Hodinkee Magazine, WatchTime, and Revolution.
---
Watch Storage: Rolls, Cases, and Trays
While most travelers will pack a variety of clothes and shoes, a watch enthusiast will frequently take more than one timepiece too when leaving home for a bit. The original presentation boxes that come with the watch are often bulky and heavy, which makes them less than ideal to stuff into a suitcase. Therefore, a light yet sturdy travel watch roll is a much better option when traveling with various timepieces and makes for an excellent gift. Plus, watch rolls don't just have to be used when on the go; they're also a good way to store several watches safely in a drawer at home too.
However, you can also decide to gift bigger watch cases and watch boxes for at-home storage, which keep a larger number of watches safe and sound. From cases to store four timepieces for the budding enthusiasts to multi-level boxes that can house up to 20 pieces for the serious collector, there's the right watch storage for any type of watch fan.
On the smaller side, a leather watch valet tray is a great gift and a must-have for any watch lover. Giving them a safe spot to rest their watch without worrying about scratches, will always be appreciated!
---
Watch Winder
For many watch enthusiasts, automatic watches are preferable over manual-winding watches or quartz watches. The beauty of an automatic watch is that it will keep running as long as it is worn—no hand winding or batteries required. The natural motion of one's wrist is all that is needed to keep the mainspring wound-up and thus, the hands turning. However, an automatic watch has a limited amount of power reserve, which means that once it's off the wrist and lays stagnant, the watch will eventually stop running until it is worn again.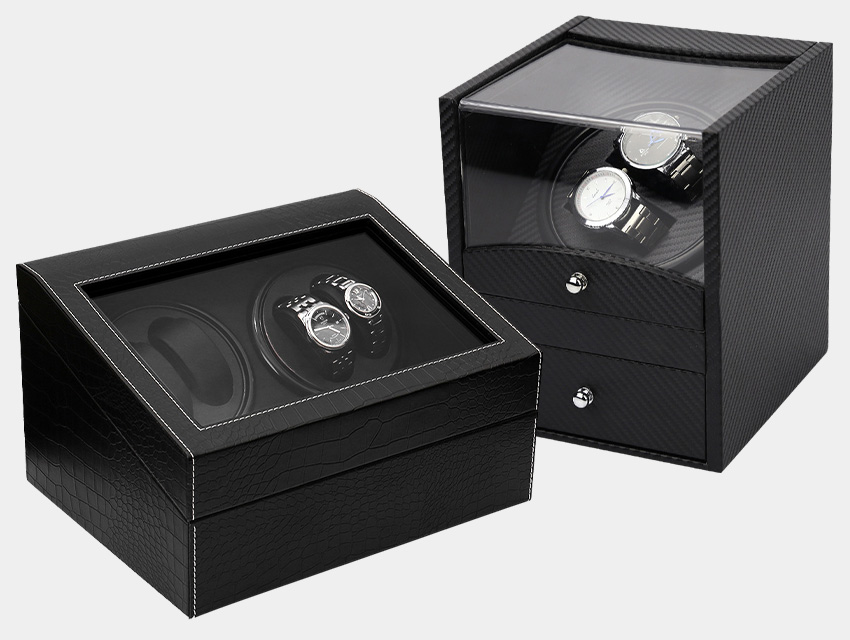 Enter the watch winder, which allows one to both store the watch and keep it running thanks to its steady rotation—a fantastic gift option for a watch enthusiast who owns several automatic watches. Whether for one or several timepieces, there's a wide assortment of watch winders to choose from in a variety of materials, colors, and styles.
---
Watch Art: Originals, Prints, and Posters
It's often said that some watches are pieces of wearable art. But how about a piece of art that uses watches as its subject! Be it a print, original canvas, or poster, watch-focused wall art allows watch devotees to proudly display their passion for all to see. These decorative accents can either be aspirational by showcasing a piece that he or she is hoping to buy one day, an accompaniment to an already owned piece, or simply a way to show appreciation for certain iconic watches.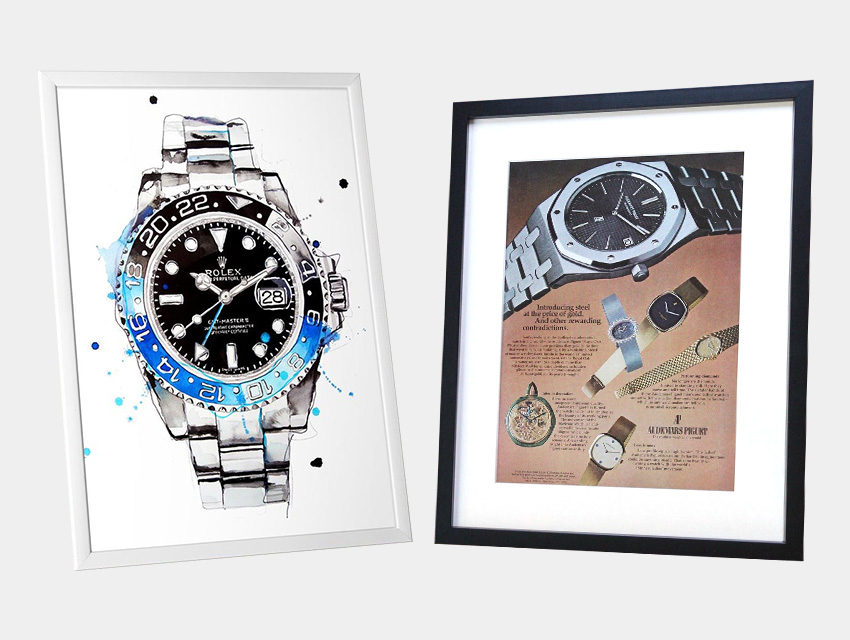 Tony Brown Illustrations offers playful painting prints of some popular watch models from the likes of Rolex and Patek Philippe while Julie Kraulis's incredible collection of monochromatic graphite drawings includes both watches and movements. Alternatively, for vintage watch aficionados, Ad Patina sells framed original vintage watch ads of the most famous watches ever made.
---
As you can see, there is a multitude of thoughtful gifts you can give any watch enthusiast this holiday season. From budget-friendly options to high-ticket items, these types of gifts are a terrific way to recognize the recipient's love of watches. Get the gift wrapping ready!
Do you have any particular items on your wish list this year? What do you think would make a great gift for a watch enthusiast? Share your thoughts and comments with us below.